By Chris A. Choat
Vortex Introduces New Tactical Riflescope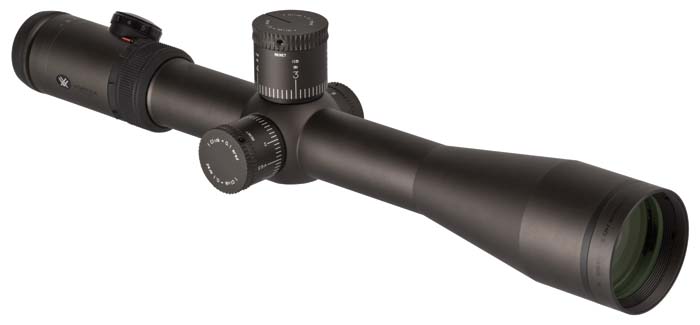 Vortex Optics' new Razor HD 5-20x50mm riflescope was designed from the ground up to meet the needs of military and law enforcement precision shooters. Packed with more than a dozen unique performance and optical features, the Razor delivers superior ranging and accuracy at extreme distance. With its 35mm one-piece tube machined from aircraft-grade aluminum, the Razor offers 36 mrad/125 MOA adjustment range for windage and elevation; enough to accommodate for bullet drop at the most extreme distances. The optically-indexed lenses are precision-ground from XD optical glass and fully multi-coated with Vortex's advanced XR coating to deliver the highest level of edge-to-edge brightness, resolution and clarity obtainable with today's optical technologies. A unique, multi-element apochromatic (APO) objective lens virtually eliminates chromatic aberration across the entire field of view so targets can be more clearly defined at longer distances – and camouflage patterns more easily spotted and identified. Ranging and accuracy at extreme distances is simplified with their proprietary new EBR-2 mrad reticle. Laser-etched-on-glass and placed in the first focal plane, the reticle enlarges and shrinks with the target when zoomed so the scale remains in proportion at all magnifications. In addition, the subtensions on the EBR-2 mrad reticle match the subtension markings on the turrets to make range calculations and shooting adjustments faster and more accurate. Turret screws are ultra-precision machined from silicon-brass alloy and fitted with hardened steel turret pads that interface with a hardened steel ring on the erector tube. This patent-pending friction reduction system eliminates deformation, wear and galling of the erector screws. Vortex's proprietary RZR (Rapid Zero Return) Zero Stop mechanism stops the elevation turret from dialing below sight-in range using a rotational-blocking steel design (patent pending) that's mechanically more reliable and accurate than other systems that block the vertical movement of the turret. The RZR Zero Stop is fully sealed from the elements – even when being set. Delivers precise return to zero after temporary elevation corrections have been dialed without the need for the user to count clicks. With generous 3.9 inch eye relief through the entire 5-20X range of magnification, absolutely waterproof/dustproof/shockproof construction, and a hard-anodized matte Stealth Shadow Black finish, the Razor HD 5-20mm riflescope truly represents the state-of-the art in combat-ready rifle optics. For more information on this as well as the full line of top quality optics please contact them at Vortex Optics, Dept. SAR, 2120 West Greenview Drive, Middleton, WI 53562. Phone: (608) 662-1088. Fax: (608) 662-7454. Visit their website: www.vortexoptics.com.
Mako Offers Shotgun Solutions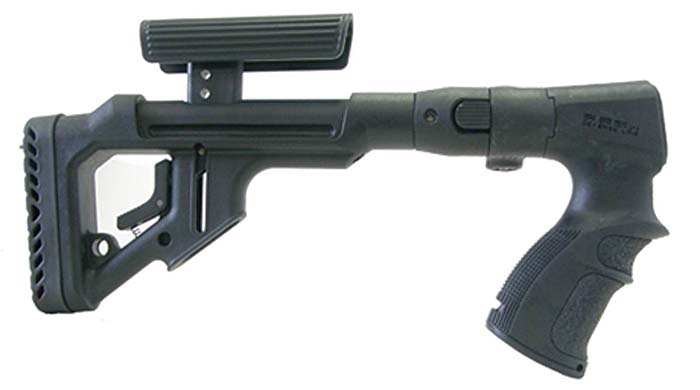 The Mako Group, a leader in marketing and distributing weapons accessories, announces their new line of Remington and Mossberg shotgun stocks. All three types of unique stocks, (1) folding, (2) folding collapsible and (3) shock absorber collapsible, are solutions to the market's numerous requests. Each stock is designed to be very tough and robust, with superior features not found anywhere today. First there is the Tactical Folding Buttstock with an Embedded Adjustable Cheek Piece for the Remington 870, UAS870, Mossberg 500/590 and UAS500, with a MSRP of $160. This is a completely new innovative, ground-breaking design for shotgun stocks. The folding joint can be mounted to fold on either the left or right side, with clearance for trigger use. To fold the stock, simply push the button and a spring locks the stock in the folded position. To unfold, just pull on the stock. In addition, the stock has a slim and low profile, and the rubber buttplate reduces recoil and slippage. Next is an AR-15/M4-style Folding and Collapsible Buttstock for the Remington 870, AGRF870-FK, Mossberg 500/590 and AGMF500-FK with a MSRP of $207. This product includes The Mako Group's best-selling GLR16 buttstock which folds (as described above), has 5-collapsible positions, comes with an M4-style aluminum buffer tube, and includes two battery-storage compartments – one in the GLR16 and one in the pistol grip. Finally, the AR-15/M4-style Collapsible Buttstock with Shock Absorber for the Remington 870, AGR870-FKSB, Mossberg 500/590 and AGM500-FKSB with a MSRP $255. This product also includes The Mako Group's best-selling GLR16 buttstock (as described above) and has a unique, one-of-a-kind, shock-absorber system which reduces the actual recoil. Combined with a 5-position collapsible stock, the product is the only one of its type and price point in the market place today. The pistol grip allows a natural fighting stance hold on the shotgun and is slightly angled to counter recoil. In addition, there is improved muzzle control performance during fire and a storage compartment for batteries or a cleaning kit. No gunsmithing is required. All of these stocks are manufactured by FAB Defense in Israel. Please contact them for more information at The Mako Group, Dept. SAR, 74 Rome Street, Farmingdale, NY 11735. Phone: (631) 880-3396. Fax: (631) 880-3397. Their website is www.makosecurity.com.
Wilson Combat Announces New 6.8 SPC Rifles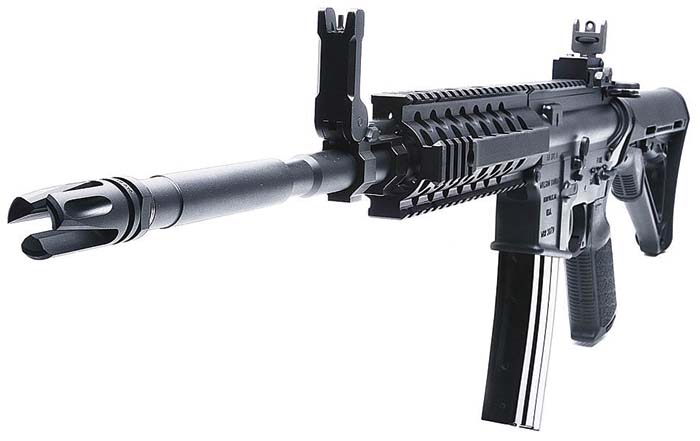 After a tremendous amount of research and testing by Bill Wilson and the Wilson Combat team, they are excited to announce the availability of their custom AR platform rifles chambered in 6.8 SPC caliber. The 6.8 SPC (6.8x43mm) was developed by the United States Army Marksmanship Unit to offer superior downrange lethality over the 5.56 NATO/.223 Remington in an AR pattern service rifle with minimal loss of magazine capacity and a negligible increase in recoil. When built to the level of quality and precision Wilson Combat has achieved, the 6.8 SPC is also capable of outstanding accuracy and reliability. In their match-grade, Spec II chambered 16-inch barrels, the 6.8 SPC is capable of pushing a .277 caliber, 85gr bullet to over 2,900 fps. The 110gr bullets easily achieve 2,500 fps with factory loaded ammunition. Appropriate hand loading can achieve even higher velocities and enable the use of heavier projectiles up to 130 grains, which dramatically improves terminal ballistics over a 5.56 Nato/.223 Remington at long range. This added ballistic performance makes the 6.8 SPC perfect for home protection and SRT/SWAT teams. The 6.8 is a truly ideal hunting round for medium to heavy game and turns the AR into a serious hunting rifle. It's also available in the Tactical Hunter Lightweight and M4 formats, all further customizable by users. Contact Wilson Combat, Dept. SAR, 2234 CR 719, Berryville, AR 72616 for more information. Phone: (870) 545-3618. Fax: (870) 545-3310. Visit their website: www.wilsoncombat.com.
CaseCruiser Universal 5-Pack Gun Case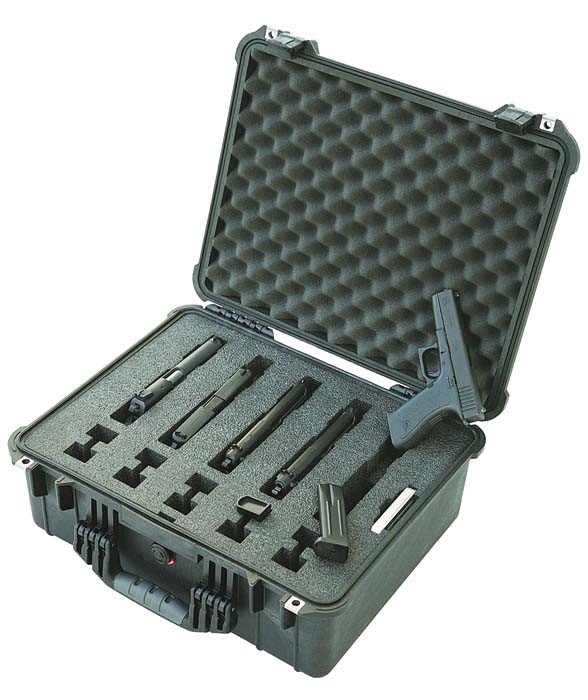 When handguns travel they need first-class protection from thieves, thoughtless baggage handlers and Murphy's Law. Collectors, sportsmen and law enforcement professionals can now hit the skyways and byways fully armed and completely at ease. CaseCruzer has them covered with the CaseCruiser Universal 5-Pack Gun Case. The base and top are soft on the inside, hard as nails on the outside. Polyethylene foam absorbs the blows of rough roads and turbulent air flights. When closed, the lid secures handguns with convoluted, egg-crate style foam. Civilians who travel to shooting ranges and gun shows will be equally pleased: prized collections can now be locked down in an indestructible yet lightweight vault and its only 11.9 pounds when empty. This field-tested carrying case can store up to five handguns and 10 magazines in custom-cut Polyethylene foam cavities. Foam plugs keep smaller handguns snug. There are also cutouts for optional desiccant, a hygroscopic substance that induces or sustains dry conditions. The waterproof case is buoyant up to 69.9 pounds and is also dust and sand proof. For more information on this new Pelican case and their other fine cases, you can contact them at CaseCruiser, Dept. SAR, 4665 State Street, Montclair, CA 91753. Phone: (800) 882-4730. Fax: (909) 465-5598. Website: www.casecruiser.com.
Tactical Zoom Lever from MGM Targets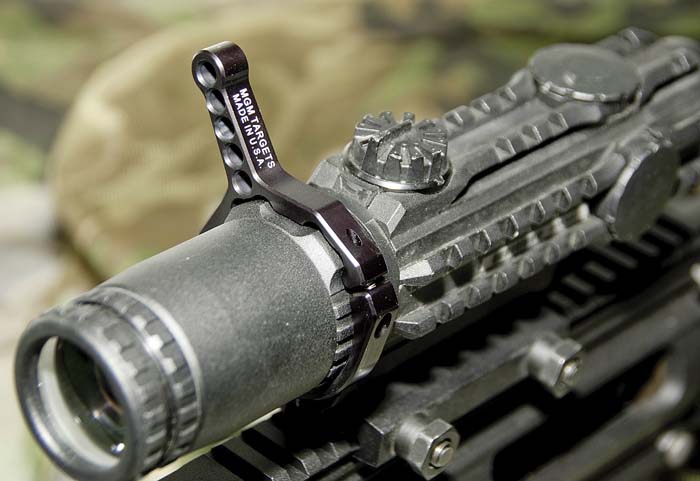 MGM Targets, the industry's leading manufacturer of steel reactive and stationary targets, is proud to announce the release of the MGM Switchview tactical lever. The MGM Switchview is a small, lightweight lever that clamps around the power adjustment ring of variable power scopes. Made from anodized 6061/T6 aluminum, the Switchview allows the user to quickly and easily adjust the scope's power setting with a push or pull of the lever. The MGM Switchview is ideal for law enforcement, military or competition shooters, working equally well on telescopic sights for AR-15 to long range bolt actions. Only slightly higher than most target style turrets, the lever is easy to use without being overly intrusive, and enables the user to change magnification settings in only a couple of seconds. Even while wearing gloves or in slippery or wet conditions, finding the lever and adjusting the power setting is quick and easy. Whether you are glassing a large area for a target and then zooming in to make the shot without losing your sight picture, or you need to transition from far targets to "in your face" targets in a hurry, the MGM Switchview will get to the magnification setting you need quickly and easily. The MGM Switchview is available for a variety of variable power scopes, comes standard in anodized black with a MSRP of $59.95, but can be special ordered in just about every color of the rainbow. For more information you can contact them at MGM Targets, Dept SAR, 17891 Karcher Road, Caldwell, ID 83607. Phone: (208) 454-0555. Fax: (208) 454-0666. Website: www.mgmtargets.com.
This article first appeared in Small Arms Review V13N5 (February 2010)