By Chris A. Choat
US Night Vision Introduces the ATAC 360° Camera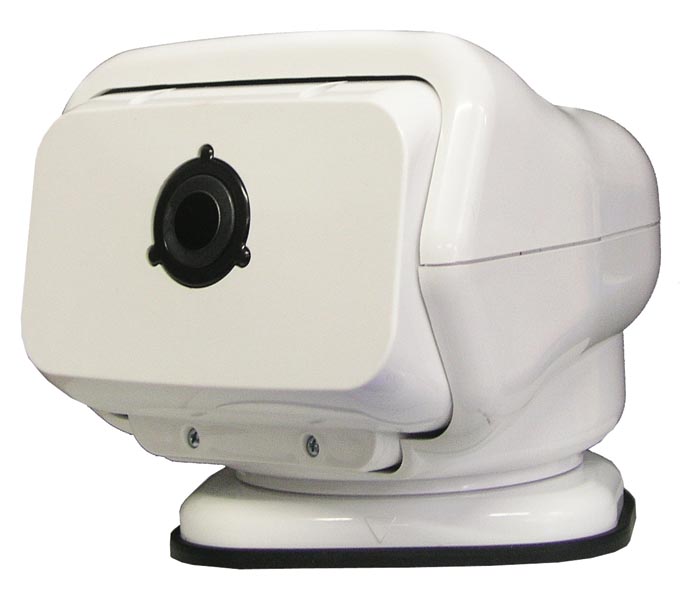 US Night Vision Corporation has announced the launch of its new mobile/marine based pan/tilt Thermal Imaging Camera. Built for both law enforcement and commercial markets the ATAC 360° offers visual clarity in any lighting condition. US Night Vision has chosen FLIR Systems, Inc., and Golight, Inc. as its core component providers based on strengths in their respective industries. The ATAC 360° is a low cost, high resolution thermal imaging system that is controlled by the touch of a button. Utilizing a 320×240 resolution FLIR (Forward Looking Infra-Red) camera, the system can see man sized targets from over 1,500 feet. The thermal core uses long-wave infrared sensor technology and can easily see through smoke, fog, rain and many other atmospheric conditions that could not typically be penetrated with other technologies. The ATAC 360° offers full 360° rotation and 135° tilt for complete situational awareness. Models include either a hard wired toggle control or wireless hand-held or dash mounted remote controls. The ATAC 360° is offered as a turnkey package that includes all items necessary for installation and use. At only $6,995 the ATAC 360° is currently the lowest priced system on the market to date. For more information please contact US Night Vision, Dept. SAR, 3845 Atherton Road, Suite 9, Rocklin, CA 95786. Phone: (800) 500-4020. Fax: (916) 663-5986. Their website is www.usnightvision.com.
New Redfield Value Priced Revolution Riflescope

Redfield's new line of Revolution riflescopes offers an unmatched array of optical, mechanical and functional features in the commonly affordable $130 retail price range. The Revolution comes in 2-7x33mm, 3-9x40mm, 3-9x50mm and 4-12x40mm models, each with a black matte finish and either a 4-Plex or Accu-Range reticle. Key features of the new scope include the Illuminator Lens System with premium lenses and vapor-deposition multi-coatings for a bright, crisp sight picture. The system is designed to provide superior light transmission in the critical low-light/blue wavelength conditions. Also, the Accu-Trac windage and elevation adjustment system with resettable precision stainless steel 1/4-MOA finger click adjustments for superior repeatability and reliability. The scopes Rapid Target Acquisition (RTA) lockable eyepiece helps the hunter quickly find the "sweet spot" behind the scope and shoot with greater accuracy. The Accu-Range reticle option provides hold points to 500 yards for simple, long-range shooting precision. The new scope also comes with a coupon for a free Scopecoat neoprene scope cover ($20 retail value) with the purchase of Leupold rings. Best of all is the fact that Revolution riflescopes are built in their Oregon facility by American workers. Revolution riflescopes have a one-inch maintube machined from lightweight aircraft-grade aluminum, and are nitrogen filled to make them waterproof, fog proof and shock proof. Exhaustive testing in the factory and field ensures the scopes' durability. They are covered by the Redfield Full Lifetime Warranty. For more information on the value priced scopes please contact Redfield in care of Leupold & Stevens, Inc., Dept. SAR, 14400 Northwest Greenbriar Parkway 9700, P.O. Box 688, Beaverton, OR 97006. Phone: (877) 798-9686. Website: www.redfield.com.
KNS Precision Introduces AK-47, SKS and Variant Front Sights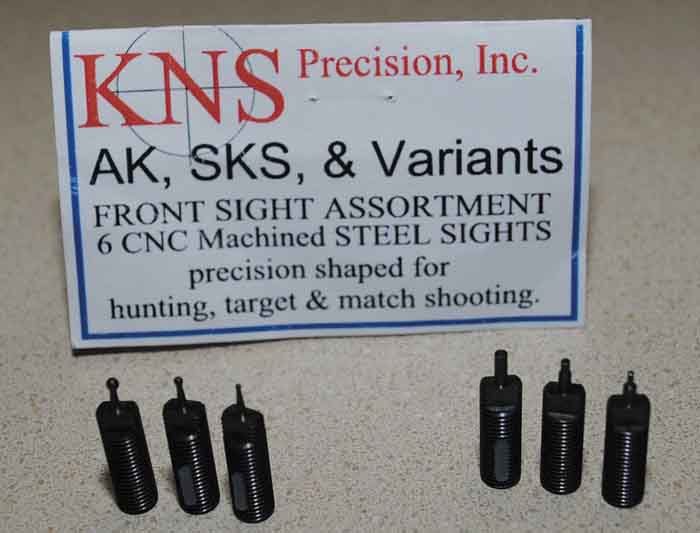 KNS Precision, Inc. is proud to announce the release of its new AK-47, SKS and variants front sights. KNS Precision has produced six new sights for the AK-47 family in the following sizes: Standard Post .034, .052 and .072 diameter and the Ball Post in diameters .034, .052 and .072. The sights are precision machined from high quality steel and then finished with black oxide. The new sights are available as individual sights or as a six-sight package. The KNS Precision AK-47, SKS and Variants Sights use the standard AK-47/SKS front sight adjustment tool for installation and sight adjustment. As with all KNS Precision manufactured products, the sights come with a lifetime guarantee against defects, breakage and loss. For more information or to place an order please contact them at KNS Precision, Inc., Dept. SAR, 112 Marschall Creek Road, Fredericksburg, TX 78624. Phone: (830) 997-0000. Fax: (830) 997-1443. Visit their website at: www.knsprecisioninc.com.
BLACKHAWK! Ergonomic Duty Belt Harness for Law Enforcement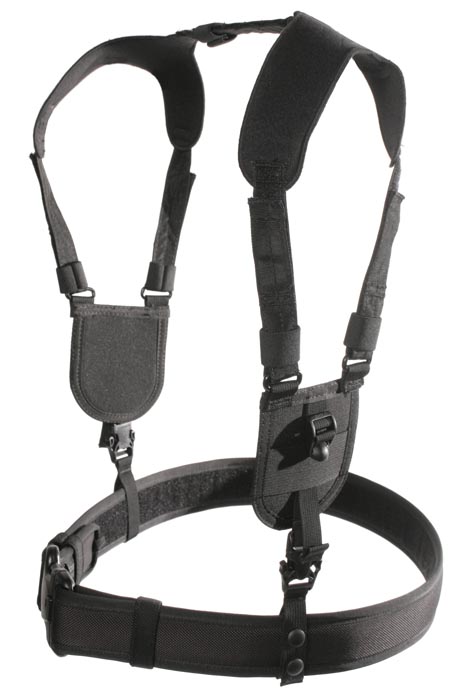 BLACKHAWK! Products Group, the world leader in manufacturing tactical gear for the military, law enforcement, industrial security and outdoor markets has responded to the growing concern in the law enforcement community related to discomfort and injuries from long-term use of duty belts and related gear. In the past several decades, officers have been required to carry more and more items on their duty belts. As a result there has been an increase in chronic neuro-muscular injuries to the hips and lower back. Several studies and articles have been published on methods to relieve the discomfort faced by officers wearing heavy duty belts. With a grant funded by the National Institute of Justice (NIJ), BLACKHAWK! developed and tested an Ergonomic Duty Belt Harness that shifts the weight of the equipment-laden duty belt from the hip structure of the officer to the shoulders. This harness fits under the duty shirt and with a minor modification to the duty shirt, attaches to the duty belt. The Ergonomic Duty Belt Harness fits a broad range of body types and body armor packages. There is no need to purchase a specific type of body armor to accommodate the Ergonomic Duty Belt Harness. There are no moving parts to fail which means officers can wear the Ergonomic Duty Belt Harness in confidence and health every day on the job. They are available in two sizes that are adjustable to fit almost every officer for an MSRP of $79.99. For more information contact BLACKHAWK!, Dept. SAR, 6160 Commander Parkway, Norfolk, VA 23502. Phone: (800) 694-5263. Fax: (888) 830-2013. Their website is www.blackhawk.com.
Winchester Announces New Shotshell Personal Defense Ammo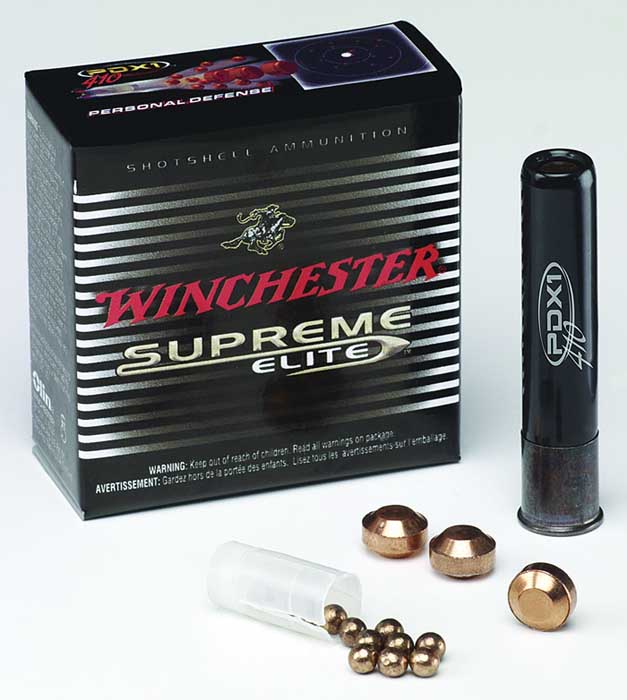 Winchester Ammunition launches the most innovative line of personal defense shotshell ammunition in 2010 with two new products: the Supreme Elite PDX1 shotshells in 410 and 12 gauge. Both loads deliver threat-stopping power and offer customers more ammunition choices for personal defense. Highly effective in both shotguns and 410 compatible handguns, the PDX1 in 410 gauge features a distinctive black hull and black oxide high-base head and combines three plated Defense Disc projectiles and 12 pellets of plated BB shot. The result is the ideal personal protection load for short range engagement with the performance needed to stop threats. This load is also suitable for varmint hunting and pest control. Designed for use in the Taurus Judge, this new personal defense round provides maximum protection at close range. This ammo is available in 10-round boxes. The 12-gauge Supreme Elite PDX1 features a distinctive black hull, black oxide high-base head and 3 pellets of Grex buffered 00 plated buckshot nested on top of a 1 oz. rifled slug. The result is the ideal, tight patterning personal defense load. The slug/buckshot combination provides optimum performance at short and longer ranges while compensating for aim error. Both loads will be available in February of 2010. For more information you can contact them at Winchester Ammunition, Division Olin Corp., Dept. SAR, 427 North Shamrock Street, East Alton, IL 62024. Phone: (618) 258-2365. Fax: (618) 258-3609. Website: www.winchester.com.
New 10/22 Accessories from Shooters Ridge

Shooters Ridge, a leader in shooting supports and accessories, expands their line of 10/22 accessories with several items designed for the popular Ruger 10/22 Long Rifle. Each of these products is currently available to consumers looking to upgrade or customize their 10/22. Based on last year's response to their 10/22 thumbhole stocks and .920 barrels, Shooters Ridge now combines them into one convenient offering with the new 10/22 Stock & Barrel Combo (MSRP: $242.49 – $377.49). Ergonomically designed to be natural pointers, the Shooters Ridge .920" thumbhole stocks feature: synthetic construction for weather proof performance, steel pillar for repeatable accuracy, high cheek piece and a soft recoil pad for shooting comfort.
Combo Pack stocks are available in either standard black or Wild Web patterns. The .920" barrels are offered in stainless steel fluted or blue and feature 1/16 inch right-hand twist, recessed target crowns with 45 degree break and the ability to achieve MOA 1/2 inch groups at 50 yards when using matchgrade ammunition. Shooters Ridge also expands their 10/22 stock lineup with four new camo patterns scheduled for release in 2009 (MSRP: $154.49 – $172.49). Shooters can choose between pink and blue Realtree Hardwoods HD, white Mothwing or Digital Woodland Camo. Each stock features the same qualities as the existing line but with distinctive new looks. Whether shooting the factory magazine or a Shooters Ridge high-capacity magazine, the new 10/22 Magazine Release (MSRP: $5.95) allows shooters to quickly and cleanly insert a fresh, loaded magazine for continuous action. Easy to install, this new release tab incorporates a pull action that is easy to operate even when wearing gloves. For more information contact Shooters Ridge, Dept. SAR, N5549 County Trunk Z, Onalaska, WI 54650. Their website is www.shootersridge.com.
This article first appeared in Small Arms Review V13N6 (March 2010)