By Chris Choat
MasterPiece Arms Now Has MAC-10s In .460 Rowland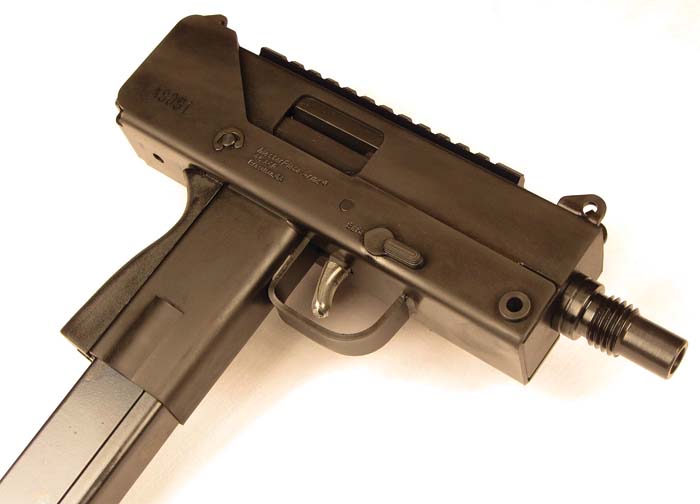 MasterPiece Arms, the nation's only true MAC-10 manufacturer, introduces the MPA 460 Rowland, a brand new addition to its unique and impressive product line. These firearms are chambered for the .460 Rowland round. The .460 Rowland round is a high performance proprietary cartridge intended to attain .44 Remington Magnum level performance in a semiautomatic pistol or carbine. The overall cartridge length is identical to a .45 ACP, but the case length is 1/16 inch longer. The overall performance of the .460 Rowland Cartridge is nearly double that of a standard .45 ACP round. The 460 Rowland is offered in three varieties of firearms: the 6-inch .460 Rowland Pistol, the 10-inch .460 Rowland Pistol, and the .460 Rowland Carbine. The 6-inch .460 Rowland Pistol, or MPA460-10, is chambered for .460 Rowland ammo, has a 6-inch threaded barrel with muzzle break, scope mount, side charger and 30 round magazine. The MSRP is $579. It is also available with extra .45 ACP Upper included for $669. The 10-inch 460 Rowland Pistol, or MPA460-15, is also chambered for .460 Rowland ammo, has a 10-inch threaded barrel with muzzle break, scope mount, side charger, and 30 round magazine. Its MSRP is $675, and is also available with extra .45 ACP Upper for $799. The 460 Rowland Carbine, or MPA460-1, is chambered for .460 Rowland ammo, has a 16-inch threaded barrel with muzzle break, AR-15 hand guard, scope mount, 2-7×32 scope with illuminated reticule, side charger, MPA low profile fixed stock, 30 round magazine, 1:16 RH barrel twist, 3.8 pound trigger pull, parkerized finish, American-made, lifetime guarantee. The MSRP is $853, but is also available with extra .45 ACP upper for $999. MasterPiece Arms uses state of the art CNC machining, turning, laser cutting and bending in its manufacturing process. With versatile uses such as protection, hunting, tactical or novelty interests, MPA products are one of a kind and backed by a lifetime warranty for original owners. For more information contact Masterpiece Arms Inc., Dept. SAR, P.O. Box 669, Braselton, GA 30517. Phone: (770) 832-9430. Fax: (770) 832-3495. Their website is located at: www.masterpiecearms.com.
New Scope Ring From Tactical Rifles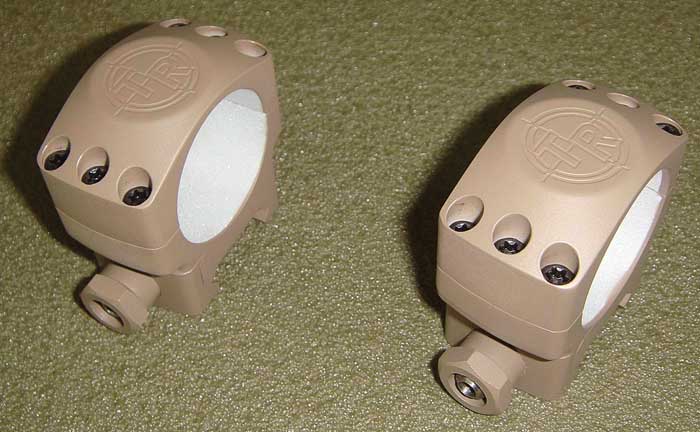 Tactical Rifles is proud to announce the release of the new T7 Series Tactical 30mm rings. Designed specifically to meet the demanding needs of law enforcement and military snipers, the T7 rings are rated up to .50 BMG. Advanced alloys ensure lighter weight than steel while giving tremendous strength. Tensile strength is actually 25% greater than steel while weighing 25% less. Boasting 6 Torx screws per ring cap and a unique Teflon coating, these rings are built for the most extreme environments. The extra width of the ring affords maximum grip with the scope body – 60% more gripping surface than conventional rings. For more information you can contact Tactical Rifles, Inc., Dept. SAR, 38439 5th Avenue, #186, Zephyrhills, FL 33542. Phone: (877) 811-4867. Website: www.tacticalrifles.net.
SureFire Introduces New Headlamps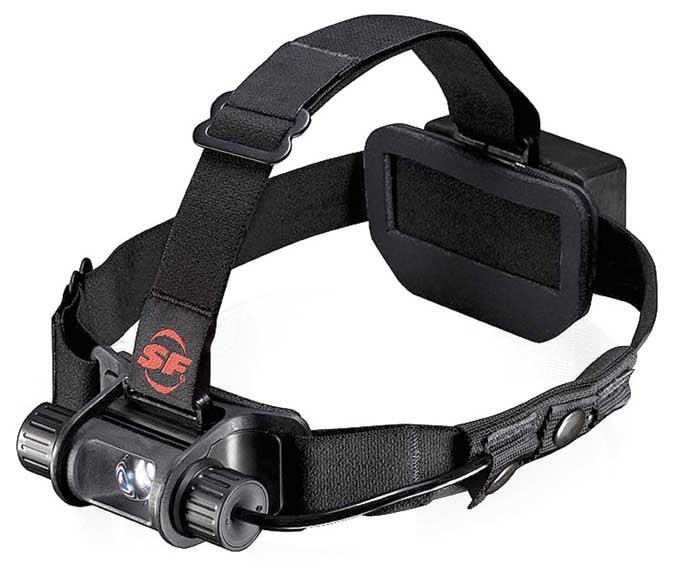 SureFire, LLC, manufacturer of high-end illumination tools and tactical products, is pleased to announce its new Saint family of headlamps. The Saint and the Saint Minimus are the first two offerings from SureFire. The quality is evident from the materials used, which include a high-strength aluminum housing, a high-performance LED, a custom refractive optic and a wide, no-chafe headband. The Saint headlamps are built to withstand harsh environments. Simply put, these headlamps provide more output, greater durability, and a wider beam pattern optimized to fit your field of vision. With an eye on the needs of those who must travel light, SureFire offers the Saint Minimus. Powered only by a single 123A lithium battery, the Minimus weighs a mere 3.3 ounces. Wearing this latest offering from SureFire, the well-equipped outdoorsman can intuitively adjust light output via its variable-light output dial-from 0 to 100 lumens using just one hand, even while wearing gloves. Runtime varies from 1.5 hours at the max-output 100-lumen setting or up to 50 hours when operated at the low setting. The full-size Saint headlamp weighs 9.4 ounces and features a battery pack that provides an impressive 144 hours of useful runtime. Output is the same (from 0 to 100 lumens) but the Saint is the "hybrid" vehicle of the headlamp world in that it operates with one, two, or three 123A lithium batteries or two AA alkaline batteries. What's more, the Saint can be converted to the Minimus in a few seconds by merely removing the battery pack and power cable. Both headlamps feature virtually indestructible high-quality LEDs with proprietary refractive optics that produce a smooth, wide beam that accommodates our natural field of vision. The headband is adjusted with ultra thin aluminum buckles and both the LED housing and the Saint's battery pack are slightly curved to reduce pressure points on the skull. And there's even a built-in SOS beacon, should the need arise. The Saint Minimus sells for $139 while the full-size Saint, with battery pack, is available for $185. Whether you're hiking back to camp or searching your pack, SureFire headlamps keep you comfortable, and in control of the situation. For more information please contact SureFire, LLC, Dept. SAR, 18300 Mount Baldy Circle, Fountain Valley, CA 92708. Phone: (714) 545-9444. Fax: (714) 545-9537. Website: www.surefire.com.
Warne Products New Multi-sight Mount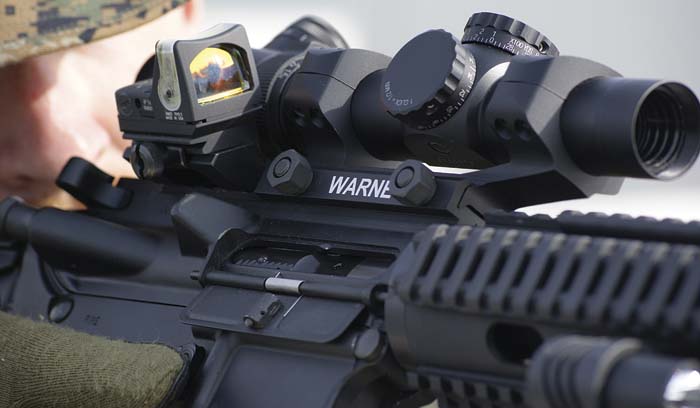 Warne's new RAMP (Rapid Acquisition Multi-sight Platform) is a versatile mounting system that provides the ability to use multiple optics and/or accessories on one weapon platform. Manufactured from a combination of magnesium phosphate coated steel and matte black hard anodized aluminum, this unique mounting solution attaches to any Picatinny rail equipped firearm. Heavy duty 8-40 Torx screws, dual recoil control surfaces and a 1/2 inch nut, 65 inch pound clamping system provide a rock-solid attachment to the firearm and retains zero under the most severe recoil. Dual 45 degree rails at the rear of the system allow mounting of additional reflex style sights, laser designators, or lights. The RAMP fits all small and large frame flat top AR platforms and is available for 1 inch and 30mm scopes. The system weighs 9.6 ounces, and is 7.125 inches long providing 3.1 inches of ring spacing. Warne Scope Mounts is an industry leader in the manufacture of rugged, dependable scope mounts. For more information you can contact them at Warne Tactical, Dept. SAR, 9500 SW Tualatin Road, Tualatin, Oregon 97062. Phone: (503) 657-5590. Website address is: www.warnetactical.com.
New HellFighter Under Boss Light/Laser Combo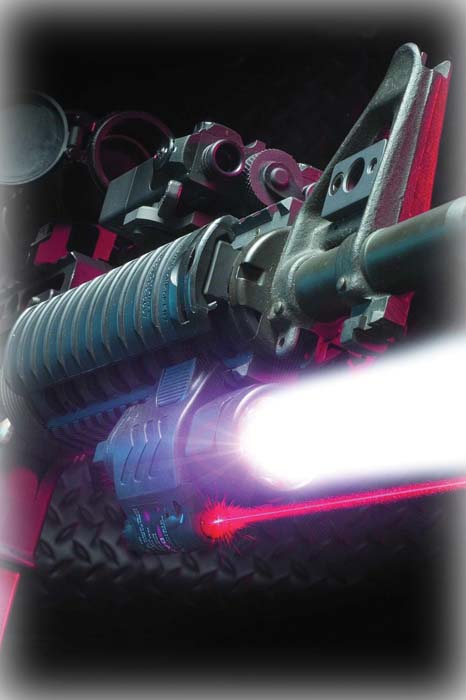 The new HellFighter UnderBoss, by HellFighter Tactical Lighting and exclusively distributed worldwide by Master Distributor Dark Ops Holdings, is certainly a force to be reckoned with in the weapon mounted lighting world. The rugged yet affordable laser/light combination UnderBoss comes in LED or Xenon versions. HellFighter's LED technology allows the LED to put out the same power as the Xenon version at a brilliant 150 lumens worth of light. Amazingly, the UnderBoss comes with a top of the line red laser that shines bright and steady with or without the flashlight on. The UnderBoss comes with the coil pressure pad for easy on/off manipulation when mounted on your AR-15 or any other long gun and features a quick detach mounting system. The UnderBoss' rugged exterior and finely manufactured insides make it one of the best values on the market today. It retails for $139.95. For more information contact Hellfighter Tactical Lighting Corp., Dept. SAR, Rochester, NY. Phone: (866) 883-9444. Fax: (417) 883-8636. Website: www.darkopsholdings.com.
Swarovski Optik Announces New EL 42 Binoculars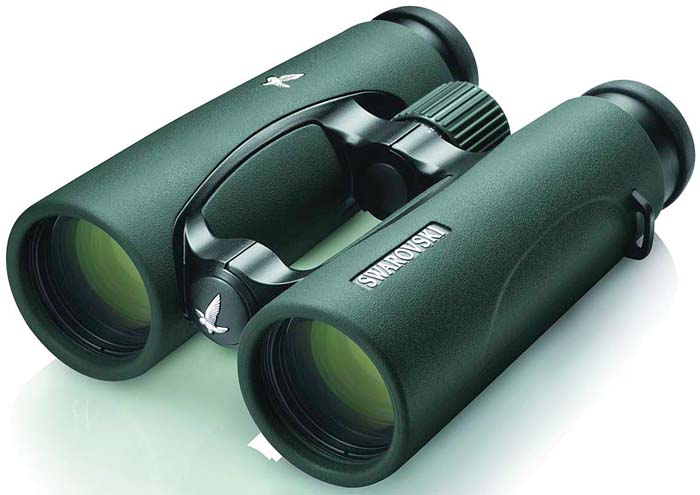 Swarovski Optik announces the new EL 42 binoculars with Swarovision technology specially developed for greater viewing comfort, especially for eyeglass wearers. Using field flattener lenses, which help to create a true image, it is possible to produce diamond-bright image resolution right up to the very edge of the field of view ensuring the finest detail without any edge distortion. HD lenses minimize color fringing (chromatic aberration) and guarantee razor-sharp images with the highest possible resolution. The EL Swarovision 42 provides improved viewing comfort, and enables users to enjoy the entire wide-angle field of view and the new EL 42's unique edge sharpness. The sturdy, removable twist-in eyecups have been designed with an intermediate stage making it easier to adapt the individual distance between the ocular lens and eye. The new focusing wheel made from hard and soft components is non-slip, sturdy, easily and accurately operated. It is possible to change the setting from the close focus to infinity very quickly with only two complete turns. This unrivalled close range is particularly beneficial for the macro observation world. Thanks to their rubber armoring, the binoculars are pleasantly easy to handle even when cold and the ergonomic thumb rests ensure a perfectly balanced observation. The practical accessories are yet another plus in terms of functionality. All new EL 42's are supplied with a water-repellent functional bag, an easily adjustable lift carrying strap, protective caps for eyepieces and objectives plus the Snap Shot adapter. The latter is used to quickly connect a digital compact camera to the binocular for remarkable photographs taken at long distance. For more information on these and their full line of quality optics please contact them at Swarovski Optik North America, Dept. SAR, 2 Slater Road, Cranston, RI 02920. Phone: (800) 426-3089. Fax: (401) 734-5888. Website: www.swarovskioptik.com.
This article first appeared in Small Arms Review V13N7 (April 2010)