By Chris A. Choat
LaserLyte Introduces the K-15 Kryptonyte Green Laser

The LaserLyte K-15 Kryptonyte Green laser is a modern military styled laser for the modern rifle. The K-15 Kryptonyte is designed for use with the modern rifle, carbine or any weapon with three-inches of Picatinny or weaver type rail. It is constructed of aircraft grade 6061 aluminum with T3 hardness. The entire aluminum body is black anodized with Level 2 hardness. The concise laser engraved markings clearly display the user-friendly features. The K-15 Kryptonyte is fully adjustable with hex drive screws protected by sealed turret caps. The offset design of the laser aperture allows for more flexible mounting options. The recessed activation selector can be changed to off, constant on and momentary on. The momentary on feature is used with the 10-inch long tape switch that can be mounted with provided Velcro strips. The bright green dot makes target acquisition fast and efficient. The green laser can be seen in daylight up to 100 yards and at night it can be seen up to a mile away. Powered by one CR-123 battery, the K-15 Kryptonyte offers 1.5 hours of continuous on. The unit measure 3 inches in length is 2.43 inches wide, 1.37 inches high and weighs 5.4 ounces. Manufacturer's suggested retail price is $249.95. For more information you can contact them at LaserLyte, Dept. SAR, 101 Airpark Road, Cottonwood, AZ 86326. Phone: (928) 649-3201. Fax: (928) 649-3970. They are on the web at www.laserlyte.com.
Ultimate Equipment Introduces Their M1911 Folding Knife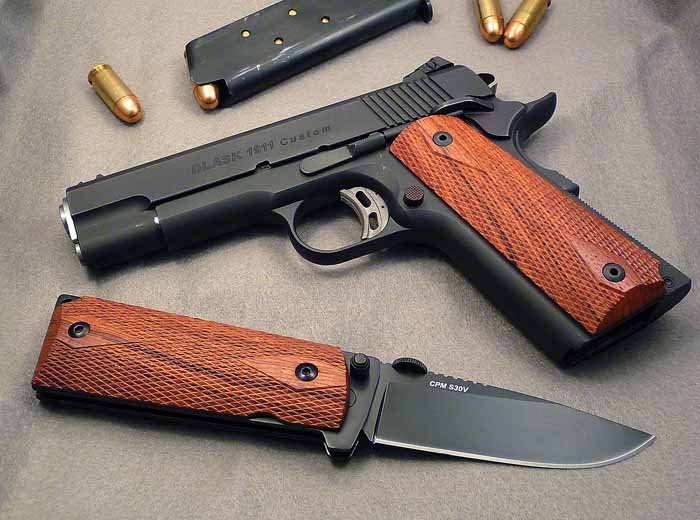 For the past 100 years, the Model 1911 pistol has been trusted for its durability, simplicity and reliability. Using these tried and true principles, Ultimate Equipment is proud to introduce the M1911 Folding Knife.
The M1911 Folding Knife by Ultimate Equipment captures the spirit of the classic Model 1911 firearm. By using military standard grips, this knife delivers an authentic touch and feel of the M1911 pistol in your hands. It is sturdy, durable, and most of all reliable. Every M1911 Folding Knife is manufactured with standard 1911 pistol bushings, grip screws and grip panels. As a result, grips from the knife and those from your 1911 pistol are interchangeable.
Forged in American CPM S30V stainless steel, the M1911 knife is one tough tool. Ultimate Equipment's workshop skillfully heat-treats and hardens the blade to HRC 59-61 rating providing wear and corrosion resistance second to none. The modern Particle Metallurgy process also creates a very refined grain microstructure with evenly dispersed Vanadium Carbides allowing the steel to take a fine consistent edge that stays razor sharp for a much longer time. The M1911 Folding Knife is also offered with a more affordable 440C stainless steel blade.
Ultimate Equipment has also added the innovative patent pending "Hammerhead Lock" to the M1911 knife. Being an ergonomically designed and ambidextrous locking mechanism, it enables smooth one-hand operation, while at the same time providing the most rock solid structure for a folding knife.
The knife comes in an attractive box that includes the knife with the blade and grips of your choice, a hex key for grip removal, left and right pocket carry clips and a sheath to carry the knife on your belt.
The M1911 Folding Knife can be ordered with the blade made of 440C or CPM S30V steel with Mahogany (Rosewood) or Ebony (Blackwood) grips. The M1911 folding knife with 440C steel blade has a MSRP of $99 with the Mahogany grips and $115 with the Ebony grips. The M1911 Folding Knife with the CPM S30V steel blade has an MSRP of $139 with the Mahogany grips and $155 with the Ebony grips.
For more information on these classic and sturdy knives, please contact Ultimate Equipment, Dept. SAR, #122 – 2498 West 41st Ave., Vancouver, BC, V6M 2A7, Canada. Phone: (604) 889-0981. Fax: (604) 909-1981. Email: terry@ultimate-equipment.com. Web site: www.ultimate-equipment.com.
SIG Sauer Introduces P522 Pistol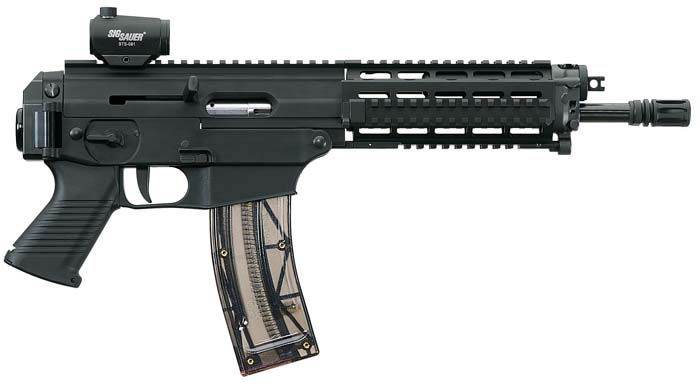 SIG Sauer, Inc., the leading manufacturer of commercial, law enforcement, and military firearms, has introduced the P522, a pistol version of the SIG522 rifle. The P522 brings the look, feel and excitement of the widely popular P556 Pistol to the rimfire community in a .22 LR blowback, semiautomatic package with a 10-inch barrel. The P522 pistol features a lightweight polymer lower receiver with ergonomic pistol grip, ambidextrous safety lever and ambidextrous magazine catch. The upper receiver is machined from 7075-T6 aircraft grade aluminum and given a black hard coat anodize for durability. The upper receiver features an integrated M1913 Picatinny rail for mounting a wide range of accessories. The P522 features two sling attachment points and has a built-in storage compartment hidden beneath the realistic looking "gas valve." The 10 inch barrel features a standard 1/2x28TPI thread for industry standard flash hiders and sound suppression devices. An A1 type flash suppressor is standard. Available in two models, one is the SWAT version and features an alloy quad-rail forearm for attaching lights, lasers and other tactical accessories while the standard model utilizes a Swiss-type polymer hand guard for the clean retro look of the SG 550: the rifle that created the worldwide demand for precision Swiss arms. The P522 is shipped in a hard carry case with one 25-round magazine. Ten-round magazines are also available. The P522 SWAT has an MSRP of $643. The standard P522 model, with a Swiss-type polymer hand guard, carries an MSRP of $572. For more information contact SIG Sauer, Inc., Dept. SAR, 18 Industrial Drive, Exeter, NH 03833. Phone: (603) 772-2302. They can be found on the web at www.sigsauer.com.
New .223 62 Grain TSX Load from Black Hills Ammunition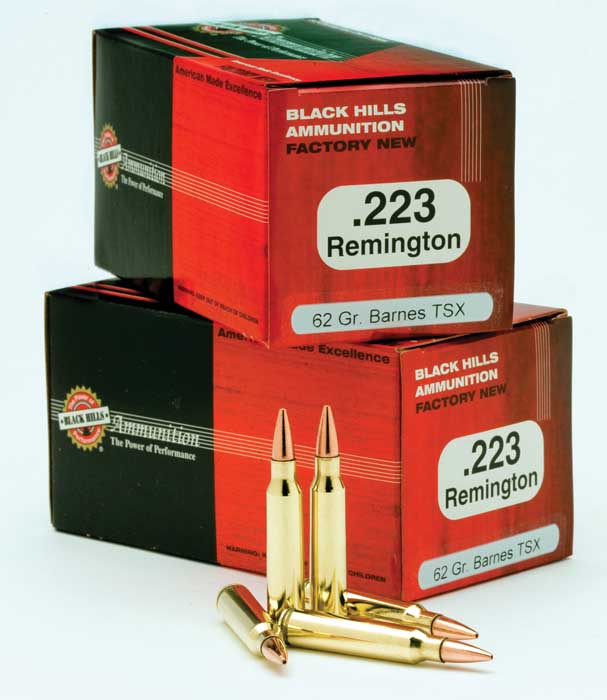 Black Hills Ammunition has added a .223 load featuring the 62 grain Barnes TSX bullet. This new load joins the extensive Black Hills lineup of .223s which includes the 55 grain TSX added in 2009. The Barnes .223 TSX bullets are designed for high weight retention (typically 100%). This ammunition provides incredibly effective terminal performance. The projectile opens up immediately upon impact to over .45 caliber diameter but still penetrates deeply (approximately 20 inches in ballistic gelatin. Velocity is 3,100 fps from a 24-inch barrel or 3,000 fps from a 20-inch barrel. The 62 grain bullet works well with twist rates of 1 in 7, 1 in 8 or 1 in 9 inch barrels making it suitable for currently made semiautomatic rifles in this caliber. This is the optimum .223 load for use in hunting, self defense or police patrol rifle use where a hard hitting, but deep penetrating bullet is desired. This load is the optimum for police situations requiring a "Barrier Blind" projectile for maintaining effectiveness through intermediate barriers. This ammunition line is available in the Black Hills "New Ammunition" line and is not available as remanufactured ammunition. For more information on this as well as their extensive line of quality ammunition, please contact them at Black Hills Ammunition, Inc., Dept. SAR, P.O. Box 3090, Rapid City, SD 57709. Phone: (605) 348-5150. Fax: (605) 348-9827. Website: www.black-hills.com.
New Single Point Bungee Sling from Elite Survival Systems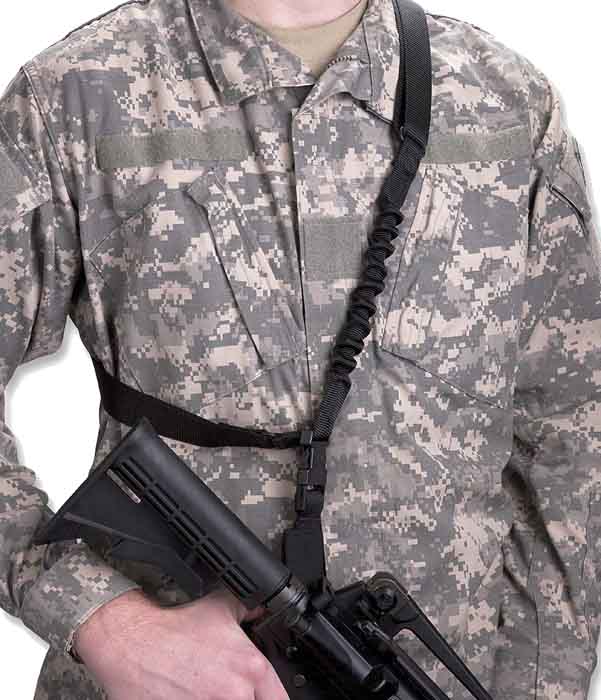 The new Single Point Sling from Elite Survival Systems offers an internal bungee layer for enhanced comfort and support, plus a quick-release attachment for convenience or emergency detach. The SPS02 has an internal bungee layer on one side only to offer enhanced comfort, yet minimize bounce and stretch. The sling is constructed of 1.25-inch heavy-duty nylon webbing with heavy-duty hardware. It attaches to the firearm with an interlocking attachment ring that prevents accidental release. The heavy-duty quick release buckle allows the attachment ring to remain connected to the firearm for quick and easy connect and disconnect. The sling is available in one fully-adjustable size and connects to any rifle with a connection ring. For information on this produce or any of the extensive line of nylon related gear, please contact them at Elite Survival Systems, Dept. SAR, 310 West 12th Street, Washington, MO 63090. Phone: (636) 390-8360. Fax: (636) 390-2977. Visit them on the web at www.elitesurvival.com.
Taurus Unveils New Polymer Judge Public Defender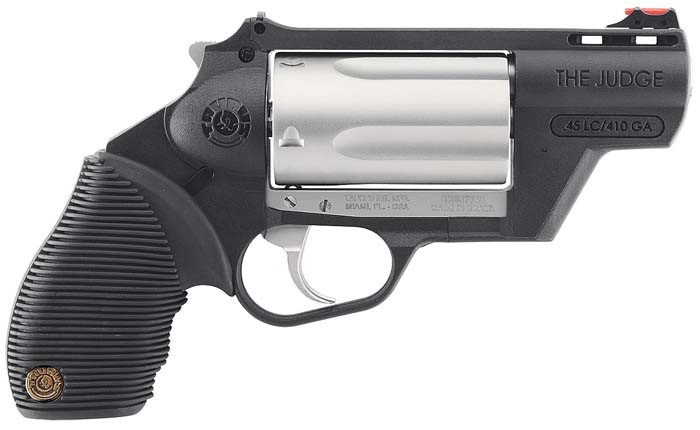 Taurus has just unveiled their revolutionary new Judge Public Defender Polymer. This scaled down model of everyone's favorite combo gun, the Taurus Judge, still gives the ability to fire the shooters choice of both .410 and .45 Colt ammunition – now in a size that fits in most pockets – also in a lighter, polymer body frame with new updates for improved handling and accuracy. Just like its big brother, this little gun delivers amazing versatility and devastating firepower for self-protection. New features include an adjustable rear sight, body styling that conforms to the shooters grip for secure hold and a new target style hammer and trigger. The Public Defender Polymer is available in blued or stainless steel finishes and weighs only 27 ounces. Capable of chambering both 2.5 inch .410 shotgun shells and .45 Colt ammunition, this amazing 5-shot combo gun is ideal for short distances – where most altercations occur – or longer distances with the .45 LC ammunition. The rifling has been finely tuned on this small frame revolver to spread the shot pattern at close quarters or to guide the bullet to the target. All Taurus Judge models include a fiber optic front sight as well as Taurus' ergonomic Rubber Grips. Additionally, like all Taurus handguns, the unique Taurus Security System allows users to securely lock the gun using an inconspicuous key-lock. Contact them at Taurus USA, Inc., Dept. SAR, 16175 NW 49 Avenue, Miami, FL 33014. Phone: (305) 642-1115. Fax: (305) 624-1126. Website: www.taurususa.com.
This article first appeared in Small Arms Review V13N8 (May 2010)