By Chris A. Choat
JKM Introduces New Shot See

JKM Associates announces production and retail availability of the revolutionary Shot See, a transparent, replacement magazine for the Mossberg 590 (8+1). Shot See's patent pending design provides instant visual knowledge of available rounds in the Mossberg 590. The Shot See is made in the United States and hand crafted in Virginia from tough engineered polymers bonded to steel threaded ends. The polymer tube weighs 1/2 pound less than the stock magazine and provides excellent impact resistance. Shot See features an operational temperature range of -35° to +390°F, drop-in replacement from the stock Mossberg magazine, change out takes about 10 minutes and requires no tools or modifications to the weapon. The Shot See kit includes one Shot See, a new replacement Wolff spring and custom and a high visibility follower. Shot See was developed from one of JKM Associates owners' frustration of wasted time, during 3-gun events, trying to load the 9th round into an eight-round magazine, while counting, moving and shooting during timed events. Shot See is a superb tool for 3-Gun sports, training, instruction and home defense. For more information on this innovative new shotgun accessory please contact JKM Associates, Dept. SAR, 810 Granby, Norfolk, VA 23510. Phone: (757) 606-0887. Web: www.jkm-associates.com.
CaseCruzer Deploys New Top Kick KR-20 Gun Case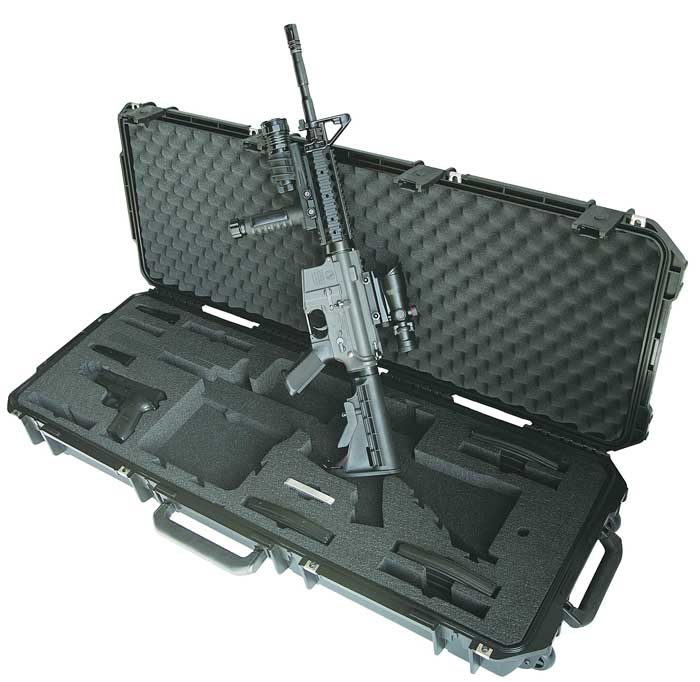 The new GunCruzer Universal M4/M16 case is engineered to safeguard one rifle (military or civilian AR-15) with any type of optics system. It will also accommodate one sidearm from well-known brands such as Beretta, Colt, SIG Sauer, and others. The case is lighter and 2.5 times stronger than comparable gun case designs and boasts an easy-trigger latch system that is the best on the market (with optional TSA accepted key locks or padlocks). Wheels provide ease of transport. Four padlock flanges comply with new military security regulations and meets Mil-C-4150J waterproof and dust tight design. The case also is fitted with reinforced hinges as well as side and front folding handles. The 45L x 17W x 6.38H inch exterior dimensions of the new wide-body gun case improves previous designs because it can accommodate both popular weapons, such as the M4 or the M16 rifle, as well as many handgun brands and sizes, including the M9 and M11 (or P228). The case is shockproof, watertight and airtight (with an O-ring seal) and is fitted with an automatic pressure release valve. The top lid interior of the carrying case is cushioned with convoluted egg-crate style foam. The base of the KR-20 is padded with polyethylene foam that includes multiple removable plugs for M16 and M4 rifles. There are cut-outs for seven rifle magazines, accessories, rail-mounted optics and one desiccant. For more information you can contact them at CaseCruzer, Dept. SAR, 4665 State Street. Montclair, CA 91763. Phone: (909) 613-1999. Fax: (909) 465-5597. They can be found on the web at www.casecruzer.com.
Kahr P380 Now Available in All Black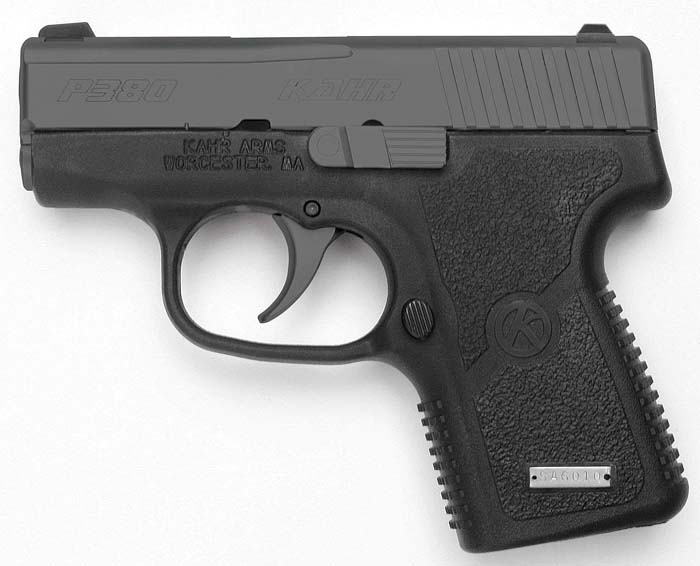 The Kahr P380, is now available in a Black-Out version for a sleek, subtle concealed carry option. The new KP3834 has a black polymer frame, just like its P380 match, but features a matte blackened stainless slide for a completely different look. The slide is blackened using an ultra hard and super thin coating that has been used successfully in the knife industry to protect blades from corrosion and scratches. Not only does the blackened slide offer a new unique and attractive profile, but it also provides a tougher coat and protection for your slide. This helps you keep your Kahr looking just as good as the day you bought it, even after some wear and tear.
The all black KP3834 maintains the same measurements as the original P380. It has an overall length of 4.9 inches and a height of 3.9 inches. It features a 2.5 inch premium Lothar Walther match grade barrel. The weight of the new all black 380 is 9.97 ounces without the magazine. The magazine capacity is 6+1 in a single stack configuration. The KP3834 also has drift adjustable, white bar-dot combat sights with optional tritium night sights available. The all black KP3834 has an MSRP of $690. The KP3834N, with tritium night sights, has an MSRP of $799. For more information please contact Kahr Arms, Dept. SAR, 130 Goddard Memorial Drive, Worchester, MA 01603. Phone: (508) 795-3919. Fax: (508) -795-7046. Their website is www.kahr.com.
Zimmerman Arms now has Rezolution Rimfire System

Zimmerman Arms, a new and innovative gun manufacturer, recently launched the production of a rimfire system capable of revolutionizing the tactical rimfire world. The Zimmerman Arms Rezolution 10/22 receiver system merges the receiver and Picatinny rails into a true one-piece CNC-machined platform, bonding the scope, receiver and barrel into a single highly accurized component. This design is a significant innovation over the current cast receiver and bolt-on "shell" system commonly being used to modify the Ruger 10/22. Mounting accessories directly to the Rezolution brings unparalleled accuracy, rigidity, and modularity to the tactical 10/22 platform. The Zimmerman Arms Rezolution is the only receiver in the 10/22 weapons family that utilizes monolithic type construction to eliminate the traditional stock assembly. All Rezolution receivers accept the Zimmerman Arms integrally mounted and fully adjustable bedding system for additional accuracy. Most importantly, the Ruger 10/22 parts family available from hundreds of manufacturers remain compatible in the Rezolution. It accepts standard 10/22 bolts, charging handles, trigger groups, barrels (up to .920 OD), and magazines. For the ultimate in tactical looks and utility, AR-15 stocks are the standard with the Rezolution. You can order the parts and build it yourself or let Zimmerman Arms build one for you. You can contact them at Zimmerman Arms LLC, Dept. SAR, 540 Sixth Street #F, Prescott, AZ 86301. Phone: (928) 778-1864. Fax: (928) 778-1694. On the web at: www.zimmermanarms.com
AWC Announces New M91 BDR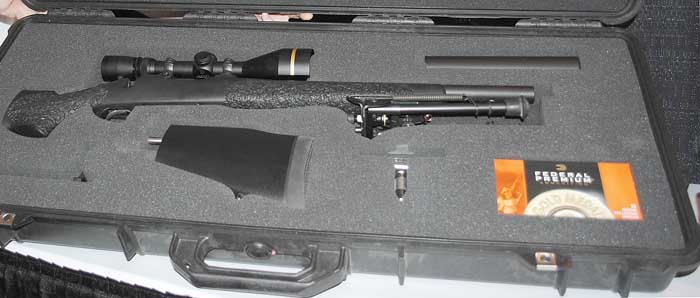 When firearms enthusiasts think of breakdown rifles, many picture a rifle that breaks at the breach, which can affect zeroing and accuracy, or at the wrist where a rifle stock is its weakest, sacrificing stock strength. AWC Systems Technology's M91 BDR (Breakdown Rifle) breaks from the norm and separates the stock at its strong point on the stock to maintain stock integrity and to ensure that the rifle maintains its zeroing and accuracy. The M91 BDR's match-grade fiberglass stock with a Pachmayr decelerator recoil pad with 13.5-inch L.O.P. can be quickly broken down or assembled using two alignment rods and a steel anchor rod. The action is a Remington 700 BDL action that is fully accurized with a tuned trigger. Standard customization configurations offer either right- or left-handed bolts and are available in .308 WIN or .223. The barrels are manufactured from medium-weight chrome moly with match chamber and crown in 16.5- or 18.5-inch lengths. Other calibers are available in custom orders. A pelican hard case with custom cut foam and a preset "T" handle torque wrench is standard. Additional accessories include a HyperDyne muzzle brake, AWC's Thundertrap suppressor, fast-action bolt knob and LMS bipod. For more information you can contact them at AWC Systems Technology, Dept. SAR, 1515 West Deer Valley Road, Suite A-105, Phoenix, AZ 85027. Phone: (623) 780-1050. Fax: (623) 780-2967. Website: www.awcsystech.com.
Compact, Affordable Handgun Storage from GunVault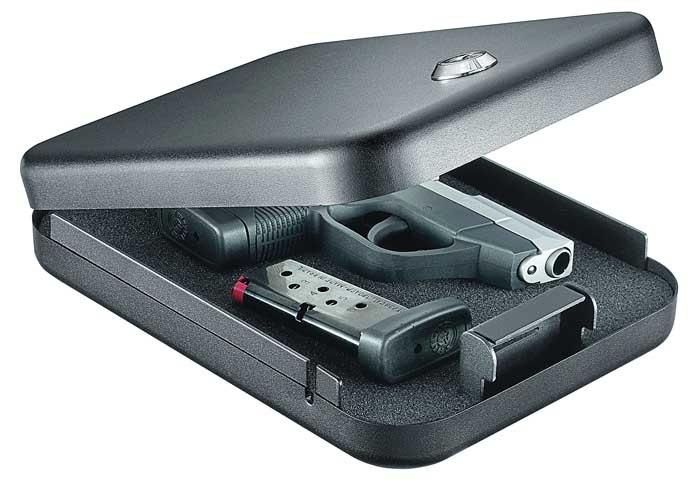 GunVault is pleased to introduce NanoVault, the compact, secure and affordable handgun storage safe solution. Available in two sizes, the NanoVault is perfect for home, travel or concealed-weapon permit holders. The NanoVault meets TSA airline firearm guidelines and fits discreetly in a bag, briefcase, desk or under a vehicle seat. The NanoVault features an easy-to-operate key lock system, 21-gauge steel construction and 1.25-inch thick memory foam interior. Each unit comes standard with a 1,500-pound test security cable. When the cable is wrapped around any fixed object and slid over the lock receiver inside the security box, both the NanoVault and any valuables will be securely attached. The retail prices for the vaults are $29.99 (NV100) and $34.99 (NV200). You can contact them at GunVault, Dept. SAR, 19949 Kendall Drive, San Bernardino, CA 92407. Phone: (800) 222-1055. Fax: (909) 382-2042. Website: www.gunvault.com.
Bronze Sculptures from Dave Venell Studios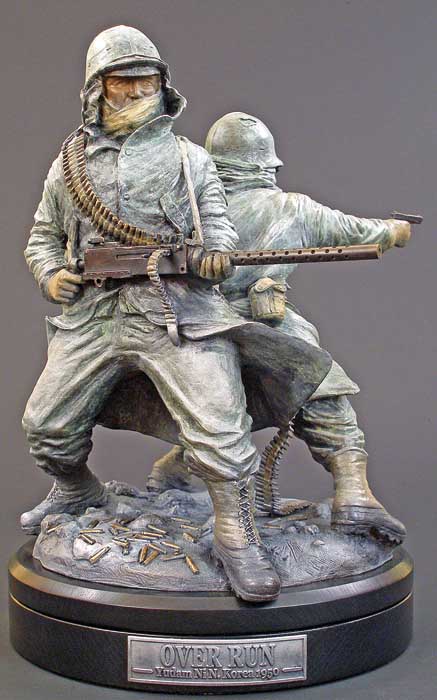 Realizing a life-long dream, Dave Venell began sculpting in 2004. He is a self-taught artist and has always had a passion for all forms of art. He also loves history and his ideas come from his passion for military history. He pays special attention to historical accuracy and detail in depicting the proper uniforms and equipment on the sculptures. Dave strives to create unique and dynamic sculptures that express a snapshot in time.
To create the bronze sculpture, the process begins with creating a clay maquette, which is then molded with silicone. Once the mold is cured, it is removed from the maquette and is ready for a wax pour. The wax is poured into the mold and after it has hardened it is removed from the mold and touched up. The wax is then gated (a method to vent the gases from the bronze pour) for the ceramic shell dip. This process can take up to a week to complete. The shell can be as thick as 1/2 inch. Once the shell has hardened it is ready for a burnout, (the wax is burned out of the ceramic shell). When the burnout is complete, the shell is then ready for the molten bronze to be poured into it. Once the metal has cooled, the outer shell is hammered off and the welding and chasing (cleaning up the metal and fixing any imperfections) begins. After the bronze is finished and cleaned, a patina is then applied with heat and pigmented acids to achieve the desired effect, then it is sealed with wax or lacquer to prevent any further oxidation to the metal.
The results of this painstaking process are bronze sculptures that are highly detailed and are true works of military art. Dave has created a number of military sculptures depicting scenes from the old west, World War II, Korea and Viet Nam. He is currently working on creating depictions of World War I in commemoration of the upcoming 100th anniversary of that war. For more information on these beautiful works of art, contact Dave Venell Studios, Dept. SAR, 2306 N. Pyrite, Mesa, AZ, 85207. Phone: (602) 448-3354. Website: www.davenell.com.
This article first appeared in Small Arms Review V13N9 (June 2010)