By Chris A. Choat
Hornady Introduces New Critical Duty Ammunition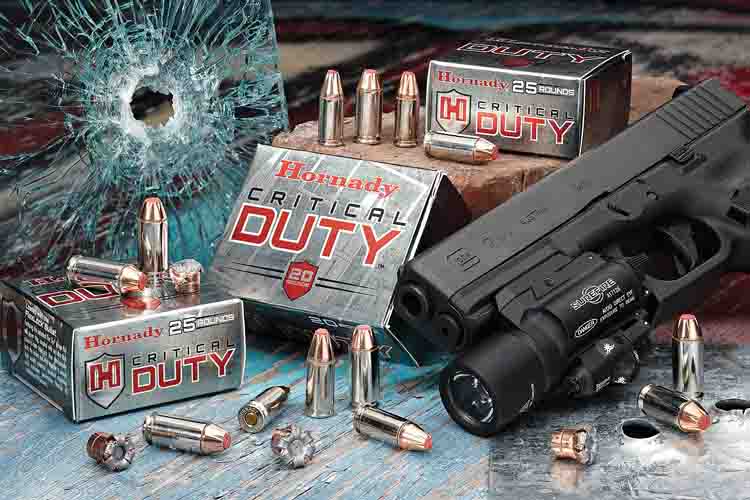 Law enforcement and tactical professionals now have a truly advanced, 21st Century handgun ammunition solution that delivers the most consistent and reliable urban barrier performance available. The proven Flex Tip design of the new FlexLock bullet eliminates clogging and aids bullet expansion. Its large, mechanical jacket-to-core, InterLock band works to keep the bullet and core from separating for maximum weight retention and proven terminal performance through all FBI test barriers. Critical Duty Ammunition is loaded in nickel-plated cases that resist corrosion and greatly enhance low-light chamber checks. It also utilizes a special low-flash propellant to help preserve night vision. For more information on this new high-tech ammunition please contact Hornady Manufacturing Company, Dept. SAR, 3625 Old Potash Highway, P.O. Box 1848, Grand Island, NE 68803. Phone: (308) 382-1390. Fax: (308) 382-5761. Website: www.hornady.com.
S&W Now Offers the M&P15 in .300 Whisper

Smith & Wesson Corp. announced that the Company has added a new extension to its Military & Police (M&P) Rifle Series with the introduction of the M&P15 chambered in .300 Whisper. As the first production rifle in the AR platform to be chambered in .300 Whisper (also chambers .300 AAC Blackout), the new rifle offers sub-sonic and supersonic capabilities while delivering consistent performance and accuracy. Manufactured on the M&P15 platform, the semiautomatic rifle features a 16 inch barrel constructed from 4140 chrome-moly steel. Both the forged 7075 aluminum upper and lower receivers have been coated with a Realtree APG finish for optimal concealment during hunting applications. To aide in precise shot placement, the gas-operated rifle benefits from a 1 in 7.5-inch twist, 5R rifling and a crisp single-stage trigger. Other standard features include a 10-round magazine, integral one-piece trigger guard, dust cover, forward assist and a six-position, collapsible CAR stock. Designed to operate with or without a sound suppressor, the M&P15 300 Whisper is equipped with a 5/8-24 threaded barrel along with an A2-style flash hider. The feed ramps and gas system have been optimized to run effectively with a full-range of factory loaded sub-sonic and supersonic ammunition, both suppressed and unsuppressed. The barrel's twist rate is compatible with a wide variety of bullet weights from 110 to 220+ grains. For enhanced reliability, the M&P15 300 Whisper features a chrome-lined gas key and bolt carrier along with a Melonite barrel. The optics ready platform is compatible with most sighting systems through the use of the Picatinny-style equipment rail located on top of the upper receiver. The M&P15 300 Whisper will also be available with a soft line black tactical upper featuring a 10-inch free-float quad rail and a Yankee Hill Phantom flash hider. The upper is compatible with any mil-spec AR lower. For more information contact Smith & Wesson Corporation, Dept. SAR, 2100 Roosevelt Avenue, Springfield, MA 01104. Phone: (413) 781-8300. Fax: (413) 747-3677. Website: www.smith-wesson.com.
Heizer Defense Unveils Their New Double Tap Pistol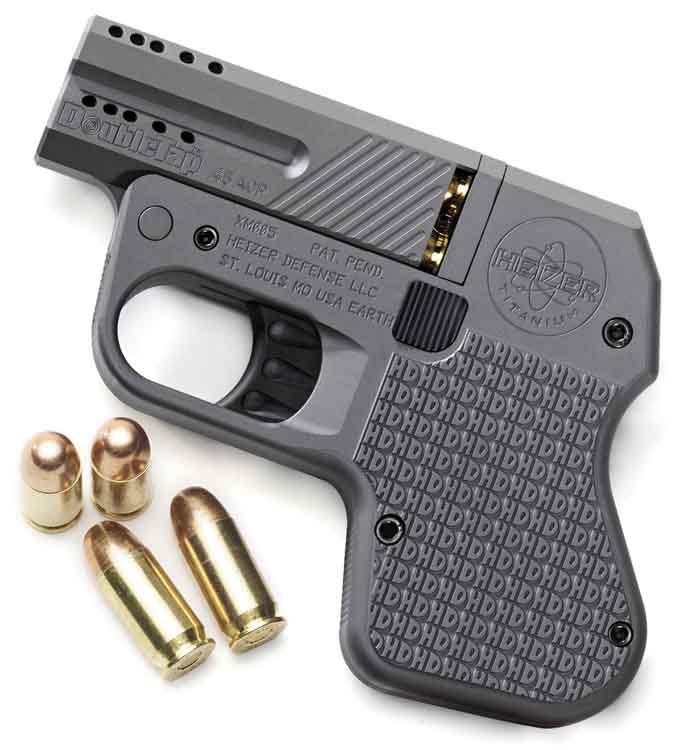 Heizer Defense LLC, a firearms company producing a new paradigm of pistols for the responsible-citizen and law enforcement markets, is proud to introduce their first model for the concealed carry market; the DoubleTap. The DoubleTap is a tactical pistol, with 5 patents pending, built on a titanium or aluminum frame; the slimmest and lightest on the market today at only .665 inches wide and 14 ounces. Available in .45 ACP or the more popular 9mm, this no-snag, hammerless designed pistol is completely designed, engineered and manufactured to the highest degree of precision and tolerances in an aerospace facility using aerospace technology and equipment. The DoubleTap carries two rounds in the chamber and the integral grips house two additional spare rounds. The break action features a patent-pending progressive barrel porting option that cuts muzzle rise and recoil. The ambidextrous thumb latch releases the action and automatically ejects the spent rounds. Unlike any firearm, the DoubleTap features a truly revolutionary double-action trigger system that utilizes ball bearings for a smooth action and crisp trigger pull. The DoubleTap is available in a titanium or aluminum frame and is finished with a Mil-Std finish, the same used on military aircraft, for corrosion and wear resistant finish. For more information on this new pistol please contact Heizer Defense, LLC, Dept. SAR, St. Louis, MO. Phone: (855) 243-4937. Fax: (855) 243-1122. Website: www.heizerfirearms.com.
Ruger Introduces LCP and LC9 Pistols Now With LaserMax Lasers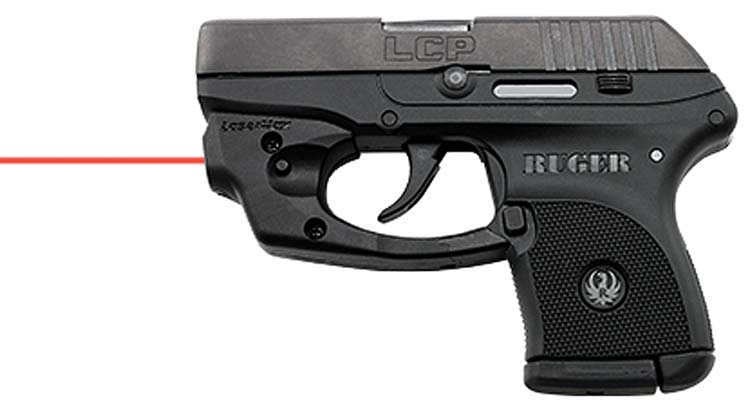 Sturm, Ruger & Company, Inc. has just announced the new Ruger LCP and LC9 pistols equipped with LaserMax CenterFire lasers. Now the same award-winning LCP and LC9 pistols are available from the factory fitted with a trigger-guard-mounted LaserMax CenterFire red diode laser. The two pistols are some of the most popular concealed carry firearms in the nation, and now they are available with the durable LaserMax CenterFire lasers as factory production models. The new LCP and LC9 pistols both feature a LaserMax CenterFire trigger-guard-mounted laser with ambidextrous on/off switch. The laser can be adjusted for both windage and elevation, and can be removed easily with an Allen wrench (included). These rugged, reliable pistols are polymer-framed, hammer-fired, double-action only pistols, and both have won the Shooting Industry Academy of Excellence "Handgun of the Year" award. The LCP is chambered in .380 Auto and has a capacity of 6+1 rounds. The LC9, which is available for sale in all 50 states, is chambered in 9mm Luger and has a capacity of 7+1 rounds. Both pistols are designed for snag free carry in a pocket or holster, and come with both flat bottom and finger groove extension magazine buttplates that can be changed to accommodate the shooter's preference. More information can be found by contacting Sturm, Ruger and Company, Inc., Dept. SAR, 200 Ruger Road, Prescott, AZ 86301. Phone: (928) 541-8893. Fax: (928) 541-8850. Website: www.ruger.com.
Trijicon Unveils Their New SRS Reflex Sight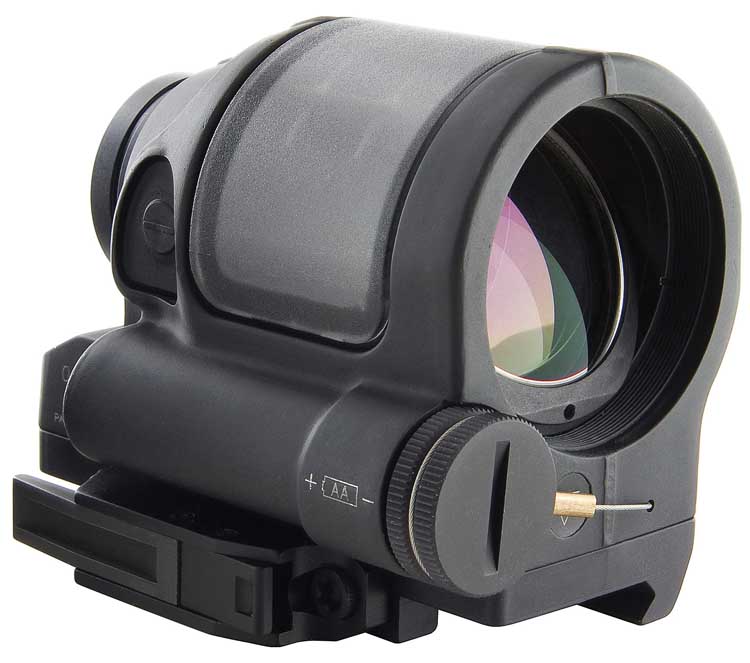 The profile length of the new Trijicon SRS is short and the advanced list of features is long, as innovative products continue from Trijicon. The new Trijicon SRS (Sealed Reflex Sight) is a reflex-type sight with a unique optical design, housed in a body length of only 3.75 inches that virtually eliminates the "tube-effect" common with other, competitive red dot sights. The result is a field of view that essentially provides no obstruction to shooters. That means lightning fast target engagements at CQB distances with no distraction from the shooter's situational awareness. The SRS is ideal for military, law enforcement and recreational applications on a variety of firearm platforms from AR's to shotguns. Equally impressive is the technology built into powering the LED lighted 1.75 MOA aiming point that includes ten brightness settings – including three NVG settings and one Super Bright. The SRS is powered by a solar panel and a single, common AA battery. Battery life is over 3 years of continuous use. This uniquely patented configuration allows the user years of illumination life from a single battery by offering an intuitive "solar assist," that is, drawing on battery power only when the solar cell requires additional energy support for illumination based on ambient conditions. The Trijicon SRS is built to endure the rigors of extreme in-the-field use and carries the same stringent testing requirements as the renowned Trijicon ACOG line of sighting systems. Additional features include a parallax-free objective lens, an auto-locking, self-adjusting level mount and waterproof-tested performance to fifty meters. You can contact them at Trijicon, Inc., Dept. SAR, 49385 Shafer Avenue, P.O. Box 930059, Wixom, Michigan 48393. Phone: (248) 960-7700. Fax: (248) 960-7725. Website: www.trijicon.com.
New Perfect Circle Focused Flashlight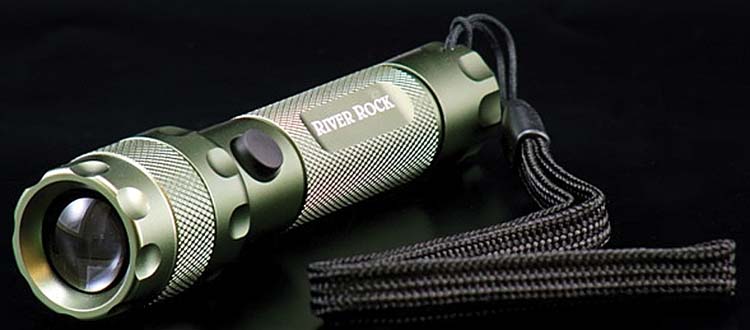 This palm sized highly-focused handy flashlight may be just the ticket for many. Robust and weather proof O-ring protected River Rock's Perfect Circle Flashlight is made from tough anodized aircraft aluminum. The Perfect Circle Flashlight actually has a precision formed lens which projects a precise focused hard edge yet soft full moon shaped light beam making it ideal for close up inside and outside activities and yet provide illumination greater than tiny flashlights or keychain types. For example at 20 feet the handy little light projects a perfectly round 41-inch circle of light. The Perfect Circle Flashlight can also emit a constant hands free flash (about 80 flashes per minute) for signaling. Thanks to the specialized lens, the Perfect Circle emits light out of proportion to its small size and battery saving "power" rating. The Perfect Circle is especially handy where you simply want to see what you are doing or where you are going without blinding yourself or others with too much power. In fact in some cases it might make a very handy tactical map light, purse or back pack light. The light is anodized dark green aircraft alloy aluminum with a body diameter of 0.8 inch, a head diameter of 1 inch and a length 4.4 inches. The light weighs just 4.5 oz. including 1 AA battery. The light has a run time of 30 hours or 60 plus hours in flashing mode. The light sells for just $14.88 and comes with a nylon wrist lanyard and one AA Duracell battery. For more information please contact them at River Rock Designs, Inc., Dept. SAR, 900 RR 620 South, Suite C101-223, Austin, TX, 78734. Website: www.riverrocklights.com.
This article first appeared in Small Arms Review V16N1 (March 2012)