By Chris A. Choat
I.O. Inc. Now Offers Historic Polish Pistol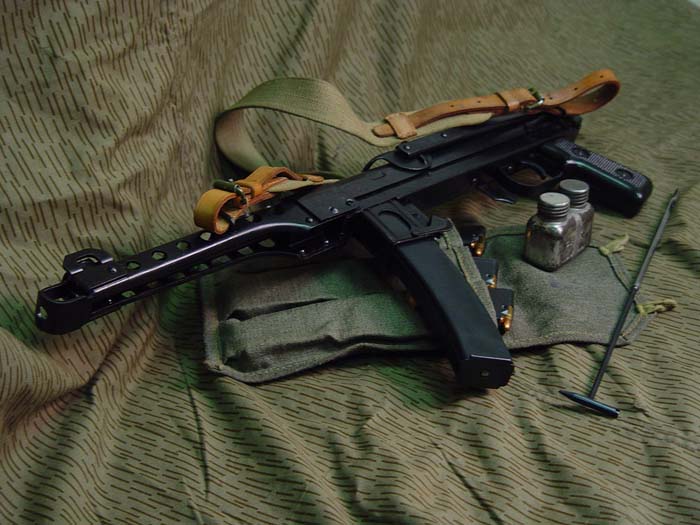 I.O. Inc. is proud to introduce the PPS-43C pistol, imported from Poland and redesigned for modern use. The PPS-43C (Pistolet-Pulemet Sudaeva, Model of 1943-Sudaev SMG) was designed as a more compact and mobile option than the PPSh-41 used by the Soviet Army during the early years of WWII. A designer named Sudaeva offered the original prototype in 1942, then refined the design for the final product in 1943. The result was a mass production of the PPS-43 for the Soviet Army, with nearly 2 million manufactured between 1943 and 1946. Argued as the best submachine gun of World War II, the PPS-43 has now been redesigned to shoot from a closed bolt position with a safety located at the front of the trigger guard. The PPS-43C pistol has a stamped steel receiver and barrel shroud, an L-shaped flip rear sight marked for 100 and 200 meters, and a fixed blade front sight. The PPS-43C is chambered in 7.62x25mm TT and weighs 8.09 lbs with a loaded magazine or 6.7 lbs empty. The barrel length is 9.84 inches and has an effective range of over 200 yards. It is manufactured at the Radom Plant in Poland and has all new Polish made parts and components. The PPS-43C pistol is ATF approved, has an MSRP of US $449.95 and ships with four 35-round curved box magazines. More information they can be contacted at I.O. Inc., 3305 Westwood Industrial Drive, Monroe, NC 28110. Phone: (888) 968-4437. Fax: (704) 225-8362. Website: www.ioinc.us.
MTM Case-Gard Reveals Handgun Concealed-Carry Case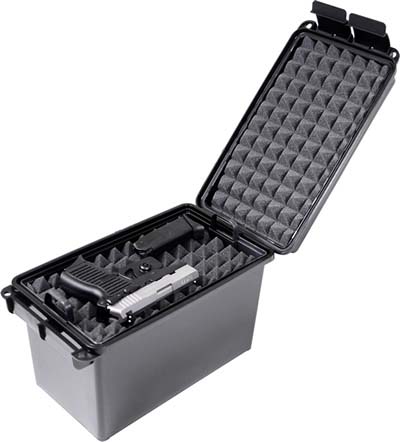 Since 1968, MTM has continued to design and produce products for the shooting enthusiast. From ammo boxes to gun rests to clay target throwers, MTM offers a huge variety of products essential to the sportsman. MTM now adds the Handgun Concealed-Carry Case to their ever-expanding line of innovative products. The Handgun Concealed-Carry Case is an excellent inconspicuous case that makes transferring a concealed-carry handgun and related supplies to and from the range safe, simple and very discreet. The gun itself is stored in the top of the case and is sandwiched by foam padding to protect and prevent shifting in the case. The large, deep bucket bottom below the gun storage holds all other supplies such as ammo, cleaning supplies and gun tools. The Handgun Concealed-Carry Case is double padlock tabbed allowing for complete security. The case has a tongue and groove O-ring seal system for a superior water-resistance seal. The Handgun Concealed-Carry Case is molded out of rugged polypropylene plastic, has a heavy-duty latching system and contains molded-in stacking ridges for added versatility. The retail price for this new case is just $21.95. For more information contact MTM Molded Products Co., 3370 Obco Court, Dayton, OH 45414. Phone: (937) 890-7461. On the web at www.mtmcase-gard.com.
Bianchi Announces New Allusion Holster Line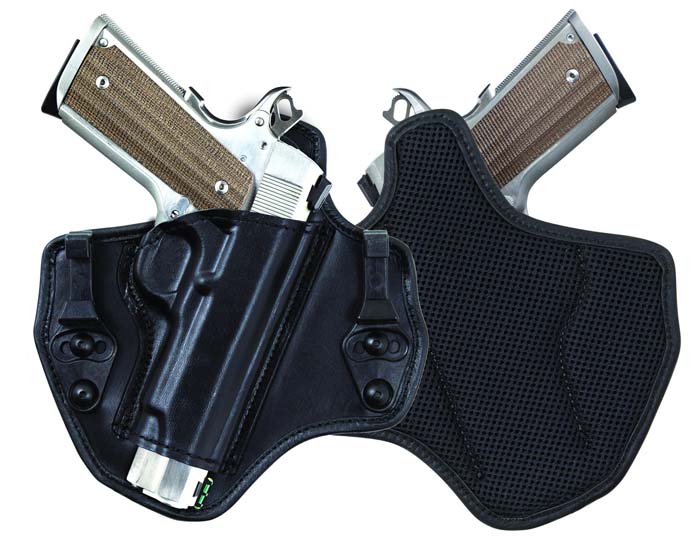 Safariland, a BAE Systems business, announced today the release of the Bianchi Allusion series of concealment holsters. These models combine the best of existing leather and synthetic holster technologies into a holster that offers both traditional good looks and long-lasting high-performance. The Bianchi Allusion series consists of three initial models: the Model 125 Consent, Model 130 Classified, and the Model 135 Suppression. All are formed with premium high-grade, full-grain leather, which is wrapped and laminated around a thermal-molded synthetic core. This synthetic liner promotes a very quick draw and effortless reholstering. Further, it resists wear during daily use. Each holster also houses a trigger guard detent for enhanced weapon retention, a feature that is not typically found on traditional leather holsters. All Allusion holsters are designed to fit 1.5 inch belt widths. Available in full-grain leather, plain finish, tan and black. For more information please contact them at Bianchi International, 3120 East Mission Boulevard, Ontario, CA 91761. Phone: (909) 923-7300. Fax: (800) 366-1669. Their website is www.bianchi-intl.com.
New APALS Adhesive Light Strip from Brite-Strike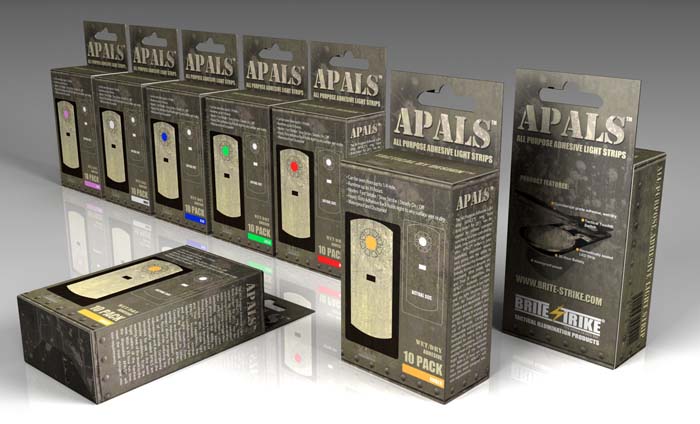 Brite-Strike Technologies is the established innovator of tactical lighting solutions and tools for police, military and civilian operators. For 2012, Brite-Strike introduces the APALS – All Purpose Adhesive Light Strip 10 Pack. The new unique patent pending crush proof flex-pack developed by Brite-Strike eliminates accidental activation, the biggest problem with chemical light sticks. Developed for our country's elite military units the Flex-pack has been tested and proven to be very effective even in the most stringent conditions. The small and light weight flex-pack has 10 APALS and fits into the pocket of a sleeve or breast pocket. APALS, All Purpose Adhesive Light Strips with Active Illumination Reflective Technology, is a micro-thin LED light strip that operates in three modes; fast strobe, slow strobe and steady on. Completely weather proof, the hermetically sealed APALS are intended for use in the worst possible conditions. The APALS were designed by military operators searching for a low cost, ultra reliable, long lasting combat identifier and has been used in both the IR and visible light spectrum version by various law enforcement and military units. For the hunting market the Green APALS are the hottest trend for trail marking, and range markers. The Blue and Red APALS are extremely valuable for use in night operations without hurting your night vision. The APALS with the easy peel off and stick 3M adhesive have uses limited only by your imagination. The APALS can be seen from up to a 1/4 mile and have a run time of up to 80 hours. They are also waterproof, shock-proof and dustproof. The heavy duty commercial grade 3M adhesive back holds tight to most surfaces, wet or dry. They are available in white, red, amber, blue, green, IR and magenta pink. For more information contact them at Brite-Strike Technologies, 11 Raffaele Road, Camelot Industrial Park, Plymouth, MA 02360. Phone: (508) 746-8701. Website: www.brite-strike.com.
Zombie Killer and Pink Lasergrips from Crimson Trace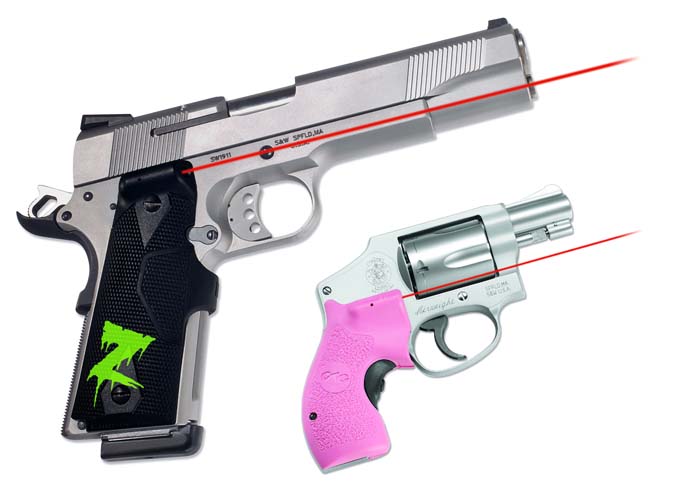 Adding to the ever-growing number of products aimed squarely at the female market, Crimson Trace will introduce a limited run of its industry-leading Lasergrips and Laserguard products in an attractive pink variation. Retailing for a suggested $219 for both the Smith & Wesson J-frame and Ruger LCP, these pink models will be available through their normal dealer network. In preparation for the forthcoming zombie apocalypse, Crimson Trace has released a limited run of exclusively designed 'Z' Series Lasergrips and Laserguard products to quickly identify your Walking Dead Weapon for several popular self-defense handguns. Emblazoned with the green 'Z' logo, this limited line of laser sights feature the patented Crimson Trace instinctive activation feature and fit the 1911, Glock and Springfield Armory XDM duty-sized pistols. As no self-respecting zombie hunter would leave home without a backup gun, models for the J-frame and LCP are also covered. Each 'Z' series laser arrives pre-zeroed from the factory, so that in the event of an unexpected zombie outbreak, the user can quickly install it on their gun and be ready to face down the advancing hordes, without first needing a trip to the range. Both laser sights feature the same patented instinctive activation that has made Crimson Trace products famous worldwide. Simply pick up the gun in a normal firing grip and the laser is activated, with no additional buttons or switches to fumble with. For more information you can contact them at Crimson Trace, 9780 S.W. Freeman Drive, Wilsonville, OR 97070. Phone: (503) 783-5333. Fax: (503) 783-5334. On the web at www.crimsontrace.com.
Sinclair Introduces Reloader Sample Packs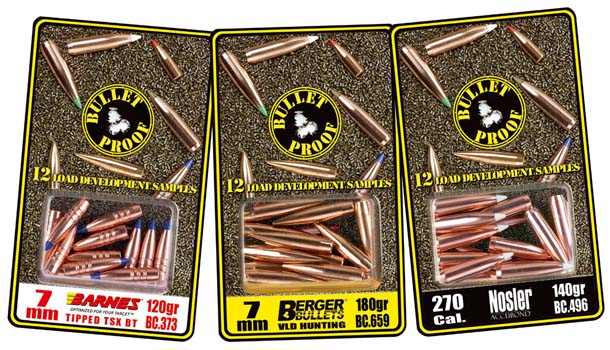 The world's premier supplier of high-quality reloading tools, components, ammunition, and accessories now carries Bullet Proof Sample Packs, an innovative, but simple must-have product for reloading enthusiasts. The 12-bullet packs, intended to allow reloaders to test bullet performance during load development without investing in an entire box, are available for bullets from major manufacturers including Berger, Barnes, and Nosler in popular weights, types, and calibers. The packs of 12 are perfect for investigating the accuracy potential by loading and shooting a few three shot groups. For a complete listing of the specific packs available contact them at Sinclair International, Inc., 200 South Front Street, Montezuma, Iowa 50171. Phone: (800) 717-8211. Fax: (260) 482-3735. Website: www.sinclairintl.com.
This article first appeared in Small Arms Review V16N3 (September 2012)