By Chris Choat

Molon Labe Industries Introduces New SCAR Magazines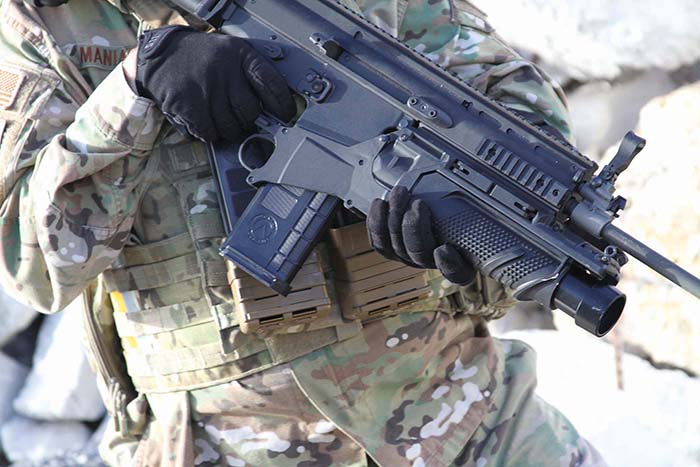 Molon Labe Industries, manufacturers of polymer magazines and accessories for rifle platforms, have announced that it will soon begin manufacturing magazines for the AR rifle platform.

The SCARmag AR / Light 30- and 40-round magazines are made from the same proprietary patent pending polymer as the original SCARmag for the FN SCAR rifle platform. This polymer is virtually indestructible and can withstand exposure to extreme temperatures, conditions and impacts. The SCARmag AR / Light 30- and 40-round magazines have the same Stealth-Tex IR Signature Reduction Technology as the original SCARmag. This STANAG compliant magazine permits operation with all AR-15 / M16 / M4 rifle platforms, as well as a wide range of non-Colt specific platforms, such as the HK 416 and M4556A1, M27 IAR, British SA-80, FN SCAR MK 16 / 16S and others. The SCARmag AR / Light 30- and 40-round magazines are available for pre-order and are currently pre-production items. The retail price of the new magazines is $30 for the SCARmag AR / Light 30-round magazine and $40 for the SCARmag AR / Light 40-round magazine. More information can be found at Molon Labe Industries, 2840 West Bay Drive #213, Belleair Bluffs, FL 33770. Phone: (727) 282-5223. Website: www.molonlabeindustries.com.

KRISS Arms Announces the KRISS Vector in .22 LR



KRISS Arms, the Swiss global leader in firearms innovation, is excited to announce that it will design and manufacture the KRISS Vector in .22 LR. The Vector .22 LR is the ideal platform for users desiring to maintain shooting skills with minimal cost. With the rising price of .45 ACP ammunition, KRISS has developed the Vector .22 LR to be a low-cost alternative to the Vector .45 ACP. The Vector .22 LR retains the same external design and fire controls as the original Vector, but utilizes a special bolt system that reliably feeds and cycles various .22 LR ammunition. The Vector .22 LR will be available in both Carbine and SDP (Special Duty Pistol) configurations and released in the 4th quarter of 2013. You can reach them at KRISS USA, Inc., P.O. Box 8928, Virginia Beach, VA 23450. Phone: (757) 821-1089. Fax: (757) 689-2113. On the web at www.kriss-usa.com.

Coonan Announces New .357 Magnum Compensated Pistol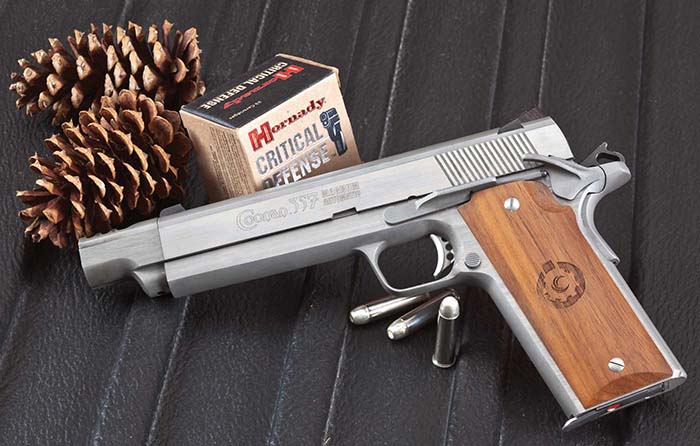 Coonan, Inc. is proud to announce their new Compensated Pistol to its .357 Magnum Automatic line. With an extended barrel length to 5.7 inches, the Compensated Pistol is ideal for reduced recoil resulting in greater accuracy from a top-of-the-line performer. "The Compensated Pistol is a real pleasure to fire," says Dave Dietz, Marketing Director for Coonan, Inc. "There is not another pistol on the market like the Coonan .357 Magnum Automatic, and when you combine that with such amazing light-recoil, the Compensated Pistol is truly a shooter-friendly addition to the Coonan family." With all the standard 1911 features of the traditional Coonan, the Compensated Pistol .357 Magnum Automatic comes with dovetail front and rear sights, solid stainless steal slide and frame, 7 rounds +1 magazine, and finishes out with smooth Black Walnut grips. The Compensated Pistol is 48.8 oz. empty and 52.8 oz. loaded, and has a height of 5.6 inches and width of 1.3 inches. With the increased barrel length, the pistol is 10.5 inches in overall length. For more information you can contact them at Coonan, Inc., 4501 103rd CT NE #120, Blaine, MN 55014. Phone: (763) 786-1720. Fax: (763) 205-2564. On the web at www.coonaninc.com.

SilencerCo/SWR Introduces 7.62 Specwar Suppressor



SilencerCo/SWR is pleased to announce the launch of the 7.62 Specwar suppressor. The Specwar 5.56 and 7.62 are SWR's workhorse centerfire rifle suppressors. The entire SWR Specwar line of suppressors are intended to be working cans, not safe queens. They fully expect people to use and abuse their Specwar suppressor. The Specwar series of rifle suppressors were designed, redesigned and designed again to meet rigorous expectations, so they don't fail the end user. The three new innovative features of the Specwar include:
Active Spring Retention – The Specwar's patented ASR (Active Spring Retention) locking collar ensures your Specwar will not come loose under a heavy firing schedule, greatly reducing incidents of the largest causes of rifle suppressor damage, baffle and endcap strikes.
Unique Baffle Alloy – The Specwar's fully welded, precision TrueBore Wire cut core features their unique new baffle alloy that represents a significant strength increase over current industry standard materials.
Finally, the new Specwar RS Flash Hider – The Specwar RS flash hider is a rock solid platform for attaching the Specwar. The RS stands for Resonance Suppression, which is a patent pending technology that keeps the flash hider from ringing like a tuning fork. Used independently, the Specwar RS flash hider offers superior flash reduction.

If you are looking for strength, versatility, performance and industry leading support, the Specwar series is the workhorse for you priced at $899 with mount. Contact them at SilencerCo/SWR, 5511 South 6055 West, West Valley, UT 84118. Phone: (801) 417-5384. Fax: (801) 417-5002. On the web at www.swrsuppressors.com.

New First Strike Reflex Sight from Bushnell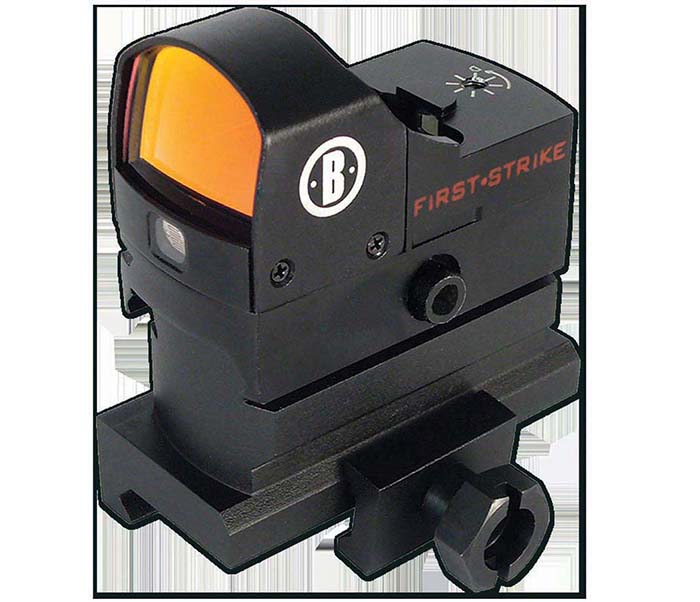 Bushnell Outdoor Products, an industry-leader in high performance sports optics for more than 60 years, has introduced a new electronic red dot sight for handguns, rifles and shotguns. The First Strike Reflex is a versatile electronic sight for hunters and shooters alike. Lightweight and compact, this point-and-shoot sight allows marksmen or hunters to quickly acquire targets. With unlimited eye relief, the First Strike Reflex is not only easy to mount on a variety of firearms, it is a highly adaptable sighting system for handguns, turkey guns, modern sporting rifles and tactical firearms as well. The First Strike Reflex features a 5 MOA dot with an automatic brightness adjustment that quickly adjusts to variable light conditions. Fully waterproof and designed to withstand heavy recoil, shooters can count on the First Strike Reflex to be a durable, high-performance electronic sight. The sight features a built-in mounting system that quickly attaches to Weaver-style bases or Picatinny rails. An optional high rise, quick attach mount is also available. The First Strike Reflex is available for a retail price of $219.95. For more information please contact Bushnell Outdoor Products, 9200 Cody Drive, Overland Park, KS 66214. Phone: (913) 752-3400. Fax: (913) 752-3550. Website: www.bushnell.com.

Black Hills Ammunition Announces .308 A-MAX Round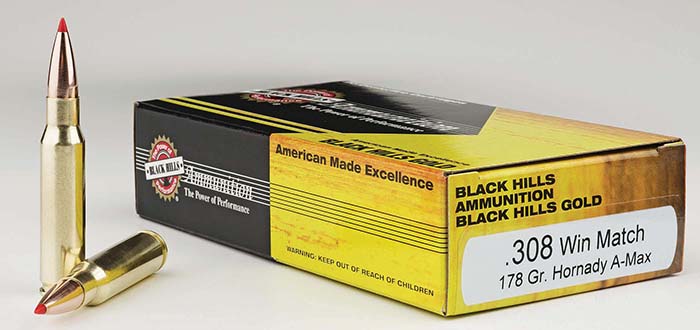 Black Hills has a reputation for long range accuracy and they have now introduced a new .308 round that takes it a step further. The new round is loaded with a 178-grain ballistic tip A-MAX hollow point bullet. With a true ballistic coefficient of .495 this sleek, tipped design bullet delivers all the precision your long range tactical or competition rifle is capable of providing. As a police sniper round, it combines extreme precision with a bullet design that provides quick, reliable expansion and performance with limited penetration (vs. traditional BTHP designs) for increased officer and public safety. The new ammunition will be available in 20-round boxes and will be available by mid-2013. For more information you can contact them at Black Hills Ammunition, P.O. Box 3090, Rapid City, SD 57709. Phone: (605) 348-5150. Fax: (605) 348-9827. Website: www.black-hills.com.

Streamlight TLR-1 HL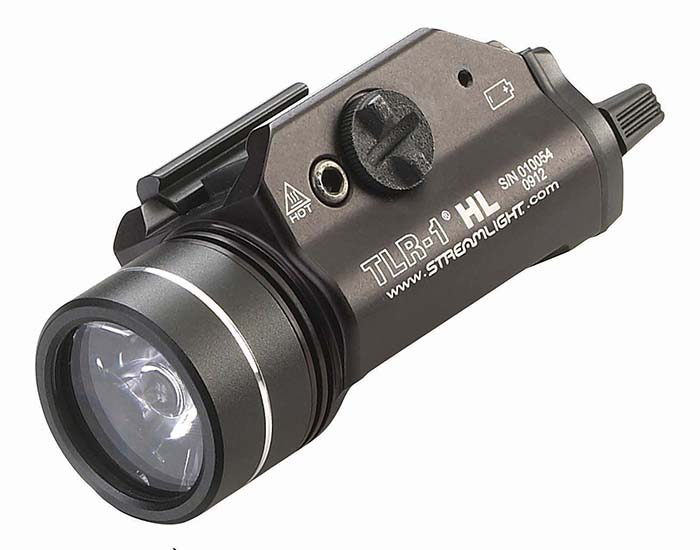 The Streamlight TLR-1 HL delivers 630 lumens of maximum illumination in a wide beam flood pattern, providing full situational awareness. The new light also offers a strobe that allows for field signaling and target disorientation.

The lightweight, compact light, which also features 12,000 candela peak beam intensity, offers the latest in LED technology, including a shock-proof C4 LED and a special optic that produces a concentrated beam with optimum peripheral illumination.

The light quickly mounts to most weapons safely and securely, attaching without the need to put your hands in front of the muzzle. It comes with a key kit to fit a broad range of weapons. The strobe feature, which can be disabled, is activated with two or more momentary paddle hits.

Offering 1.25 hours of continuous run time, the light uses two 3-volt, CR123A lithium batteries. The TLR-1 HL weighs 4.18 ounces, and measures 3.39 inches.

The light is fabricated from 6000 series machined aluminum and is IPX7 rated for waterproof operation to one meter for 30 minutes. The suggested retail price of the TLR-1 HL is $234. It comes with Streamlight's Limited Lifetime Warranty. Visit www.streamlight.com or call (800) 523-7488.

This article first appeared in Small Arms Review V17N2 (June 2013)