By Chris A. Choat
TACPROGEAR OFFERS COVERT GO BAGS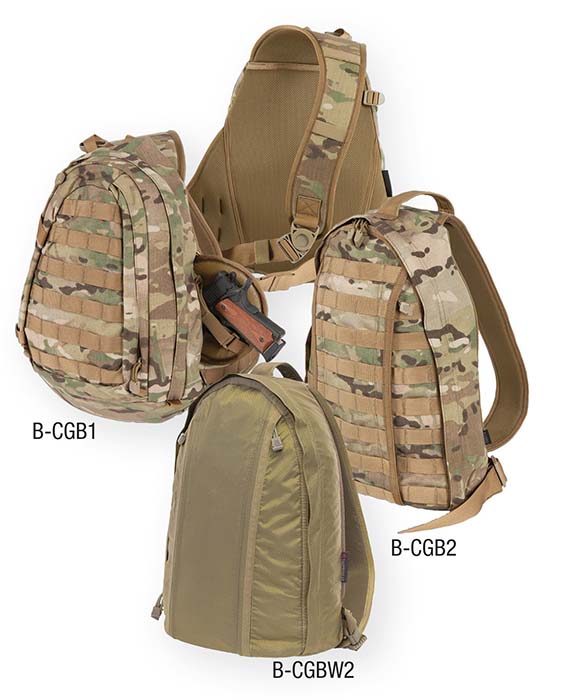 Tacprogear, a leading manufacturer of tactical equipment used by professionals around the globe, announces the Tacprogear Covert Go Bag, Covert Go Bag Lite and the Covert Go Bag without external MOLLE. The Covert Go Bag operates on a single shoulder strap that provides the user with all the functionality of a day pack while offering some distinctly different features such as: dual access to Tacprogear's Universal Pistol Wheel and removable accessory pad, which can be used to attach MOLLE compatible pouches. The bags hold a standard 10" x 12" ballistic plate in the main compartment for added protection. Other features include 3-D mesh back for comfort, single ambidextrous padded sling with swivel buckles for easy removal, reinforced drag/carry handle and an additional internal zippered storage compartment. The bags are made of 1000D Cordura Nylon with YKK zippers and are available with ITW Nexus optional accessories. They are available in black, coyote tan, OD green and Multicam. The Covert Go Bag has dimensions of 5" deep by 13" wide by 19" high and has an MSRP of $112. The Covert Go Bag Lite has dimensions of 6" deep by 12.25" wide by 17.5" high and an MSRP of $99. Both bags are also available in a lightweight black fabric without any external MOLLE. Contact them at www.tacprogear.com.
PLINKER ARMS NOW HAS NEW LINE OF AR-15 .22 RIFLES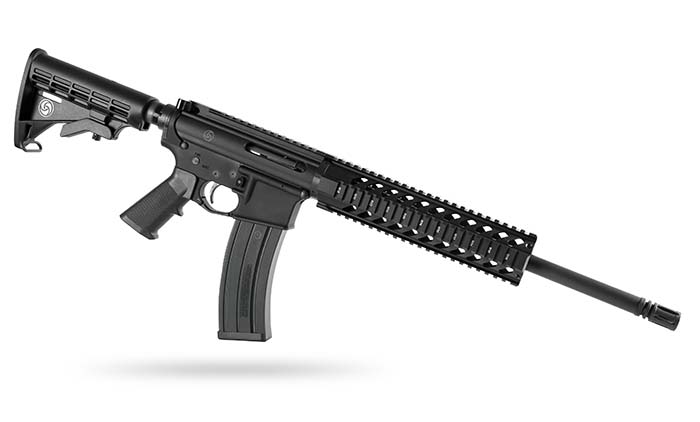 Plinker Arms, LLC, makers of American-made firearms magazines, accessories and components, are now in the firearms production business. Plinker Arms have unveiled their new AR-15 .22 LR rifles with a Mil-Spec, multi-caliber AR-15 lower. The Plinker Arms AR-15 .22 LR rifles in standard M4 and bull barrel model rifles allow enthusiasts, an industry first, to rack, tap and bang a .22 LR on a Mil-Spec AR-15 lower without any modifications to the lower receiver. The enthusiast can seamlessly transition from a 5.56 to a .22 LR and back again within seconds. This revolutionary design features two distinctly new systems developed by Plinker Arms, which are the bolt hold open design and the Quick Adjustment Latch System (QALS). The QALS feature allows the user of a Plinker Arms AR-15 rifle or Plinker Arms upper conversion unit to fine tune the bolt hold open latch system specifically to the user's existing AR-15 lower receiver. Lower receivers can vary from manufacturer to manufacturer and gun to gun. QALS is a simple-to-use adjustment feature that any user can operate. No gunsmithing or special tools are required. The adjustment key is supplied with all Plinker Arms rifles and upper conversion units at no additional cost. Plinker Arms tunes the QALS for all Plinker Arms rifles and upper conversion units to function with most AR-15 lower receivers. The Plinker Arms AR-15 .22 LR is built on an alloy anodized, 7075 T6 lower receiver that is fully compatible with most AR-15 upgrades. The machined 7075 T6 upper features a free-floating barrel with an integrated feed ramp and a 1×16 twist, the patent pending Plinker Arms bolt-hold open system, an anodized Picatinny style rail system, a rim polished bolt and carrier system and the Plinker Arms QALS. Three rifle versions are available, including the standard AR-15 .22 LR model, a M4 .22 LR rifle and a Bull Barrel .22 LR. There will also be a SBR model for qualified individuals. All Plinker Arms AR-15 .22 LR rifles come with the Plinker Arms Load Assist tool and a 25- or 10-round polymer magazine (all state laws applicable). American-made rifles that make training real. MSRP is $699.99 for the AR-15 and M4 rifle, and $719 for the bull barrel rifle version. Get more information at www.plinkerarms.com.
ROCK ISLAND ARMORY ADDS FIREPOWER TO GI AND XT 1911 MODELS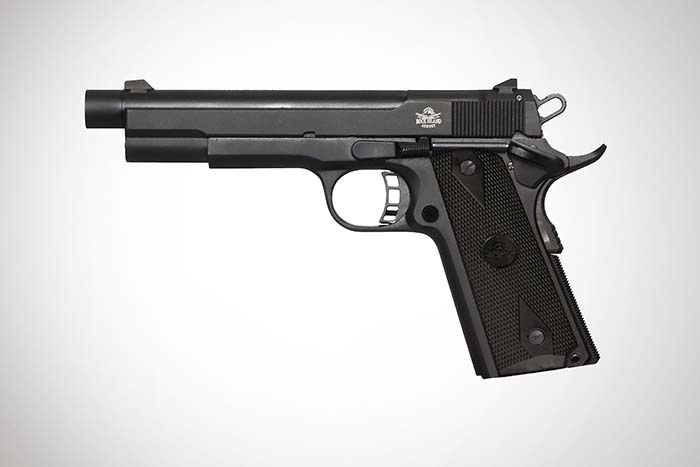 Rock Island Armory announces the expansion of the company's GI and XT Series of pistols built on the 1911 platform. The new offerings are aimed at the rapid growth of gun owners who are looking for concealed carry options as well as the addition of .40 S&W and .22 magnum caliber options. New to the GI Series is the addition of a high capacity .45 ACP 13-round clip fitted for the classic 1911 platform. The XT Series adds a .22 Magnum caliber option as well as a top rail to accommodate popular accessories and also sports a brand new Bull Barrel. The new GI and XT Series pistols are covered by Rock Island Armory's lifetime warranty and support. For more information about the new Rock Island Armory pistols visit the Armscor and Rock Island Armory website at www.rockislandarmory.com.
CUSTOMIZED TACTICAL OPTICS WITH NEW BURRIS AR RIFLESCOPES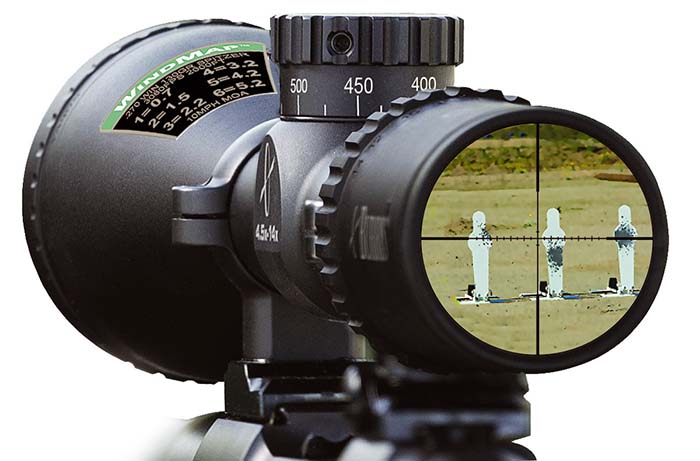 Burris is proud to introduce AR Riflescopes, a new line of tactical optics that gives shooters a custom optic to match their rifle. A customized elevation turret matches the shooter's ammunition, and a convenient WindMap helps determine wind hold-off for 5.56 or 7.62 cartridges. Demand first-round accuracy every time with the new AR Riflescopes. AR Riflescopes feature the Cartridge Calibrated Custom Clicker. This custom elevation turret is calibrated for either 5.56 or 7.62, so shooters can trust their riflescope will provide aiming specific to their ammunition's velocity and bullet drop. Yardage is provided on the custom knob, so shooters simply dial in the distance to their target and say goodbye to holdover. The customized WindMap is designed to work perfectly with the C4 Wind MOA reticle. This clean, uncluttered reticle design has MOA tick marks extending out to 10 MOA on each side of the horizontal crosshair. The WindMap provides wind hold-off values specifically calibrated for your cartridge. The value tells you how many MOA tick marks to hold into the wind to compensate for a 10 mph wind at 100-yard increments. AR Riflescopes take the guesswork out of aiming and deliver an affordable customized shooting experience. AR Riflescopes offer all of the quality features Burris optics is known for. They're equipped with high performance glass and multi-coated lenses for excellent brightness and clarity. To prevent detection and reduce lens glare, every riflescope is equipped with a removable Anti-Reflection Device (ARD). A double internal spring tension system allows each scope to hold zero under shock, recoil, and vibrations, and the precision gauged and hand fitted internal assemblies maintain a consistent point of impact through the entire magnification range. Like all Burris optics, they're waterproof, fogproof, and backed with the legendary, no-questions-asked Forever Warranty. Get more information on these new scopes at www.burrisoptics.com.
MASTERPIECE ARMS INTRODUCES NEW MPAR 6.8 RIFLE

MasterPiece Arms, manufacturers of the MPA MAC line of pistols, carbines, suppressors and MPAR Rifles, just unveiled their new MPAR 6.8 rifle. The MPAR 6.8 rifle is a superbly accurate rifle with a short stroke piston design and a lightweight, two-piece aluminum hand guard with user located Picatinny rails and QD Mount. The MPAR 6.8 features an innovative front hand guard cap to keep debris out of the internals of the hand guards and providing strength and stability to the assembly. The MPAR 6.8 rifle will also contain a side-folding 6-position polymer buttstock, locked bolt action and a side charging, non-reciprocating handle with forward-assist. The rifle also features a full-length top rail and a 16-inch barrel with a 4 groove 1:11 twist. The MPAR 6.8 will be finished in a durable, corrosion resistant black phosphate hard coat black anodized finish or an ATACS coating is optional. It will be made available for purchase in the first quarter of 2014. MSRP is $1,103 with Vista Camo Coating and $1,028 with Black Phosphate Finish. Disassembly will be very user friendly, both for access to the internals of the weapon, as well as the piston assembly housed in the front hand guard. This gun is American made and offers the MasterPiece Arms Lifetime Guarantee. Contact them at www.masterpiecearms.com.
DEZ TACTICAL ARMS ANNOUNCES NEW TWISTED ELITE CARBINE

DEZ Tactical Arms, Inc. has just released its new AR-15 Twisted Elite Carbine Complete Rifle. DEZ Tactical Arms is becoming recognized as a top-notch manufacturer of custom, match firearms appealing to law enforcement, military, hunters, competition shooters, sportsmen, and seasoned firearm enthusiasts. DEZ Tactical Arms strives to produce high quality, performance rifles guaranteed and backed by a lifetime warranty while providing unparalleled value & customer service. The Twisted Elite model comes standard with a YHM mid-length Todd Jarrett Competition forearm, incorporating both the smooth feel of a 'Tube' style hand guard and the tactical potential of the quad rail. Also included are multiple upgrades such as a shock absorbing adjustable stock, crisp ALG Defense trigger and charging handle with extended tactical latch. The new gun also features a Match Grade 16 inch H-Bar barrel that is twist fluted, a low profile gas block with carbine length gas tube, Yankee Hill Phantom Muzzle Brake, Ergo 'Suregrip' pistol grip and Fab Defense Magwell Grip. It is shipped with one 30-round magazine in a hard plastic rifle case. You can find more information or contact them at www.deztacticalarms.com.
This article first appeared in Small Arms Review V18N4 (August 2014)