By Chris A. Choat


Faxon Arms Introduces ARAK 21 XRS Complete Rifle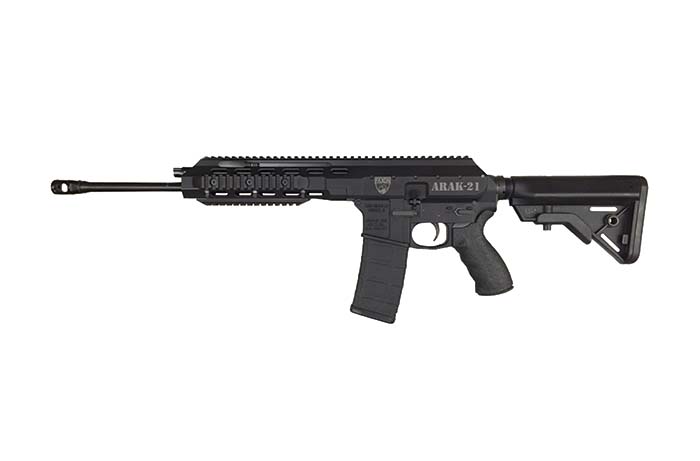 Faxon Firearms, manufacturer of the ARAK-21 Upper Receiver, is proud to announce the new ARAK-21 XRS Complete Rifle. The ARAK-21 XRS was designed to greatly improve the operator's ability to accomplish multiple missions and features a monolithic upper receiver with an integral full-length Picatinny rail, a dual forward recoil spring system, a folding ambidextrous forward charging handle with spring return and a long-stroke gas piston with variable settings. The ARAK-21 XRS also comes with interchangeable barrels that can be changed in less than 2 minutes from 5.56 to .300 blackout; making it the perfect rifle for any shooter. This is a completely redesigned modular rifle system based on the best from both the AR-15 and the AK-47 weapon systems. With the ability to be configured with a variety of barrels, calibers and stocks the ARAK-21 XRS can fit most any mission profile. The ARAK-21 XRS Complete Rifle MSRP is $1,899 (one barrel) and $2,159 (with 5.56 and .300 blackout options). For more information on Faxon Firearms visit them online at www.faxonfirearms.com.


Kahr Introduces the CT9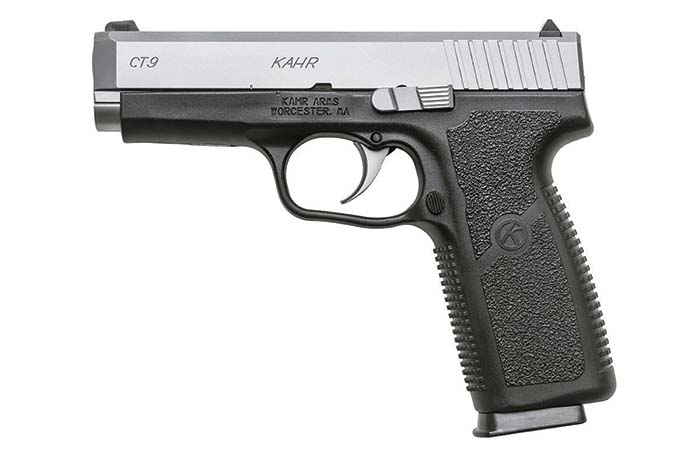 Kahr introduces their newest full-frame value-priced firearm; the 9mm CT9. Earlier this year Kahr introduced the CT40 and CT45, and with the addition of the CT9, it completes their value-priced CT Series. For decades, Kahr has offered gun enthusiasts the option of both compact and full-frame firearms. Their popular TP9, TP40 and TP45 have become legendary, but as the economy continues to take a hit, the demand for more affordable firearms has become a call to duty. Kahr took the best features of their TP-series and with ingenuity and their meticulous dedication to detail and quality, they developed the CT Series. The CT9 features a full-size polymer frame with a matte stainless steel slide and drift-adjustable white bar-dot sight configuration. Features of the CT9093 include a 3.95-inch conventional rifling barrel length, overall length of 6.5 inches, height of 5.08 inches and a slide width of .90 inches. It weighs just 20.6 ounces with the magazine, making it very slim, lightweight and perfect for concealed carry. The pistol comes standard with one 8-rounds magazine, but, if you purchase now you can also qualify for one free magazine. The downloadable free magazine coupon can be obtained by visiting the Kahr website. The MSRP on the CT9093 is being offered at the introductory rate of $369 but only for a limited time. For more information on the CT Series, or any of their other firearms visit them at www.kahr.com.


Steyr L40 A1 Service Pistol Now Available to the American Market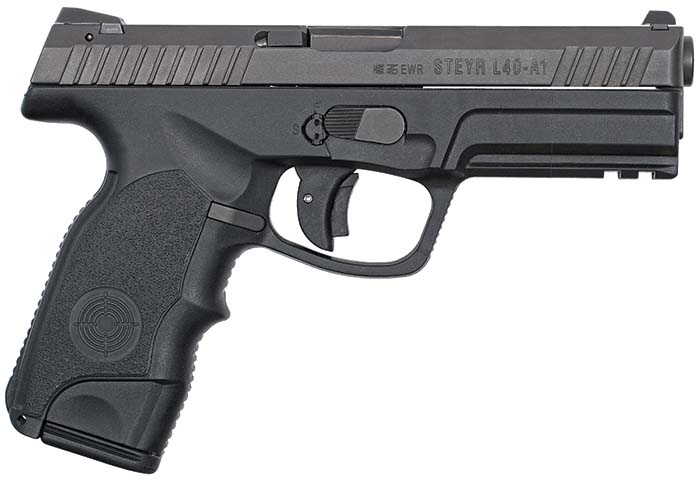 Steyr Arms has announced the arrival of the .40 S&W version of its full-size L-A1 service pistol on American shores. Following last year's introduction of the L9-A1, the L40-A1 pistol features a full-length slide, 4.5-inch cold-hammer-forged barrel and 12-round magazine capacity for .40 S&W. The Steyr L40-A1 was designed to serve the dual role of a duty and sporting handgun. The new L40-A1 is nearly identical in form and function to the L9-A1 and other handguns in the Steyr line, which combine unparalleled ergonomics, a low bore axis, remarkable safety features, extreme reliability and amazing accuracy – thanks to a consistently crisp trigger break and short, distinct reset. The L40-A1's full-size polymer frame offers a high grip that places the barrel axis lower in the hand to mitigate muzzle rise, while creating a perfect grip angle and a very natural point of aim. The drift-adjustable sights are in the Steyr's intuitive trapezoidal configuration, and a Picatinny rail on the frame's dust cover provides a mounting position for illumination and laser-aiming devices. The integrated trigger safety within the recently redesigned Reset Action System trigger requires positive finger pressure to operate Steyr's remarkable double-action-only mechanism. This striker-fired pistol also incorporates a keyed safety lock. The barrel is cold-hammer forged with conventional rifling, and the chamber is fully supported. The suggested retail price of the Steyr L40-A1 pistol is $560. See more at www.steyrarms.com.


New Two-Point Slings from Vero Tactical



Vero Vellini, the acknowledged leader in comfortable, handcrafted gun slings, introduced its new Two-Point Adjustable Sling at the 2014 SHOT Show in January. The company now has the new Two-Point Adjustable Sling in stock and is shipping to dealers. Like all Vero Vellini slings, the new Vero Tactical Two-Point Sling is extremely functional and is constructed of the highest quality textile webbing on the market for long-lasting durability. The Two-Point Sling features proprietary closed-cell padding with a backing surface that slides only when you need it to. All sling components are synthetic and the buckles are constructed of reinforced nylon, so there is no possibility of corrosion. The Vero Tactical Two-Point Sling allows users to quickly, quietly and easily transition from a comfortable inverted high-chest-carry position to any shooting position simply by pulling out on the tethered-loop-release buckle. This releases the tension on the sling and allows the user to move the firearm into a shooting position. The Two-Point Sling can be attached on either end to a 1-inch sling swivel, or it can be wrapped around a standard collapsible AR-style stock. It allows more than 24 inches of adjustment for wearing the firearm over anything from a T-shirt to body armor plus several layers of clothing. The Vero Tactical Two-Point Sling fits all platforms from ultra-short bullpup rifles through the full-length AR-10 semiautomatic rifles, as well as most bolt-action rifles. A wrap-style sling keeper retains the excess webbing on shorter rifles. The Vero Tactical Two-Point Sling is available at high-end shooting retailers nationwide in solid black or black with an olive-green padding cover. The suggested retail price of either version is $64.99. This new Vero Vellini sling can also be purchased conveniently online at www.gunslingdirect.com.


Night Optics USA Introduces the Krystal 950 Night Vision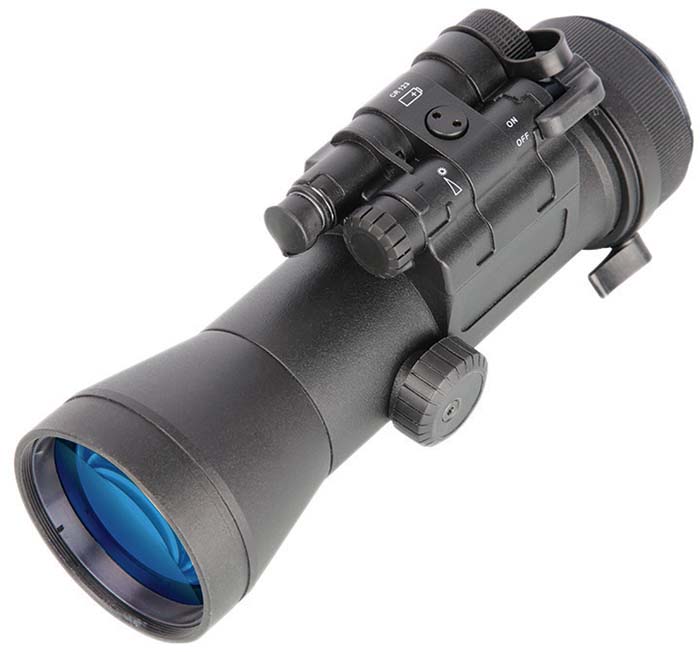 Night Optics USA introduces their new Krystal 950 Clip-on Night Vision Sight. The new Krystal 950 clip-on brings superior low-light performance to daytime riflescopes with no loss of zero. The sleek new housing design provides improved light transference to the image intensifier tube, while new multi-coated HD optics boost contrast and clarity by more than 25% over the original D-930 clip-on sight. Available with two rear aperture options (standard – 24 mm and large – 34 mm), users can expect magnification capability as high as 25x when paired with high quality day optics. A built-in manual gain control allows for on-the-fly image brightness adjustments. The Krystal 950 can be mounted directly to the front objective of the daytime riflescope with a custom Night Optics throw-lever adapter or to the Picatinny rail with the included rail mount adapter. The Krystal 950 is available with large or standard rear aperture sizes, generation 2+ Black and White and Generation 3 Gated with manual gain. The entire package includes the Krystal 950 Clip-on sight, Picatinny rail mount or optional throw-lever adapter, padded soft pouch or optional hard case, lens cover, lens cloth and operator manual. Suggested retail pricing starts at just $4,449.99. For more information you can contract them at www.nightoptics.com.


Crimson Trace Offers Two New Glock Products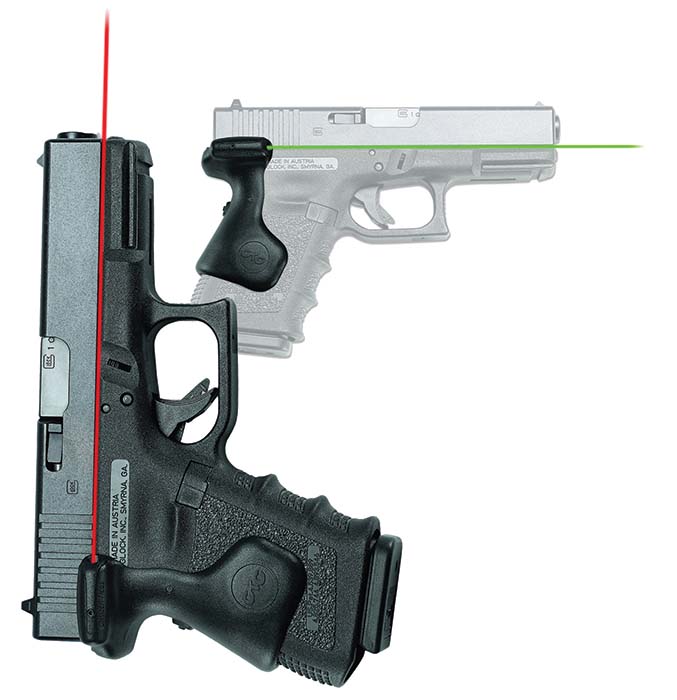 Crimson Trace, America's recognized leader in laser sighting systems and tactical lights for firearms, has begun shipping two new products designed exclusively for Glock's popular compact semiautomatic pistols. The two new laser sight models are in Crimson Trace's expanding Lasergrips series and are the LG-639 with a red diode and the LG-639G featuring a green diode. These products are reaching dealers and gun stores now, and join the recently released Crimson Trace Laserguard LG-443 that fits onto Glock's compact Model 42 pistol. The new LG-639 and LG-639G feature Crimson Trace's patented Instinctive Activation on the rear of the grip and includes a master on/off switch to give shooters the option to use their pistols with-or without-engaging the laser. Each unit is also easily adjusted for windage and elevation and can be installed without the use of special gunsmithing tools. These products are specifically designed to fit securely onto Glock Third Generation pistol models 19, 23, 25, 32 and 38. Those compact Glock handgun models are favored by many persons for concealed carry. The MSRP for the LG 639G with the green diode is $329 and $249 for the LG-639 with red diode. More information can be found online at www.crimsontrace.com.


FLIR ONE


FLIR ONE is the first personal thermal imaging camera for the iPhone 5 and 5s, enabling outdoor enthusiasts to see invisible heat and to measure minute variances in temperature right on the iPhone screen. Thermal imaging through FLIR ONE enables a host of outdoor solutions such as observing wildlife in the dark, ensuring a campfire is extinguished, or hiking / exploring at night. With the free FLIR ONE app available through the App store, users can take and send thermal videos and photos via text, email or social media. The device also includes its own battery that lasts for four hours of continuous use in the wild. Find out more at www.flir.com/flirone.
This article first appeared in Small Arms Review V19N1 (January 2015)