By Chris A. Choat
Glock Releases Single Stack 9mm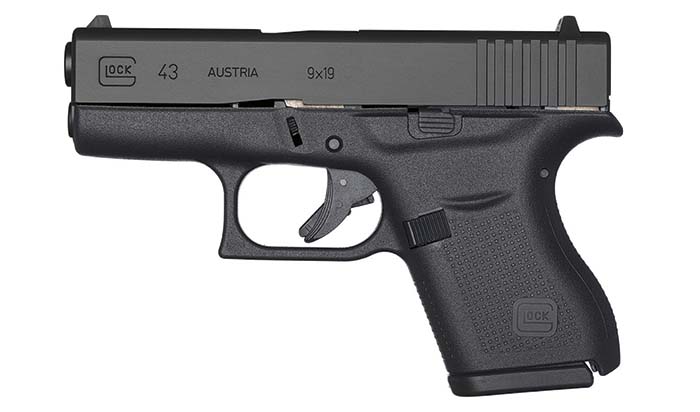 Glock, Inc. has just announced the release of the new Glock single stack slimline 9mm pistol, the Glock 43. The G43 is the most highly desired and anticipated pistol release in Glock's history. Designed to be the answer to everyday concealed carry needs, the G43 is ultra-concealable, accurate, and comfortable for all shooters regardless of hand size. The G43 sets a new standard for concealed carry pistols. A true slimline pistol, the frame width of the G43 is just over one inch and the slide width measures only 0.87 inch. The overall length is 6.26 inches. For those who have smaller hands, the trigger distance is only 2.6 inches, making it ideal for functionality. The single stack magazine holds 6 rounds and is the perfect concealed carry pistol for both duty and civilian use. The G43 is engineered to the same superior standards as all Glock pistols and the reliability instills confidence for all lifestyles. For more information please go to www.Glock.us.
Caldwell Introduces the AK-47 Mag Charger and Ammo Boxes
Caldwell now brings the same revolutionizing ammo loading process of the AR-15 Mag Charger to the AK platform by introducing the new AK (7.62×39) Mag Charger that is designed to hold 50-rounds from any common 50-round ammo box. Simply align the bullet tips with holes in the Mag Charger and dump them in. Specially designed indexing tabs align all the rounds in the loader at the same time. No need to handle each round. Then insert your AK magazine into Mag Charger, operate the plunger back and forth and with each stroke 5 rounds are loaded until the magazine is full. Now you can load 50 rounds into two AK magazines in less than 15 seconds. Made from a highly durable polycarbonate, the loader is compatible with all 7.62×39 ammo. The loader allows the user to load AK magazines in just seconds and is compatible with all AK platform mags. The loader loads 5 rounds per "stroke" with an auto advance feature. Caldwell also introduces their new Mag Charger Ammo Boxes. The Mag Charger Ammo Box is optimized to drop ammo into the AR-15 and AK-47 Mag Chargers. The AR ammo box will hold 50 rounds of .223, 5.56 and .204. The AK ammo box will hold 50 rounds of 7.62×39. The durable polymer design is proven to be extremely tough and great for long term storage. The lid can easily be removed for use when loading. They are available in 5 Pack. For more information go to
www.BTIbrands.com.
HIVIZ Announces New LITEWAVE Series Sights for Ruger10/22
HIVIZ Shooting Systems is excited to introduce another addition to their new fiber optic LITEWAVE rifle sight line — now for the Ruger 10/22. Like all HI-VIZ LITEWAVE sights, the new Ruger 10/22 front sight features a state of the art exoskeleton frame made of carbon steel allowing an unprecedented amount of light to enter their uniquely interchangeable LitePipes. All LITEWAVE designs not only offer an even brighter sight picture giving shooters faster target acquisition in a variety of light conditions whether on the range or out on the field, but also provide even more extreme durability than prior HIVIZ sights with a streamlined design for easy target acquisition of your favorite #1 plinker rifle. LITEWAVE for the Ruger 10/22 also offers the unique versatility of the interchangeable LitePipe system for the front and rear sight, giving shooters a variety of color choices for all shooting conditions. The unique design and patented locking feature of the LitePipe system effectively secures any color or size of sight in place providing shooters the ultimate combination of durability and visual lighting flexibility for their rifle. For the rear foldable sight, the HIVIZ 10/22 features simple elevation adjustments with the ability to interchange the color of the LitePipe as well like all LITEWAVE designs. The new LITEWAVE sight for the Ruger 10/22 and many others are available today at HIVIZ retailers or check them out at www.HIVIZSights.com. Retail price is just $48.95.
Luth-AR Introduces Their New MBA-1 Modular Buttstock Assembly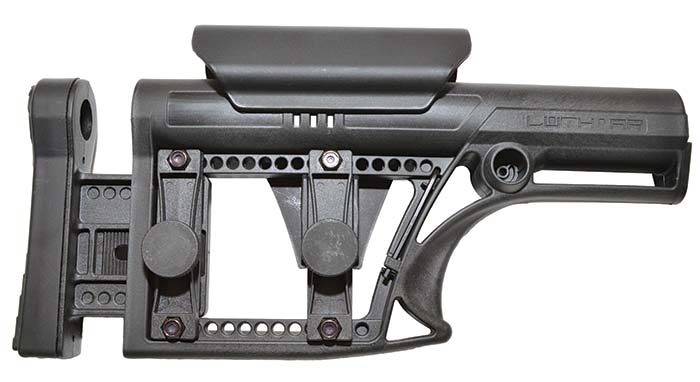 Luth-AR has just introduced their new MBA-1 Modular Buttstock Assembly. The new buttstock is fully adjustable for cheek rest height and length of pull adding up to one inch of cheek rest height and 1 and 1/16th inch length of pull. The cheek can also be adjusted forward or rearward. The MBA-1 is approximately half the weight of competitor's adjustable stocks weighing in at just 1.26 pounds. The new stock is easy to replace and quick to install fitting all .223 and most .308 AR style stocks. Made from super strong glass-filled nylon, the stock is almost indestructible. All adjustments are made by loosening metal thumbscrews with no parts to lose or tools needed. The stock also has a non-slip rubber buttpad for positive shoulder positioning. The stock features sling swivel sockets and Grovetec heavy duty push button sling swivels are available as an option. The stock is perfect for your SASS rifle. For more information on the web go to www.luth-ar.com.
Breakthrough IntroducesNew Revolutionary Cleaning Products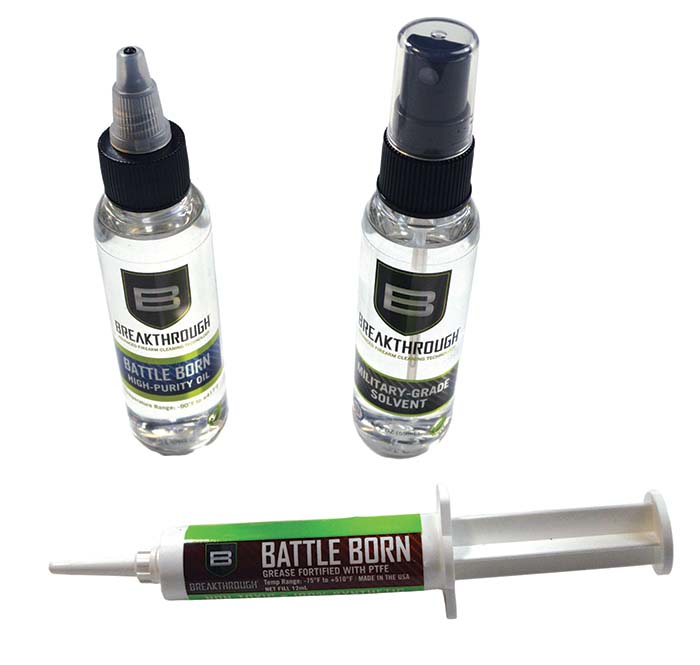 Breakthrough Clean is proud to announce its two new products: Battle Born Oil and Battle Born Grease. Along with its revolutionary, made in the USA Breakthrough Military-Grade Solvent, Breakthrough Clean is ushering in a new era of technology, where cleaning your firearm is now faster and safer than ever. Breakthrough's state-of-the-art distillation process provides superior firearm cleaning products that are environmentally friendly, non-toxic and virtually odorless. Currently Breakthrough is approved, qualified, and utilized daily by the largest user of firearm cleaning technology in the USA – The U.S. Department of Defense. Now, it's available to you. Breakthrough Military-Grade Solvent is a non-water based distilled petroleum solvent that through their proprietary distillation process has had all carcinogens and hazardous waste materials virtually wiped out of the formula. Breakthrough Military-Grade Solvent has no odor, is non-staining, removes all fouling, while completely evaporating, leaving absolutely no residue behind. It's truly pH neutral, which means it's safe on your firearm's wood, plastics, polymers, Cerakote and/or hydro-printing. Unlike traditional firearm cleaning solvents, Breakthrough Military-Grade Solvent has a flashpoint of 150° F and is therefore considered non-flammable. Breakthrough Military-Grade Solvent cleans efficiently, dramatically reducing the duration of cleaning while using less product. Battle Born Oil is a blend of the finest synthetic oils available and treated with the most effective extreme pressure, corrosion inhibitors, anti-oxidant, anti-foam, and anti-wear additives. This unique combination provides maximum firearm lubrication and protection in extreme environmental conditions and is a bio-degradable multi-service lubricant and protectant for extended service under high and low temperatures conditions (from -90°F to 417°F). Battle Born Grease represents some of the most advanced lubricant technology. It is a versatile, premium quality, synthetic grease fortified with Sub-Micron size PTFE blended completely with pure synthetic base oils, additives, and shear stable thickeners to provide maximum firearm protection in extremely high and low temperatures (from -75°F to 510°F). Learn more at: www.breakthroughclean.com.
American Built Arms Introduces Mission Critical Kit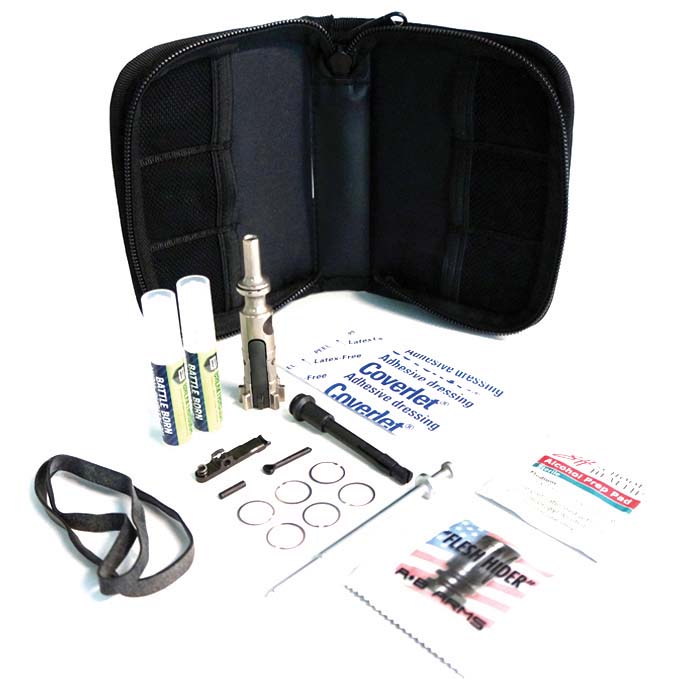 American Built Arms Company (A*B Arms), a veteran-owned, Type 07 U.S. manufacturer of firearms and firearms parts and accessories to the civilian, law enforcement and defense industry, has launched the A*B Arms Mission Critical Kit (MCK). The A*B Arms Mission Critical Kit is a collection of critical replacement parts for you and your AR-15/M4 that are there to serve you in your time of need. The MCK is manufactured for military and law enforcement, as well as civilian firearms enthusiasts. The MCK will make sure you have what you need, when you need it. The Mission Critical Kit includes the following items:
1) One A*B Arms Complete Nickel Boron Coated Bolt Assembly
2) One A*B Arms Firing Pin
3) One Firing Pin Retaining Pin
4) One A*B Arms Extractor
5) One Extractor Axle
6) Six Gas Rings
7) One Bolt Assembly Instruction Card
8) Two UV Resistant Black Gear Bands
9) One A*B Arms Latex Barrel Cover
10) One 5.56 Broken Shell Extractor
11) Two vials of 3ml Breakthrough Battle Born High-Purity Oil
12) Two Latex-Free Adhesive Bandages and Alcohol Prep Pad – Great for those annoying cuts when you're out in the thick of it.
13) One Tactical Black, Ballistic Nylon Case with Multiple Gear Pockets: This 5×3.5×1-inch compact zippered pouch is an EDC style kit that's small enough to fit into your pocket or gun bag.
For more information or to order go to www.abarms.com.
This article first appeared in Small Arms Review V19N7 (September 2015)