By Chris A. Choat
SureFire Introduces Their newest .30 Suppressor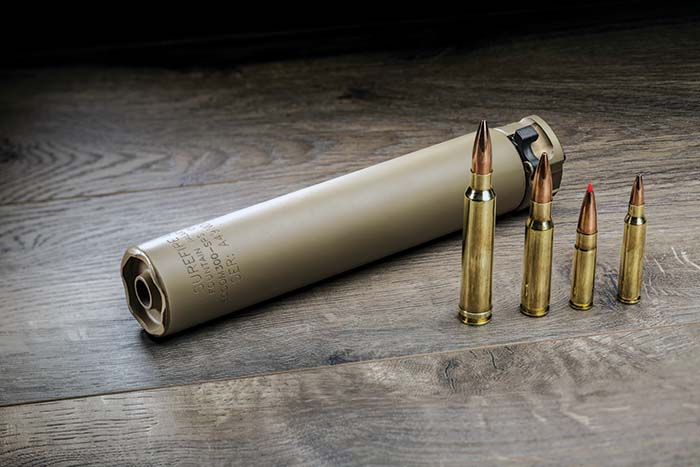 SureFire, LLC, manufacturer of high-performance illumination tools, suppressors, and tactical products, has begun accepting orders for the latest model in its high-performance line of SOCOM Fast-Attach sound suppressors. The new SOCOM300-SPS is claimed to be the quietest suppressor ever built for .300 Black Out (subsonic and supersonic), .308 and .300 Win. Mag. This versatile suppressor is also very effective in suppressing the 5.56mm cartridge. The SOCOM300-SPS owes its sound-suppressing prowess to highly specialized baffles creating a longer dwell time within the suppressor and achieving unprecedented levels of sound attenuation. The suppressor is constructed of Inconel, an advanced high-temperature alloy, and stainless steel, and it typically adds only 6 inches to the length of a weapon. Computer-controlled welding enhances the suppressor's overall durability, as does a corrosion-resistant coating of Ionbond DLC and Cerakote ceramic finish. In fact, the SOCOM300 SPS, like all SureFire SOCOM Series suppressors, is durable enough for full-time use and designed to typically outlast the weapon barrel to which it attaches. A precision indexing system ensures that the suppressor mounts to a compatible SureFire SOCOM series adapter, which also serves as a high-performance muzzle brake or flash hider when the weapon is unsuppressed – securely and with perfect alignment every time. This patented no-tools Fast-Attach system also makes the suppressor easy to remove after extended firing because the index tab is located in a low-carbon-buildup area. Like all SureFire SOCOM suppressors, the SOCOM300-SPS produces minimal and consistent point-of-impact shift compared with the unsuppressed weapon, regardless of the number of times the suppressor is attached and detached to and from the weapon. The SOCOM300-SPS suppressor is available in two colors-Black and Dark Earth, and has an MSRP of $1,075. It is available for purchase in states that allow suppressor ownership through authorized SureFire suppressor dealers. For complete product information visit www.surefire.com.
NIKON INTRODUCES NEW P-308 RIFLESCOPE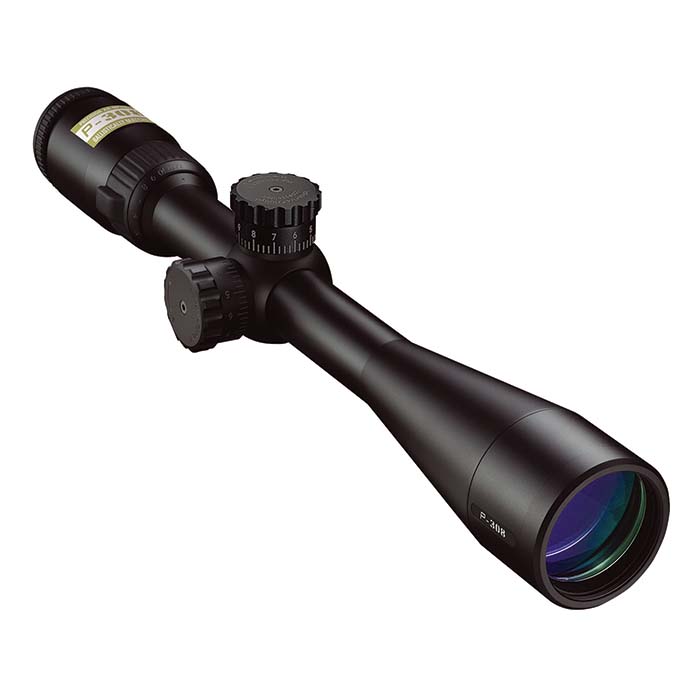 Nikon has expanded its lineup of precision .308 WIN riflescopes with the introduction of the all-new P-308 4-12×40 BDC 800. The new P-308 riflescope provides shooters with everything they need to hit their target, including a 4-12 magnification, a 40mm objective and fully multicoated lenses to ensure a clear view. The P-308 features Nikon's popular BDC 800 reticle – a reticle specifically engineered for the .308 Winchester/7.62x51mm NATO round with 168gr HBT Match bullet at 2,680 fps. The P-308 is also fitted with exposed, spring-loaded Instant Zero-Reset Turrets with easy-grip course knurling, which make in-field adjustments easier by allowing shooters to reset their turrets back to zero after sighting-in. This new riflescope offering is waterproof, fogproof and shockproof. The P-308 is also optimized for use with Spot On™ Ballistic Match Technology. The Spot On program provides users with the exact aiming points on any BDC reticle for any load or ammunition at a specific range. Spot On is free online at nikonsportoptics.com/SpotOn, and is now free for mobile devices including iPad®, iPhone® and Android™ platforms. The suggested retail price of the P-308 4-12×40 BDC 800 is $249.95. Like all Nikon riflescopes, the P-308 is backed by Nikon's Limited Lifetime Warranty.
Browning's New 4-in-1 Survival Pen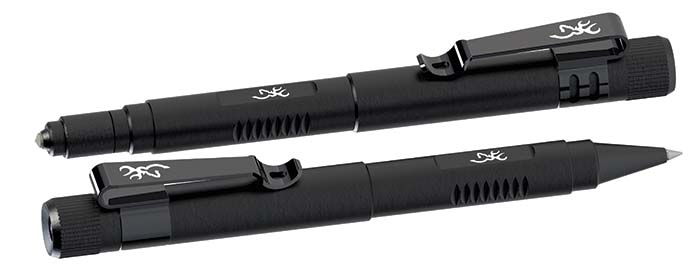 Browning's new 4-in-1 Survival Pen features an innovative combination of flashlight, cap light, writing pen and a tactical glass breaker with hardened tungsten carbide point. The body of the 4-in-1 Survival Pen is made from rugged aluminum. The pen features a lock on/lock off twist switch to prevent accidental operation of the flashlight and a pocket clip for easy access. The white LED has an effective distance of 22 yards, and four LR41 button batteries give the pen an 8-hour run time. Suggested Retail is $22. For more information on new Browning flashlights for 2015, please visit www.browning.com.
Armalite Introduces New Handguards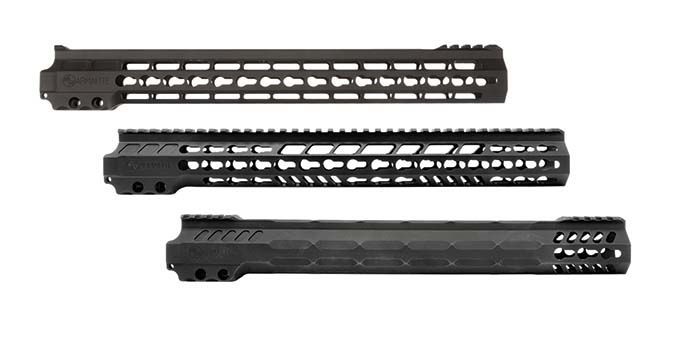 In a year full of exciting new product introductions, Armalite has added three new handguards to their list of stand-alone accessories. From the makers of the original AR, these new accessories will help bring your game up to the next level. Available for both the AR-10 and AR-15/M16 platforms, these handguards are backed by 60 years of AR manufacturing experience and are available now. These include the following: 3-Gun Handguard – perfect for those shooters looking for an ultra-light handguard with a slim profile for maximum comfort, minimum weight and fast handling. This handguard is free floating and includes a 2-inch Mil-Std 1913 rail section at the forward 12 o'clock position for mounting of sights and accessories. The KeyMod system is ready for the direct attachment of flashlight mounts, sights, scope mounts, rail panels and doubles as flush cup sling attachment points allowing the shooter to customize the rifle for any environment quickly and easily. It includes a barrel nut and mounting hardware and is available in 12 and 15 inches lengths. The Tactical Handguard – when the mission calls for the perfect combination of light weight gear that is durable enough to hold up under any environment, the Tactical Handguard is ready. This handguard features a full-length Mil-Std 1913 rail at the 12 o'clock position as well as the KeyMod system that is ready for the attachment of accessories or to be used as sling attachment points. It includes a barrel nut and mounting hardware and is available in 12 (AR-10 only) and 15 inches. The Versatile Sporting Rifle Handguard – The unique design of the Versatile Sporting Rifle Handguard is sleek, solid and ready to go from the range to the field at any time. Built for maximum comfort and durability, it features a forward and rear 2-inch Mil-Std 1913 rail at the 12 o'clock position. The KeyMod system at the forward position eliminates the chance of a snag in the field while allowing for the attachment of a sling for easy carry. It includes a barrel nut and mounting hardware and is available in 15 inch lengths. For more information, or to order yours today, visit www.armalite.com.
ARES SCR Rifles

The innovative and patented ARES SCR (Sport Configurable Rifle) is the first of its class of firearms that is not only legal almost anywhere in America, but is the first rifle to successfully combine the traditional lines of a hunting pattern rifle with the modularity of an AR-15 rifle. The ARES SCR blends strength, reliability, accuracy and rugged all-weather characteristics of America's longest serving infantry rifle with the classic lines of an American sporter. Lightweight, accurate and featuring a Mil-Std 1913 flat top upper receiver that accepts most modern optics, the ARES SCR is designed to perform under the most demanding field, competitive shooting or tactical conditions. The multi-caliber, modular design permits the operator to instantly change calibers in the field by simply pressing two pins and exchanging one upper receiver assembly for another. Designed for optimal configuration, the ARES SCR accepts most Modern Sporting Rifle accessories and parts including magazines, upper receivers, barrels, bolts, handguards and optics, so it can be easily and effectively reconfigured for each individual shooter's style and activity. Supported by a full line of performance accessories and manufactured of the highest quality aircraft grade alloys by American craftsmen, the weatherproof and dependable ARES SCR will provide a lifetime of accurate shooting pleasure for all Americans. See more at www.aresdefense.com.
KAK and Shockwave Team Up To Create a Superior Pistol Stabilizing System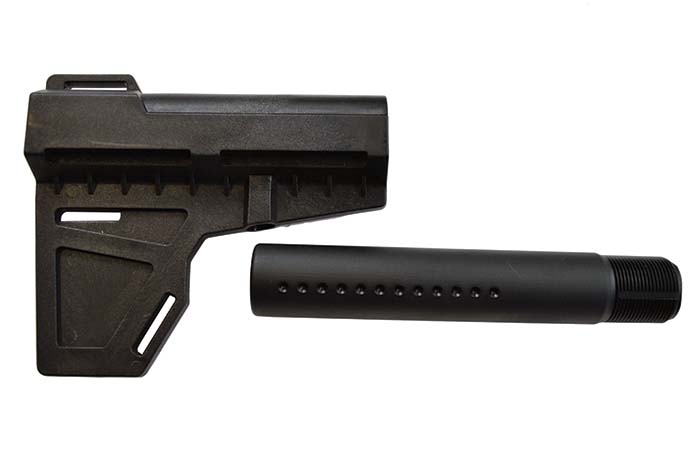 KAK Industry, a leader in firearms component manufacturing, announces that is has secured the exclusive distribution rights to Shockwave Technologies' line of Blade pistol stabilizers. KAK also reveals that it has developed a custom buffer tube for the Blade. The class 3 hard-anodized tube features 12 length-adjustment settings. Its anti-rotation and anti-thrust design mean that the Blade stays put without sliding forward or spinning. The tube is flush with the rear of Blade when it's installed fully forward. When installed fully out, the assembly is incredibly rigid. Being of the castle nut design, the KAK Shockwave tube accepts all carbine buffer systems, Mil-Spec receiver endplates, and aftermarket endplates. These two innovative companies have combined efforts to bring a higher-quality, easier-to-use, more-affordable pistol stabilizing system to the market. KAK Industry will retail Blade pistol stabilizers, KAK Shockwave tubes, and package deals online as well as provide wholesale pricing to Web-based resellers and brick-and-mortar shops. These two new products make for the ultimate in a pistol stabilizing brace. Shockwave will also retail Blade pistol stabilizers, KAK Shockwave tubes, and kits through its website and other Internet channels. For more information you can contact them at www.kakindustry.com or www.shockwavetechnologies.com.
This article first appeared in Small Arms Review V19N8 (October 2015)