By Chris A. Choat
MAGNUM RESEARCH ANNOUNCES EXCITING ANIMAL PRINT DESERT EAGLES
In February of this year, Magnum Research introduced the first in a series of animal print Desert Eagles. Following in the success of the Cheetah print, which is now sold out, MRI is now introducing their latest two animal prints, the Kryptek Highlander and the Snakeskin, available in either .50 AE or .44 Mag. The two new designs, the Kryptek Highlander and the Snakeskin patterns, utilize a water transfer method. It has been extensively tested for durability and has proven to be very tough; even cleaning solvents and acetone will not soften or damage the finish.
The Desert Eagle .50 AE is a gas-operated, semi-automatic pistol with a 7-round capacity in .50 AE and 8-round capacity in .44 Magnum. Both guns measure 10.75" in length with a 6" barrel. Slide width is 1.25", height 6.25" and the weight with an empty magazine is approximately 4 lbs. (Also 5.8 oz. in .50 AE and 4 lbs. 6.6 oz. in the .44 Mag.) It has a trigger reach of 2.75" and a sight radius of 8.5" with the 6" barrel. The construction of the Desert Eagle utilizes the latest CNC machine technology providing exacting specifications with tight tolerances creating a work of art in a precision firearm. The grip is anatomically formed and provides an ideal hand seating angle for two-handed shooting, allowing for comfortable, rapid and accurate firing. The Weaver style accessory rail easily allows for aftermarket optics and scope rings. The limited edition Kryptek Highlander and Snakeskin print Desert Eagles are only available while supplies last. Please visit your favorite dealer today to purchase it in either .50 AE or .44 Magnum. Watch for additional animal patterns which will be introduced later in the year. The MSRP on either of the new patterns for the Desert Eagle is $1,793 for the .50 AE or the .44 Magnum. For more information about Magnum Research products, visit www.magnumresearch.com.
SPORTEAR CHANGES THE HEARING PROTECTION GAME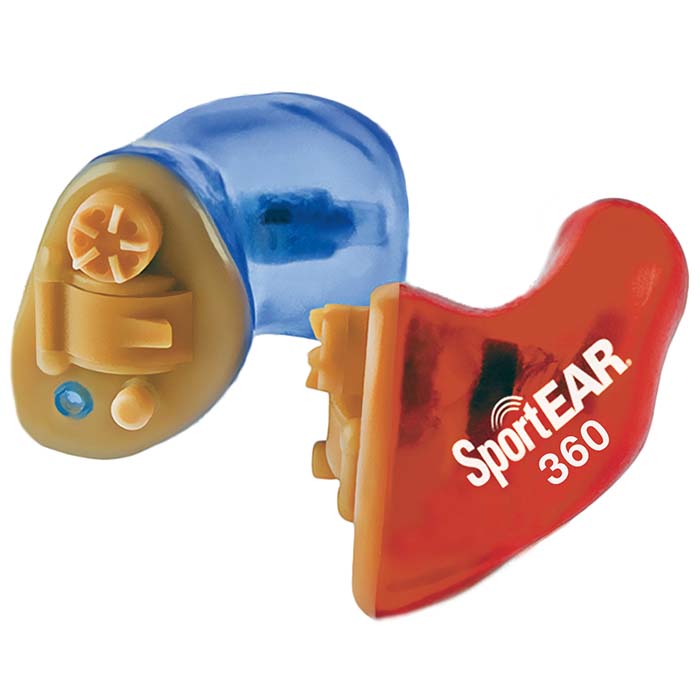 SportEAR, an authority in Hearing Performance™, has taken hearing protection innovation to the next level with their new Custom Edge™ product line. The new line features all new, 100% Lynx Digital™ circuitry and the world's first waterproof in-ear sport hearing devices for unrivaled performance and reliability. The new Custom Edge™ line by SportEAR is setting a new standard for Hearing Performance™ in the outdoor industry. With proprietary 100% Lynx™ Digital Signal Processing (DSP), the entire Custom Edge™ line of in-ear and behind ear devices offer 100% Digital sound re-creation to deliver the very best sound clarity available, processing over a million sounds per second. Using the most advanced technology, SportEAR allows shooters to enhance speech and desirable sounds while simultaneously suppressing the damaging effects of muzzle blast and other loud noises. The SportEAR AutoBlocker™ Digital Compression easily handles rapid shots, ensuring full protection regardless of your sport. The new 100% Lynx™ Digital circuitry also eliminates distracting background noise and eliminates the annoying "whistle" common in electronic hearing protection. SportEAR is the only hearing protection line to provide 360 Degree Hearing Performance™ through its entire product line, offering unparalleled hearing enhancement & protection simultaneously. To help further educate users about true 360 Hearing Performance™, SportEAR has launched a new, multi-media website at www.SportEAR.com.
CTK PRECISION INTRODUCES BUTTSTOCK FOR LUTH-AR STOCK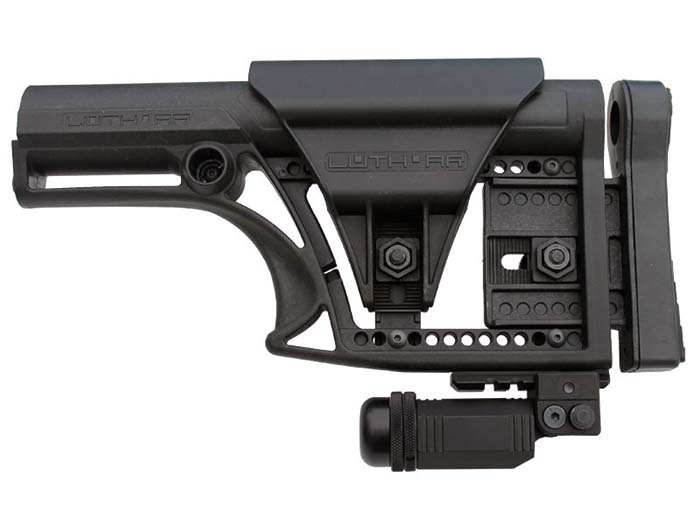 CTK Precision, manufacturer of innovative shooting equipment and gun accessories, is proud to introduce the AR Buttstock Rail for the LUTH-AR stock. The AR Buttstock Rail is a Picatinny rail designed to mount at the sling attachment point on the underside of LUTH-AR MBA-1 and MBA-2 stocks. This accessory rail meets MIL-STD-1913 specifications, so it may be used as a means of attachment for any product designed for use on a standard Picatinny rail, including the CTK Precision Ultimate Rail-Pod. The AR Buttstock Rail incorporates a sling swivel mount point so that you may attach a sling, in addition to a rear monopod. It is CNC machined from billet 6061 aluminum for high strength and low weight. It also has a durable black MIL-SPEC hard coat anodized finish. It is 2.5 inches long and weighs just .7 ounces. The new rail meets MIL-STD-1913 specifications and it is made in the U.S.A.! For more information on the AR Buttstock Rail, visit: www.ctkprecision.com/ar-buttstock-rail.aspx.
UTG INTRODUCES NEW 3X MAGNIFIER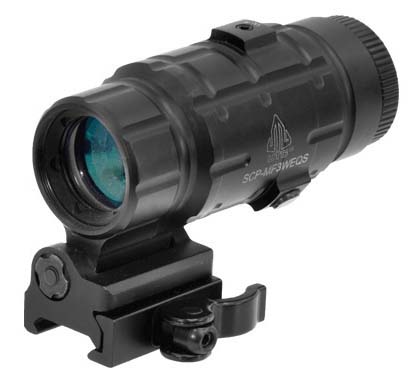 Applying a mid-range solution to a sight system designed for CQB is something Leapers UTG has extensive experience with. The venerable UTG brand magnifiers are undeniably some of the most popular and affordable mid range optic enhancement tools in the industry. The new SCP-MF3WEQS closely follows that tradition, but has an additional perk. This smooth operating 3x magnifier comes equipped with windage and elevation adjustability, allowing an easy centering of a dot or reticle. This feature has been requested by many users and although not necessary for functionality, Leapers has answered the call and seamlessly incorporated the functionality with easy to access windage and elevation screws within the main body. The magnifier is built on UTG's patented Flip-to-Side system on a MIL-STD-1913 (Picatinny) base and is constructed of lightweight, durable aircraft grade aluminum with a black anodized hardcoat for wear resistance. Providing clear and accurate target magnification up to medium ranges can make all the difference in a tactical rifle, and the new Leapers magnifier shines in this role. Visit the company website at www.leapers.com.
CCI ANNOUNCES A17 VARMINT TIP AMMO NEW SAVAGE A17 RIFLE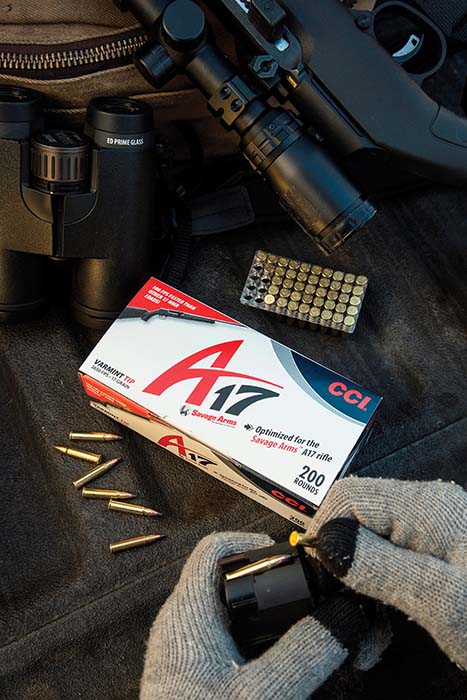 Shooters can now get Magnum rimfire performance in a semiautomatic rifle, thanks to the new CCI® A17 Varmint Tip ammunition. Shipments of this ammunition are currently being delivered to distributors. CCI engineers literally built this 17 HMR load around the A17 rifle from Savage Arms™. The round is optimized for feeding and function in the all-new semiautomatic rifle, and produces muzzle velocities 100 fps faster than other 17 HMR loads with the same bullet weight. Its Varmint Tip bullet ensures explosive expansion and quick, clean kills. This ammunition has been optimized for feeding and function in the new Savage Arms A17 semiautomatic rifle and can also be fired through bolt action 17 HMR firearms. It is 100 fps faster than other 17 HMR loads of the same weight. The ammunition's Varmint Tip bullet provides rapid expansion. The rounds have an exclusive headstamp and come in 200-round packs. You can find more information at www.cci-ammunition.com.
SAVAGE ARMS INTRODUCES A17 SEMI-AUTO RIFLE IN 17 HMR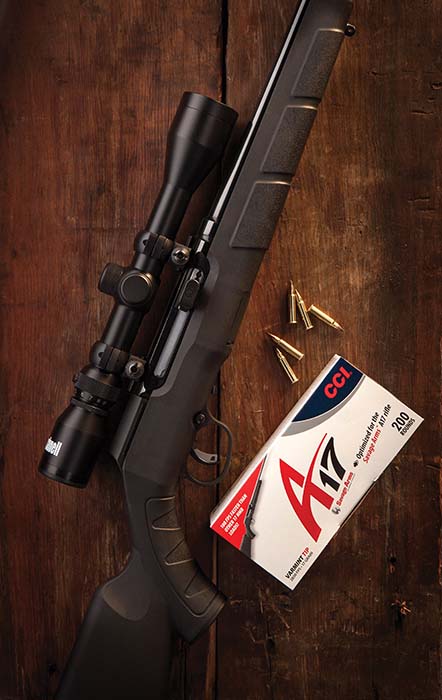 Savage Arms™ continues its track record of innovation with the all-new A17, the first high-performance semiautomatic rimfire rifle specifically designed for the 17 HMR cartridge. Shipments of this rifle are currently being delivered to distributors. The A17's unique delayed-blowback action performs to its peak with new A17 Varmint Tip ammunition, which CCI® developed specifically for the rifle. The A17 also provides safe, reliable operation with standard 17 HMR loads. The hard chrome bolt, case-hardened receiver, 10-round rotary magazine and button-rifled barrel boost performance even further, while the user-adjustable AccuTrigger™ provides a crisp, light pull for the best possible accuracy. The A17 is the first semi-automatic rimfire specifically designed from the ground up for the 17 HMR. It offers delayed-blowback action which ensures safe, reliable cycling. The gun has a hard chrome bolt, case-hardened receiver, oversized bolt handle and a 10-round rotary magazine. It also has a 22-inch button-rifled barrel and user-adjustable AccuTrigger™. For peak performance it should be paired with CCI A17 Varmint Tip ammunition. For more information go to www.savagearms.com.
This article first appeared in Small Arms Review V19N9 (November 2015)