By Chris A. Choat
VZ GRIPS ANNOUNCES NEW KEYMOD GRIPS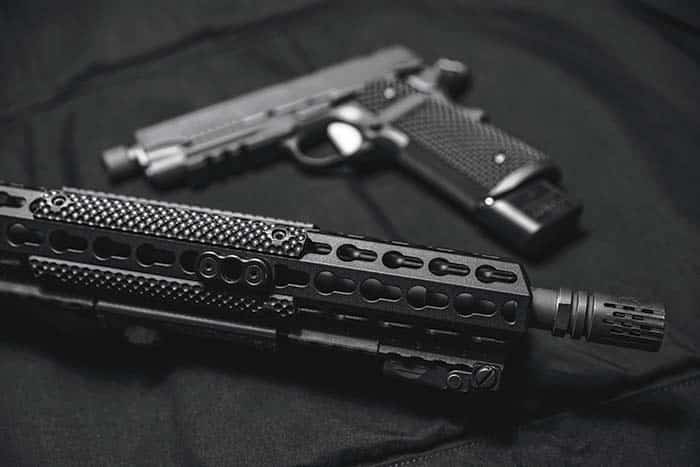 VZ Grips®, the original innovator (and authority) for custom G10 gun grips is proud to announce its newest product. The VZ KeyMod grips (KMG). The KMG's are attachable grip panels for your favorite KeyMod platform. They are precision machined in VZ's very sought after proprietary textures and G10 colors. With innovation and function as their leading edge, VZ did not just bring you their best, but partnered up with gun accessory giant Bravo Company USA® to bring even more to the table. All KMG's feature BCM's® new patent pending Inverted KeyMod™ screw. Designed by Eric Kincel, BCM's Director of Product Development and designer of the KeyMod system, BCM's proprietary nut-less screw is an awesome feature for the KMG's™ as it eliminates extra hardware and uses a T15 torx head that is already a standard for many of the VZ grip screws. KMG's will be available in 2" and 4" panels, 2 different contours, 3 different textures (Alien, RECON, Tac Diamonds), and numerous color schemes that match their existing handgun line. Prices start at $24.75 for the 4" and $22.75 for the 2" model. Best of all they are made in the USA. You can learn more at www.VZGrips.com.
ROGERS HOLSTER OFFERS NEW QD MOUNT FOR TRIJICON MRO SIGHT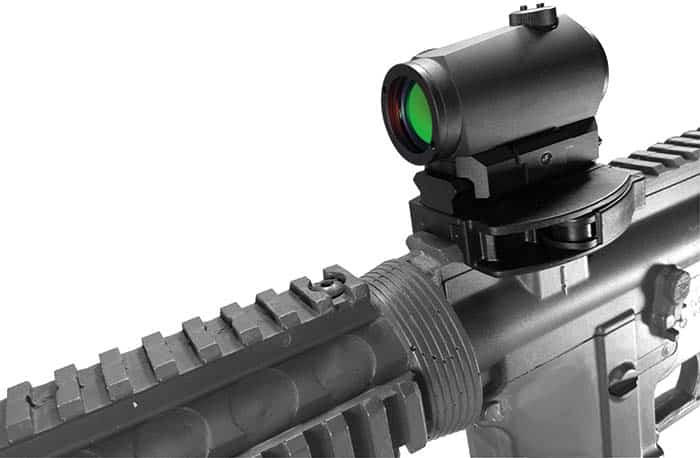 After the release of the new Trijicon MRO, Rogers Holster Company realized there were few choices for QD (quick detachment) attachments for that optic. They have addressed that need by manufacturing the new QD mount, Rogers Sight Mount that is completely US made. The Rogers Sight Mount (RSM) is a versatile, quick-detach mount for any Red-Dot optics with a picatinny rail attachment. The RSM allows the user to quickly detach and reattach their optic without the need for cumbersome fasteners or tools. The RSM is a rock-solid and precision mount. A user can remove their RSM mounted optic, reinstall it, and expect their Red-Dot to be in the same position. The RSM also allows the user to co-witness to their iron sights. Included are 2 shims to allow the user to easily adjust the height of their optic in relation to their iron sights. The parallel clamping members of the Rogers Sight Mount (RSM) are molded with a slight bias in the shape of a bow. This allows the force of the single cross bolt to be distributed evenly over the entire engagement of the weapon's rail. This design provides an excellent clamp using less force. The lever operated locking cam of the RSM locks on top dead center of the cam. Most designs require the throw lever to go over center in order to lock. Locking force is lost by going over center so conventional mounts must be adjusted over tight in order to not shoot loose when the lever goes over center. The RSM uses an alternative lock system that allows the lever to lock at the highest point on the cam. The result is a better lock up with less force which reduces wear and tear of the part and
The RSM uses a glass filled polymer similar to modern pistol frames. The glass filled material has a much greater coefficient of friction while locking to a metal rail. It also has the ability to custom form to any slight imperfections in the metal rail of the weapon. The end result is a mount that does not shoot loose and will repeat zero when removed and reinstalled as long as it is returned to the same position on the weapon rail. Visit them at www.holsterops.com/sight-mount.com to order one.
AMERICAN TACTICAL INTRODUCES THE FX-H HYBRID 1911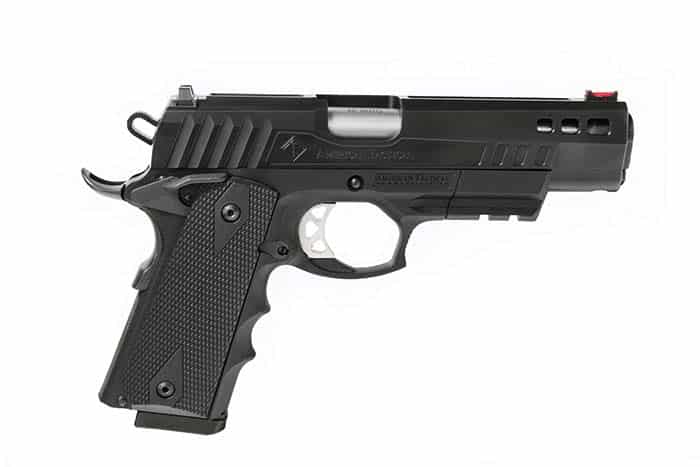 American Tactical, pioneers of the Omni Hybrid MAXX Series of products, is pleased to add the first of its kind FX-H Hybrid 1911 handgun to the line-up of quality polymer-based firearms. The FX-H 1911 is unique in the fact it has a polymer frame with two metal inserts at the stress points for premium quality construction, while keeping the overall weight of this full frame 1911 down to 1.6 lbs. The FX-H is believed to be the lightest full size 1911 on the market today. The FX-H includes features like a 5" match-grade stainless steel barrel and a stainless steel slide that accepts Glock style sight systems and a removable plate to accommodate RMR style optics. The FX-H 1911 comes in .45 ACP with additional calibers coming soon. All milspec 1911 parts are interchangeable. They completely designed and manufactured this product for the ultimate shooting pleasure while giving the owner a lightweight solid 1911 platform like no other. With a retail price of only $659.95, the FX-H Hybrid is sure to be one of the most popular firearms of 2016. More information is at www.americantactical.com.
CMMG INTRODUCES NEW MK47 KRINK MODELS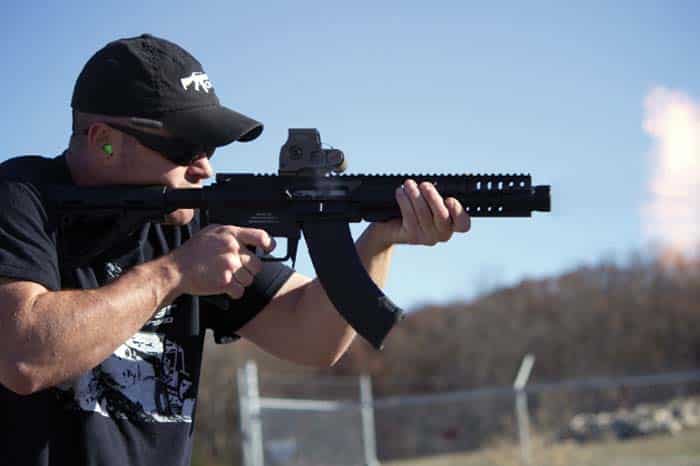 CMMG has unveiled the Mk47 line-up featuring a KRINK-style muzzle device. Similar to the original Mk47 MUTANT design, these new rifles are built around the 7.62x39mm caliber and feature a shortened AR-10 sized bolt carrier group that is paired with a unique upper and lower receiver to minimize weight and increase ergonomics. One of the primary benefits of the Mk47 design is its ability to accept existing AK magazines and drums. The new Mk47 models come equipped with the KRINK muzzle device. These new KRINK models include the Mk47 AKS8 AR Pistol, Mk47 AKS8 SBR (short-barreled rifle) and Mk47 AKS13 rifle. The KRINK-style muzzle-brake design was derived from an AK, which they modified to thread on standard AR threads. It serves as a booster, flash suppressor, blast reducer and also reduces recoil slightly.
The Mk47 AKS8 SBR (all NFA rules apply) has an 8-inch barrel with a 9-inch RKM KeyMod™ Handguard, a Magpul CTR Buttstock and Magpul MOE Pistol Grip. It comes with a CMMG single-stage trigger and one Magpul AK PMAG. The full-sized Mk47 AKS13 has a 13-inch barrel with the KRINK muzzle device pinned and welded permanently to the end of the barrel to meet the 16" requirement for Title 1 Firearms. It features a 15-inch RKM KeyMod™ handguard, a Magpul CTR Buttstock and MOE Pistol Grip. It comes with a CMMG single-stage trigger pre-installed and one Magpul AK PMAG. For more information contact them at www.cmmginc.com.
LIBERTY INTRODUCES THEIR NEW COSMIC 45 SUPPRESSOR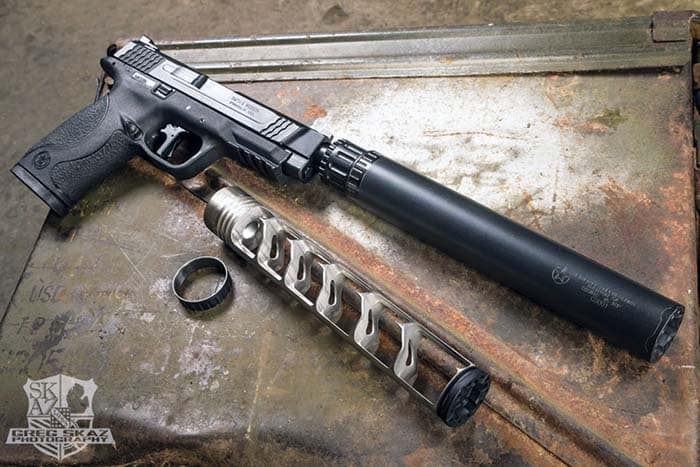 Liberty Suppressors, makers of top quality firearm sound suppressors, would like to announce the release of their latest silencer design, the Cosmic 45 caliber multipurpose silencer. The Cosmic is the next evolution in pistol silencer design, utilizing groundbreaking baffle technology along with the most durable materials. With a core of stainless steel, a titanium tube, and weighing in at only 9.5 ounces, this silencer is light but built to handle even the toughest of pistol rounds. The Cosmic shares the same footprint as their popular Mystic X silencer. This allows full backwards compatibility with their legacy mounting solutions for the Mystic program and opens many new doors at the same time, without having to increase the footprint of the silencer. The Cosmic is rated for everything from 22LR up to 454 Casull in pistol calibers plus several carbine calibers as well. The versatile Cosmic is priced at just $799 retail. Liberty Suppressors is a family owned, Georgia based silencer company that pioneered the concept that a monolithic silencer can be quiet. Liberty Suppressors offers a full line of silencers for everything from 22LR up to 300 Remington Ultra Mag. Check them out at www.libertycans.com.
TACTICAL WALLS ANNOUNCES NEW TACTICAL LAMP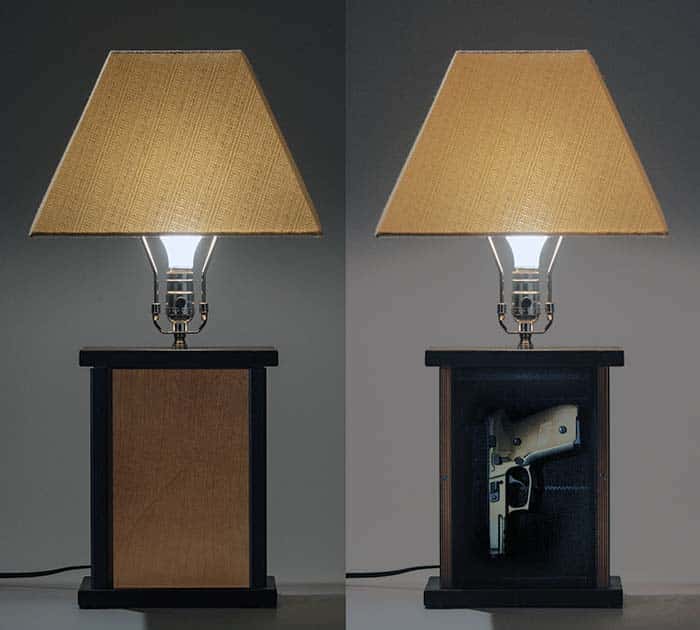 TacticalWalls has just announced the release of the Tactical Lamp, a discreet new home storage solution for firearms, everyday carry items and other valuables. The Tactical Lamp is a fully functional home lighting appliance that features a hidden storage compartment inside its wooden body. The hidden compartment is accessed by removing a detachable side panel from the base of the lamp. The detachable side panel is kept in place by magnetized placeholders. Inside the hidden compartment is a protective layer of loop-sided Velcro to protect valuables from marring and allow the use of a variety of mounting options. Behind the loop-sided Velcro, there is also a retention magnet that makes it possible to secure a firearm, knife or other metal valuables to the rear of the internal compartment. The exterior dimensions of the lamp base are 11.5"H x 9"W x 7.25"D. The interior dimensions of the storage compartment are 9"H x 6"W x 4"D. The Tactical Lamp is sold with or without the lampshade and can also be purchased as a single unit or a set of two. There are different types of finishes available, including Dutch Walnut, Black and Cherry. Prices range from $119 to $129 for a single unit and $179 to $199 for a set of two (depending on whether the lamp shade is included). Check out their innovative products at www.tacticalwalls.com.
They make products that are simple to install, easy to use, and offer discreet storage solutions for every room. They are also made here in the USA.
This article first appeared in Small Arms Review V20N2 (March 2016)