By Chris A. Choat
AIMPOINT LAUNCHES NEW AR-READY MICRO SIGHTS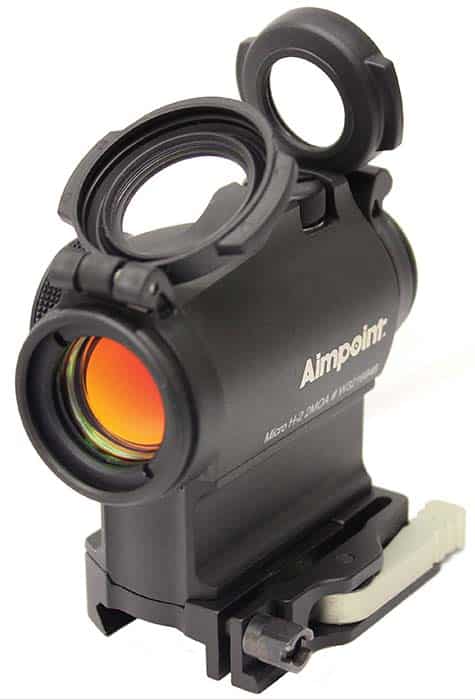 Aimpoint has announced the addition of a new line of pre-mounted Micro T-2 and Micro H-2 sights, that are immediately ready for use on AR-15 and M4 Carbine style rifles. These sights come equipped with Aimpoint's Lever Release Picatinny (LRP) Mount, and a 39mm spacer that provides absolute co-witness with backup iron sights on AR15 and M4 Carbine style rifles. The rail pressure on the LRP is fully adjustable, and the mount allows return-to-zero replacement if the sight is removed and replaced in the same position on the same rifle. The 39mm spacer can be removed in order to lower the optical axis of the sight for use on shotguns or submachineguns. For more information on Aimpoint or the Micro AR-ready sights, visit the company's webpage at: www.aimpoint.com.
CRIMSON TRACE LAUNCHES LINQ SYSTEM

Crimson Trace continues its leadership position in the firearms laser sight and lights accessory categories with the release of a new industry innovation—the LiNQ® System. This wireless and remote operation system utilizes a powered control grip to activate and operate a forward—or remotely located—light and laser sight module. The two-piece LiNQ System is designed to equip and upgrade nearly all standard long guns with rails and replaceable pistol grips. The many advantages to users of the LiNQ System include: no wires to tangle or disconnect, no activation pads to search for, ease of operation and simple to use controls, and the System can be easily and quickly transferred to another firearm. The patented LiNQ (LNQ-100) System's leading feature is a replaceable AR/MSR-style compatible pistol grip that houses the system's control circuitry and operating battery. That grip wirelessly communicates with the rail-mounted, or remotely located, laser sight and light module. When the module and grip are actively communicating—and linked—via a secure Crimson Trace developed interface, a solid green light illuminates on the grip's side panel. If the grip is searching for the partner light/laser module, the user will see a flashing green light. If the control grip has lost connectivity with the partnered laser/light module, there will be a constant red light on the grip's side panel. These indicators are easy to see, and the operation buttons are easy to find and engage. The system operates on easy-to-purchase standard CR2 and CR123 Lithium batteries. The output light/laser module is similar to Crimson Trace's popular Rail Master Pro units. Adding to the innovation features are an activation button located on the back of the remote laser and light module that permits use of the laser and light features without the LiNQ control grip installed on the firearm or located within communication range. The remote module provides these operation options; light and laser together, laser only (red and green laser models will be available), light only (the innovative LED light has a 300-Lumen output) and laser and strobe/pulsing light. The LiNQ control grip and modules have been rigorously laboratory- and field-tested for possible interruptions and communication challenges. The units have also passed numerous drop, dust and moisture tests. The two-piece system was also reviewed and tested by some of America's top gun writers and firearms industry experts during the development phase. The product easily installs onto nearly any standard AR/MSR platform rifle commercially sold today without special gunsmithing skills. The attachment process requires removing the current grip, installing the new Crimson Trace LiNQ System powered grip in its place, and then inserting the securing screw. It's that simple. All necessary wrenches and batteries are provided. Contact them at www.crimsontrace.com.
KINETIC CONCEALMENT LAUNCHES NEW RED-DOT VALUE SIGHT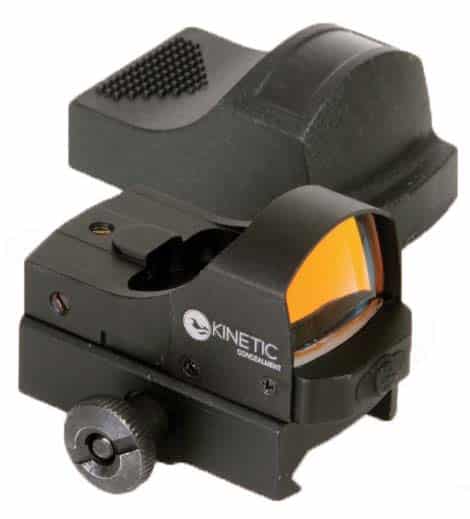 Kinetic Concealment, makers of the patent pending neoprene-backed leather hybrid holster, is proud to announce the edition of their new RD-01 Red Dot Sight to their accessory line of products. The Kinetic Concealment Red Dot sight is a low-cost optic that fits perfectly on any standard rail system. Designed as a quick and bright optic, the Kinetic Concealment RD-01 is a value priced optic, has all the same features as optics twice its price. It's the perfect optic for just about any quick focus application. The RD-01 comes with sight-in instructions, adjustment tool kit, one CR2032 battery and a full one year replacement warranty. The RD-01 has an on/off button that also doubles as the brightness control button. The tubeless design reflex lens aperture provides a wide field of view, making the sight suitable for rapid-firing or shooting of moving targets. The RD-01 has a retail price of only $59.99 and can be purchased at www.kineticconcealment.com.
WALTHER ANNOUNCES NEW PPS M2 PISTOL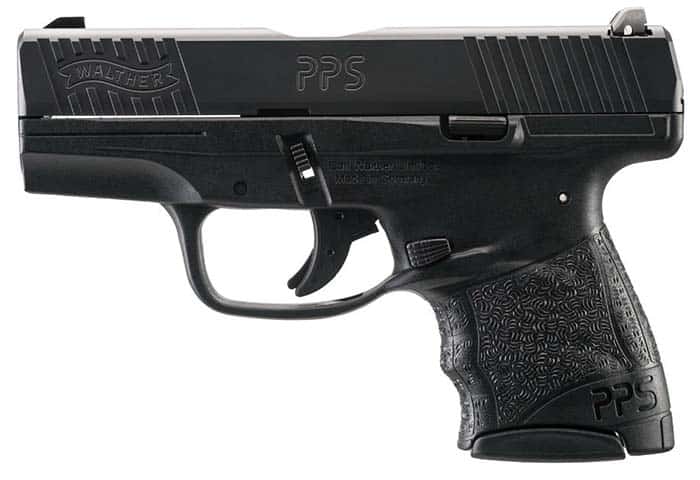 New to the Walther line of personal protection pistols is the PPS M2, an innovative new 9mm pistol that sets the bar for ergonomics and comfort for concealed carry. The new PPS M2 is engineered for the concealed carry shooter looking for a slim 9mm that provides superior concealability while maintaining comfort and accuracy. The new PPS M2 is built to carry, measuring in at 1 inch wide, low profile and smooth features. This coupled with a new push button style magazine release for easy operation, highlights some of the changes from the Classic PPS to the new M2. The new PPS M2 is equipped with a smooth, light 6.1 lb trigger pull, which improves control and accuracy. The PPS M2 can be the perfect fit for every shooter with Carl Walther signature ergonomics, that have become a staple in 21st Century Walther Arms. The PPS M2 is also available in an LE edition with phosphoric sights. Learn more at www.waltherarms.com/builttocarry.
KAHR INTRODUCES SHORTER BARREL THOMPSON CARBINE

For almost 100 years, the "Chicago Typewriter", the time-honored submachine gun, has been a favorite among collectors and shooting enthusiasts. Now, Kahr Firearms Group has given the semi-auto version a more authentic look with the introduction of their new barrel design on the Thompson T1-14 carbine. With a barrel length of just 16.5", it is 1.5" shorter than the existing T1 models with the 18" barrels. The .45 ACP caliber T1-14 has a permanently affixed Cutts compensator which lengthens the finned barrel length to 16.5", and puts the overall length for the carbine at 39"from buttstock to muzzle. The BATFE recently approved the permanently affixed Cutts compensator as a part of the barrel. The pinned Cutts compensator offered on the 18" barrel models are not considered part of the barrel. This model also features a blade front and open rear adjustable sight and weighs 12.5 lbs. The fixed stock is crafted in luxurious polished American Walnut and has a vertical foregrip. Retail of the new carbine is set at $1,461. Another addition to the shorter barrel 1927A-1 collection is the T1B-14, which specs the same as the T1-14, but instead of a walnut fixed stock, it comes with a detachable buttstock and with vertical foregrip. Both models are available in .45 ACP and ship with one 20-round stick magazine. The retail price on the T1B-14 is $1,910. For more information go to
www.auto-ordnance.com.
SUREFIRE UPS V-SERIES WHITE-LIGHT OUTPUTS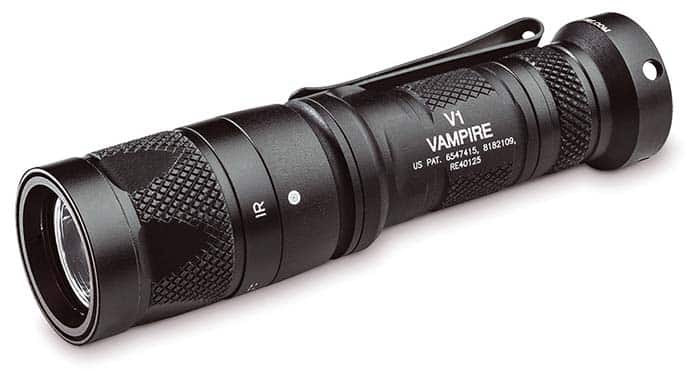 SureFire, LLC, manufacturer of high-end illumination tools and tactical products, has upgraded its line of revolutionary V-Series LED flashlights and WeaponLights—which provide both white light and infrared illumination from one sealed head—to dramatically improve the amount of white light they generate. V-Series lights now produce up to 133 percent more white-light output, thanks to improved efficiency in the LED emitters they use. One-battery, three-volt V-Series lights, which previously generated 120 lumens of white light, now produce 250 lumens; two-battery, six-volt versions now produce 350 lumens, a 200-lumen increase from their previous maximum output of 150 lumens. Dual-spectrum SureFire V-Series illumination tools ("V" stands for vampire) feature a white-light and infrared LED inside of one weatherproof head. A proprietary Total Internal Reflection (TIR) lens focuses the output from either of the two LEDs into a smooth, useful beam with ample reach and enough surround light to accommodate peripheral vision. By twisting the light's self-locking selector bezel, a user can go from a tactical-level beam of overwhelming white light—now at even higher outputs—to an invisible (to the naked eye) infrared beam for use with night vision devices (NVDs) on stealth missions. Unlike other white lights that require an infrared filter to produce IR illumination, a V-Series light doesn't use a filter, which can be lost, left behind, or damaged. Simply twist its selector ring to the IR or white-light setting—even on the fly—to get the desired spectrum for the task at hand. V-Series technology is featured across all of SureFire's WeaponLight platforms and is also offered in a handheld configuration. Specific models upgraded include the V1Vampire handheld and M300V Scout Light—both of which are now 250 lumens—as well as the M600V Scout Light and two X-Series lights—the X300V and X400V IRC—these latter three models now producing 350 lumens of blinding white light. All subsequent V-Series lights developed will also take advantage of current and future gains in output from increased LED efficiency. For more information visit www.surefire.com.
This article first appeared in Small Arms Review V20N3 (April 2016)