By The Small Arms Review Editorial Staff
CORE RIFLE SYSTEMS
C9 9mm Pistol / Carbine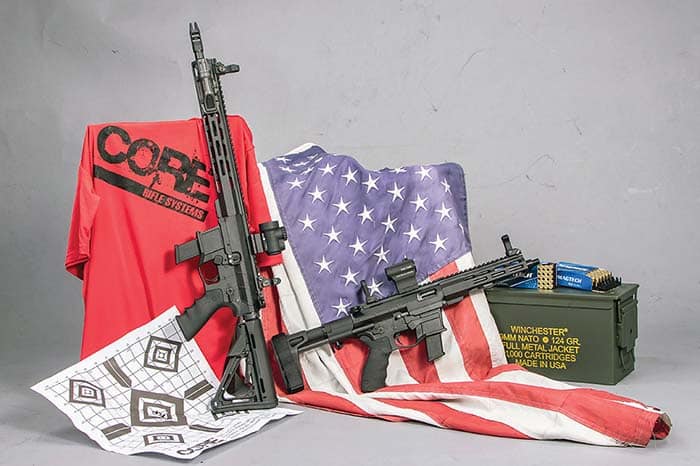 CORE Rifle Systems is proud to introduce its new line of AR 9mm Pistols and Carbines! The new C9 is a ground up, original design. This is not a hybrid or modified AR. This all billet 7075 T6 Aluminum, all ambidextrous 9mm platform is designed around the GLOCK Magazine system. Designed specifically for Team Core's professional shooters, this sleek little package delivers superior performance. All components are of the highest quality U.S. materials, crafted and engineered by U.S. veterans. The bolt/carrier is a non-rotating blow-back operation providing excellent function in its simplicity, made of the highest grade 416R Stainless Steel. The last round hold open functions flawlessly, while the unique ejection port provides trouble free cycling. The pistol model has the legendary SB Tactical PDW Brace, while the carbine has the awesome Magpul CTR Stock. They are both equipped with a Samson SX series M-Lok Rail System, while the barrel is completed by our award-winning Core Muzzle Brake. core15rifles.com
MEC-GAR USA, INC.
Magazines for CZ, SIG SAUER and BERETTA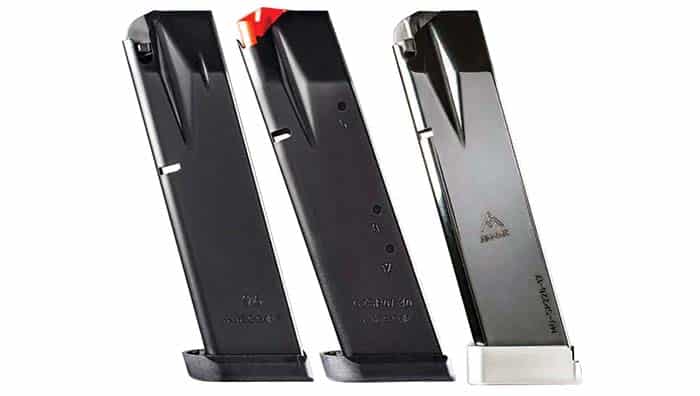 For 2019 Mec-Gar introduces new magazine models for the CZ 75B compact, SIG SAUER P226 X5 and Beretta 92 compact pistols. In addition to their current aftermarket CZ 75B compact 9mm 14-round capacity magazine, Mec-Gar made modifications so the magazines carry 16 rounds while still remaining flush fit to the pistol. This allows for the same capacity as the full-size CZ 75B but in the compact frame. For states with capacity restrictions, Mec-Gar offers a dimpled 10-round capacity version of the magazine.
The SIG SAUER P226 X5 is a favorite pistol among competitors. Mec-Gar will be offering aftermarket magazines for the 9mm version of the pistol in 19-round and 10-round capacities. For the .40 Smith & Wesson caliber versions, the magazines will be offered in 14-round and 10-round capacities. The magazines will have Mec-Gar's proprietary anti-friction coating on all models. This coating aids in loading and reduces malfunctions when feeding ammunition into the pistol.
Mec-Gar offers magazines for the Beretta 92 compact pistols in both a 15-round 9mm version with their anti-friction coating and a 10-round 9mm blued version. The 15-round magazine holds an additional two rounds of ammunition compared to the factory magazine and remains flush fit to the pistol. Like the CZ compact magazine this allows for the compact pistol to have the same capacity as the full-size pistol. mec-gar.com
SIG SAUER
Lima365 Red Trigger Guard Laser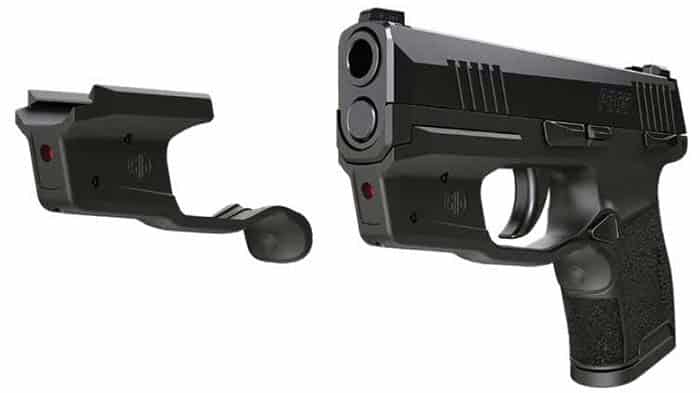 Engineered to fit your P365, the LIMA365 Laser Sight provides rapid, accurate target acquisition resulting in the ideal sighting solution for self-defense, conceal carry and home defense. The battery drain is minimized with the automatic shutoff, which assures the LIMA365 is always ready for use. sigsauer.com
VIRIDIAN WEAPON TECHNOLOGIES
C5L Green Laser Sight and Tactical Light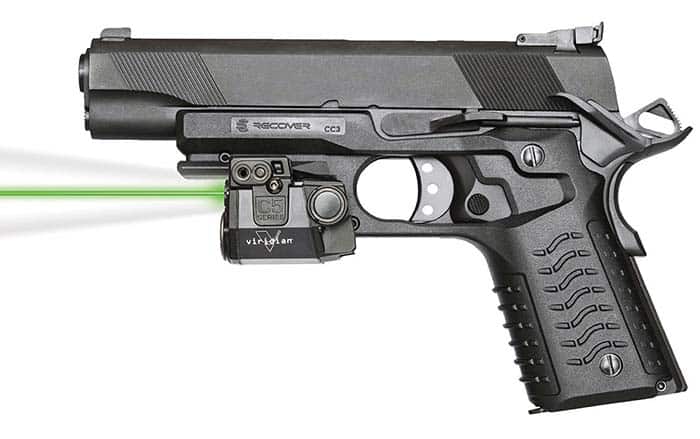 The Viridian C5L green laser + tactical light is so small, it tucks neatly between a trigger guard and muzzle with no overhang and will work with virtually any railed gun. This C5L features a green laser (50x brighter than traditional red) that is visible in day or night with multiple modes of operation and easy windage/elevation adjustment.
Viridian's C5L is equipped with INSTANT-ON activation. When paired with a Tac-Loc holster (sold separately), you can ignite your green laser and tactical light instantly when you draw your weapon. When you draw it's on. The C5L features a 100 lumen tactical light with CREE LED in constant and strobe modes. It comes standard with RADIANCE tac-light technology, which expands light into a wider beam, revealing over twice the horizontal area of conventional tactical lights. With no wasted light above or below your target area, you get a better picture, faster discovery, smoother tracking and more positive targeting than any other weapon-mounted tool. viridianweapontech.com
MAGLULA LTD.
.22LR LULA Loader & Unloader Set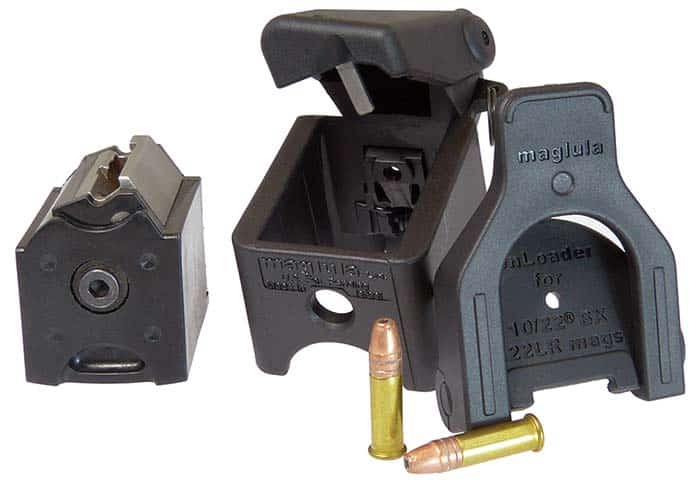 The .22LR LULA Loader and Unloader Set is a jam-free, pocket-size loader set for Ruger's factory 10/22 .22LR mags. Now in stock, it's the most perfect little loader and unloader set that actually works! The loader fits Ruger's factory mags: BX-1, 5, 10 rotary and BX-15; BX-25; and the Smith & Wesson T/CR22 10-round mag (tighter fit).
The Loader is more compact, durable, smoothly-operated loader compared with any other 10/22 loader on the market! The pocket-size loader never jams, will not dent delicate .22LR cases, will not lose the bullet from its crimp, never leaves a trace on the tip of the bullet, provides painless and quick loading. maglula.com
The Unloader (also sold separately, p/n LU32B), packed with the loader in a blister, fits and unloads ALL 10/22-type .22LR magazines of all manufacturers, including:
Ruger factory mags
T/CR22
Butler Creek
Black Dog
Eagle
ProMag
Shooters Ridge
Tactical Inc.
FORTIS MFG
SS FIFTY Safety Selector (50 & 90 Degree)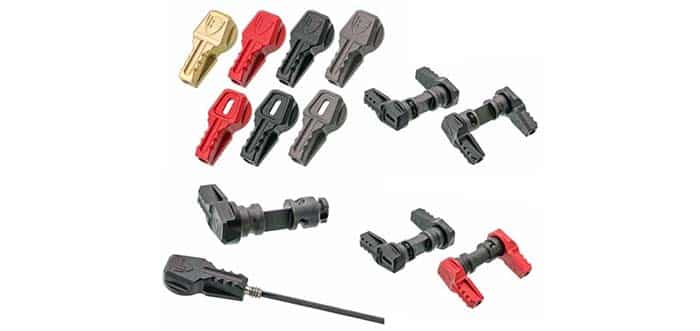 When designing our new Fortis SS FIFTY, Fortis made sure their brand's innovation, intent and quality were evident in every aspect of the design. While most AR safety selectors in the market today rely on standard socket/torx screws, the Fortis SS FIFTY was engineered with their patent pending RidgeKey locking mechanism. This system allows the levers to secure themselves onto the selector core without the use of screws. Our selector core is coated in black nitride, giving you a smoother surface and superior resistance to wear. fortismfg.com
Features:
Ambidextrous 6061 T6 Aluminum selector levers
4140 Steel selector core coated in black nitride
Medium length for optimum performance
Built-in 50- and 90-degree options
Robust RidgeKey locking mechanism with no visible screws
Strategically placed serrations to offer maximum real estate for contact
Made in the U.S.
SENTRY PRODUCTS GROUP (HEXMAG)
Gunnar Belt and Accessories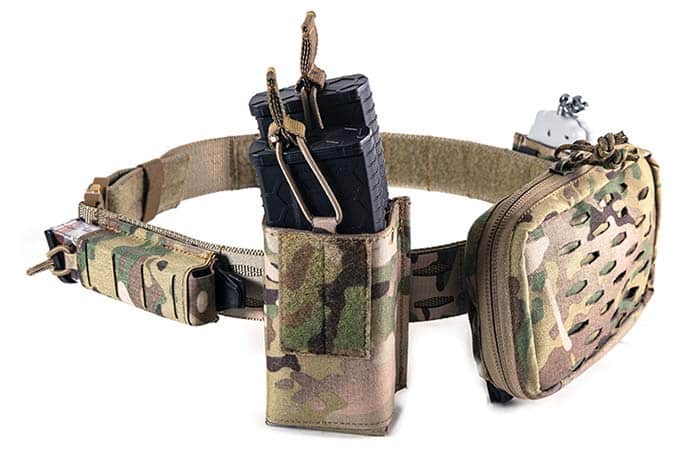 With years of experience in the tactical nylon market, SENTRY is proud to introduce the most flexible, secure and innovative accessory carry system on the market. This unique Patent Pending design utilizes SENTRY's Variable Mounting Platform enabling accessories to mount directly on standard 1.5-inch to 1.75-inch belts via MOLLE / PALS mounting or integrated belt loops in either vertical or horizontal orientations. The patent pending 1080-2 mounting platform on the front of each pouch supports nesting units together, allowing quick configuration of gear to support mission demands. The low-profile construction method used by SENTRY eliminates traditional binding tape on each side of the pouches, ultimately minimizing the width of each pouch and the amount of space taken up by each pouch on the belt. Smaller waist-size operators get the advantage of having more space on their belt or load bearing equipment when using SENTRY pouches and accessories. For more information visit SentryLTP.com or HexmagStore.com.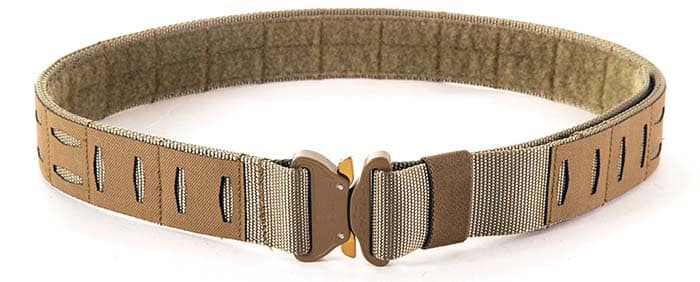 This article first appeared in Small Arms Review V23N4 (April 2019)