The CMMG Mk47 MUTANT proved capable of handling AK drum magazines, something that most other AR 7.62x39mm rifles are incapable of doing.
By Todd Burgreen
Certain calibers and weapons are naturally associated with each other due to the success experienced together. A good example of this is .45 ACP and the 1911. Even though the 1911 is chambered in other calibers, .45 ACP is the immediate assumption made by most when the 1911 is mentioned. Just as intimately intertwined are the 7.62x39mm cartridge and the AK-47 platform. The Soviets developed 7.62x39mm in 1943 as an intermediate round to replace the 7.62x54R. The thought was to have one caliber for use in light machine guns in response to the battles being
fought in WWII.
7.62x39mm drives a 123 grain projectile at 2,300 feet per second (fps). If this sounds familiar to current trends with the 6.8 SPC and the .300 Blackout, it should. A certain amount of respect needs to be paid the 1940s Soviet designers for creating the 7.62x39mm design, which has stood the test of time. The Russians were not the only country looking for a change from their full-powered rifle rounds. The German 7.92×33 Kurz used in the StG 44 is another example. This heralded the arrival of the assault rifle genre typified by the German StG 44 and the Soviet's own AK-47.
This article is not about Soviet-derived AK weapons, but rather other rifles available to U.S. civilians chambered in 7.62x39mm. While not intended as an all inclusive list, the variety may surprise readers by including bolt action as well as AR direct impingement, SIG SAUER rotating bolt, Czech pivoting lock and Garand-style breech bolt locking system-based operating systems. This article will focus on two variants that serve to show the wide variety available: CZ 527 Mauser bolt action and CMMG Mk47 MUTANT AR.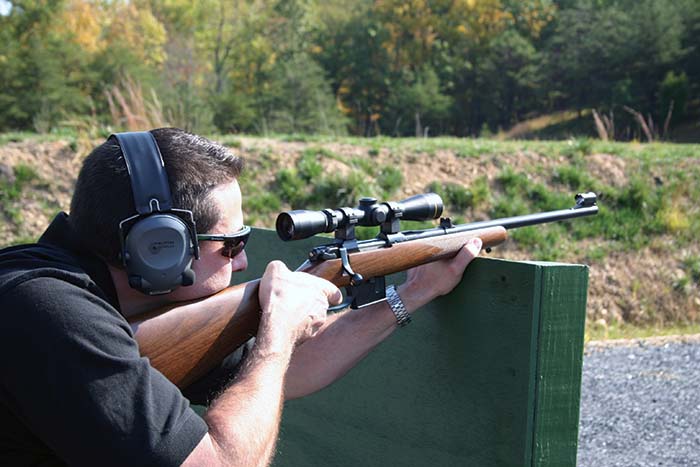 The CZ 527 utilizes the classic Mauser action and adds two twists: a micro-Mauser and an interesting chambering in 7.62x39mm. The CZ action is a true micro-Mauser, not a standard Mauser action that has been chopped and rewelded. This makes for a sleeker action. The compact 7.62x39mm cartridge is a natural, though unlikely, candidate for use in conjunction with a Mauser bolt action. Credit must be given to CZ for coming up with this for the American market…to my knowledge they are one of the few main line firearms companies offering 7.62x39mm in a bolt action rifle format.
While the CZ 527's bolt has been scaled down, the Mauser's twin opposed locking lugs are maintained to provide precise and safe bolt closure. Common to most Mauser designs is the external extractor, which is non-rotating and acts in conjunction with the bolt stop positioned ejector spur to eject used cases positively. The CZ 527 has the micro-Mauser action at its core allowing for a more compact, faster handling rifle compared to a standard length bolt action. The legendary performance and loyal following of the Mauser action starts with control round feeding. The cartridge is captured and held in place by the claw extractor as it comes free from the magazine and is placed into the chamber. However, CZ has added some improvements with a streamlined bolt sleeve, set trigger (more on this later), two-position safety, stiffer tang, Winchester Model 70 type bolt stop and blade ejector, and the primary extractor cam is at the base of the bolt handle.
The bolt is easy to operate for smooth, trouble-free cycling. CZ has fitted the 527 with an 18.5-inch cold hammer forged barrel. The hammer forged barrel is free floated from just in front of the action forward. The CZ 527 measures 37 inches in length and weighs in at a modest 6 pounds. Sling swivels are a standard feature with the CZ 527. The CZ 527 comes equipped with a sturdy, fully adjustable set of open sights. The hood design for the front sight is very well done with the notch machined in the top to allow for the maximum amount of light to enter while still protecting the front sight from damage. The sights are more than usable for anyone not wanting to mount a scope. One crucial improvement with the CZ Mauser is its square bridge design which allows an integral scope base. CZ rings mate up right to the action for solid attachment and help ensure reliable scope zeroes. A Leupold VX-2 2-7x33mm was mounted. The overall appearance of the CZ 527 is enhanced by an attractive grade of Turkish walnut used on the stock. The CZ 527 sports a single set trigger design. This definitively European feature may surprise U.S. shooters, but will prove useful when firing from the bench. The trigger is set by pushing it forward, with a trigger weight of 2 pounds. However, the normal trigger pull was an acceptable crisp 4.5 pounds and was certainly no problem during accuracy testing at the range.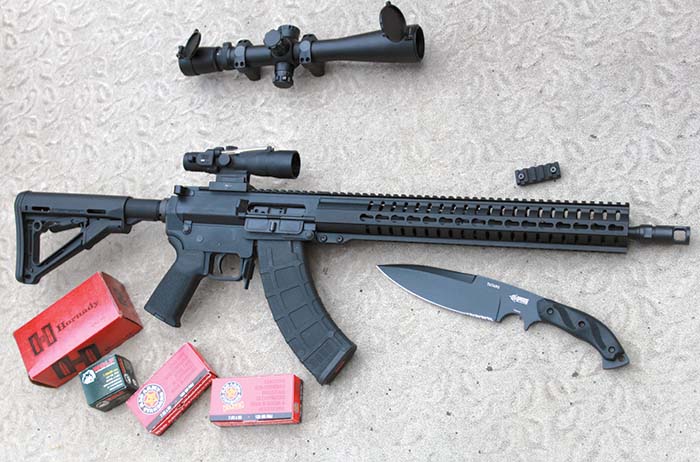 7.62x39mm is equivalent to 30-30 in terms of ballistics, with more loadings steadily becoming available. WOLF 154 grain SP, 124 grain SP, and 123 grain FMJ as well as Hornady 123 grain V-MAX and SST were tested with the CZ 527. Users of the 7.62x39mm cartridge will appreciate the performance enhancement offered with the CZ 527 in terms of accuracy and svelte sporting handling. The accuracy premium offered by the combo of the bolt action CZ 527 with Leupold optics was a pleasant surprise. Hornady 123 grain V-MAX (now discontinued) and SST loads produced just over 1-inch groups with all loads testing sub-3", even with FMJ surplus loads.
While by no means rivaling a semi-automatic for fire power, detachable five round magazines are handy to recharge the CZ 527. As expected from a bolt action, no malfunctions were experienced. The safety selector was different compared to U.S.-based rifles with the safety engaged by pushing it forward and released by moving it rearward. The safety made no audible noise when manipulating it, an important consideration when hunting. Recoil was not a factor with nearly 100 rounds fired during the first trip to the range with no issues or detriment to accuracy experienced. The CZ 527 proved too accommodating, digesting 5-round detachable box magazines, one after another.
To give readers an idea of what is available in 7.62×39 options, the second rifle evaluated was the CMMG Mk47 AKM MUTANT. The urge to merge AR modularity, ergonomics and accuracy with the 7.62x39mm cartridge has shown constant appeal to the U.S. shooting community. The CMMG Mk47 MUTANT has caught many shooters' attention. The CMMG Mk47's upper and lower receivers are created from 7075-T6 billet aluminum. The MUTANT's upper is an M4 "flat top" style transitioning into a similar rail along the top of the CMMG RKM forend rail. The CMMG MUTANT's upper receiver is equipped with a case deflector as well as an ejection port dust cover. The Mk47's receivers and bolt group are derived from CMMG's Mk3 series of 7.62x51mm/.308 Win rifles. CMMG describes the Mk47 as a mid-sized AR receiver and views its adaptation from the larger AR-10 receiver/bolt group as an important component of the Mk47's reliability and durability, in lieu of trying to force an AR-15 receiver into utilizing the 7.62x39mm cartridge and AK magazines. CMMG was able to do this while still minimizing the Mk47's weight. An AR-15 type trigger group, pistol grip and rear stock were utilized so users can still access plentiful aftermarket options, if desired.
The Mk47 MUTANT combines the versatility and ergonomics of the AR-style platform with the 7.62x39mm chambering. Most importantly, it accepts steel and polymer AK-47 magazines (compared to other ARs chambered in 7.62x39mm that take proprietary magazines or only certain types of AK magazines). CMMG uses a carbine length direct impingement gas system with the Mk47. A 4140 Chrome Moly 16.1-inch 1:10 twist .311 groove barrel is surrounded by CMMG's RKM KeyMod forend rail. The AKM MUTANT measures 33.5 inches with the rear stock collapsed. Even though chambered in 7.62x39mm, the Mk47 is one of lighter AR versions on the market, weighing in at just 7 pounds. This is especially noteworthy because the Mutant features a full-length rail and .30 caliber firepower.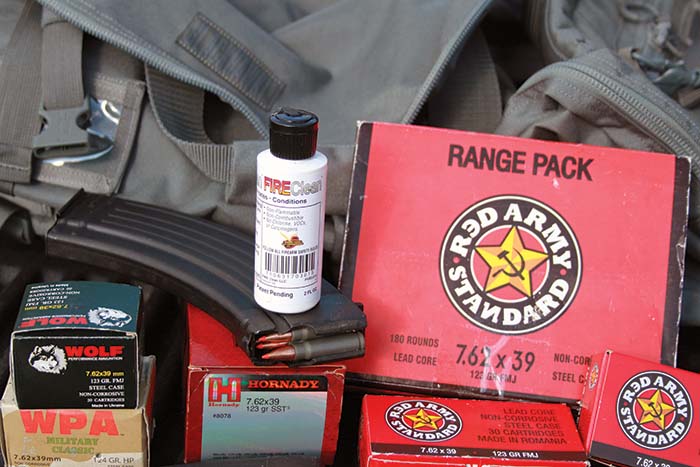 The minimalist CMMG RKM KeyMod rail design, measuring 15 inches, defines the CMMG Mk47's aesthetics. This rail system permits the barrel to be free floated and shows versatility in satisfying customer needs by not using full-length Picatinny quad rails, but instead a lower-profile handguard with adjustable KeyMod Picatinny rail sections.
The CMMG Mk47's magazine well represents the best to-date adaptation of an AR receiver to accommodate the AK-47 magazine's rocking hook-and-latch system (i.e. you first insert the front of the magazine before rocking it back and locking it in place). A plethora of AK magazines were evaluated with the CMMG Mk47 MUTANT. These consisted of polymer US PALM, Magpul, TAPCO, Bulgarian (smooth and waffle) and I.O. Inc., as well as surplus steel magazines. The CMMG Mk47 proved capable of accepting and working with all magazine types tested. Even drum magazines (which are often the bane of AR 7.62x39mm rifles) were tested and proved usable with the MUTANT.
It was decided to take full advantage of the Mk47 MUTANT's flattop upper receiver by mounting a Trijicon ACOG TA33A-13 3×30 with horseshoe/dot reticle calibrated for 7.62x39mm trajectory. A quick release mount was used with the ACOG. The mount is CNC machined from 6061-T6 aluminum and weighs only 2.7 ounces. The secure mounting of eye-relief-dependent optics is a major weakness for the AK that the CMMG Mk47 solves. The Trijicon ACOG offers the capability to engage multiple targets in rapid sequence compared to open sights, while at the same time providing accuracy at extended distances. The ACOG is a preferred optic for the U.S. Army and Marines for good reason.
Multiple 7.62x39mm loads were tested with the CMMG Mk47 from Hornady and WOLF, as well as from Century's Red Army Standard and Elite ammunition. A Leupold Mark 4 3.5-10×40 was mounted for accuracy testing before switching back to the Trijicon ACOG for a more dynamic T&E. WOLF and Red Army Standard loads grouped into 2.66 to 3 inches at 100 yards. Red Army Elite brass 7.62x39mm delivered 2- to 2.5-inch groups. The Hornady 123 grain SST loads delivered accuracy in the 1 5/8- to 2-inch range at 100 yards.
The CMMG Mk47 AKM MUTANT had several hundred rounds fired through it for this article. It was important to explore if the direct impingement 7.62x39mm AR Mutant would choke on "dirty" AK ammunition. No issues were encountered in terms of reliability; overall accuracy and shootability were pleasant surprises. After an initial functionality test, the CMMG Mk47 AKM was then put through its paces on different courses of fire. Magazine changes, shooting from the non-dominant shoulder and from unconventional positions around barricades all helped to evaluate the MUTANT. Strings of fire ranged from 15 to 80 rounds with target distances measured in feet out to a couple hundred yards. The CMMG SV muzzle brake and in-line AR recoil impulse enabled multiple rounds to shoot rapidly on target. A major focus with the direct impingement Mk47 MUTANT was monitoring reliability after hundreds of rounds fired, including magazine dumps and breaking contact drill scenarios. These types of drills quickly generate high heat and carbon grime in the receiver and bolt group and also induce carbon from the gas system.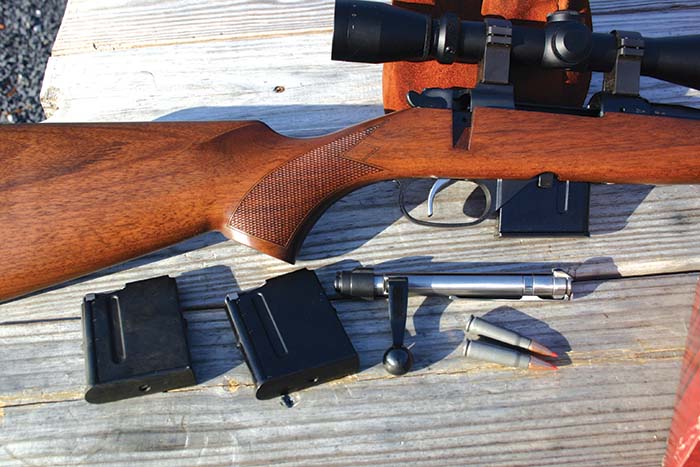 Magazine change drills turned out to be a combination of AK and AR methods in terms of manipulation. This was due to the need of rocking the AK magazines into place and working the charging handle in the absence of a last round hold-open feature. The technique was not particularly hard to master, but different from what dyed-in-the-wool AK or AR operators are accustomed to. The MUTANT's magazine well is excellent in that magazines seem to glide into place without binding. It was discovered that the wider CMMG magazine release lever enabled the operator to finger it forward with his firing hand index finger in lieu of thumbing it with offhand while simultaneously removing the magazine. Overall, I found that magazine changes with the CMMG MUTANT were faster than other 7.62x39mm magazine-fed rifles I've evaluated to date (AK-47 derivative rifles are included in this statement).
Whatever roles 7.62x39mm rifles are considered for (be it hunting, personal defense, or sport), they can perform it with options available outside of the AK genre. This statement is not meant as disrespect towards AK rifles, which need no defense considering their solid reputation and record of performance since the 1950s. It is good to have increasing options for the civilian consumer.

SITES OF INTEREST:
CZ-USA
www.cz-usa.com
CMMG
www.cmmginc.com
Century Arms
www.centuryarms.com
WOLF Performance Ammunition
www.wolfammo.com
Hornady Manufacturing
www.hornady.com
Trijicon, Inc.
www.trijicon.com
This article first appeared in Small Arms Review V19N9 (November 2015)