Numrich Gun Parts Corporation is situated on a 38-acre site in West Hurley, New York halfway between New York City and Albany, New York.
By Robert M. Hausman

What once began as a small retail gun store, is now the world's largest supplier of firearms parts and accessories. Numrich Gun Parts Corporation originated in 1947, when George Numrich opened a gun store in Mamaroneck, New York, under the name of Numrich Arms. At the end of World War II, he began doing a considerable amount of business buying and selling surplus gun parts. There were thousands of former servicemen returning home who were experts with firearms and interested in "sporterizing" the types of rifles they had relied on during the war. A great surplus of military rifles were coming onto the market at that time, and Mr. Numrich saw the opportunity to supply parts for those rifles and create a niche for his young company.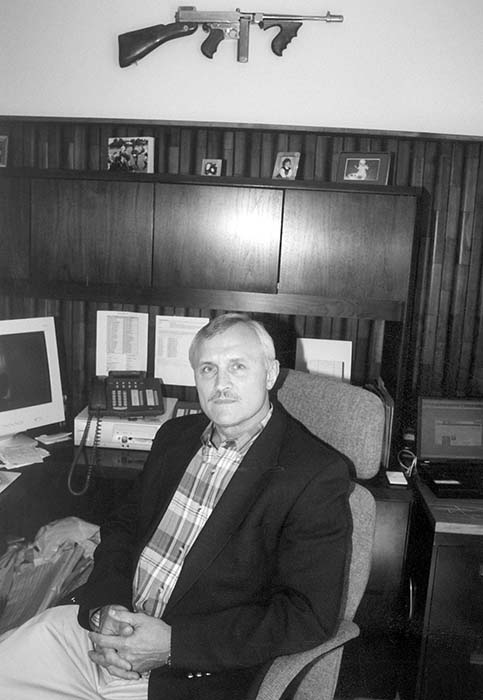 Numrich's surplus activities soon outpaced the retail gun business as he focused on acquiring military surplus and commercial gun parts. Several years later, he moved the business to West Hurley, New York, and began publishing a catalog of gun parts and surplus items. Over the years, the business has grown to the point where the firm is now the acknowledged industry leader for firearms parts and accessories.

The West Hurley location contains five warehouses, a main shipping facility, a woodshop, a machine shop, and a 100-meter shooting range. "When parts for rare guns become unavailable," notes Gregory Jenks, the firm's president, "we have replacement parts manufactured. A large reference collection of firearms is maintained, and the parts from which are used for patterns to make new parts when originals are unobtainable on the open market. The reference arms and the on-premises range, also come in handy for testing the function of newly made parts."

Tommy Gun Fame

In 1951, Numrich Arms Corporation purchased Auto-Ordnance, the manufacturer of the Thompson machine gun, for its large inventory of parts. Years later, Numrich began manufacturing frames and receivers utilizing the large supply of original parts to build complete Tommy Guns. In March 1975, the firm received ATF approval to begin producing a new line of semi-auto Thompson guns. The M1927A1 went into production, followed shortly by a .22 rimfire version. Manufacturing these guns helped put Numrich on the map as far as many shooters and collectors were concerned. Auto-Ordnance was sold to Kahr Arms in 1998.

Catalog

The company's 1,152 page reference catalog provides the largest selection of firearm parts for sale on the market today. The catalog features hard-to-find, obsolete, antique, and new firearm parts for hundreds of manufacturers. Their expansive inventory also offers machine gun accessories, ammunition, books, manuals and videos, cleaning accessories, pistol grips, gunsmithing tools and supplies, knives and bayonets, and leather and canvas goods. They also carry reloading tools, magazines and clips, target and range equipment, and all other firearms related products.

Numrich specializes in military and machine gun parts and accessories, such as firing pins, barrels, bolt parts, feed mechanisms, and barrel jackets. Some of the military manufacturers and models that can be found in the catalog are: Action Arms Galil and UZI; AK47 and SKS; Armalite AR18 and AR180; Auto-Ordnance; Boyes Anti-Tank Rifle; Bren SMG; Cobray: G-43 and K-43 semi-auto rifles; Hotchkiss Light Machine Gun; Ingram; Lewis MG; M1 Carbine; M1 Garand; M14 Rifle; M16, M16A1 Rifle; M3, M3A1 Grease Gun; Madsen Model 50 SMG; Piat Anti-Tank Gun; Reising, Sten and the Vickers MG. There are also parts for machine guns such as the U.S. military 1917A1, 1919A4, A5 and A6, M2 and M3 .50 caliber, M60, M73, M73A1, M85, M219, and others.

There are loads of parts for semi-auto rifles, shotguns, and handguns from manufacturers such as Colt, CZ, Erma, Fabrique Nationale, Glock, FIE, Sig Sauer, Taurus, and many more. There is also a large selection of parts for High Standard, including the famous Models 10A and 10B bullpup police shotguns. Among the more interesting accessories listed is a .22 caliber conversion unit for the Heckler & Koch Model G3, 91 and 51 rifles.


The catalog provides over 400 schematics and exploded parts diagrams that illustrate the relationship of the working parts that complete a firearm. Students of firearms design will find hours of enjoyable reading and will want to make the book a permanent part of their reference collection. Accompanying text identifies various parts, and provides detail on model variations, often including historical information on the firearm's development and use.


For example, the Browning parts section begins with this description: "John Moses Browning, a self-taught firearm inventor, is probably the most influential name in the development of American and foreign firearms in the world.

The success of Browning's military weapons may well have been one of the most important contributions to the defeat of many American adversaries. These feelings were verbalized in a eulogy delivered at his passing by the Secretary of War in 1926.

'It is a fact to be recorded that no design of Mr. Browning's has ever proved a failure, nor has any model been discontinued. The War Department, through its agency, the Ordnance Department of the Army, will be greatly handicapped in its future development work on automatic firearms as a result of the loss of Mr. Browning's services. It is not thought that any other individual has contributed so much to the national security of this country as Mr. Browning in the development of our machine guns and our automatic weapons to a state or military efficiency surpassing that of all nations.'

Another example is illustrated for the Danish Madsen Model 50 SMG. The text explains that this weapon features "an unusual design compared to most submachine guns. The receiver was stamped as two separate sides, hinged at the folding stock and closed shut by a locking nut, which also retained the barrel. By removing this nut, the whole gun opened like a book to replace the barrel, facilitate cleaning, etc. Almost all internal parts were either stampings or screw machine parts allowing it to be mass produced at a very low cost."

The back of the catalog contains an index and an interesting "store brand to manufacturer cross-reference list". It references the different brand names and model numbers that many firearms were sold under, such as J.C. Higgins, Montgomery Ward, Sears, etc., and links them to the firearm's original manufacturer and original model designation. For example, a Montgomery Ward Westernfield Model 550A would have originally been manufactured as the Mossberg Model 500A Pump Shotgun. These features assist the customer in quickly finding the proper section within the catalog for their particular gun.

"While parts are our company's main business, we do not offer gun repair services, nor do we offer instruction on how to install the parts. It is strongly recommended that a competent gunsmith perform all parts installations and repairs," Jenks cautions.

Despite the huge inventory, employees have been carefully trained to access the inventory correctly and 90% of orders are shipped within one day of receipt.

Sell Your Parts To Numrich

In addition to selling parts, Numrich also buys parts from individuals in order to help maintain its vast inventory. If you have any unwanted guns or gun parts, Numrich pays competitive prices for guns and parts of every description. They will buy new, used, military, commercial, foreign, domestic, and even .50 caliber and larger machine gun parts. Broken rifles, shotguns and handguns are also of value because of the company's ability to salvage useful parts.

U.S. residents are asked to send in their parts or guns and the company will evaluate the goods and make an offer. If you have a large amount of material to sell, it is best to send a list prior to shipping and you will be sent a written response with an estimated value. If the amount offered is not satisfactory, you return the company's check and your parts will be returned to you. Additionally, you will be reimbursed your original shipping costs at the UPS Ground or Parcel Post postage rates. Shipments containing handguns, frames, or receivers require prior approval and special shipping instructions. Without proper documentation, the company would be required by state law to surrender improperly documented handguns, frames, and receivers at the customer's loss and without compensation. Customers outside the U.S. should write first with a list of what you have to sell and you will be apprised of shipping instructions.

In addition to the printed catalog, some 180,00 different items can be found on the company's web site at www.e-GunParts.com.

"The majority of the company's sales are made to consumers, while the balance is comprised of retail firearms dealers and wholesalers," Jenks discloses. Bonafide gunsmiths and retailers are offered a 10% discount from catalog prices, with greater discounts available for volume buying.

The firm's industry involvement includes membership on the board of directors of the F.A.I.R. Trade Group (an organization looking after the business interests of firearms importers and their customers), and participation with several programs for the NRA, Ducks Unlimited, NSSF, and NASGW.

If you are in the area and would like to visit, Numrich Gun Parts Corporation is located 4.8 miles from the New York State Thruway at Exit 19 (Kingston, NY) which is about halfway between Albany and New York City. The parts department is open from 8 a.m. to 4:30 p.m., Monday through Friday.

For more information:

Numrich Gun Parts Corporation, 226 Williams Lane, P.O. Box 299, West Hurley, NY 12491 Telephone Orders: 845-679-2417, Customer Service: 845-679-4867, FAX: 877- GUN PART (877-486-7278) or Online: www.e-GunParts.com.
This article first appeared in Small Arms Review V6N1 (October 2002)