Nothing demoralizes troops more than a sniper who strikes men down from the shadows seemingly at will. For someone wishing to mount optics on their AK or upgrade the optics on their SVD, or FPK/PSL (Romanian 7.62x54R sniping rifle similar in appearance to the Soviet SVD, but no relation) there is good news. Quality mounting systems and scopes are now available. Shown is a PSO 6×36 (actually 40 mm) scope from Kalashnikov USA mounted on a SVD TIGR.
By David M. Fortier
Scope mounts. No matter how accurate your rifle or how precise your optics, if your scope is not mounted rock solid all is for naught. Ever since soldiers started mounting optical sights onto their rifles to successfully engage further than was possible with iron sights, the fly in the ointment has been how to properly mount them. And once mounted, how to keep them properly mounted. In his book 'A RIFLEMAN WENT TO WAR' H.W. McBride wrote about how he anchored a Warner & Swasey telescope onto his Ross sniping rifle, "I had to tinker up the mounting a bit to keep it from jarring loose; on my particular rifle I rusted all the screws in and spiked them with a center punch, then by ramming a thin wedge or "shim" (made from a safety razor blade) in between the sight base and its holding lug, I finally got it on so tightly I could not get it off. This "anchored" it properly and the sight thereafter worked all right." I'm sure his method not only worked but made him right popular with his armourer.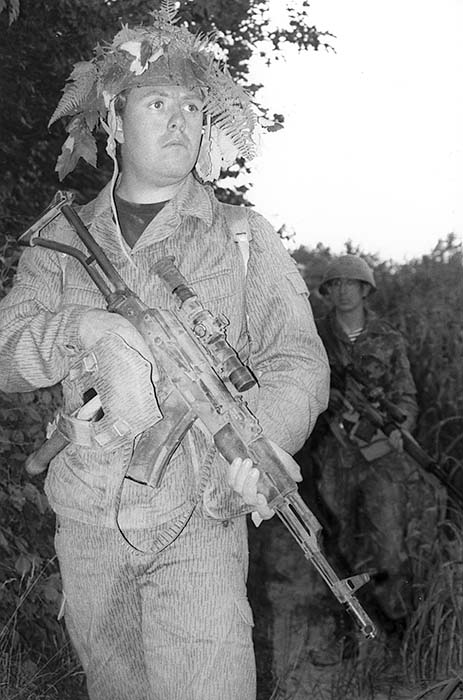 Rifles and scopes have changed a lot from McBride's .303 Ross straightpull with an offset mounted Warner & Swasey, but some problems remain timeless. The only country that apparently took the sniping lessons of World War I to heart was the Soviet Union. Dominated by German Scharfschutzen's (sharpshooters) the Russians suffered dreadfully, but learned their lesson well. From 1932 to 1938 54,160 Model 91/30 Mosin-Nagant sniper rifles were manufactured. From the outset of the Great Patriotic War the Germans suffered alarming losses to Soviet snipers. In 1942 alone the Soviets produced 53,195 scope sighted sniping rifles of which the Germans reissued all they could capture. After the war the Soviets went on to produce the worlds first rifle designed from the ground up for sniping, and sniping only. Named after it's designer, Evgeniy F. Dragunov (1920-1991), the SVD Dragunov entered Soviet service on July 3rd, 1963. With the SVD a rail mounted scope, the PSO-1, was adopted for service.
Since variants of Kalashnikov's rifle, hereafter simply referred to as AK's, became available in the U.S. people have searched for a way to mount optics on them. And since SVD's in different forms (TIGR's, Chinese, .308) came into the country, and with Romanian FPK/PSL's available, shooters have wanted to upgrade their optics. It is now possible to do both, and with excellent results. Originally the only mounts generally available for AK's were "trash" from China. Topcover mounts that adjusted your zero for you between shots, and clunky receiver mounts that were a take off from the 91/30 Mosin-Nagant mount. Some American companies quickly caught a whiff of money to be made and turned out some horrible trash, good only for separating you from your hard earned cash. While this garbage is still out there I am very happy to say that there are also some excellent options now available for the individual desiring to put optics on their AK, or upgrade the optics on their SVD or FPK.
The Holy Grail required for properly mounting optics on a Kalashnikov is the military rail mount that attaches to the left side of the weapons receiver. SVD's and FPK's of course have this rail already mounted, as do many of the semi-auto AK's now being imported. However, if your favorite shooting iron lacks this important piece don't despair as they are cheap, readily available, and easy to mount. Both Kalashnikov USA and K-VAR carry this important piece, so properly mounting optics onto your weapon can now be a reality. The rail comes with all needed hardware and a mounting template so that anyone who is not a hazard with power tools should be able to accomplish the task.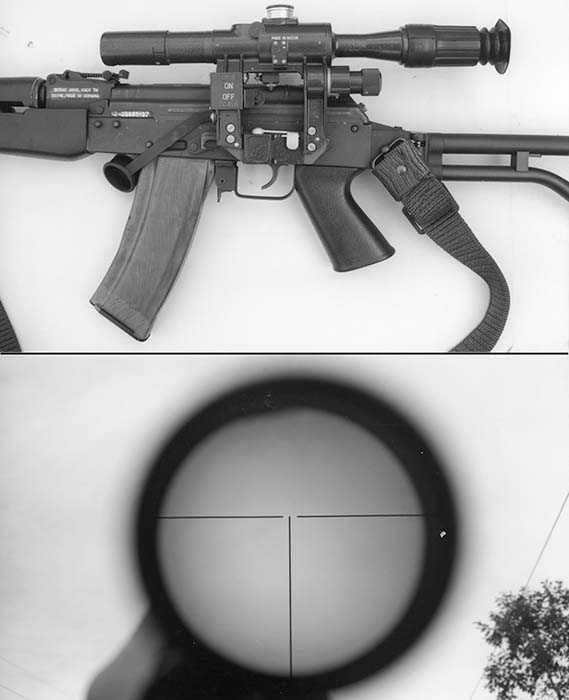 Why bother, you might ask? Why would someone want to go through the trouble of mounting optics on an AK? Well there are several good reasons. One is that not all AK's shoot like a bucket. The AK-74 used for testing in this article hovers around 1.5 MOA for instance. The second is that you may wish to have the option to use optics or not to at your discretion as the situation calls. The third is that you may wish to install not a scope per say but a red dot sight for quick target acquisition. And the fourth may be that while your AK shoots like a bucket you just feel like doing it. All good reasons.
To show you what is available I contacted three companies and tested what they have to offer. Product from Kalashnikov USA, K-VAR, and I.O.R. Valdada were all put through their paces. For testing purposes a Russian SVD TIGR 7.62x54R and a Romanian 5.45×39 AK-74 from Tennessee Guns were used. The AK-74 was outfitted with a stock from Ace Tech to increase the length of pull. It is without a doubt the finest stock available for an AK. Patterned after an FN-FAL sidefolder they are available in both fixed and folding versions for legality. Testing was done at 100, 300 and for the SVD, 600 yards. Ammunition for testing purposes was Wolf Performance Ammunition from Tula Arsenal and supplied by Sporting Supplies Int. Inc.
Kalashnikov USA has an extensive line available at reasonable prices. A joint partnership with Izhmash Joint Stock Company of Izhevsk, Russia they import products of Russian design and manufacture. Founded in 1807, Izhmash JSC is where Mikhail Kalashnikov and Evgeniy Dragunov's weapons were originally manufactured so they have plenty of experience with both AK's and SVD's. I tested three scopes, one red dot sight, and two mounts from Kalashnikov USA.
Kalashnikov USA carries a PSO-1 variant. Adopted in 1963 with the SVD the PSO-1 is still the standard issue sniping scope in the Russian Army. With a built in mount, the whole assembly simply slides onto the weapons side rail and locks with a throw lever. A fixed 4x with a 24 mm objective, BDC (Bullet Drop Compensator), battery operated illuminated reticle, sunshade, and finger adjustable target turrets. It comes with a post reticle, as the original military reticle is not allowed to be imported. With coated lenses and an exit pupil of 6mm it does a surprisingly good job of transmitting light. The optics are very clear, and the illuminated reticle is an excellent feature that once you get used to you'll wonder how you ever did without it. While I at first did not expect that it would actually hold a zero, I can honestly say that my PSO-1 returned to zero flawlessly no matter how many times I dismounted it. The standard scope for an SVD, it makes a nice addition to an AK, but you will want to increase your length of pull.
Of interest to SVD and FPK owners is a 6x version of the PSO-1. At the extreme ranges encountered during the fighting in Afghanistan the Soviets found the PSO-1's 4x lacking. This scope not only has increased magnification, but also a larger objective lens. Advertised as a 6x36mm the objective lens actually measures a full 40 mm and appears to be the largest lens they could utilize without a major redesign. In all other respects this scope is identical to the PSO-1. It does however have a different reticle. It uses an inverted chevron aiming point and a Zeiss style rangefinder. Optics are coated, surprisingly good, and very clear, better than my Leupolds. The BDC proved very accurate and with a 100 yard zero simply dialing the knob to "6" put me on a military silhouette at 600 yards. For me, 6x seems to be the perfect balance of magnification in a fixed power scope, even at 600 yards (at this range 4x was lacking however). For someone wanting to upgrade their SVD/FPK to more magnification and a larger objective lens without sacrificing ruggedness, durability, the illuminated reticle or BDC, this is the way to go.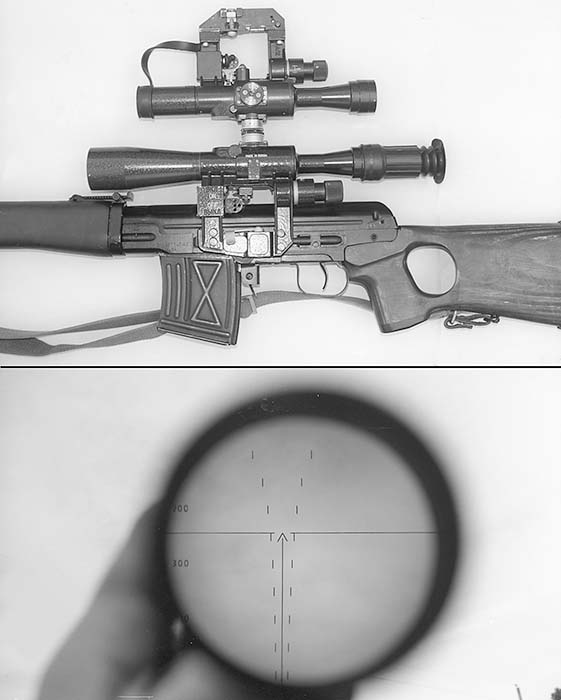 Red dot sights have become very popular lately, and for good reason. Lightning fast and allowing accurate fire to be placed at reasonable ranges they work well for their intended purpose. Kalashnikov USA's entry in this field is called the Cobra. A collimator sight, instead of having a tube it projects the aiming point onto a single lens. It has a built in mount that allows the whole unit to quickly and easily be attached or removed from the weapon. Powered by two 3-volt lithium batteries it has some outstanding features. Instead of just simply having a dot for an aiming point, the user has the option from choosing a dot, a post with horizontal stadia, or a combination of the two. Changes in reticle are accomplished simply with the push of a button. Brightness settings are changed easily and the unit has a memory feature so that when you turn it on it will automatically give you the same settings as when turned off.
Also offered by Kalashnikov USA is the PSO-2. A conventional looking 7×29 scope with a 1-inch tube, it comes with a mount. What is interesting about this scope is the reticle. Consisting of a vertical row of inverted chevron aiming points, each marked with the corresponding range. This allows the shooter to zero his weapon at 100 meters and then use his reticle hold over marks at all further ranges. Hold-over marks are given all the way out to 1100 meters.
For those of you who wish to mount their own choice of 1-inch scope they offer the MTK-75. This mount has integral rings and is angled forward to allow proper eye relief with most scopes. Sitting directly over the bore it seems to be the perfect height, not to tall so that your cheek weld goes out the window, but high enough that you can mount a scope with a 40-42mm objective bell on an AK, 56mm on an SVD. Like all the other mounts it attaches and detaches easily with the throw of a lever.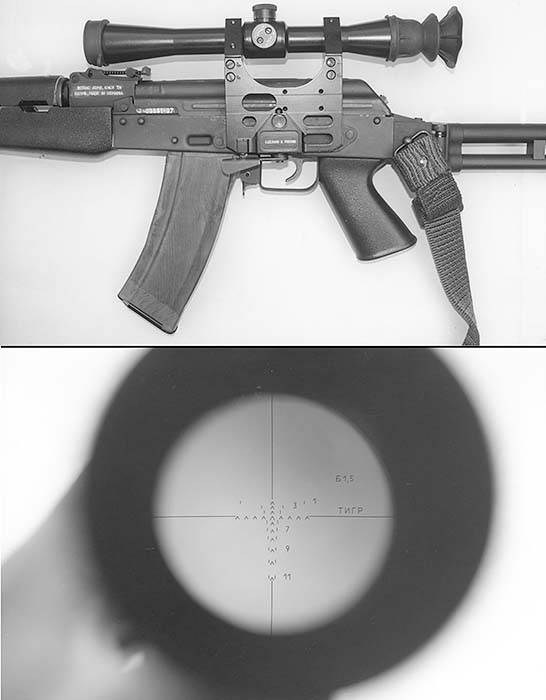 Another company that offers a mount is K-VAR. They have a wide selection of AK parts and accessories, Krinkov conversion kits, Romanian FPK magazines and mag pouches, to just scratch the surface. One of the neatest machineguns I have ever shot was an AKS-74U built on a K-VAR kit. Of interest here is their scope mount for AK's. Extremely rugged and blocky, your receiver will flex before K-VAR's mount does. It sports a standard Weaver rail so that you can use whatever rings you wish. Plus it's high enough that any size scope bell, including 56mm, will fit without a problem. Mounting simply consists of sliding it onto the rail and locking it in place via a lever. Like the Soviet military mount, it is adjustable for a perfect fit to each individual weapons rail quickly and easily.
The last mount tested is from I.O.R. (Industry Optic Romania) Valdada. Almost unknown in the U.S., I.O.R. has been manufacturing precision optics since 1936. A supplier of optics to elite Warsaw Pact units, I.O.R.'s product line of state of the art military and hunting scopes and binoculars is now available through Valdada in the United States. Utilizing glass for their lenses manufactured in Germany these precision optics compare with anything Schmidt undt Bender, Zeiss, or Leica manufacture. In a phone conversation with Valdada's president Valentine Leatu, he mentioned that although they don't advertise it they also carry mounts for SVD's, AK's, and FPK's. Like everything else they make I quickly noticed that their mount is very well thought out, well made, and rugged. Slightly offset to the left, this mount is very low to the bore, just barely high enough to allow the weapons top cover to be removed for maintenance. It features a rail that accepts both Weaver or Stanag rings for your convenience. No cheap junk here, this mount is definitely mil spec. Either mounted on the AK-74 or my SVD this mount proved to be an awesome performer.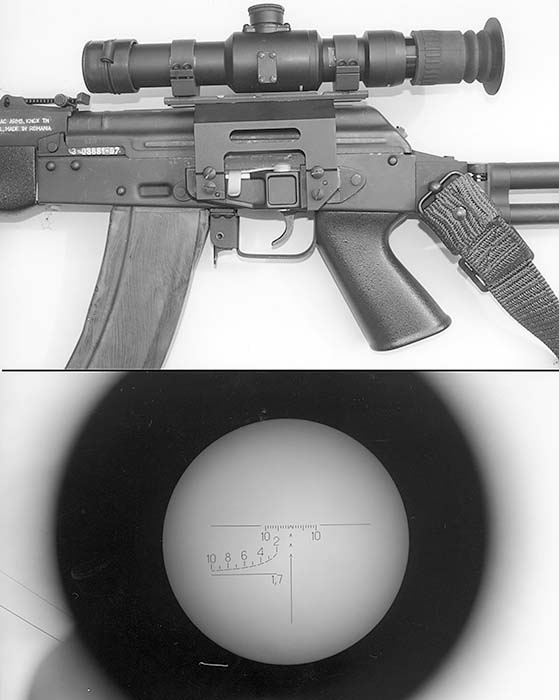 I also tested three scopes from Valdada that will be of particular interest to AK/SVD owners. They offer two fixed 4x scopes with straight 30 mm tubes, BDC's, Tritium illuminated military reticle with range finder, and matte finish. One is calibrated for the 7.62x54R/7.62 Nato and the other is calibrated for the 5.56/5.45's trajectory. They both feature the Soviet military SVD reticle and the rangefinder is calibrated for a standing person out to 1000 meters. Of extremely high quality I tested one on my AK-74 out to 300 yards with excellent results. Also of interest to someone looking for a true Tactical scope for their SVD/FPK is Valdada's 2.5x10x42. With optics that put my Leupold on the trailer, handsome good looks, and flawless performance at 600 yards this is simply an incredible scope. The clarity is good enough to allow you to easily spot .30 caliber holes at 300 yards. A modified mil reticle is utilized allowing ranging of a 6 foot figure past 1000 yards. The mil marks can be used for hold over points out to 1000 yards. Adjustment repeatability is flawless. I could go on and on, suffice to say you will be hearing a lot about Valdada and I.O.R.'s scopes in the future.
Throughout testing I was extremely impressed with the quality of the Wolf Performance Ammunition and I recommend it highly, it is definitely a cut above. Both their FMJ and HP 5.45×39 loads shot extremely well. High quality 7.62x54R ammunition is extremely hard to come by and I was incredulous when their soft point hunting ammunition shot into 3/4 of an inch at 100 yards. For someone looking for reloadable 7.62x54R I highly recommend Sellier & Bellot's 180 grain FMJ. Inexpensive and reloadable it shot sub-MOA at 600 yards. I have had very poor results from their soft point load however. I also cannot say enough about Ace Technology's AK stock, it simply must be experienced to be appreciated.
If you intend on putting optics on your AK do it the right way, the way the Soviet military did. There is no excuse for using cheap junk that uses the pistol grip or top cover to hold your scope onto the weapon. If the military rail will securely hold a huge Night Vision Device it will hold your scope. I have found all of these companies to be excellent to deal with from a customer's point of view. Decide what your needs are and give them a call.
Acknowledgments:
Thanks to R&D Outfitters of Warren, Maine for allowing us the use of their 600 yard range during renovations, it was greatly appreciated. Also thanks to Gabe Sende of THE RUSSIAN STORE for providing the uniforms and field gear used in the photo's and Paul J. Martin (The Red Rifle Man) for allowing us to pick his brain and Jim Mcloud for letting us shoot his Krinkov and RPD.
References:
A RIFLEMAN WENT TO WAR
by H.W. McBride,
Lancer Militaria, Mt. Ida,
Arkansas 1987.
THE GERMAN SNIPER
1914-1945
by Peter R. Senich,
Paladin Press,
Boulder, Colorado 1982.
SOURCES
KALASHNIKOV-USA-LTD
1-561-337-3398
(Scopes, Mounts, Rifles, Shotguns, Target Rifles, Parts, More!)
I.O.R. VALDADA
1-970-879-2983
(Scope Mounts, Tactical Scopes, Hunting Scopes, Binoculars, Rings)
K-VAR
1-702-364-8880
(Scope Mounts, Parts, Accessories, Krinkov kits)
SPORTING SUPPLIES INT. INC.
1-714-635-4246
(Wolf High Performance Ammunition)
WESTERN INTERNATIONAL
1-503-887-6921
(Sellier&Bellot Ammunition)
INTERNATIONAL MILITARY PUBLICATIONS
1-703-221-4339
(English Translation of Soviet SVD and other Russian Weapon Manuals)
TENNESSEE GUNS
1-423-577-1939
(Pre-Ban style AK-74's, Guns, Ammo, More)
ACE LTD
1-530-346-2492
(U.S. made Pre and Post Ban AK Stock Conversions)
THE RUSSIAN STORE
1-818-999-1257
(Soviet Uniforms, Gear, Medals, More)
This article first appeared in Small Arms Review V3N6 (March 2000)