By Chad Hire –

Many years ago, a fellow Class-3 dealer wanted to show me a new subgun he had purchased. It was called an Owen, and after one look I wondered if he was joking. With a magazine stuck on top of the receiver and hand grips large enough to mount on a .50 cal., the gun looked ridiculous. Surely he didn't expect me to fire it! Plus, it was made in Australia, which to my thinking didn't have a reputation of creating quality products. Well I did shoot it, and at the end of the day was so impressed, I bought one for myself. Fifteen years later, I still have one and can say it outperforms anything I have shot since. This includes all subguns used during World War II, and even the modern types we see nowadays. A fantastic claim, but very true. Let's see why.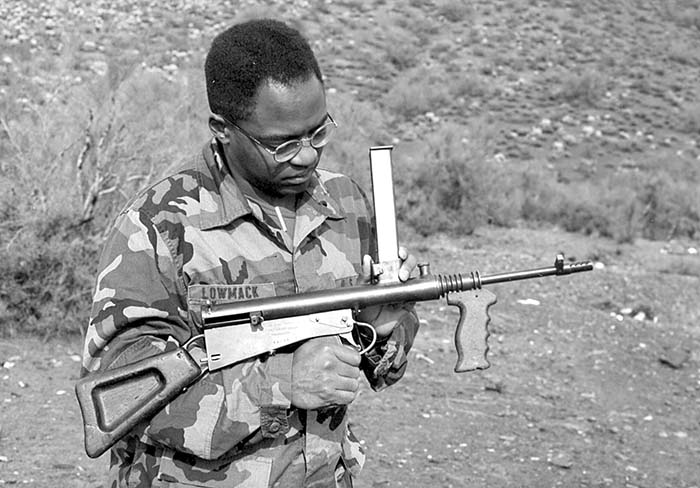 The Owen was made in Australia during the Second World War, where about 40,000 copies were produced. Overall length is 32 inches with a 10-inch barrel. The mag holds 30 rounds, and empties with a cyclic rate of about 700-900 rpm, depending on the ammo used. It has many features you don't find on other subguns, and all of them are worth mentioning.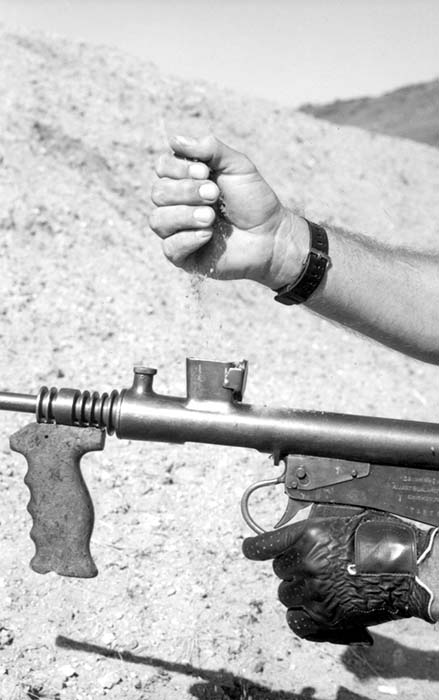 The most unusual feature is the placement of the magazine, which sits on top of the receiver. Other open bolt SMG's have their mags located on the bottom half of the receiver. Problem is, this puts the ejection port on the bottom where dirt can't enter. This design also allows empty cartridges to simply drop out the bottom, letting gravity do most of the work. All of this contributes to reliable functioning. In all the years I have used this gun, there has not been one malfunction of any kind.

With the mag on top, the front and rear sights had to be offset to the right to get any type of sight picture. It's a bit awkward to use at first, especially with that magazine in your face, but you'll get used to it if you shoot right- handed. No so lucky if you are left-handed.

Another difference of the Owen, and the best feature, is the excellent controllability when firing in full auto. Simply put the sights on target, pull the trigger and the entire magazine can be emptied in a tight area with little recoil and muzzle rise. It can do so because of the following features:

• A. The Owen has a set of front and rear handgrips that look odd, but provide excellent hand control and stability during full auto firing.

• B. The bolt has only about 2.5 inches of travel, which is enough to feed and eject shells, no more and no less. This results in limited weapon disturbance during firing.

• C. The recoil spring is heavy with thick coils, which absorbs vibrations, something even modern subgun manufacturers haven't learned yet.

• D. The Owen has a well-designed muzzle brake that diverts muzzle gases upward to eliminate recoil. Just how effective this device is can be debated, but with a cyclic rate of 15 rounds per second, there should be enough barrel pressure diverted to keep barrel climb at a minimum.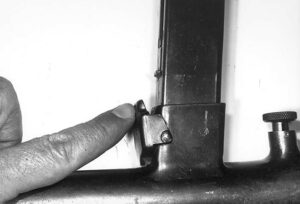 All of these factors, plus the gun's 9.5 pounds weight, combine to result in one of the most controllable select-fire weapons ever made. This is even more remarkable considering the 700 – 900 rpm cyclic rate. With proper trigger control, ammo consumption is not effected either, so we get firepower with total control as well. Truly remarkable.

Another feature has to do with durability. Aside from the grips and buttstock, nothing but steel and brass is used here. Also, the feed chamber is a whopping 1.5 inches thick, which allows chambering of hot +P ammunition without problems. The thick chamber also keeps things cool, as I fired about 200 rounds full-auto, yet the barrel was still cool enough to hold in the hand.

Complaints? Well, this subgun is a bit heavy, and the overall mass makes it a bit awkward to carry. Also, the select switch has a safety, semi, and full-auto setting. But the semi mode also resulted in full-auto firing. All Owen owners have reported full-auto firing in the semi mode, which seems to be a common flaw.

All things considered, my opinion, the Owen is still the best SMG of the entire World War II series. In fact, it can out-shoot most modern subguns I have in stock due to its incredible controllability.

So how much does it cost? Many years ago, a transferable Owen ran $1500, with a dealer sample going for about $300. Spare mags were $30. Those days are gone. Today, a dealer sample goes for about $2500, with a transferable example going for who knows what. Spare mags are all gone. There are some parts kits around for $150, but with no mags. Take what you can get. But if you can get an Owen, be assured that this is one of the best performing subguns around, even if it looks like a geek gun. It will be in my inventory for a long time!
This article first appeared in Small Arms Review V4N3 (December 2000)