By Robert Bruce
"Provide training in Amphibious Operations, select Maritime Special Operations, Military Operations Other Than War, and Supporting Operations in all environments, from arctic to riverine, in order to prepare Marine Air Ground Task Forces to support the Geographic Combatant Commanders." Mission Statement, II MEF SOTG
Freedom's many foes have good reason to fear the presence of a Marine Expeditionary Unit (MEU) within strike range. This powerful and versatile amphibious task force of approximately 2,200 Marines and Sailors is "uniquely equipped and forward-deployed to respond to any threat, protect any American or ally, or squash any menace at any place in the world, often within hours."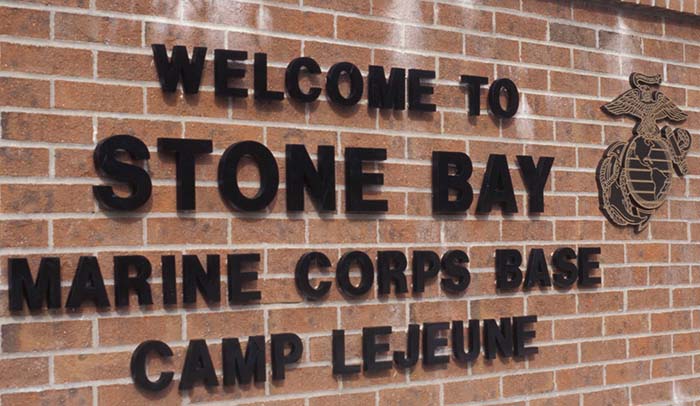 At any given time at least two MEUs are on station with Naval Expeditionary Strike Groups supporting Central Command and Pacific Command. The MEUs are a formidable rapid-response force capable of conducting conventional amphibious and selected maritime special operations at night or under adverse weather conditions.
The Corps maintains seven MEUs, three on the West Coast under I Marine Expeditionary Force (I MEF), three more on the East Coast (II MEF), and one on Okinawa (III MEF). All have the same basic structure headed by a Command Element that exercises control over all ground, aviation and support assets.
The Ground Combat Element is built around an infantry battalion landing team, reinforced with tanks, artillery, amphibious vehicles, engineers, and reconnaissance assets. Its Aviation Combat Element is a composite medium helicopter squadron containing transport helicopters of various models and capabilities, attack helicopters and jets, air defense teams, and all necessary ground support. The Service Support Group provides motor transport, supply, equipment maintenance, medical assistance, and amphibious landing capability.
Embarked aboard several specialized amphibious warfare ships, proving it a self-contained, floating sea base, the MEU must be ready to perform a daunting list of missions ranging from feeding disaster victims to large scale amphibious assaults. Some, but not by any means all, of these include:
Peacekeeping/Enforcement
Humanitarian/Disaster Relief
Security Operations
Noncombatant Evacuation Operations
Reinforcement Operations
Amphibious Raids/Assaults/Demonstrations
Tactical Deception Operations
Airfield/Port Seizures
Show-of-Force Operations
Reconnaissance and Surveillance
Seizure/Recovery of Offshore Energy Facilities
Visit, Board, Search and Seizure of Vessels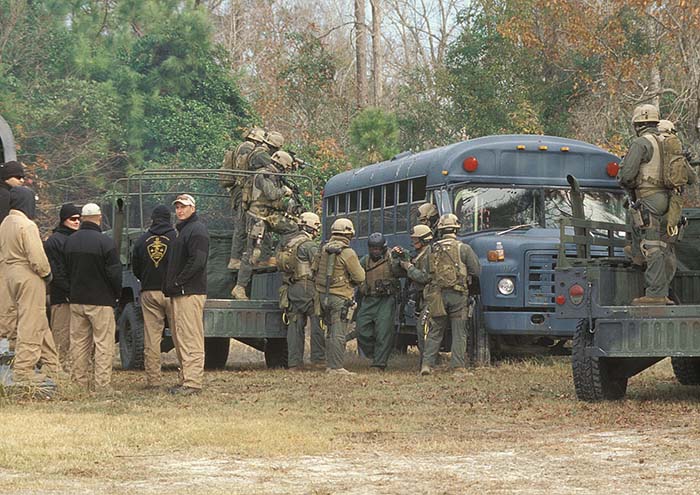 Special Operations Capable
While many of these missions are also high profile specialties of various components of US Special Operations Command, the Corps has found it both useful and necessary to include them in the MEU's taskings.
A case in point is the interservice buck-passing for several days while USAF pilot Scott O'Grady was barely evading capture after being shot down over hostile territory in Bosnia back in 1995. When nobody else could or would do it, the 24th MEU's stalwart TRAP (Tactical Recovery of Aircraft and Personnel) team pulled off the daring and dramatic rescue that made headlines worldwide.
But the Pentagon's bureaucratic form has to be honored, so a fully mission-certified MEU's official designation becomes "Special Operations Capable." This hair-splitting distinction seems to mean that only some members of the MEU get SPECOPS training, and that's done by the Corps itself, not SOCOM.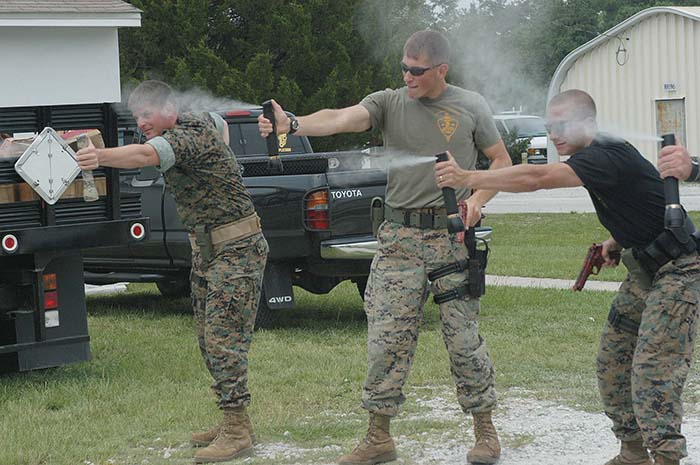 SOTG
The main focus of this report is II MEF's Special Operations Training Group, occupying a security fenced compound aboard Stone Bay, more than a bit of a drive across the New River from mainside Camp Lejeune, North Carolina. Stone Bay is well known to many Marines over more than a half century as the home of Weapons Training Battalion. Its remote location with superb ranges of all types, plenty of real estate for maneuver and riverfront for amphibious assault training, and proximity to the New River Marine Corps Air Station, make it the ideal home base for SOTG.
Our host for the day was Major James Farrelly, Operations Officer for SOTG, who welcomed us warmly and gave up a considerable chunk of valuable time to provide an overview of the 98-man unit's formidable capabilities. He explained that SOTG has six major tasks that are essential for a MEU's speedy and efficient transformation from a small cadre into a fearsome force that is certified "Special Operations Capable."
Conduct special operations training, exercises and evaluation.
Provide expertise in special operations to the Marine Expeditionary Force Commander.
Provide training in urban, arctic, mountain, and riverine environments.
Field test and evaluate special operations tactics, techniques, procedures, and equipment.
Train units in raids, special skills, and riverine operations.
Provide oversight and instruction of Non-Lethal Weapons and munitions.
The six month long pre-deployment training program for a MEU, he explained, has three distinct phases that can be characterized by the time-honored principle of "crawl, walk, run."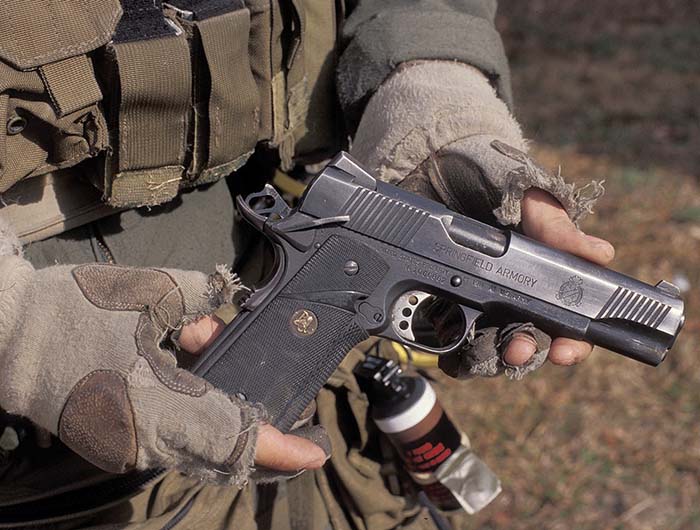 Since each MEU as it prepares for deployment is essentially a brand new organization that brings together officers, NCOs and enlisted personnel from all over the Corps, its Initial Training Phase begins a "building block approach with emphasis on individual and team skills." While the command chain is mostly composed of combat-veteran Marines, this tends to be the first time some junior officers and NCOs have been assigned in leadership positions.
Also, a large percentage of its enlisted personnel will be heading out on their first deployment after Boot Camp and School of Infantry or other MOS qualification. So training at this "crawl" phase is structured around essential skills and developing the leadership structure from squad to platoon and company level.
The MEU conducts most of this itself, such as individual and crew-served weapons qualification, as well as small scale tactical exercises. But much of the specialized instruction falls to SOTG's four Training Branches; Arctic/Mountain, Amphibious Raids, Special Missions, and Military Operations Other Than War.
In addition, SOTG teaches HUMINT (Human Intelligence) Exploitation and Intelligence Interoperability, and Mass Casualty Training. Training in Riverine Operations has also been available, but may be scaled back since the Navy has recently revived its "brown water" mission.
Arctic/Mountain Branch offers Mountain Operations and Cold Weather Orientation as well as an interesting variety of courses of value in any climate or location. In addition to teaching TRAP teams like the one that rescued O'Grady, there is the Helicopter Rope Suspension Training Master Course, and Urban Assault. Much of this is conducted in the remote and rugged hill country terrain of the West Virginia National Guard's Camp Dawson, frequently hosting an interesting selection of specops forces from all over DoD.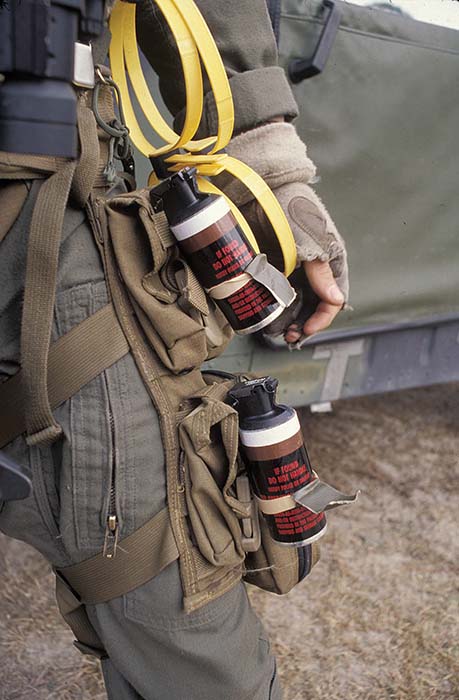 Special Missions Branch conducts training in Dynamic Entry and Dynamic Assault, as well as Advanced Urban Recon, Security Element, and VBSS (Visit, Board, Search and Seizure). These are key capabilities, Farrelly said, of the MEU's Maritime Special Purpose Force, with its core of elite Force Recon Marines.
We were given the opportunity to observe instructors from Special Missions Branch teaching a block on Vehicle Assault tactics in the Dynamic Assault Course. Time and again, cargo Hummvees loaded with heavily armed MSPF Marines roared up to rescue hostages in a school bus controlled by role-playing terrorists.
Deafening blasts from full powered flash-bang grenades, instantly followed by the sharp "crack" of Simunition-modified M4 Carbines, called SESAMS (Special Effects Small Arms Marking System) by the Corps, mixed with shouted commands from the assault team. Terrorists, splattered with blue paint hits signaling various degrees of incapacitation, were roughly hauled out. By rules of the exercise, red hits on some of the assault force sent them to the ground, requiring simulated medical attention by comrades. This is realistic force-on-force training, and each team had to do it right, or do it over again.
A short break in training gave us a chance to talk with one of the students, 23 year old Michael Reagan, originally from Atlanta, Georgia. Corporal Reagan said he had joined the Corps immediately after the terrorist attacks of 9/11 and had already served a combat tour in Central Command's area of operations with a platoon from II MEF's elite 2nd Force Reconnaissance Company. His presence at SOTG was in preparation for deployment with a MEU's Maritime Special Purpose Force.

Since this Recon Marine had plenty of real-world trigger time in a unit with a well-deserved reputation for getting the hardest jobs done, we were curious to hear his evaluation of the course. "The instructors know what they're doing," Reagan said, "they're combat vets themselves and what they're teaching is what they've learned in the real thing."
Reagan also gave high marks to the Corps for the weapons and equipment it issues. Standing tall in helmet and body armor and presenting an intimidating triple threat presence armed with a carbine, shotgun and pistol, he said the supply system provides gear that's pretty much the right stuff for the job. Plus, commanders wisely allow a reasonable amount of private-purchase items.
Amphibious Raids Branch was next on the short tour, where Major Phil Cushman and Staff Sergeant Curtis Fowler explained how they take the Battalion Landing Team's rifle companies through intense two week courses for Heliborne (helicopter), Mechanized (tracked), or Motorized (LAV) raids. Raid scenarios are taken directly from actual operations in Iraq, Fowler said, and extra realism is provided by "set dressing" the target buildings with items often encountered in-country.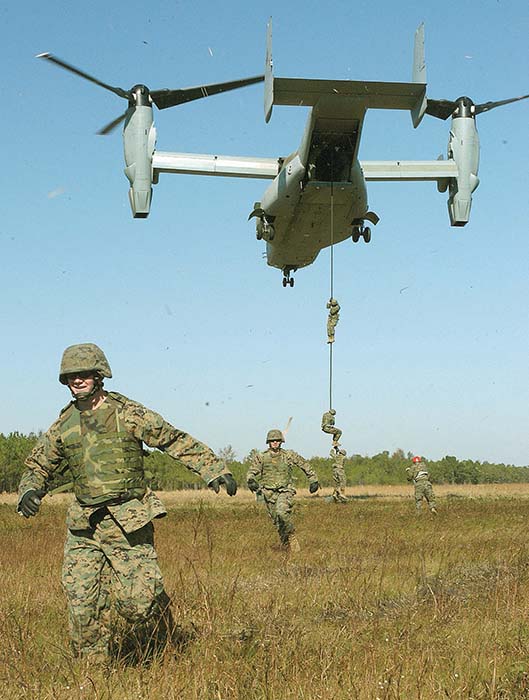 One point that was repeatedly stressed was sergeant-to-sergeant instruction where Raids' NCOs – all of whom are combat vets from Iraq and Afghanistan – focus primarily on the unit's squad leaders. "It's an NCO fight," Fowler told us, "so we work with the corporals and sergeants who, in turn, lead their riflemen. This builds a lot of confidence in the NCO corps, particularly among young Marines in their first assignment after SOI (School of Infantry)."
While bunker clearing is done with closely supervised live fire, most of the specialized Assault Shooting is done with SESAMS-modified M16s. This sting and stain CQB system gets high marks for realism from the Raids instructors in comparison to the old "laser tag" MILES gear with blanks.
Cushman also pointed proudly to the new Enhanced Marksmanship Package, developed in cooperation with Weapons Training Battalion. "We're the 'Gunfighters' and EMP improves our Raids package by improving the shooting skills of the Marines on the ground."
In the earlier conversation with Major Farrelly we learned that Raids has been training deploying Marines on threat weapons they are most likely to encounter, focused, of course, on the AK family. In an interesting development in interservice cooperation, SOTG got the two dozen AKs and RPKs they use from the Army at Fort Bragg.
However, 7.62x39mm ammo for the AKs has become harder and harder to get. It was explained that this was the inevitable result of sharply escalating training demand and a centralized supply system that requires substantial lead time. While tens of millions of clean and serviceable "spam-canned" 7.62x39mm cartridges have been liberated in Afghanistan and Iraq, DoD's safety certification process, and other, less compelling bureaucratic and legalistic roadblocks, keep this free fodder from being brought to the US for training use. There is consolation that at least some of this is being used in theater by the newly-formed native military and security forces. Meanwhile, DoD buys its AK ammo from a variety of overseas sources.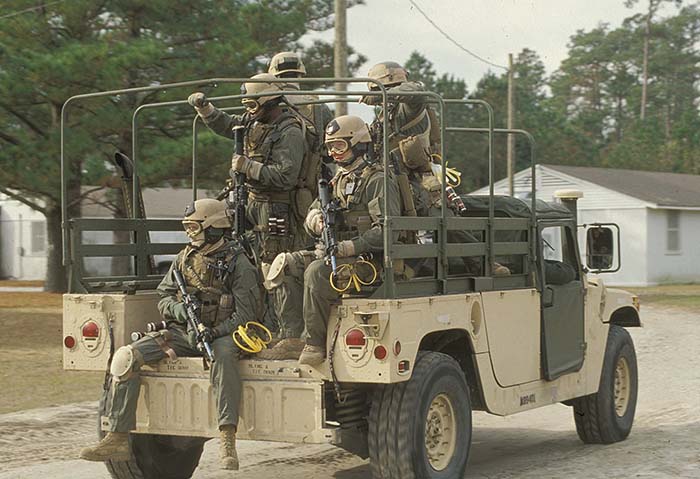 Military Operations Other Than War Branch specializes in important techniques and tactics necessary for the MEU's less traditional but no less vital missions. These are the go-to guys for Non-Lethal Weapons and Tactics, Humanitarian Assistance, and Non-combatant Evacuation Operations. MOOTW's OIC, Captain Joseph Benson, explained that his instructor staff often evaluates new products that manufacturers want to the Corps to adopt. Some recent examples, he said, include the TigerLight combo high intensity flashlight with on-board OC spray, and the Terminator sound blaster.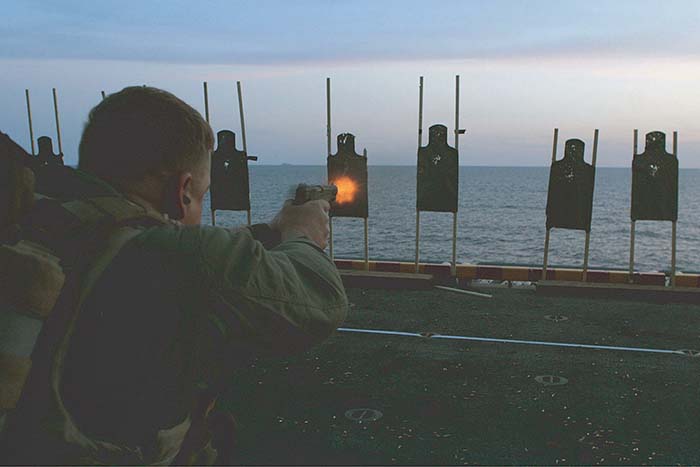 Exercises
The MEU's Intermediate and Final Training Phases are "walk and run" time, characterized by increasingly challenging collective unit training with emphasis on missions executed at extended range and night operations. SOTG plans, coordinates, conducts and evaluates several large scale exercises with a successful TRUEX (Training in Urban Combat Exercise) marking transition to Final Phase.
Farrelly gave an enthusiastic preview of planning underway for the 24th MEU's upcoming TRUEX, to be conducted over two weeks in the city of Norfolk, Virginia. While most are primarily challenges for Maritime Special Purpose Force personnel, "this one is a lot larger than usual," he said, "because the whole MEU will be involved, and our Special Missions guys are working up some very intense shooting scenarios."
Later follow-up revealed that the many and varied training and "cultural immersion" scenarios would also feature some real Middle Eastern role players and pyrotechnics from a Hollywood special effects company.
SOTG's final part in a MEU's evolution is the CERTEX (Special Operations Capable Certification Exercise), a full scale workout for the Maritime Special Purpose Force conducted while underway at sea. Success results in formal award of the designation "Special Operations Capable." This proud title will remain in place for the full six month deployment and month after it returns, providing contingency response if needed.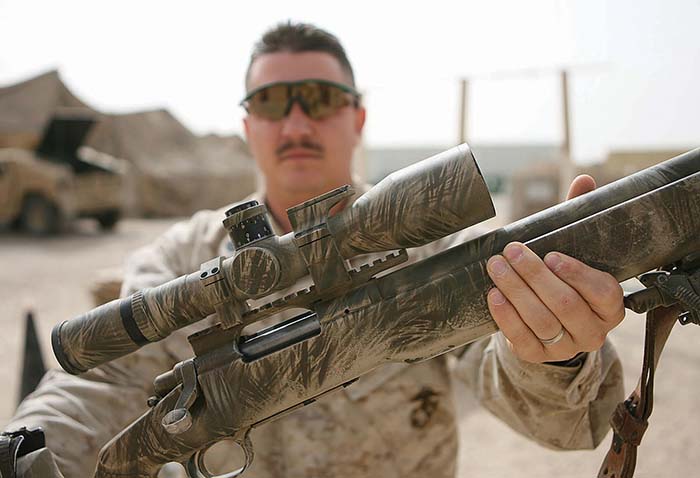 Guns and Gear at SOTG
Our wide-ranging conversations with Major Farrelly and others at SOTG yielded a wealth of detailed information of more than passing interest to SAR's readers. Some high points:
SOTG has sent several teams to Central Command's AO to observe and report on evolving tactical realities. A specific example of how feedback has changed instruction at SOTG is in the return of fragmentation grenades being used for clearing buildings. This is because the typically thick masonry walls tend to contain blast and fragmentation, minimizing friendly casualties.
Less clear is the ongoing debate over whether to clear buildings from top down or bottom up.
Despite weight, power consumption and durability issues with current-generation thermal imaging night sights, they are much preferred over the older "starlight" image intensifiers. Marines want more for both individual and crew-served weapons.
Marine snipers, some of whom are now instructors at IIMEF SOTG, are particularly clever and resourceful when it comes to field expedient modifications of their rifles for night shooting. One example is the AN/PVS-14 night scope rigged in-line with a standard day optic.
While we were there an officer from MCB Quantico personally delivered some hush-hush new sniper scopes to Special Missions Branch. It was later learned that these were Schmidt & Bender's variable 3 to 12 power Police Marksmanship LPII models, selected by the Corps as the M8541 Scout-Sniper Day Scopes, after intense competition for a replacement for the venerable fixed 10x Unertl.
Many Marines see a need for more takedown power than that of standard issue 5.56mm and 9mm ball ammo. The .45 caliber MEU (SOC) pistol used by Force Recon and MSPF is envied over the 9mm M9 that the rest of the Corps uses.
SOTG wants to have a look at weapons and other gear that are likely to increase effectiveness of special operations. A recent demonstration of the Leitner-Wise LW15 .499 rifle and its elephant-stopping ammo was favorably received as an effective way to score engine kills on potential threat vehicles while minimizing collateral damage.
Ammo needed for training and operations has to be programmed 5 years out. Increased demand following 9/11 has strained the system. The biggest impact of this on SOTG is in Non-lethal and AK ammo. Additionally, certain types of specialized shotgun ammo are in short supply.
The paint marker ammo for Simunition/SESAMS is well liked by SOTG but doesn't come cheap. It costs about $3,500 to put 50 Marines thru the Enhanced Marksmanship Program.
Semper Fidelis – "Always Faithful"
SOTG's instructors are volunteers, carefully selected mostly from the ranks of hard-charging Marines from Force Recon, Infantry and Military Police with combat experience and rank of E5 or above. Career counselors can help with the application process.
SAR urges good young men and women to join the Corps in fighting the Global War on Terror. Get detailed information on Marine Expeditionary Forces and their Special Operations Training Groups at www.usmc.mil.
Special thanks to Sergeant Tracee Jackson of II MEF Public Affairs Office, for the enthusiastic and efficient coordination for our visit and all the follow up needed to get the story right.
This article first appeared in Small Arms Review V10N2 (November 2006)