"It really goes back about twelve or thirteen years when Gene Stoner – rest his soul – and Reed Knight, my boss, got together and Reed gave Mr. Stoner an engineering and production facility for him to fulfill some of his dreams. And one of his dreams was a rifle like the SR-25. Soon after building the first SR-25 some of our special forces took them to Somalia and that's where the SR-25 started to make its combat reputation. Soon after that the barrel was shortened from 24 inches to 20 inches and other things were changed and improved and that's where the MK 11 comes from. That became the MK 11 Mod 0 in the year 2000. Now, five or six years later you've got the XM110 so there's a clear sequence." David A. Lutz, VP for Military Operations, Knight's Armament Company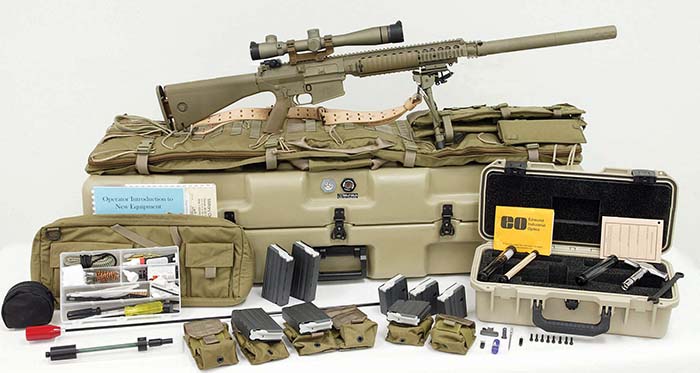 The fast-paced urban combat environment that quickly evolved in the Global War on Terror created shooting challenges that weren't being satisfactorily met by the Army's standard issue bolt action M24 Sniper Weapon System or by the limited-issue accurized M16 variants and reworked M14s. So many snipers were reporting dissatisfaction and their need was so urgent that the Army's Program Executive Office Soldier fast-tracked a solution as authorized under the Soldier Enhancement Program. A formal Presolicitation Notice for what was soon designated as the XM110 SASS was posted on 17 Nov 2004:

"The US Army ARDEC…has a requirement for a 7.62mm semi-automatic sniper system (SASS) capable of delivering precision fire primarily on anti-personnel targets out to 1000 meters…. The offeror shall submit five (5) bid samples at no cost or obligation to the government…. The first fifteen (15) of the thirty (30) SASSs will be delivered with spare parts 30 days after contract award." Solicitation Number W15QKN-05-R-0433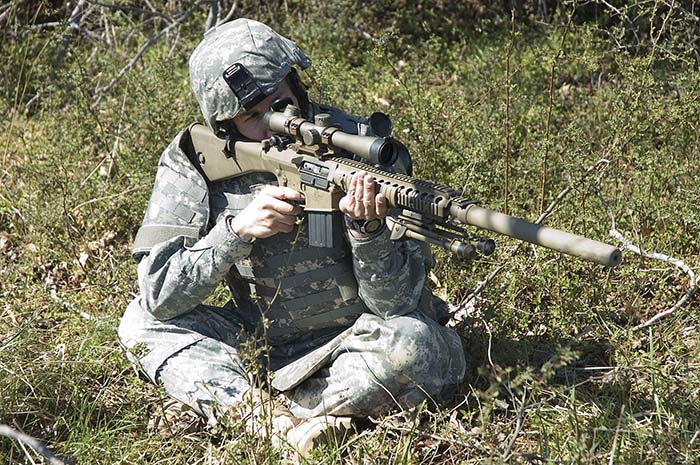 The actual solicitation followed barely two weeks later, nearly a hundred pages of highly detailed requirements in which the Army invited all comers to submit a definition-stretching COTS/NDI (Commercial-off-the-Shelf/Non-Developmental Item) for a comprehensive evaluation. Five manufacturers bravely entered the arena but when the slugfest ended Knight's was the winner announced on 28 September 2005. Their modified MK 11 Mod 0 has earned a five year contract and recent statements by program officials indicate the Army intends to buy and deploy thousands of complete systems as fast as Knight's formidable manufacturing facility can turn them out.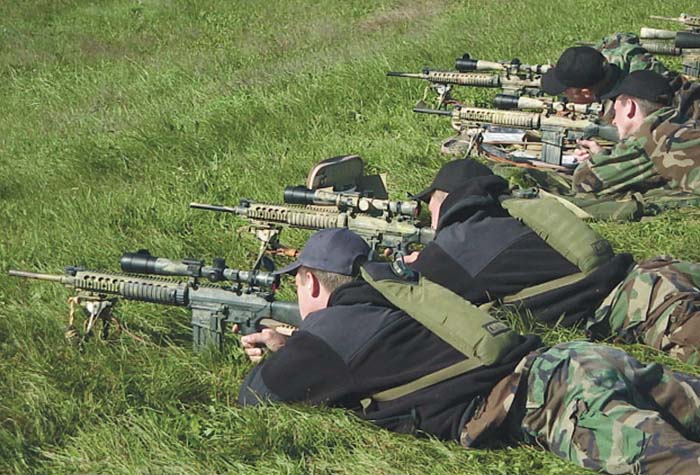 A few months after the award announcement, when the runner-up's formal protest had been dismissed after lengthy review by the General Accounting Office, the government bureaucracy's innumerable administrative details had been worked out, and the production process was smoothly underway, Knight's invited SAR in for an exclusive tour of its impressive new headquarters and enormous manufacturing complex on Florida's "Space Coast" in Titusville.
While there we got the opportunity to conduct an in-depth interview with a key player in the fast and furious process that resulted in this tremendous victory for snipers in the Army, as well as significant product improvements that are already beginning to benefit those in other branches of the US Armed Forces.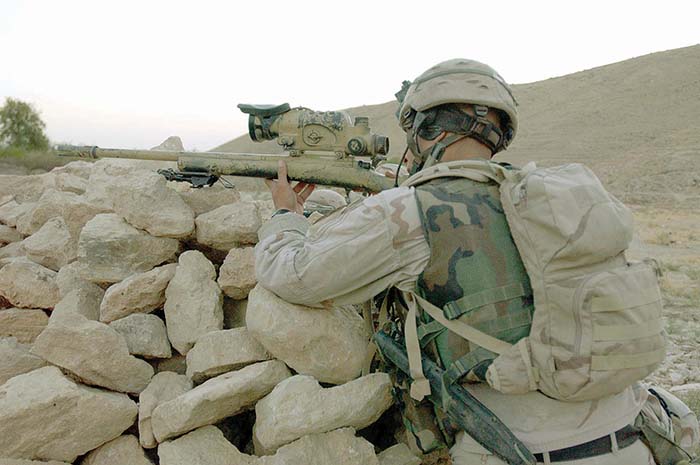 David A. Lutz, a retired Marine Lieutenant Colonel with a well-deserved reputation for straight shooting in every sense of the word, is Knight's Vice President for Military Operations. He was instrumental in development of the Stoner-Knight SR-25 into a military sniper system that has achieved tremendous success with Navy SEALs, Army Rangers and other elements of US Special Operations Command. Lutz worked closely with retired Navy Lieutenant Commander Michael Warner, who skippered Knight's winning team in the SASS competition as Program Manager.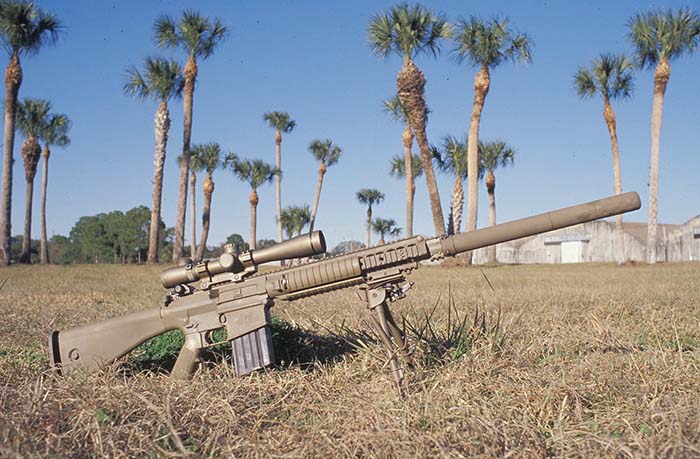 What follows are key excerpts from more than two hours of in-depth discussion, giving a fascinating look from the contractor's perspective at the complex process that has led to selection of the Army's newest sniper rifle.
SAR:The Army's solicitation ran to nearly a hundred pages for an end-item system that was supposed to be pulled almost literally off the ready rack. Comments?
Lutz: 'Non-Developmental Item' is supposed to be the short cut to fielding the 90 percent solution to the guy in the field immediately. It seems to me that the generals know what NDI is, they know that's what's needed because it supports the troops they command. But once the program gets launched the bureaucracy below the general officer level is the same as it was twenty or thirty years ago.
There were things on nearly every page that you had to do; whether it was produce a gun or produce a piece of paper or produce a plan. If I can make a comment here, unless you're a pretty good size company and have some pretty extensive depth of skill sets, you're not going to be able to address these 'NDI' solicitations that require such boilerplate.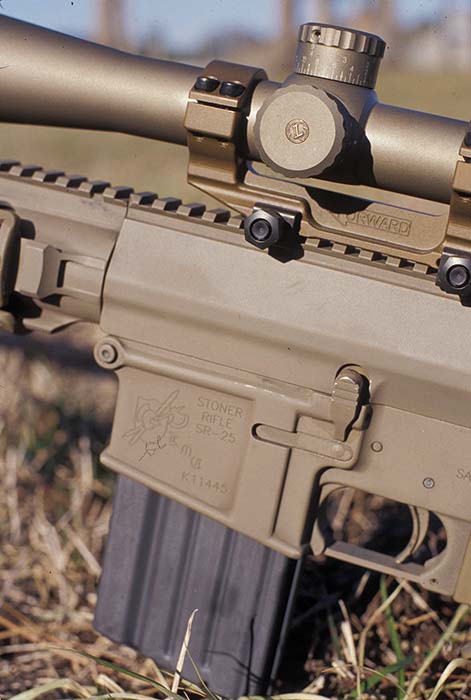 SAR: How did the Army's experience with the M24 system influence the initial solicitation and subsequent modifications?
Lutz: As originally conceived – I think by the Army Sniper community – it was supposed to be a total package to include a night scope, a new spotting scope. So they put everything they wanted into it. They even made reference to a 'sniper support kit' that would have all these bells and whistles that you'd see – let's say – at the S.H.O.T. show. A spirit level on the scope so you could make sure you're not canted. A little wind direction velocity meter that you might see at Camp Perry.
Well, when the solicitation came out for this XM110 some of those extra things, so to speak, were not included in the solicitation. I think the Army wisely pared down that list.
What they were really interested in was a rifle. Part of the requirement was for that rifle to have what's now the standard Picatinny Rail. We put such a rail system in the year 2000 on the MK11 Mod 0 so the real estate of the rail could be out front of the daytime zeroed sniper optic and could accept an attachable night sight that would not require the sniper to remove his day scope and possibly lose his zero.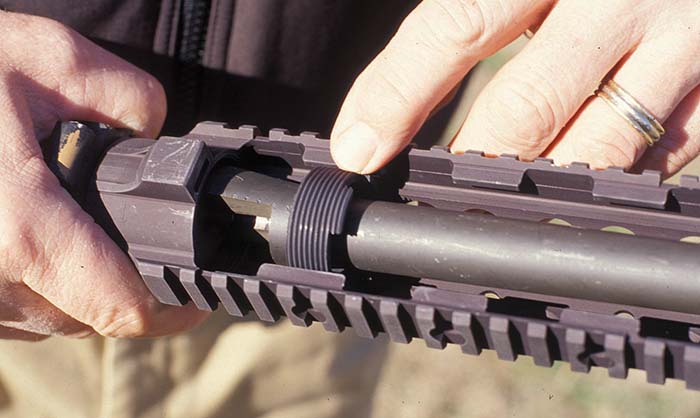 SAR: You've shown us in side-by-side comparison that Knight's winning XM110 is essentially the same as the SR-25 and the MK 11 Mod 0. Same upper and lower receiver, bolt mechanism, direct gas tube system, match grade Obermeyer barrel, and so forth. But significant modifications had to be made in secondary areas. Take us through those changes in the rifle from muzzle to buttstock, starting with the Army's requirement for a separate flash suppressor and a sound suppressor.
Lutz: The MK 11 Mod 0 does not have, never did have, a flash suppressor. When the Navy SEALs need flash suppression they install the sound suppressor that comes with the system. Our sound suppressor I guess in a way is the world's best flash suppressor as well because it masks all the flash.
A flash suppressor was not a COTS item (for the SR-25) so we had a very short period of time to adapt the MK 11 barrel which we use in the SASS but we thread it and we install a flash suppressor we designed – a very basic flash suppressor – to meet that Army requirement.
That in turn had an effect on the sound suppressor we manufacture for the MK 11. The flash suppressor makes the MK 11 barrel an inch and a half longer and it also increases the diameter at the muzzle so a new sound suppressor had to be designed and manufactured for the Army SASS. Now the working part of the suppressor – the baffle stack that's in front of the muzzle – is identical so you get the same noise attenuation but it's an inch and a half longer at the rear because of the impact the flash suppressor had on it.
The way the suppressor attaches to the rifle is identical. There's two points of contact, one at the muzzle and the primary one back on the gas block where there's a drop latch which secures it. And right behind the gas block we've got the rail system.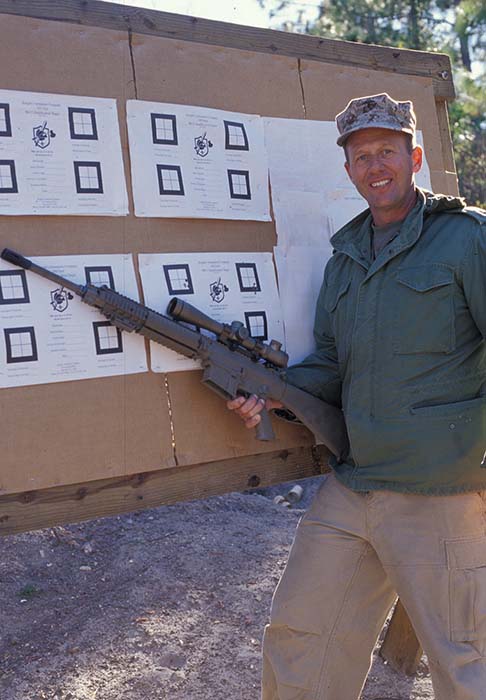 SAR: Any changes there?
Lutz: The URX – Upper Receiver Extending – rail system for the SASS is new and in fact better in some ways than the MK 11. Instead of there being some sort of slip nut between the receiver and the rail system as a means to attach and secure it, in URX form the rail system screws directly onto the upper receiver and then as the barrel nut is torqued the upper receiver and the rail become one piece. It's much more rigid, you have the timing across the top of the rail precise with the MIL-SPEC as opposed to the MK 11. So it's better in several respects.
Also unique to the URX is that the bottom rail is detachable by the operator. This allows the operator to take that lower rail off and clean debris, dirt, mud from around the outside of the barrel.
We developed the URX, ironically, for a completely different SR-25 requested by a certain part of the military that already had MK 11s. If possible it should be just as accurate but something that was lighter weight, easier to carry that they could use for patrolling, reconnaissance missions and perhaps even close quarters battle. So we developed the SR-25 Battle Rifle with a fourteen and a half inch barrel and a telescopic buttstock. In an effort to take as much weight out of it as we could, we developed this URX forend.
All we had to do for the SASS is make that Battle Rifle's URX forend long enough for the twenty inch barrel SASS rifle. That was pretty easy for us to do.
We put our standard MK 11 folding rear sight on the gun. It had to have backup iron sights adjustable from two hundred to six hundred meters. But they wanted the front sight to be integral to the rail, so the SASS – as opposed to the MK 11 which has an accessory, a true clamp mounted flip front sight – so we very quickly came up with a design to make the front sight integral to the URX rail.
SAR: The Army wanted an ambidextrous selector but didn't specify an adjustable trigger mechanism.
Lutz: The requirement asked for an ambidextrous selector and we make one of those – we've made it for the SR-25 for awhile so that was pretty easy to do.
Though the Army didn't ask for an infinitely adjustable trigger, it's common for snipers who are used to bolt action rifles to have a trigger that is adjustable in eighteen different directions. We use a very simple, reliable two-stage trigger. They're all set here in the factory at four and a half pounds and that's as much as they need. I know that some precision shooters like a lighter trigger pull but I think most of that experience is based on single stage trigger use.
With a two stage trigger you have an initial take up of about an eighth of an inch, in actuality uses up about a pound and a half of that four and a half pounds. So for your final squeeze your brain's forgotten about the one and a half pounds you took up the first stage with so as you squeeze the trigger it really just feels like three pounds. It's something you have to try and I've found when most marksmen actually try the trigger they think it's fine. And when you think about the fact it's not going to fall out of adjustment or an operator will find out subsequently it is very difficult to change those adjustments. Making it more 'fail safe' is the way to go.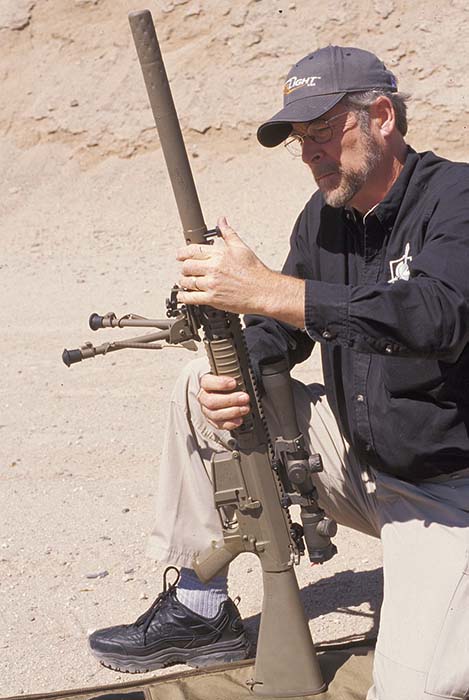 SAR: Stock length and cheek weld are also important to precision shooting.
Lutz: The MK 11 did not have an adjustable buttstock and it was required by the Army that the buttstock be adjustable for length. In order to start off at the shortest distance possible, instead of using a standard M16A2 rifle stock that the MK 11 uses, we went back to the Vietnam-era M16A1 stock which gave us a five eighths inch shorter overall package. Our adjustable buttstock extends from that for about two and a half inches so you've got quite a bit of length adjustment.
Now it was desired by the Army that the stock also have an adjustable cheekpiece and it have adjustments for cant and what's called castoff. Because those things were 'desired' – not required – and because we didn't really have time to adequately address them in a sound engineering design we didn't do any of that, we just did the required length adjustment.
Our XM110 is an M16 based design that Mr. Stoner made in what he called a 'straight line design' with the stock already at the proper height for a scope if you have the right height scope mount, about an inch and a half. So the contrivance of an adjustable cheek piece is really not necessary with this style rifle as long as you have the correct height ring.
And also because of the feature of the M16's charging handle that's right on top of the stock when retracted. There can't be any raised portion in that four or five inches right behind it.
Our charging handle, by the way, is based on Dave Dunlap's "Gas Buster" design that we pay a royalty to PRI (Precision Reflex Inc.) for permission to use. It has a number of important benefits, particularly operator comfort when the sound suppressor is attached.
SAR: Is the system's day scope an "off-the-shelf" Leupold?
Lutz: One of the hardest nuts to crack was trying to meet all of their required capabilities for the scope and then to address some of their desirable features. One of the things they obviously wanted was a variable power scope that had one half of a minute of angle (MOA) adjustments in elevation, but also had the characteristics of what most people call a ballistic cam, or an elevation knob graduated in meters. In this case it had to be graduated from 100 meters to 1,000 meters.
Now there are lots of scopes graduated in meters; particularly the Leopold Tactical Series with what they call the M3 turret. But those clicks – increments on the knob – are all one MOA. To get half MOA clicks you have to accept a knob that rotates 360 degrees twice so it becomes a two turn system. Now the way Leupold engineered this, once the rifle and scope are zeroed, you can rotate the elevation knob about two and a half total turns.
The Army also required the whole rifle to be a desert tan dark earth color. Leupold didn't make a scope that color at the time. They went right to work and now the current scopes are all hard anodized dark earth. This is defined in the Mil-Spec narrative as 'darker than a cardboard box but not as dark as chocolate.'
The scope also had to have an illuminated reticle. Fortunately, one of the newer lines of the Leupold Tactical Series scopes are their three and a half to ten power variable with the TMR, Tactical Milling Reticle. It's illuminated for low-light shooting, powered by the same battery that's in the Army's M68 Close Combat Optic – what you and I call an Aimpoint.
We had a lot of options for the scope mount when the solicitation came out but we wanted to improve our return to zero capability and make it simpler. So instead of using a pair of parallel split rings and all those parts and pieces, we came up with a new one piece scope mount that as a product improvement has potential to become a quick detachable design.
The two half inch nuts and two clamps are standard format types of scope attachment means that (snipers) use their half inch T handle 65 inch pound torque wrench that's included in our tool kit. But the way the mount's designed, you can take the two nuts and the two clamps off, put a single clamp on that side with two wing nuts. By virtue of the torque you can get from the wing nut and the longer one piece clamp you can get the same return to zero without resorting to the wrench technique. So we've got plans for that mount beyond the SASS.
SAR: The rifle we just photographed on your range is remarkably uniform in 'Flat Dark Earth' color from end to end despite the differences in what's underneath – steel suppressor, aluminum receiver, synthetic stock, etc. How is this done?
Lutz: One of the challenges to make the rifle this brown color is that we've been working for several years trying to get the right dye mix to anodize different aluminum parts this 'dark earth' color. Sometimes you'd come up with a perfect color, other times you come up with a color that was too much of a gold tone. And if it wasn't a gold tone when it was freshly done, as soon as you'd put the gun together and had some oil on it this oil made the light tan anodization look gold.
So once the rifle is all put together we mask off some areas and paint – bake on paint – a dark earth MIL-SPEC color to the whole gun. That's how to deliver the gun in a nice uniform appearance. You also get quite a bit more corrosion resistance because you're painting right on top of pristine anodization, or in the case of the barrel, pristine mag phosphate.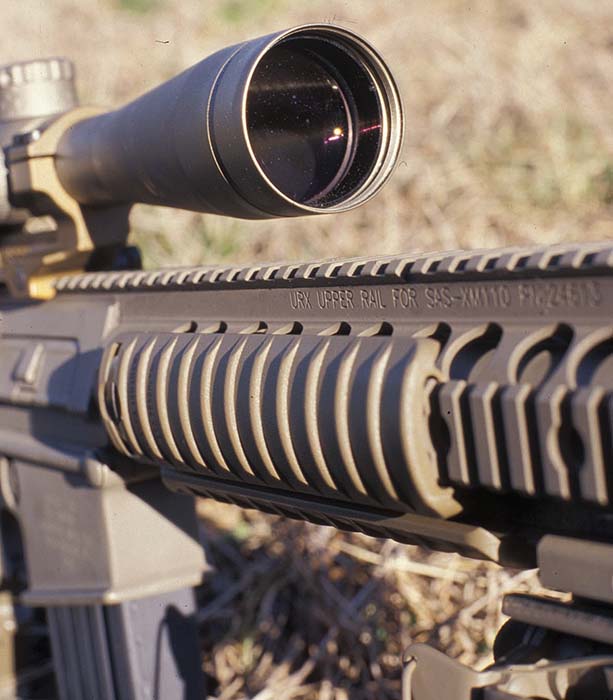 SAR: The system comes complete with two hard cases full of accessories, tools and equipment. Any particular challenges to pulling all these together?
Lutz: The Army SASS required a system case that had enough room in it for everything that was listed in the solicitation to include a drag bag. Of course it had to have the rifle and there was an assortment of ten and twenty round magazines, cleaning kit, sling, scope covers, laser anti-reflection filter, plus spare parts. Basically the whole nine yards.
We knew what that sniper community already had, particularly as far as a kit goes that supports the M24. We emulated with our XM110 candidate as much as we could what they were used to seeing, even to include the M1907 leather sling which has been in the Army for a long time.
Hardigg, in Massachusetts, put a lot of effort into both of the system's hard side cases. Although the Army solicitation referred to the SASS as 'Non Developmental,' there was not a rifle on the planet that met all the criteria they required, much less desired. Likewise with the system case and the second case that fits inside that is used to protect the day scope if and when the sniper needs to take it off.
The scope case had to pass a cold weather drop test at 65 degrees below zero, a drop test from five feet onto a steel plate that was on top of a concrete slab. There was not an 'NDI' case that would pass that drop test and also be small enough to also fit in the system case without taking up way too much space. Hardigg really worked hard to make one at minimum size that would pass all these tests.
We submitted our five SASS samples on time in March last year and at that time Reed Knight, the owner of the company, directed that we build another forty more. That was because the solicitation required that if you won and received the award, then you had to quickly deliver fifteen rifles – I believe it was 30 days after award. To get ahead of that curve we went ahead and built forty.
SAR: Give us a quick version of where this program is right now (Feb 2006) as far as Knight's is concerned.
Lutz: What I'll call real First Article Testing is being done now up at ATC (Army Test Center, Aberdeen Proving Ground, Maryland) on the fifteen rifles we were required to deliver right after the announcement that we had won. I think really what they're doing is they're verifying the barrel life and accuracy and reliability they obviously captured from testing the first five that they used as a selection criteria. About two weeks ago they were at the 3,500 round barrel life point.
Personally, I'm gearing up to deliver training at the end of the month, both operator and maintainer. It's a contract deliverable that we train their new equipment trainers. So we'll train them for a week here at Knight's and I guess they go back to Fort Benning (GA) and practice on each other for a couple of weeks. They also take the handout material and electronic material I give them here and they translate it into the Army boilerplate. Then, they go up to Fort Drum (NY) – probably in May.
SAR: 10th Mountain Division?
Lutz: Yes, they'll do the Operational Test. Soldiers – snipers – have already tested some of the first five. And also George Niewenhous (ATC) doesn't have all fifteen of the rifles. Two of the fifteen went to Fort Benning, so the Sniper School has two as we speak.
We know the rifle works and I've seen pictures of it being drug thru the mud and through obstacles in part of the testing they did for the first five. It's been through some hurdles already. But the Operational Test is much more than just testing the rifle. It's going to test the training program, what they call the 'POI' (Program of Instruction) that Fort Benning is going to develop, obviously with some help from us.
They're going to come up with a way to train the trainers, then take 'em up to Fort Drum and work with soldiers and armorers who aren't trained on this particular rifle. The Army will evaluate how effective the training is, the handout material, the amount of hours they need to train on whatever. Does the technical manual adequately show them how to change a gas tube, how to change an extractor? The amount of ammunition; how many rounds are needed for someone to qualify. Those are all parts of an operational test that go beyond whether or not your rifle shoots.
SAR: After that?
Lutz: When that's finished we expect to get what we call 'L-Rip' – Limited Rate Production authorization. By sort of reading between the lines we think that's going to be somewhere between two hundred and three hundred systems. The first ones are going to end up being delivered in December (2006) because by their schedule December is when the First Unit Equipped is going to be designated. I've already heard that the 10th Mountain is real excited about these rifles and they've asked permission to take the rifles with them when they deploy.
(Note: Subsequent Army announcements indicate the intent to buy 4,492 systems. SAR has learned that Knight's is refurbishing the Army's Operational Test rifles and elements of the 10th Mountain recently deployed to Afghanistan will be the first to receive them as an "urgent need requirement.")
SAR: Any feedback from the folks who have been testing the XM110 that you can talk about?
Lutz: They apparently have a really good accuracy test stand up at Aberdeen. ATC shoots in a tunnel with no wind, no mirage, no humidity, no mosquitoes biting you like here. The five guns that we sent up for the initial tests all shot under .8 MOA (minute of angle) from the stand.
SAR: Have improvements to the MK 11 in Knight's XM110 caught the eye of the Navy and Marine Corps?
Lutz: Very soon after the Army selected the SR-25 based XM110, the Marine Corps ordered 180 MK 11s on the current contract we have with the Navy and SOCOM. It's a MK 11 but they want it with the SASS threaded barrel, the SASS flash suppressor, which also means they get the SASS sound suppressor, and URX type forend, as opposed to the MK 11 forend. And they want it black because they feel it will blend in with the rest of the troops that all have black guns so the snipers won't stand out so much.
We've had joint service meetings where it appears as if the Navy is planning for subsequent MK 11 buys with several of the same things the Marine Corps adopted or wanted, but painted like the Army's.
SAR: The M110 SASS is semiauto only and has a 'legal length' barrel. What plans does Knight's have to offer the M110 SASS to law enforcement as well as competition shooters in the civilian world?
Lutz: We've got our hands full right now with deliveries to the military.
SAR: Any final thoughts on the process?
Lutz: The government would help themselves if they could release some of the specifics as early as possible so we could either develop the things we need to develop, link together those different things that are commercially available, all under one house.
I think the user would have been better served if somehow we would have been allowed to submit the MK 11 Mod 0 – we've produced over a thousand of them – as it is. That would have been a true NDI.
(Editor's Note: Persistent misinformation about the Army's SASS selection process deserves authoritative rebuttal. The General Accounting Office's findings on the protest filed by the runner-up system's proponent may be found at www.gao.gov/decisions/bidpro/297374.pdf)
Visit Knight's Armament Company on the web at www.knightarmco.comSR-XM110 Rifle System Characteristics Military Description: Knight's Armament Company's SR-XM110 is a precision, medium weight, detachable magazine fed, gas operated, semi-automatic, free-floating barrel sniper rifle system, optimized to fire the M118 Long Range ammunition.
Each SR-XM110 SASS delivered contains the following components:
7.62x51mm NATO SR-XM110 Rifle
MIL-STD 1913 Picatinny Rail forend with four rails parallel to the bore with the top rail surface on-line with that of the upper receiver. The design of this forend allows the rifle barrel to be free-floated for enhanced accuracy.
Back Up Iron Sights front and rear, either integral to the rifle or installed on the MIL-STD 1913 Rail.
Collapsible Bipod that is adjustable and Operator removable if desired.
SR-XM110 Magazines: four 20-round magazines and four 10-round magazines.
Leather Carrying Sling. This sling is also designed to support the rifle in various shooting positions as an aid to marksmanship.
3.5×10 Variable Power Day Optic Rifle Scope mounted on a one-piece return to zero MIL-STD 1913 Picatinny Rail scope mount. An Operator removable Laser Filter Unit, Anti-Reflection Device and flip-open dust covers may also be provided.
A Sound Suppressor that provides very effective acoustic, flash and blast suppression.
A Flash Suppressor that minimizes muzzle flash when the sound suppressor is not used.
Protective (hard) Carrying Case for the complete weapon system, as well as a sub-component hard scope carrying case.
Soft Weapon Carrying Case (aka: Drag Bag. Optional item dependent on individual contract requirements) and a Soft Rifle Scope Carrying Case with padded Scope Cover Insert.
Cleaning Kit with coated bore rod and guide plus required brushes and jags. Also a pocket-sized field cleaning kit with flexible rod.
Deployment Kit containing Operator Level tools not provided in the Cleaning Kit, Scope Cleaning Kit, Spare battery for Day Scope Illuminated Reticle, Carrying Case with Field/Operator Spare Parts.
Operator and Armorer Maintenance Manuals.
A modified Army M240B 7.62mm Machine Gun Blank Firing Adapter can also be provided.