By Jeff W. Zimba

Every once in a while I come across a firearm that should be added to my "must have" list and the latest addition is PWC's AOW Krinkov.

I would like to start by saying that before receiving this Krinkov to test I had predetermined that while it was probably an interesting firearm it would not really be a configuration I would be interested in having in my own collection. Long ago, as a new Class III enthusiast, I came to the conclusion that while AOWs were kind of neat, I always opted to pay the additional $195.00 in transfer fees (Short Barreled Rifles and Short Barreled Shotguns require a $200.00 transfer fee as opposed to A.O.W.s having a $5.00 transfer fee) on a personal firearm to give me the ability to use a shoulder stock. While shooting from the hip is enjoyable on occasion (Peter Kokalis will yell at me for that one) I really get much more enjoyment out of aimed fire.

I went through my "spray and pray" phase years ago when I was first introduced to the MAC family of firearms. It didn't take long though before I even had a 16" barrel kit with a vertical fore-grip on my first M10. I have not disciplined myself on controlled bursts yet, but I still like shooting from the shoulder, and with the assistance of a bipod or tripod when practical.

When PWC originally submitted this firearm for testing it was the dead of winter here. In an area with an average season snowfall of better than 120", Mother Nature sometimes dictates our schedule. I did work on some photography with the piece and handled it again on a few other occasions but had to wait for the range to un-thaw for some trigger time.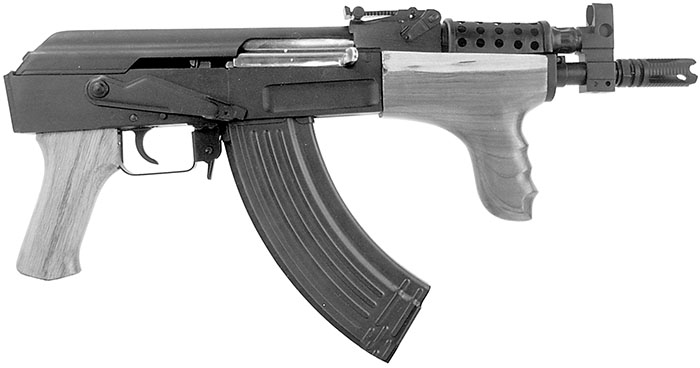 My first impression was that the gun was very well made. Built on a pre-ban milled receiver, the finish was deep and dark black. The finish is uniform over the entire gun. The workmanship surpassed my expectations. Everything was fitted well and the welds were clean. There is a fair amount of work necessary to adapt the operating rod, and front hand-guard and tube to this extremely short package from a standard length AK series firearm and all looked and functioned well. In the case of the operating rod, PWC removes the original and custom manufactures their own from 304 stainless steel. The bolt is polished and brought to spec.

The wood stocks are high quality blond cherry and are smooth and finished with a durable polyurethane coating. The angle of the front grip is a little odd as the bottom leans toward the muzzle rather than a standard 90º grip but the reasoning became immediately apparent as soon as it was time to visit the range.

The flash hider is a phantom design and is very effective. Recoil is tamed to an amazingly controllable level by employing a custom polyurethane buffer in the receiver to help dampen recoil and extend the receiver life by eliminating the metal-to-metal contact between the bolt carrier and the rear of the receiver. The tangs at the rear of the receiver for stock attachment have been removed and a new end cap welded on in place of the original.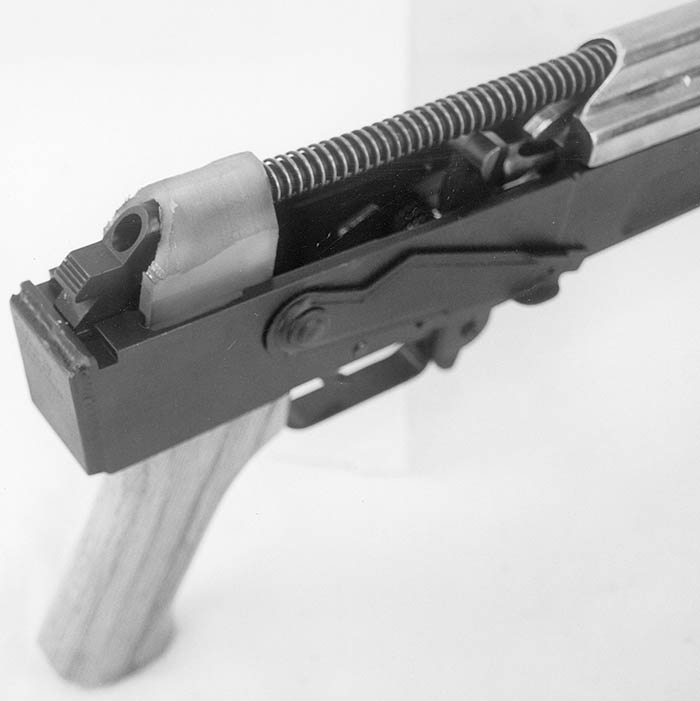 On to the range

We loaded some magazines, grabbed a few extra boxes of ammo and set out to function test the Krinkov. I brought it to my hip, leveled the muzzle toward the impact area and fired a single round. The recoil seemed a little lighter than I expected but the odd angle of the vertical fore-grip that I mentioned before made this shooting technique feel awkward. I squeezed a few more rounds in this position and then brought the Krinkov up to a normal position where one would hold a rifle.

I looked through the sights, tightened my grip and fired a round. The round went exactly where I intended it to. I tried another round and had another perfect hit. It was then that something dawned on me. The recoil was light enough so the sights were right back in line for a follow-up shot. The fore-grip that felt so awkward from the hip suddenly felt as though it were custom made for my hand in this standard position. With a light forward pressure on the front grip and a light rearward pressure on the rear grip, this package was darn near as steady as if you were employing a full rear stock. A smile washed across my face as though I just found an undiscovered secret, and I slowly emptied the magazine with an amazing amount of accuracy. I never bothered to shoot at paper to measure group size because this position would only allow the firearm to be as accurate as the shooter is, and believe me, that would not be fair to the gun.

Summary

It is my conclusion that the PWC Krinkov is an exceptional firearm. It offers an amazing amount of firepower in a very small package. With very little practice I believe a shooter can become much more proficient with this type of firearm than they may have previously thought possible. The advantage of concealability and accuracy combined with the caliber and potential magazine capacity far outweighs several more common concealable firearms in many aspects.

I know several people who use "pack guns" out in the bush while hiking and hunting in areas known for dangerous predators (both animal and human) and I will highly recommend the PWC AOW Krinkov to them. As far as my previous statement about spending the extra money for a $200.00 tax stamp and buying a Short Barreled Rifle as opposed to the AOW, I think I will save my $195.00 on this one and spend it on more ammo.

Precision Weapons Corporation
Int. Rt. 16 & Rt. 54
Sophia, WV 25921
Phone: 304-683-3773
Fax: 304-683-3774
Email: pwpns@cwv.net
Website: www.precisionweaponscorp.com

PWC Krinkov (AOW)

Overall Length: 19.25"
Barrel Length: 8.75"
Sight Radius: 7.5"
Caliber: 7.62 x 39
Retail Price: $950.00
This article first appeared in Small Arms Review V6N2 (November 2002)