By Todd Burgreen
It's said imitation is the greatest form of flattery. The Browning Hi Power 9mm is a case in point with numerous clones produced and active around the world. The European American Armory (EAA) Girsan offerings are prime examples. The EAA-imported Girsan Hi Power models are garnering much attention. Their variety is pushing the original Hi Power design to its maximum potential. The EAA MCP35 PI LW OPS (MCP35 PI LW) chambered in 9mm is the subject of this article and captures EAA's ability to offer something beyond just a clone.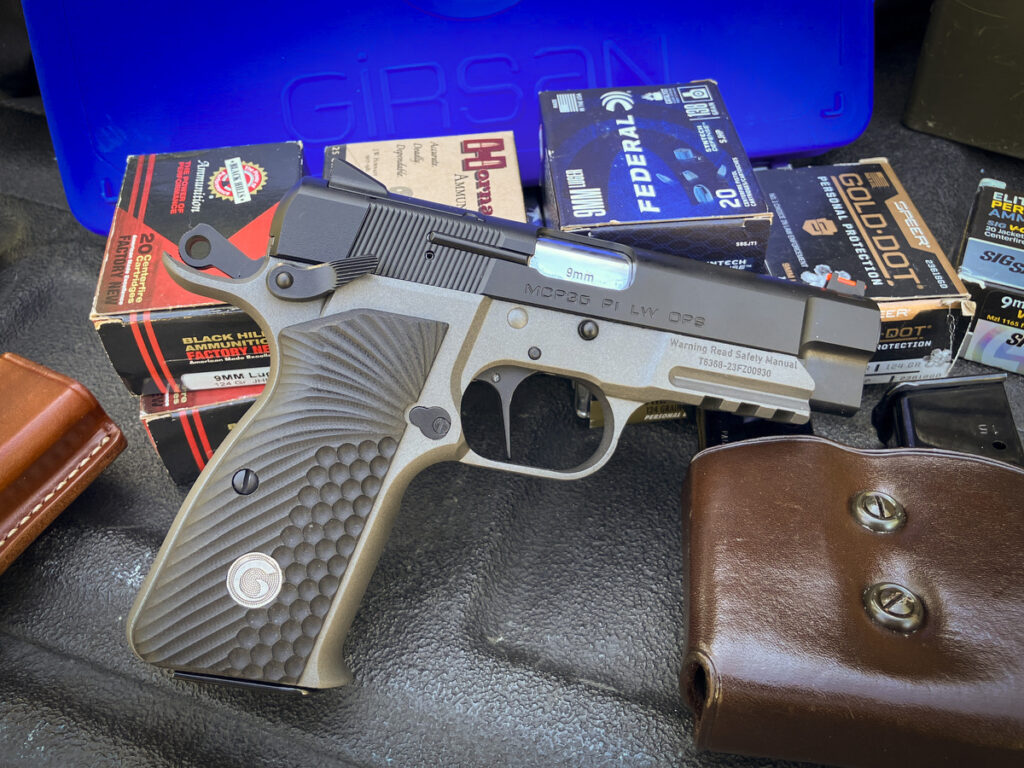 Let's break down the naming nomenclature before proceeding. This will clue us in to what the EAA Girsan MCP35 PI LW OPS offers. The PI indicates shorter barrel/slide—3.8-inch barrel versus normal 4.7-inch barrel. In 1911 terms, think commander-size versus full size government model, or in polymer striker fired lingo, Glock 19 versus Glock 17. LW stands for lightweight aluminum frame (as opposed to steel.) OPS indicates a railed dust cover and slide cut for mounting an optic via the Shield RMSc footprint.
BROWNING PEDIGREE
The Hi Power was the original "wonder nine" existing well before the 1980s when the term became popular. The Browning Hi Power can be thought of as the blending of American and European handgun design concepts. It took a company of Browning's stature to pull this feat off and have it accepted on both sides of the Atlantic. The Browning Hi Power was conceived in response to a 1921 French military requirement for a new service pistol. The French requirements were that the pistol have a capacity of at least 10 rounds, a magazine disconnect device, an external hammer, a positive safety and be simple to disassemble and re-assemble. The 9mm cartridge was seen as natural selection based on WWI experiences.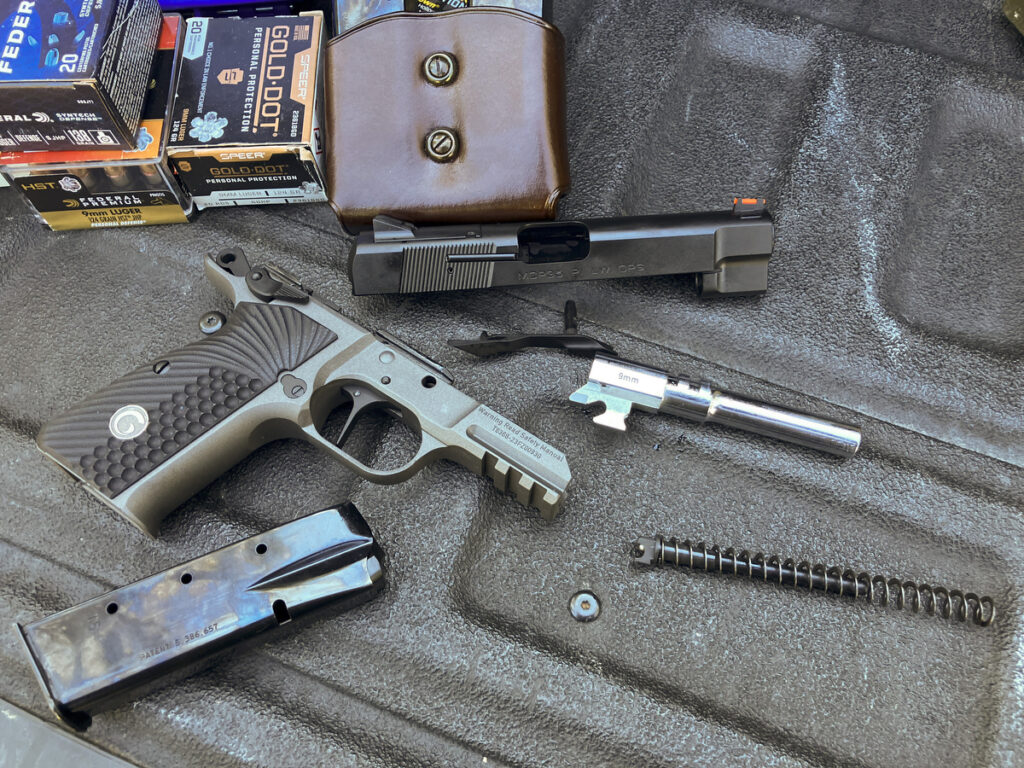 Samuel Colt was not interested in pursuing the potential French contract, so Browning turned to Fabrique Nationale (FN) with two prototypes. With Colt holding the patents to his 1911, Browning had to create something different so as not to infringe on existing 1911 patents. FN submitted a Browning prototype to the 1922 French pistol trials. Based on feedback, Browning prepared two more prototypes and re-submitted it to the French Army in 1923. Browning died in November 1926. Browning was awarded a patent for the Hi Power design posthumously in 1927.
After Browning's death, the Hi Power design was taken over by FN designer and Browning's friend Dieudonné Saive. With no market interest for a new service handgun in the late 1920s, Saive was able to refine Browning's base design. By 1928, many of Browning's previous patents for the 1911 were expiring. By 1931, the Browning-Saive Hi Power design incorporated a curved rear grip backstrap, barrel bushing that was integral to the slide (versus removable barrel bushing), and a 13-round magazine.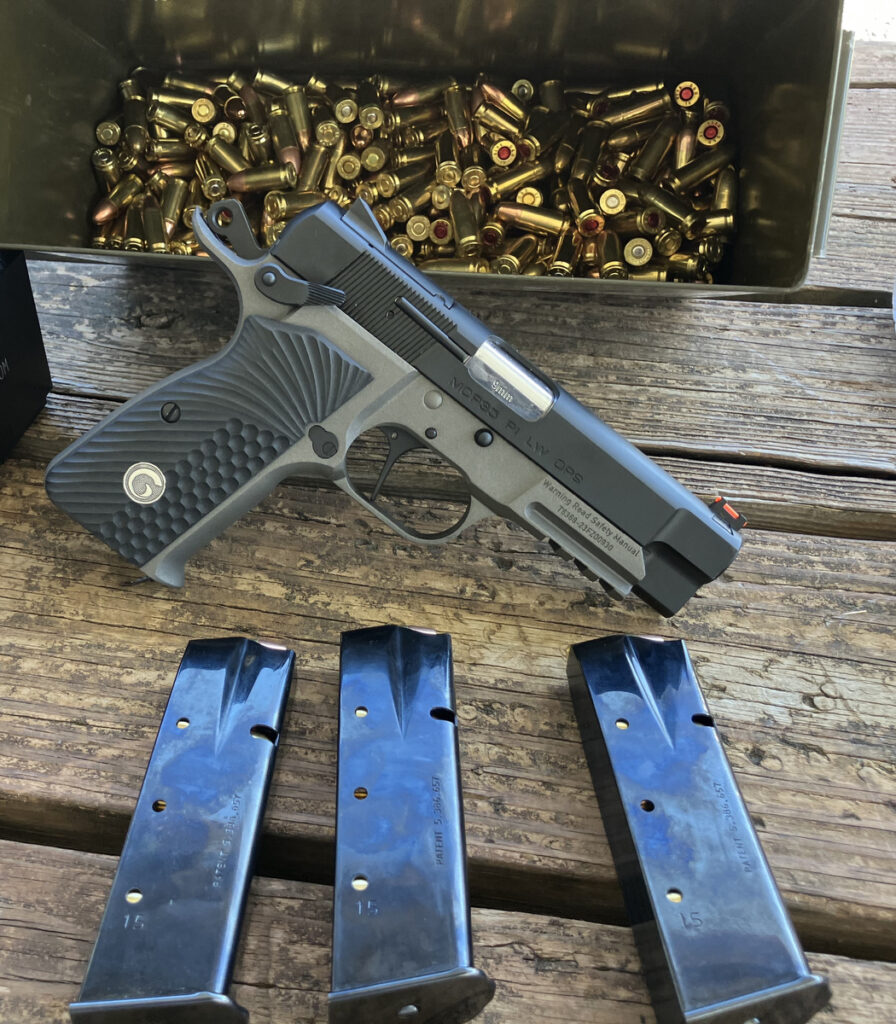 Unlike Browning's earlier 1911 pistol, the Hi Power barrel is not moved vertically by a toggling link. Instead, a hardened bar crosses the frame under the barrel and interacts with a slot under the chamber at the rearmost part of the barrel. The barrel and slide recoil together for a short distance but, as the slot engages the bar, the rear of the barrel is drawn downward and stopped. By 1934, the Hi-Power design was complete and ready to be produced. The Hi Power was first adopted by Belgium for military service in 1935 as the Browning P-35. Ironically, France decided not to adopt the Hi Power.
BEEN THERE, DONE THAT
The Hi Power is one of those rare weapons that served with both sides' militaries in WWII. In 1954, the British military adopted the Hi Power as its first standard semi-automatic pistol. 50 more armies also adopted it after WWII. Interestingly, the Hi Power was also the choice of such elite units as the British SAS, SBS, and Royal Marines. The FBI HRT and various intelligence agency direct action units utilized the Hi Power until the late 1980s. Impressive, indeed, that after more than 50 years since its introduction, the Hi Power was still the "go to" sidearm for elite law enforcement and military operators.
While the upside of the Hi Power such as capacity, reliability and ergonomics obviously outweigh its negatives, the Hi Power has features that could be improved upon. The trigger pull is especially heavy for a single action, it has minimalist sights, a weak internal extractor, and its slide/hammer is prone to biting a shooter's hand. Custom gunsmiths created a cottage industry of offering services to improve standard Hi Power models. Browning/FN's decision to discontinue Hi Power production in 2018 opened the door for a company like EAA/Girsan to offer its own version of the Hi Power. The consumer market clearly indicated it was not yet ready to forgo the classic design. FN subsequently reversed course, and, in 2022, re-introduced a Hi Power variant.
STUDENT BECOMES THE MASTER
In collaboration with EAA, Turkish manufacturer Girsan has advanced Hi Power-style handguns to the point where John Browning would be impressed with the multiple models offered. The EAA MCP35 PI LW OPS is an example of this with straight trigger, 15-round magazine, aluminum frame, railed dust cover, extended beavertail grip, ambidextrous safeties, G10-style grip panels, beveled magazine well with a "toe" to hang the bottom finger on, undercut trigger guard, fiber optic iron sights, absence of a magazine disconnect safety, slide cut for mounting a red dot, extended slide release lever AND compact slide/barrel compared to Browning's original length. This one sentence should serve notice the EAA MCP35 is a fresh take on the Hi Power and not just a clone.
The MCP35 LW has a 3.88-inch barrel contributing to an overall length of 7-inches. Almost an inch of this is the extended beavertail. The MCP35 LW weighs 25 ounces. This is approximately a 1/2 pound lighter than similar sized steel frame Hi Powers. I bring attention to these measurements as the MCP35 LW PI sits in your holster as comfortably as in your hand.
In this age of polymer high-capacity handguns, the Hi Power has turned into an aficionado's weapon that attracts users with its natural handling and ergonomics. Put a metal framed MCP35 LW PI in your hand and you will realize there is nothing like it in the polymer striker fired world we live in.
RANGE TIME
The first range session turned into 300 rounds after I just couldn't put the MC35 down. It was refreshing to see a metal framed handgun function out of the box without needing a break in period. The MCP35 in 9mm is neither too tight, which affects reliability, or so loose it rattles. This provides the proper blending of reliability and accuracy.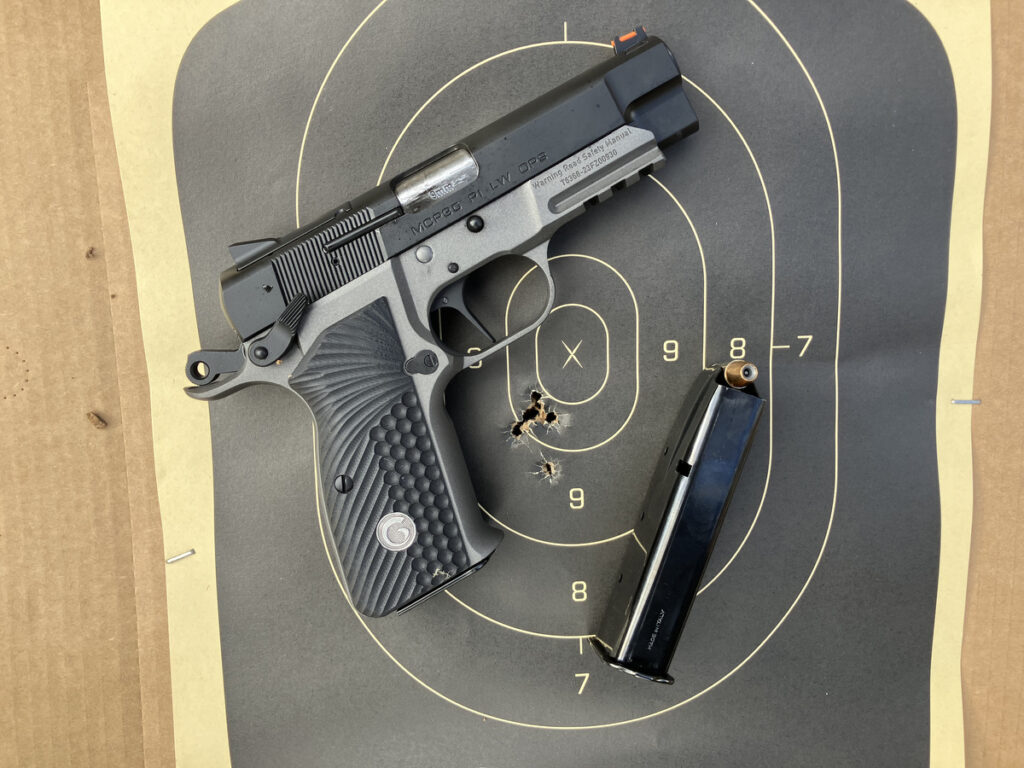 An assortment of bullet types were fired from various ammunition manufacturers – Black Hills Ammunition, SIG Sauer, Hornady, Federal/American Eagle – to verify reliability. 9mm loads fired ranged from 115-grain to 147-grain with both hollow points and FMJ bullet types tested. The MCP35 LW PI has a full-size grip with aesthetically pleasing, yet functional, black G10 style grips. No texturing or stippling is present on the frame. However, the MCP35 ergonomics and the textured grip panels do a good job securing the MCP35 to your hand.
One immediate concern any time a double-stack magazine is used is how it's width affects grip and trigger manipulation. Browning and Saive made sure the Hi Power frame did not sacrifice ergonomics in the quest for capacity. Even average size hands have no issue working the trigger or other controls on the Hi Power. The Hi Power feels smaller in the hand compared to other double stack designs. This is attributed to how the top of grip reduces inward near the slide, thus moving the hand closer to the trigger and shortening the trigger reach. The Hi Power design has a grip that seems to fit everyone's hand. This combined with single action trigger creates a handgun that is easy to shoot well. EAA/Girsan's incorporation of an extended beavertail grip and straight trigger shoe only supports this.
PERFORMANCE
| | | | |
| --- | --- | --- | --- |
| | Avg. FPS | Avg. 5-Shot Group 25 yards (inches) | Best 5-Shot Group 25 yards (inches) |
| SIG Sauer 124gr V Crown | 1133 | 3 | 2.66 |
| Black Hills 124gr JHP | 1141 | 3.33 | 2.75 |
| Hornady 147gr XTB | 904 | 3.25 | 3 |
| Federal 124gr HST | 1177 | 2.66 | 2.33 |
Testing started with verifying zero and then firing several magazines rapidly at various steel man-sized targets. The EAA Girsan fiber optic front and nicely done rear sight is superior to other Hi Power sights we've encountered. The sights were zeroed out of the box for 25 yards using the classic 6 o'clock hold. Further testing consisted of strings of fire against steel plate racks and popper targets at 7, 15, and 25 yards.
Considering the Hi Power's primary role as a fighting/defensive handgun we decided to further evaluate the EAA MCP35 LW PI using drills experienced at various firearms schools. Condition one "cocked and locked" carry typified by the Hi Power allows a shooter to merely swipe off the beefed-up manual safety and engage a target. The extra two-round capacity of the MCP35 LW PI 15-round magazines should not be discounted, either, as an important benefit. The beavertail frame settled MCP35 LW PI naturally into hand and provided a point of reference when drawing the pistol from a holster. One of the benefits of choosing a Hi Power-style pistol is the plethora of aftermarket accessories available in the form of holsters. Holsters from Versacarry and Galco were used during this review.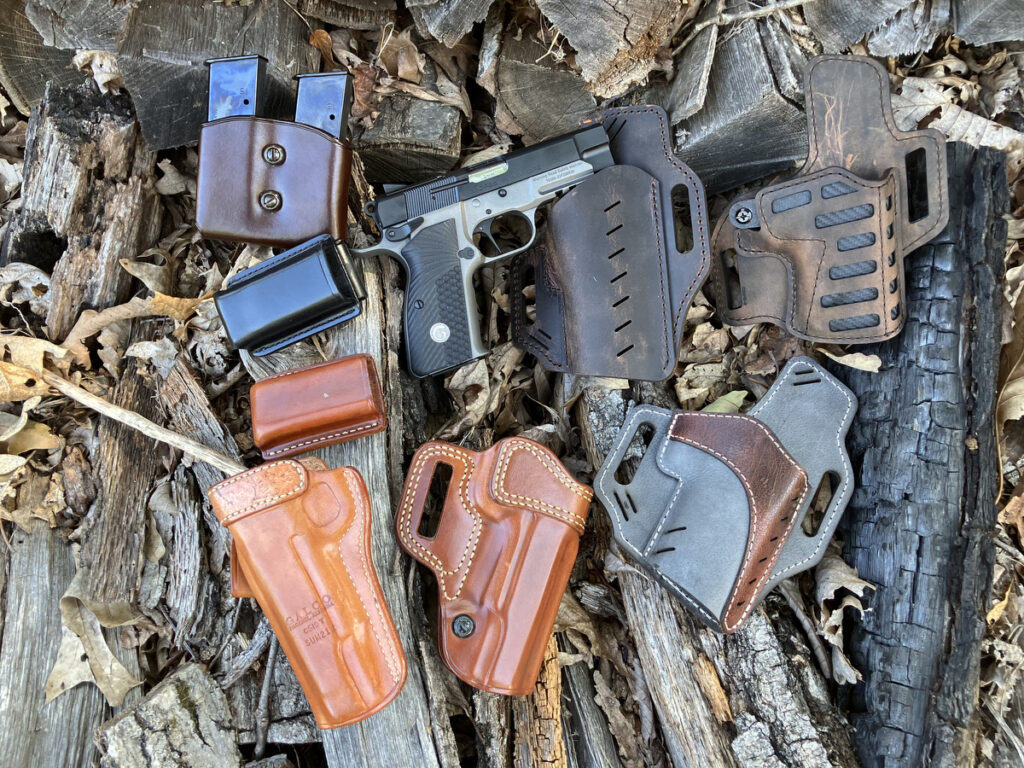 OBSERVATIONS
It's understood that the Hi Power's trigger design with its arrangement of springs and levers limit what can be done to improve it. The MCP35 LW PI's single-action trigger broke at 6 to 6.5 pounds. The straight trigger did help compensate for this. Deservedly or not, more was expected from the trigger. This was based on how many other positives EAA/Girsan had created with the MCP35 LW PI – including dispensing with the onerous magazine disconnect safety.
The shortened slide and frame on the MCP35 LW PI will not accommodate certain lights or lasers. This is not really intended as a criticism; just a heads up before investing in a tactical light or laser. For example, a Surefire 300 will not fit. However, a Crimson Trace CMR-301 Rail Master Pro light and laser combo will. Along these same lines, the mounting of a red dot will do away with your rear sight, preventing an iron sight co-witness. How serious of an issue this is up to the end user.
NEW AGE HI POWER
The majority of testing was done with iron sights, though trying a red dot could not be resisted. A Zero Tech Thrive HD Red Dot Micro Reflex was mounted on the EAA MCP35 LW PI. Weighing only 6 ounces, the Zero Tech Thrive HD Micro Reflex's features advanced shake-awake technology. The Thrive HD projects a 3 MOA dot with ten adjustable levels while offering up to 150,000 hours of runtime with a CR20232 battery. Zero Tech has designed the Thrive HD to be recoil-, fog-, and water-proof.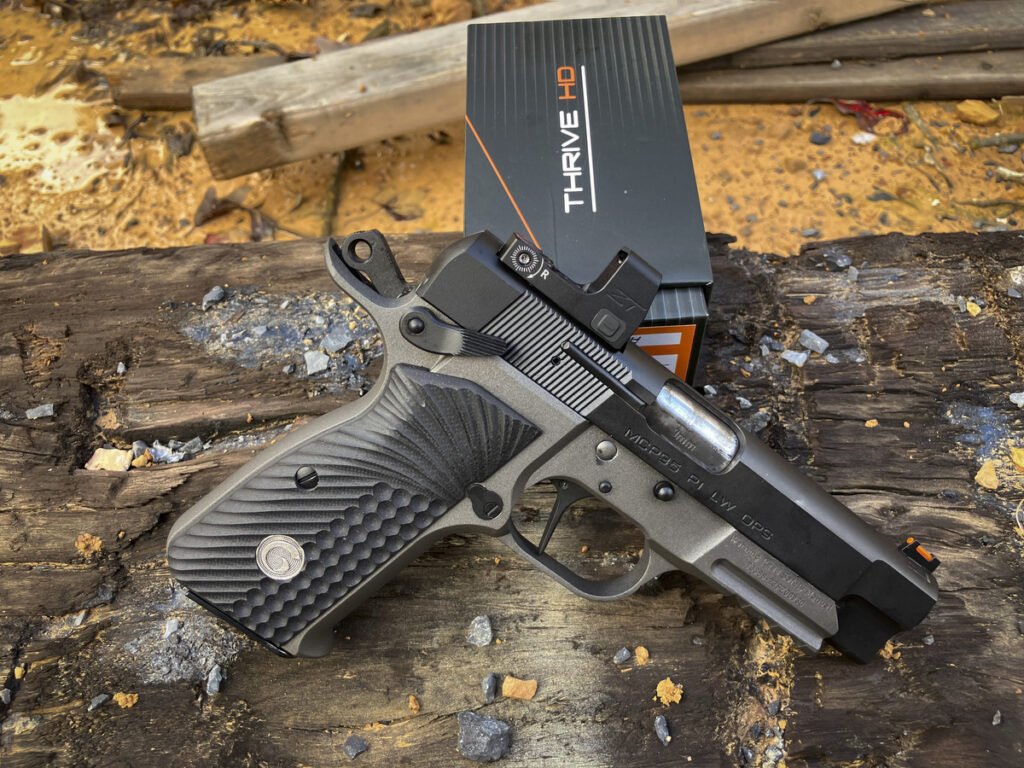 The Zero Tech Thrive HD/EAA MCP35 LW PI combo performed better than expected. Here was a weapon designed in the 1920's combined with a modern, compact red dot. The natural point ability of the EAA MCP35 LW PI comes into its own in this realm with the Zero Tech Thrive HD doing its part, as well. The Thrive HD's rectangular lens offers a superior field of view compared to other red dot options. The minimal frame of the Thrive HD almost disappears when focusing on the target with the red dot. The dot is crisp with no halos or disfiguration. The red dot was "there" and seamlessly located at first draw. This is a compliment to the EAA choosing a direct mount method versus plates allowing the Zero Tech to sit as low as possible on the slide. The Hi Power's already low bore axis is further enhanced with the MCP35 LW PI's beavertail and undercut trigger guard allowing for a very stable sight picture no matter how many or how rapid rounds are fired.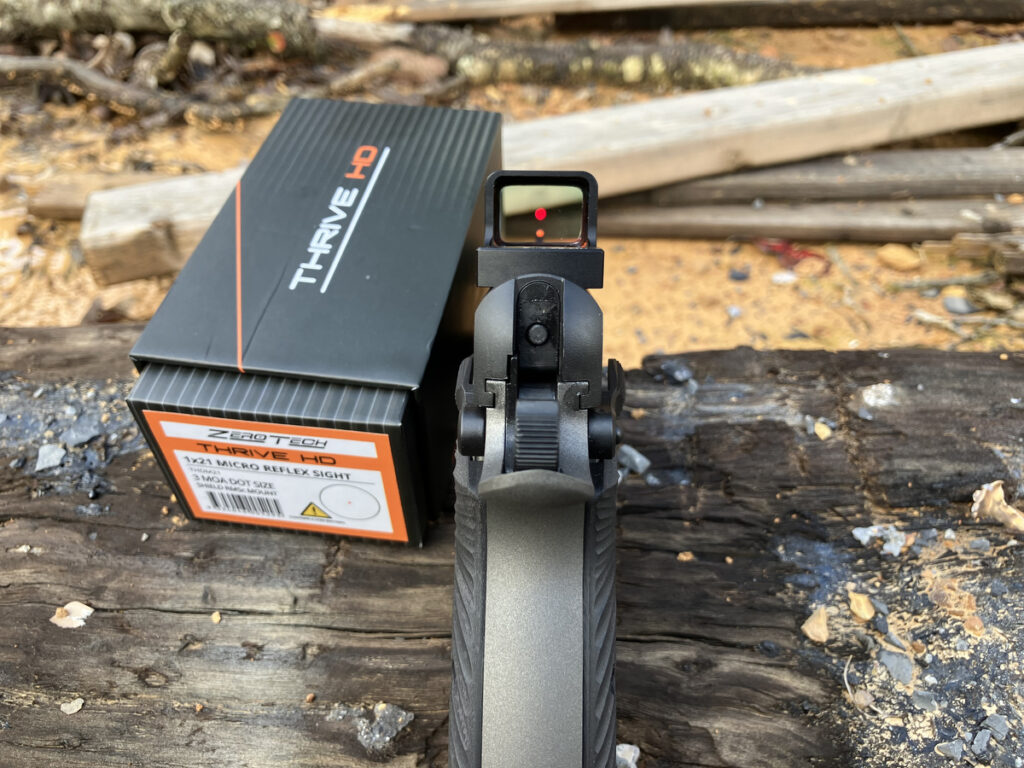 STILL WORTHY
The basic Hi Power is too well known to attempt any new expose, however the EAA MCP35 PI LW OPS tested here serves as reminder why the base design still holds a prominent place in the world. The EAA MCP35 PI LW OPS represents a good balance of features for daily use. The lighter weight and more compact dimensions are certainly beneficial, along with ability to mount a compact red dot. The EAA MCP35 PI LW OPS is a sound combination, functionally speaking, while still allowing a user to indulge oneself by having something not so typical.
SPECIFICATIONS
| | |
| --- | --- |
| Make | EAA Girsan |
| Model | MCP35 PI LW OPS |
| Caliber | 9mm |
| Weight (empty) | 25.1 oz |
| Overall Length | 7 in |
| Barrel Length | 3.88 in |
| Magazine Capacity | 15-rd |
| MSRP | $772 |
| URL | eaacorp.com |