By Todd Burgreen
Many have become increasingly interested in the ability to see at night albeit with image intensifying night vision or increasingly popular thermal technology. This is for a variety of reasons…. tactical, hunting, surveillance, general principle ("because you can"), etc. Each system has its pros and cons.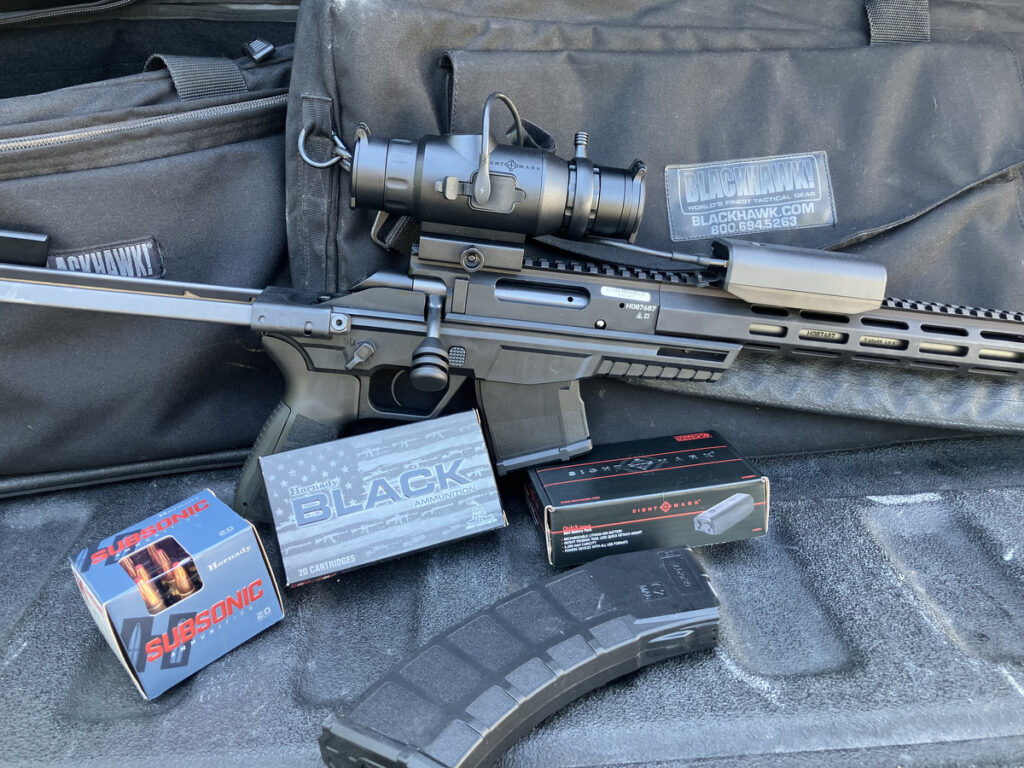 The first Gulf War (1990-91) and subsequent involvements in Iraq and Afghanistan highlighted the crucial role night vision provided by removing the veil of darkness thus transforming the modern battlefield. Night vision is a crucial advantage over less well-equipped opponents. As often happens with advanced military technology, it trickles down to law enforcement and civilian users often becoming more economical over time as consumer sales increase and technology becomes more prevalent. The Sightmark Wraith Mini 2-16×35 thermal riflescope is an excellent example of this.
BUDGET BE DAMNED
With an MSRP of $2100, the Sightmark Wraith offers thermal capabilities to the masses—not only hunters, but also LE departments and security conscience citizens. The Wraith thermal is a must have for anyone who hunts at night—albeit for two- or four-legged quarry.
Sightmark has entered the optics market in force over the last several years with several innovative designs and new takes on established concepts. The company has evolved into a recognized industry leader in all types of optics such as red dots, magnified optics, night vision, and, recently, thermal optics with the Wraith Mini thermal. The Sightmark Wraith thermal stands out based on its performance to price point ratio.
The technical aspects of the Sightmark Wraith Thermal must be discussed to fully appreciate what it offers. The best way I have heard thermal optic devices described is that thermals are not optics per se, but rather a digital camera feeding off infrared/heat waves with signal processor creating images for our recognition. An European-sourced thermal sensor from France is at the heart of the Sightmark Wraith mini thermal. The Wraith has a 384 x 288 pixel resolution sensor featuring a 17-micron sensor pitch allowing for sharp and crisp images. The 17-micron capability allows for increased magnification potential, as well. The Wraith thermal offers 2x optical and 1-8x digital zoom. It has a 50Hz frame rate; meaning the thermal core refreshes the image you see 50 times a second. All of this is crucial for successful observation, tracking, and engagement of moving targets.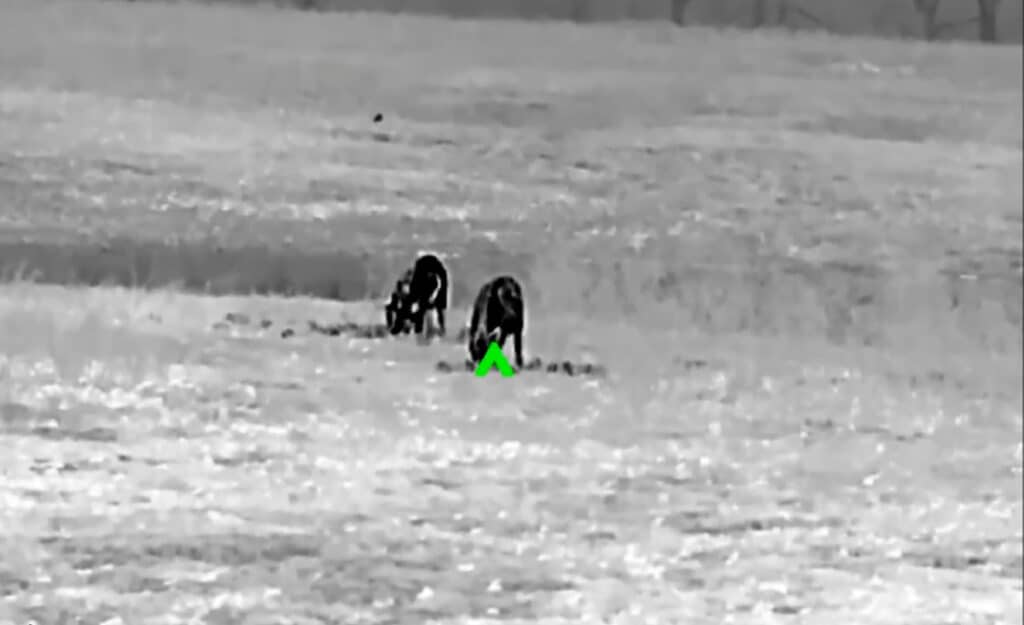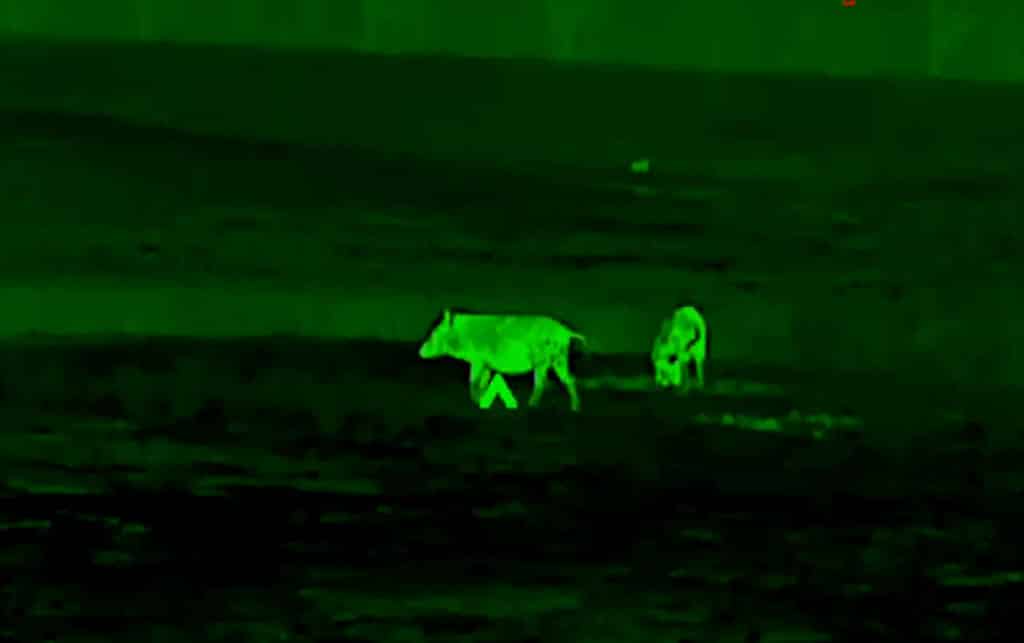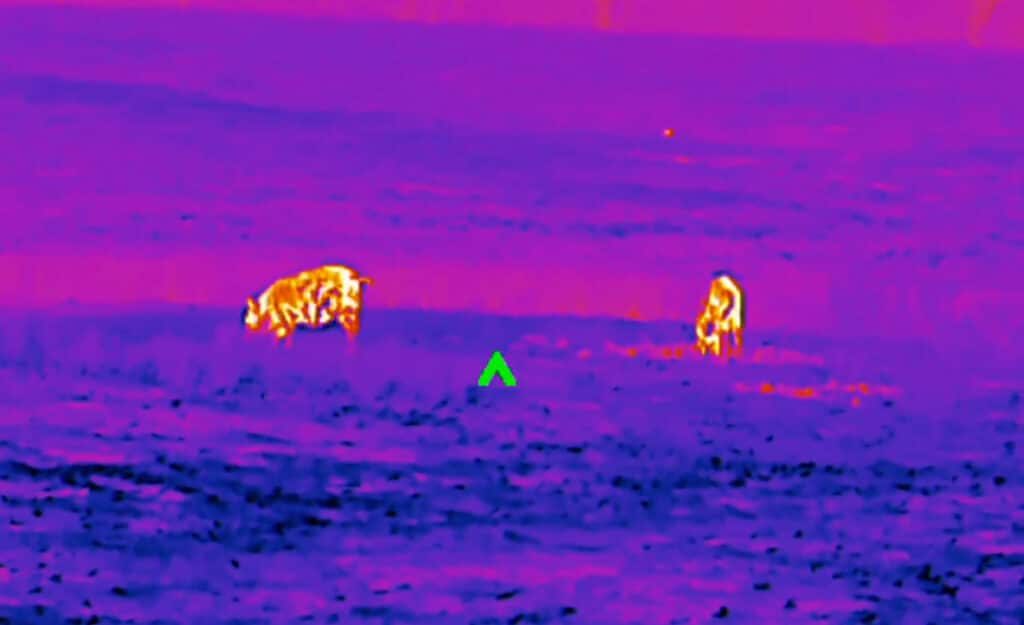 The Wraith has five thermal color palette modes—traditional black-hot and white-hot along with green, rainbow, and magenta-hot for added background contrast and more precise heat detection. Ten reticle patterns are available along with nine reticle colors to choose from with its OLED display. The key advantage of OLED is that the screen is self-emissive – as in, it emits its own light. Each individual pixel operates with its own light source, instead of one large backlight like an LCD would use. This results in very sharp image quality with less eye fatigue. Images are just more vibrant with an OLED display. OLED displays refresh faster than LCD viewing displays. This is not only an advantage for moving targets, but also for better real-time recording. Other OLED advantages include perfect black background—something important for a thermal optic. LCD screens with their backlight find it difficult to show true black levels because the backlight is always on, leading to leakage of light to adjacent pixels. Perfect black allows for infinite contrast, so the difference between the darkest and brightest parts of the image is higher than what other display types are capable of. Energy consumption is also less by not needing a backlight to produce light. That makes them a good choice for smaller devices as they can last for a little longer than their LCD-based equivalents.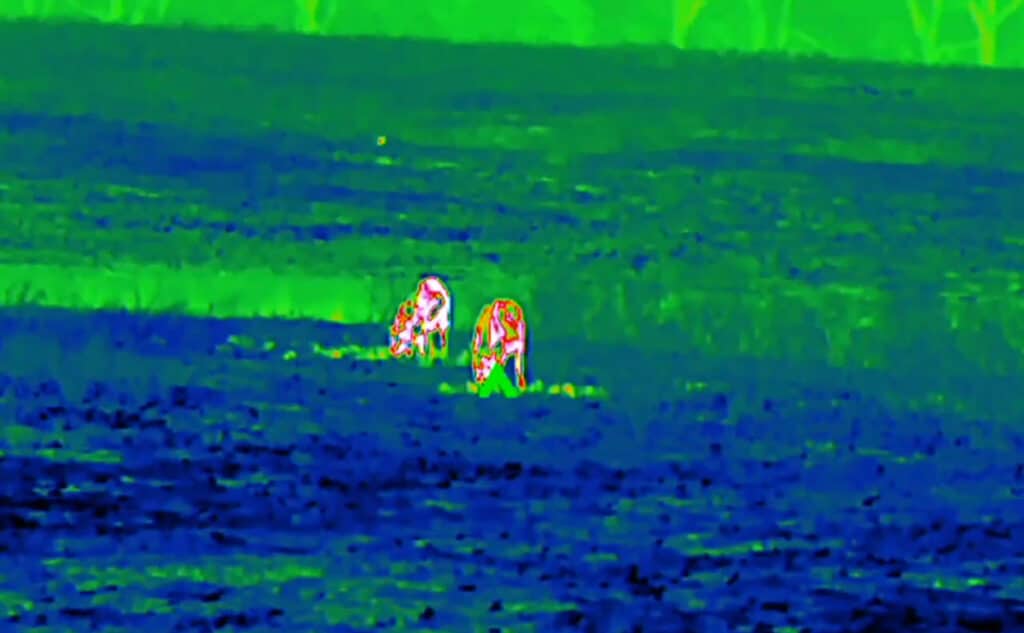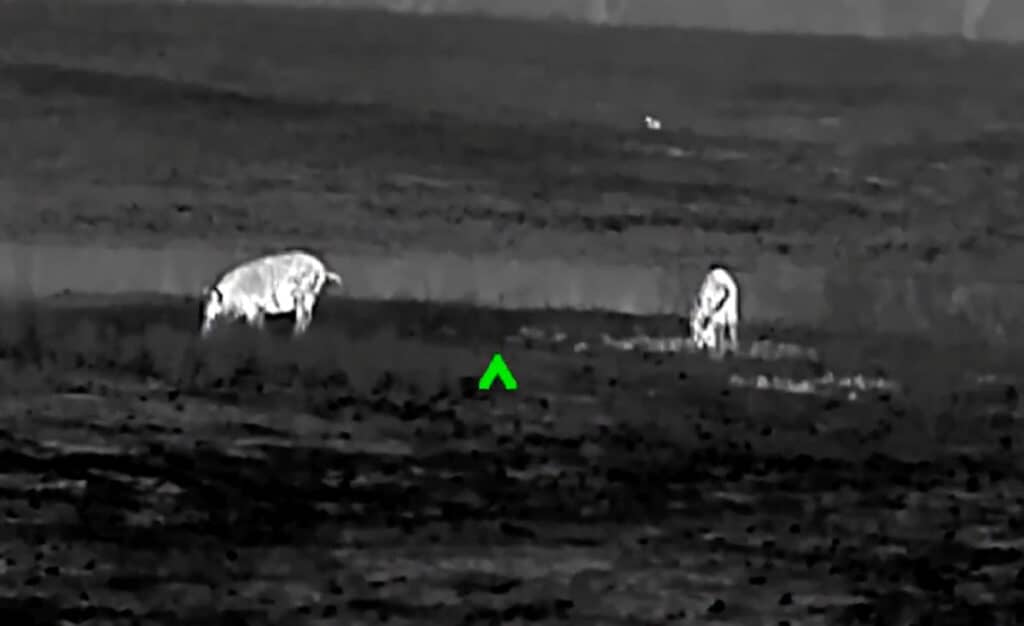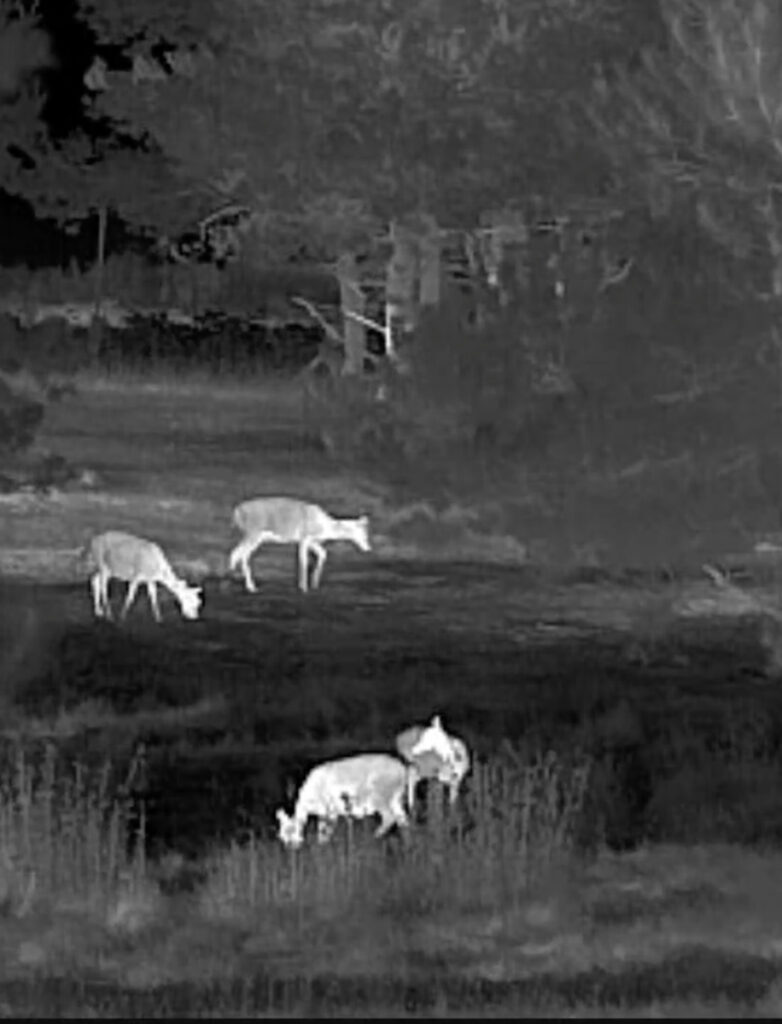 TALE OF THE TAPE
The Sightmark Wraith thermal is compact, measuring 6.6 inches long, 3 inches wide, and 2.9 inches tall. The squat Wraith thermal weighs in at 19.3 ounces with its aluminum body. It arrives on a Picatinny mounting rail for attachment to firearm. The Picatinny mounting method is handy to sit the Wraith far enough rearward on host firearm for proper eye relief. With that said, the Wraith's size makes it feasible for use as a handheld unit, as well. This method was used a lot during a visit to Texas to explore what the Wraith offered, especially compared to its more expensive brethren. ATV rides along power line clearings and expansive fields confirmed the Wraith's listed 1400-yard detection range with positive identification of deer out to 800 yards.
Two CR123A offer 3.5 to 4 hour run time. To supplement the CR123 batteries, we suggest picking up the Sightmark Quick Detach Battery pack for use with the Wraith thermal. The rechargeable lithium battery stores 10,000mAh of current that offers 8 to 10 hours of run time with the Wraith. The Sightmark auxiliary battery pack ingeniously snaps to a Picatinny rail section in front of the Wraith thermal with USB cord connecting the two.
The Wraith provides five configurable weapon profiles/zeros. This eliminates the need to re-zero the Wraith when shifting between different rifles. The scope also comes equipped with a built-in video/camera with audio recording capability on a user provided 256gb memory card. Diopter and focus adjustment levers are found on the front and rear of the unit, respectively.
It is best to familiarize yourself with the thermal's controls in daylight, so operation is intuitive in the dark. All features such as sighting in, palette colors, magnification adjustments, reticle choice, etc. are chosen with a five button central toggle control on top of the thermal. Here, the analogy of digital camera more than traditional optic rings even more true. The screens that appear and that are toggled through are very similar to modern DSLR cameras. Initial reference to the user manual will guide you to the screen required. With that said, the controls are minimal, with functions controlled by short presses. After a few tries, the grouping of features is easily figured out. The Wraith thermal controls and shooter interface one of the most intuitive we've encountered to date. This is compared to numerous night vision and thermal units we've handled.
PERFORMANCE PARTNERS
The Sightmark Wraith thermal was mounted on a CZ USA CZ600 Trail rifle chambered in 7.62×39. We wanted to maintain the theme of handy-yet-potent. Any rifle using "Trail" in its name had better be handy—either strapped to a pack or slung over a shoulder. The CZ600 Trail weighs 6.1 pounds with an overall length capable of shrinking to 27.1-inches thanks to a collapsible PDW-style stock. With the stock extended, the CZ600 Trail measures 35-inches. A minimalist M-Lok handguard surrounds a 16.1-inch threaded, cold-hammer forged barrel keeping the rifle svelte with 10-round magazine not protruding below pistol grip. With the 7.62×39 Trail, a CZ Bren 2 magazine is used. Full length picatinny rails runs across the receiver down the top of the handguard. The adjustable stock and full length Picatinny rail are important features when using a thermal optic.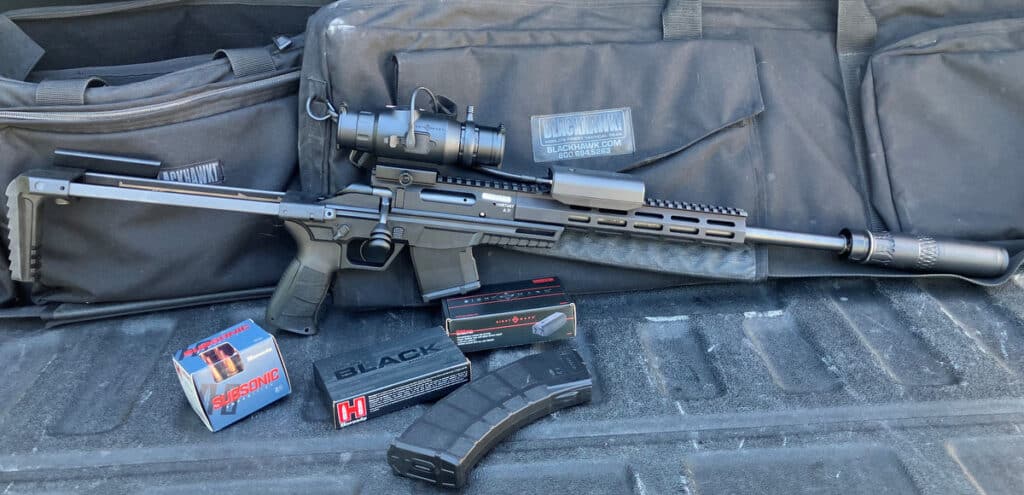 The choice of 7.62×39 may surprise some readers. It should not. The 7.62×39 is equivalent to the 30-30 in terms of ballistics. The real focus was on the Hornady 123-grain SST load and new Sub-X 255-grain subsonic in the CZ600 Trail. The availability of a 7.62×39 subsonic load from Hornady levels the playing field between the .300BLK and 7.62×39 calibers.
Along the same lines of performance, a Rugged Suppressors Alaskan360 was mounted to the CZ600/Wraith combo. The Rugged Alaskan360's lightweight multicaliber adaptability just fits with the Sightmark Wraith mini thermal's small stature. The Alaskan360 can be used with 9mm pistols/SMGs AND rifles up to 338 Lapua.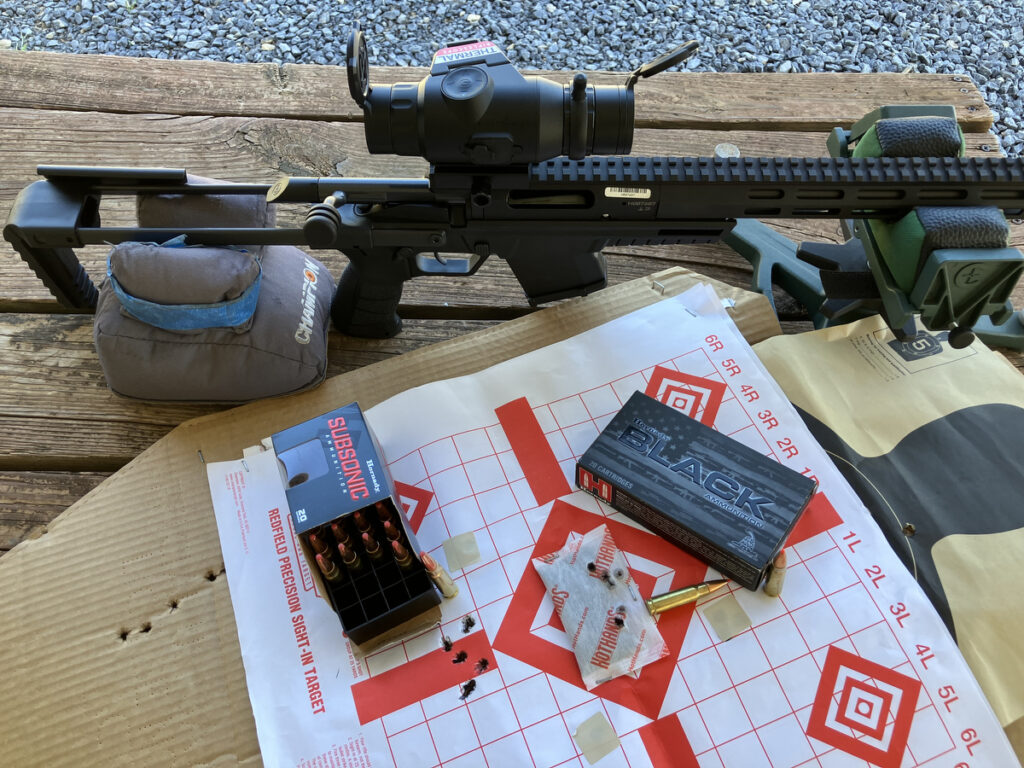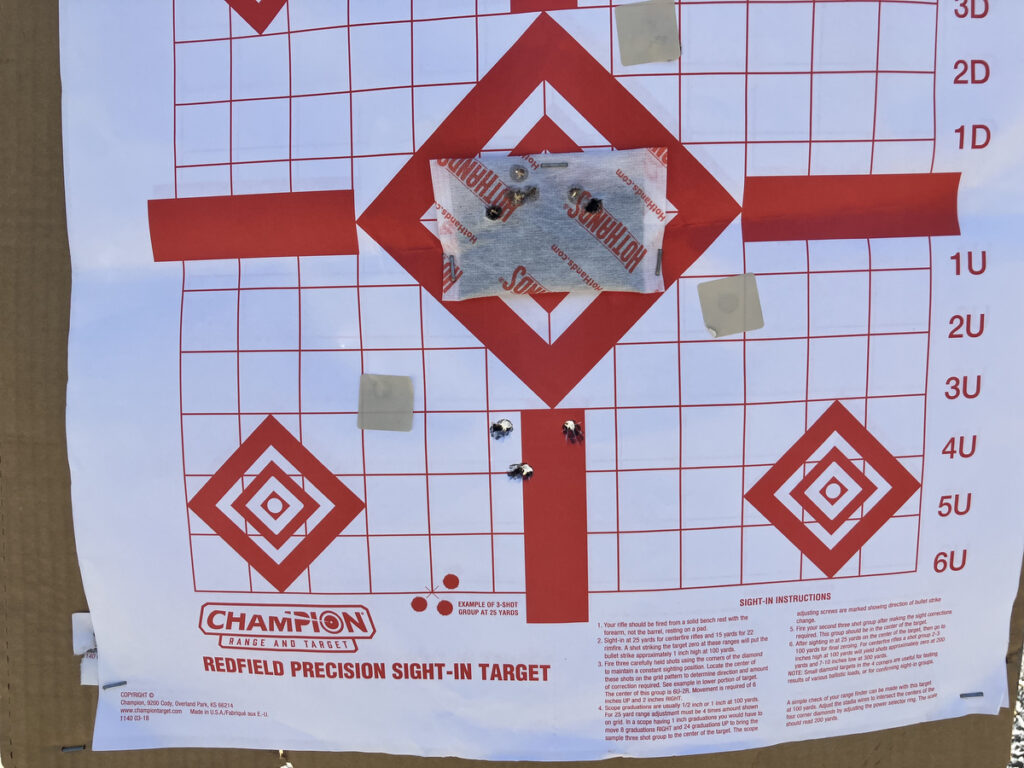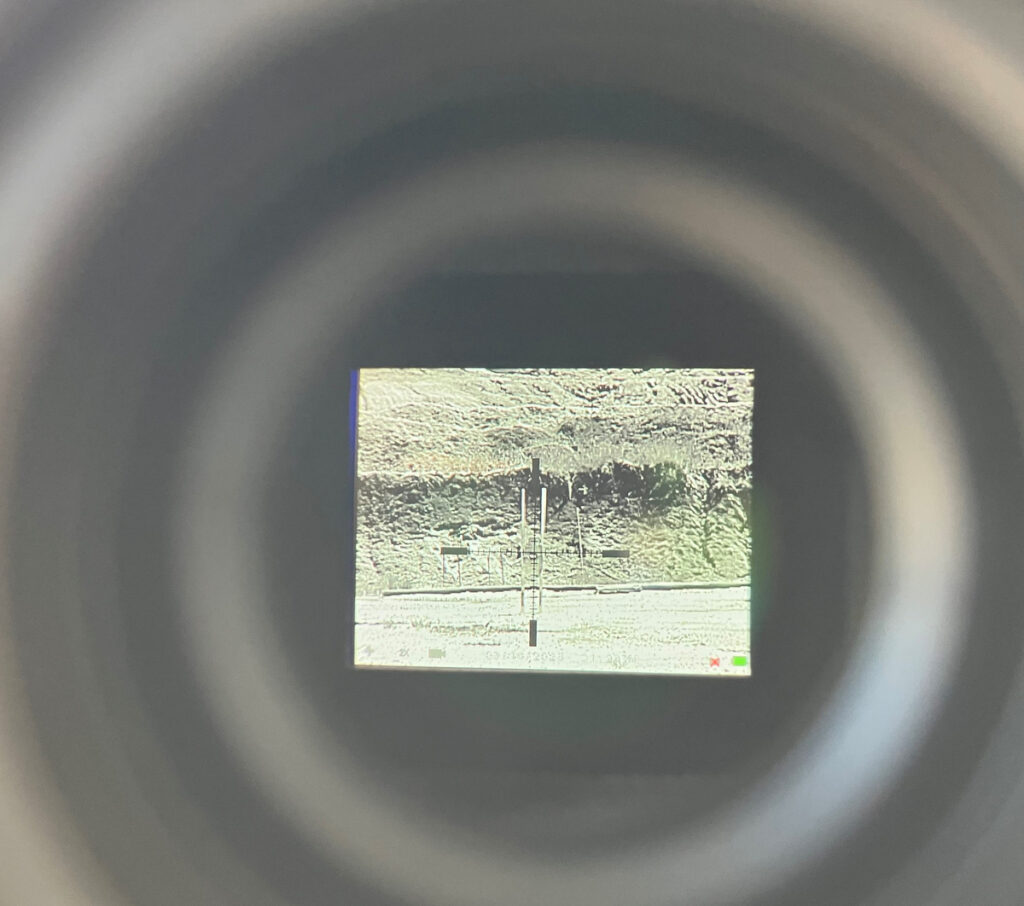 Zeroing the Wraith was easy with no drama. The ability to operate a thermal during the day helps with the sighting in process, as did the mounted Rugged Suppressors Alaskan360 suppressor. The intent was to make sure the Rugged Alaskan was mounted on the CZ600/Sightmark Wraith combo whenever it was taken afield, so it might as well be used when sighting in. The thought was to limit the need for hearing protection when out and about.
One nuance with the sight-in procedure was stapling a small hand warmer on the target to give an aiming point when viewing through the thermal since a paper target provided no real center reference. The Wraith thermal's simple sight in procedure had the unit sighted-in within three rounds. Previous work with the CZ600 with a Sightmark Citadel 1-10x mounted had showed how accurate the CZ600 was. Three round groups at 100 yards were in the 1.25 to 1.5-inch range. Most will raise an eyebrow at this. 7.62×39 is not known for accuracy. However, the Hornady SST load is not your typical 7.62×39 imported surplus load that most are familiar with. CZ barrels are also superior to AK tubes. The Wraith impressed us by maintaining accuracy standards established by magnified optic before being bumped off by the thermal.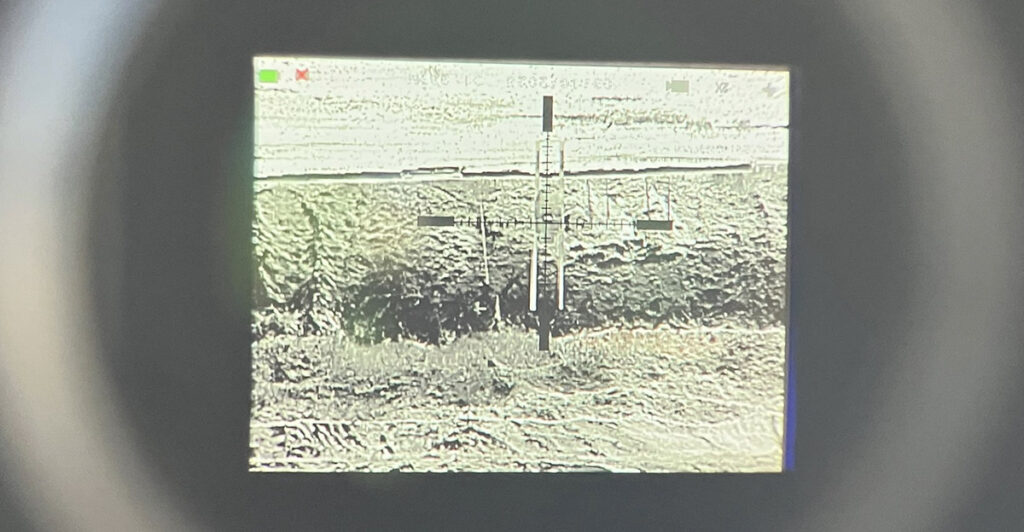 NO LIGHTS…. THERMAL…. ACTION
Immediately several night forays were set up in pursuit of predators and general usage to get a sense of what the Sightmark Wraith thermal offered. The compact Wraith thermal delivered surprisingly detailed imaging performance out to 250-yards-plus depending on conditions. There was no issue identifying deer, coyotes, raccoons, and foxes. The polarity contrast of heat made detection easier in certain areas compared to merely using binoculars during the day. The amount of heat signature of vegetation was surprising in thicker/denser areas. However, the ability to adjust palette settings maintained the ability to observe quarry effectively. The preferred method was to keep the Wraith at a low magnification setting for observation purposes. White-hot and black-hot was the go-to palette choice.
One huge advantage of a thermal is its ability to be used during the day. Image intensifying night vision optics are not so flexible. With a NEDT (Noise Equivalent Temperature Difference) of less than 40mK, the Wraith has a temperature differentiation of .04-degree Fahrenheit! The more refined temperature differentiation means the more detailed the provided image can be even—when the sun is out.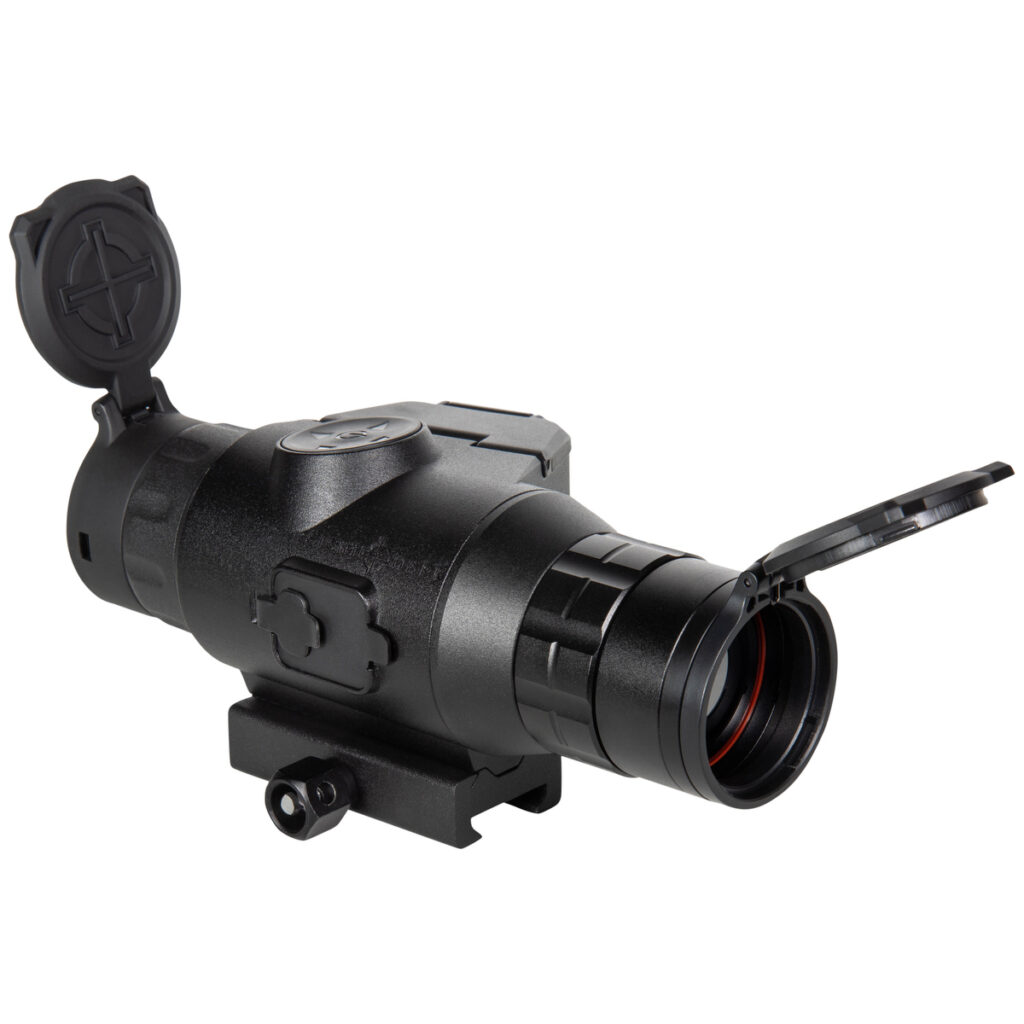 The Sightmark Wraith thermal will have crossover appeal to LE and personal defense users. Officers using thermal optics have a range of abilities not available with flashlights or even image intensifying night vision. While a weapon-mounted thermal sights is not necessarily the forte in the LE realm due to uncompromising need to positively identify a target before engaging, the Wraith thermal offers unsurpassed surveillance capability. This is a huge assistance in fugitive searches—both day and night—in urban or rural settings. Dark or camouflaged clothing worn by a suspect can make it very difficult for officers to use light or night vision technology to distinguish him from his surroundings. With a thermal, officers can see the suspect's body heat, which makes it very difficult for the suspect to conceal their position, whether they are hiding inside a structure or outdoors. Imagine rolling up to a situation and being able to assess potential problems quickly and discretely in terms of individuals hiding or even animals that may be encountered.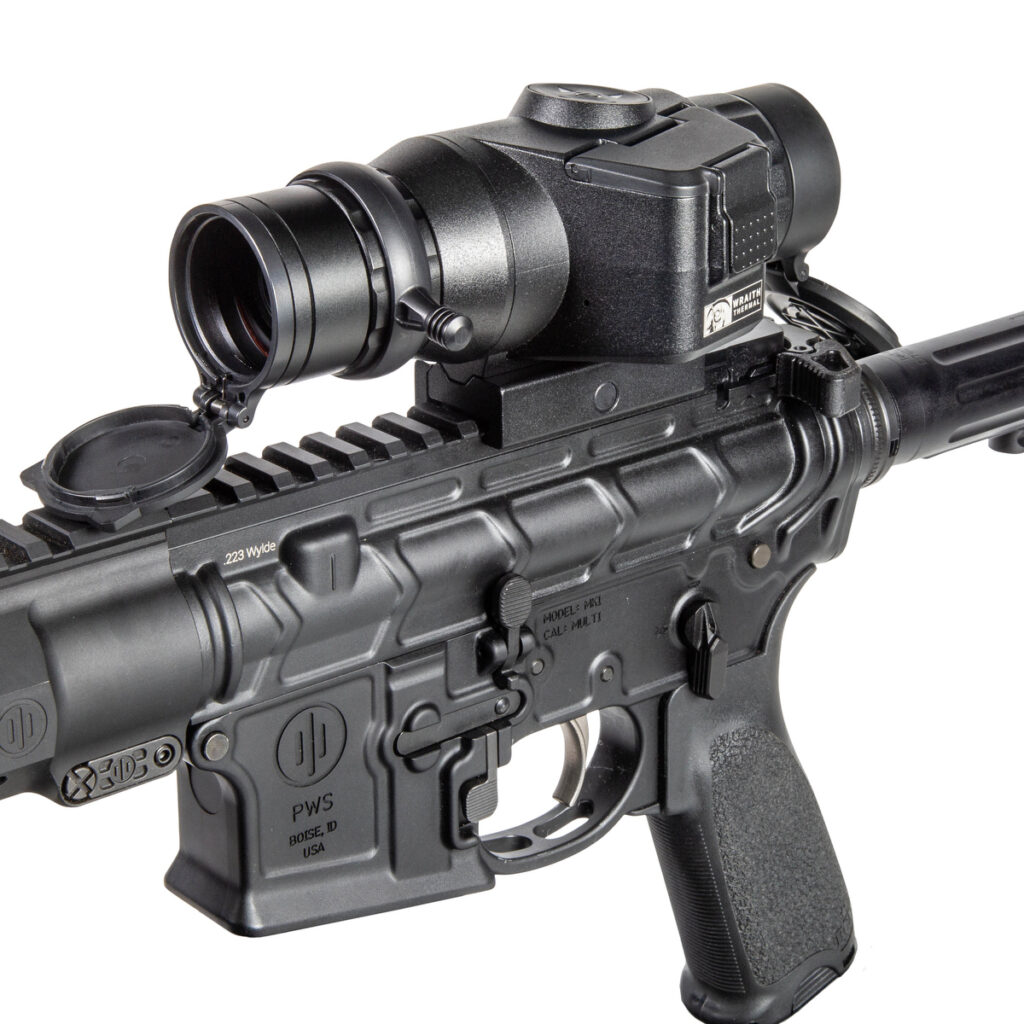 Another capability tailor-made for thermal optics is search and rescue. The Sightmark Wraith thermal's handheld capacity can assist in exploring large areas quickly. There is no hiding a person's body heat, even if incapacitated and unable to move/signal for help. The Wraith thermal eases search efforts in large fields, parks, near roadways, and wooded areas. Searches near bodies of water also offer opportunities to use a thermal imager. As long as the victim is not completely submerged, body heat should be detected by the thermal imager.
The Sightmark Wraith mini thermal is an awesome piece of equipment at a great price point. The image clarity and detail are impressive. With the Sightmark Wraith mini thermal, day or night, nothing can hide.
SPECIFICATIONS:
| | |
| --- | --- |
| Make | Sightmark |
| Model | Wraith Mini 2-16×35 Thermal Riflescope |
| Caliber Rating | 308 Winchester |
| Sensor Resolution Pixels | 384×288 |
| Display Type | OLED |
| Display Resolution | 1024×768 |
| Built-In Video Recorder Availability | Yes |
| Frame Rate | 50Hz |
| Pixel Pitch (µm) | 17 |
| Spectral Range (μm) | 8-14 |
| Magnification | 2x optical |
| Lens Diameter | 35mm |
| Digital Zoom | 1-8x |
| Field of View | 13 degrees |
| NETD | <40mK |
| Detection Range | 1400 yards |
| Battery Type | Internal 2x CR123A |
| Battery Life | 3.5Hrs Video Mode/ 4.4Hrs Preview Mode |
| External Power Supply | 5V via USB |
| Body Material | Aluminum |
| Accessory Rail Mount | Picatinny |
| Length (with flip up caps) | 6.6-inches |
| Width | 3-inches |
| Height | 2.9-inches |
| Weight | 19.3 oz |
| Operating Temperature Range | -4°F – 122°F |
| Color Modes | White-Hot, Black-Hot, Green-Hot, Rainbow, Magenta |
| MSRP | $2100 |
| URL | www.sightmark.com |