By The Small Arms Review Editorial Staff
MESA TACTICAL
SureShell Hook & Loop Carriers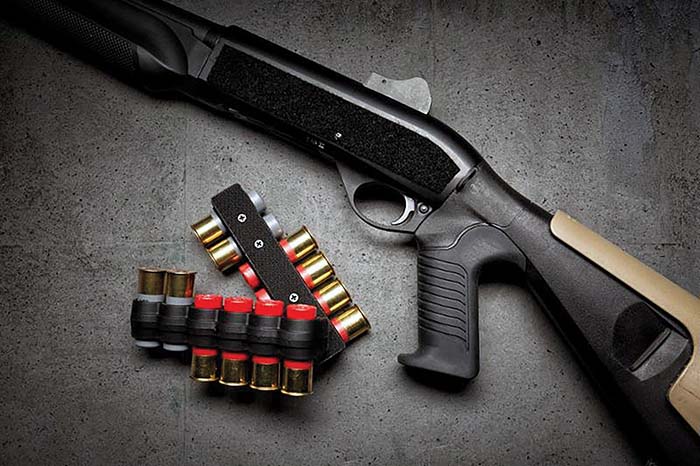 Hook & Loop SureShell carriers combine our SureShell Polymer carrier yoke with 3M SJ3572 hook fastener material laminated to a 3/?32" Formex 94 substrate. This allows Hook & Loop SureShell carriers to be easily attached to and removed from surfaces, such as shotgun receivers and MOLLE vests, covered with mating loop material. The Hook & Loop SureShell carriers are sold with an adhesive-backed 3M SJ3571 loop fastener that can be glued directly to a shotgun receiver. For Three Gun competitors who do not want to permanently affix the loop fastener material to their shotguns, we also offer loop fastener bracket kits that are attached mechanically and can be easily removed at any time. Please note: these Hook & Loop Mount kits do not include the Hook & Loop SureShell carriers, which are sold separately. mesatactical.com
SMITH & WESSON
SW22 Victory Target Model Pistol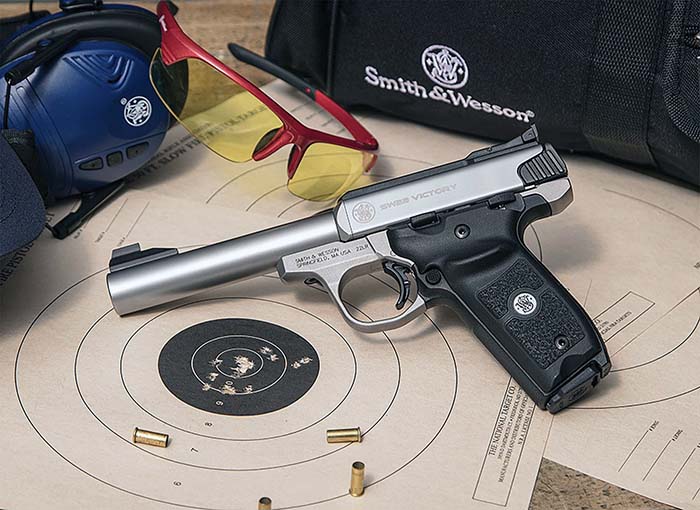 Chambered in .22 LR, the new SW22 Victory Target Model pistol incorporates features designed for competitive target shooting, including target sights, custom target thumb rest grip and polished feed ramp. smith-wesson.com
The new SW22 Victory Target Model pistol features include:
5.5-inch bull barrel
Target trigger with adjustable trigger stop
Black blade front sight and adjustable rear target sight
Textured, polymer target thumb rest grip panels for both right- and left-handed shooters
Picatinny-style rail for use with an optic
The SW22 Victory Target Model pistol is available with a 10+1-round capacity and ships with two magazines.
TANGODOWN
OD Green Additions to the Vickers Tactical Lineup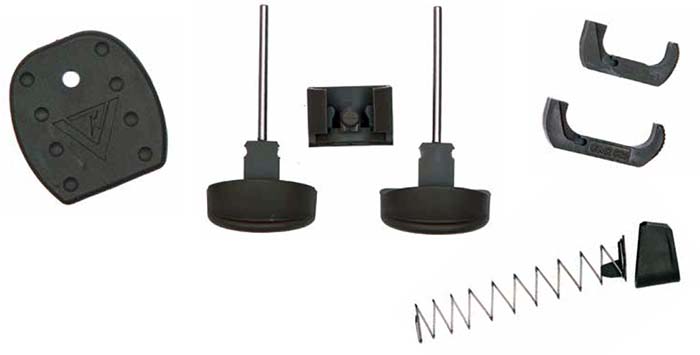 We're pleased to announce OD Green accessories being added to the Vickers Tactical Glock accessory line. Take advantage of your favorite VT Glock accessory in OD Green or the other colors already available. See below listing of parts available in OD Green:
Glock 43 +2 Extension (VTMFP-006?/43)
Glock 43 Mag Release (GMR-006?/43)
Glock Floor Plates (VTMFP-001)
Glock Mag Release for Gen 4 Models 17/19/22/23/26/27/31/32/34/35/37 and Gen 5 Models 17 & 19 (GMR-003)
Glock Grip Tool for Gen 4 Models 17/19/22/23/31/32/34/35 and Gen 5 Models 17 & 19 (GGT-02)
All information can be found under the "Items for Glock" tab. TangoDown.com
ALIEN GEAR HOLSTERS
ShapeShift Driver Defense Holster and ShapeShift Driver Defense Expansion Pack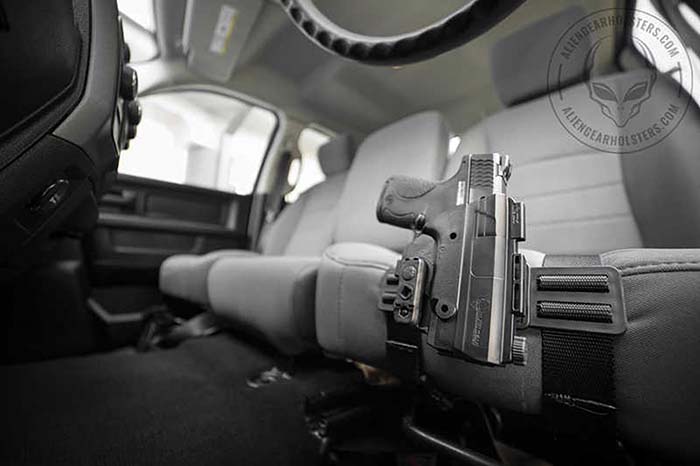 Alien Gear Holsters' ShapeShift Driver Defense Holster and ShapeShift Driver Defense Expansion Pack offer a non-invasive way to secure your firearm in the most accessible position while commuting. Designed to be easily installed and compatible with the most popular vehicle seats, the Driver Defense Holster buckles around the vehicle seat and secures the firearm between the knees. The holster is compatible with the ShapeShift Modular Holster System and is intended to make it convenient and safe to transfer the carrier's firearm from their holster to their vehicle. The Driver Defense Holster offers an alternative option for those who need to secure their firearm when driving, but want a less permanent solution. Compatible with the ShapeShift Modular Holster System, carriers can press the quick-release button on their current holster and transfer their firearm with a fully covered trigger to the Driver Defense Holster in one quick motion. This vehicle holster is also compatible with the Cloak Mod OWB Holster. The ShapeShift Driver Defense Holster comes with Alien Gear Holsters' Forever Warranty and 30-Day Test Drive. aliengearholsters.com
CMMG
MkW ANVIL XLR2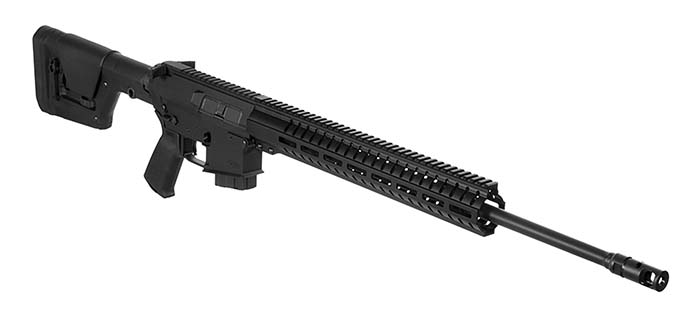 CMMG has announced the release of its all-new MkW ANVIL XLR2 chambered in 6.5 Grendel for long-range hunting. CMMG's MkW ANVIL is a mid-sized AR rifle platform that is uniquely engineered to easily handle calibers with large casing diameters and significantly high bolt thrust. The most defining feature of the ANVIL is CMMG's unique POWERBOLT design, which allows the rifle to utilize a modified AR-10-sized bolt for increased durability. cmmginc.com
The rifle includes:
22-inch barrel with 1:8 Twist for maximum long-range accuracy
Geissele Automatics SSA 2-stage Trigger
Fully ambidextrous CMMG charging handle and safety selector
CMMG SV muzzle brake and RML15 MLOK hand guard
Magpul Moe pistol grip and PRS stock
Each MkW ANVIL in 6.5 Grendel ships with one 10-round magazine and is backed by CMMG's Lifetime Quality Guarantee.
SMITH & WESSON
M&P Bodyguard 38 Revolver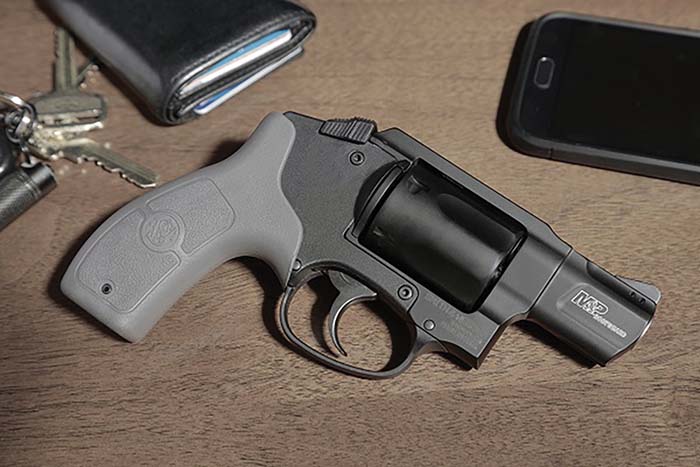 The new non-laser M&P Bodyguard 38 revolver features a gray, polymer grip, updated styling and a serrated ambidextrous cylinder release that is easily operated by left-handed shooters. Chambered in .38 S&W Special +P, the new M&P Bodyguard 38 revolver is double-action only and features a 1.875-inch stainless steel barrel with a lightweight, one-piece aluminum alloy upper frame, making it an ideal choice for concealed carry and personal protection. The revolver also features a pinned, black ramp front sight, ambidextrous cylinder release and a smooth trigger pull with a 5-round stainless steel cylinder. smith-wesson.com
TRIJICON
1-8 x 28 AccuPower LED Riflescope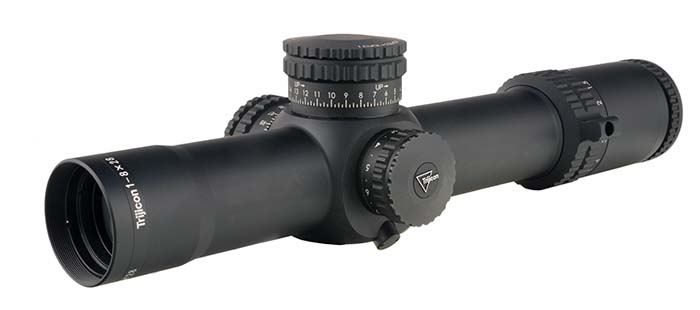 The Trijicon AccuPower 1-8×24 offers the ultimate in versatility, durability and functionality for a variety of applications. Packed with features for the serious shooter, Trijicon's 1-8x AccuPower is built around a first focal plane reticle to enhance speed and accuracy. Users enjoy superior optical clarity and brightness with Trijicon's multi-coated, broadband anti-reflective glass. An increased exit pupil delivers better light transmission through the 34mm tube with a true one (1) power setting and a full eight (8) power at maximum using an integrated zoom ring and optional extender. Compact enough for any AR, hunting rifle, or carbine it provides a power range meeting most any practical need. trijicon.com
SIG SAUER
SIG 365 Ammunition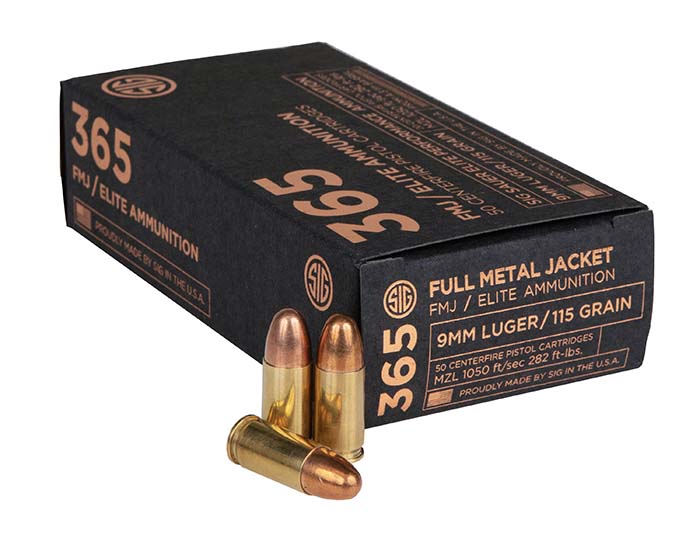 SIG SAUER, Inc. introduces new, high-performance SIG 365 Elite Performance Ammunition in 115gr 9mm SIG V-Crown and SIG full-metal jacket (FMJ) loads. Designed for optimal performance in short-barrel, concealed carry pistols, such as its namesake—the revolutionary P365 high-capacity, micro compact—SIG 365 ammunition uses low-flash, clean burning powders for maximum performance and shootablity. SIG V-Crown stacked hollow point ammunition is especially effective for personal defense. The proprietary V-Crown bullet delivers exceptional on-target energy with maximum weight retention and expansion for ultimate stopping power; the V-Crown's coated, nickel-plated cases provide enhanced lubricity, superior corrosion resistance and reliable feeding and extraction. SIG FMJ training ammunition features durable, copper-jacketed bullets that stay with the lead on impact and offers affordability and performance. sigsauer.com
MESA TACTICAL
Sling Ring Shotgun Sling Mount for Rem 870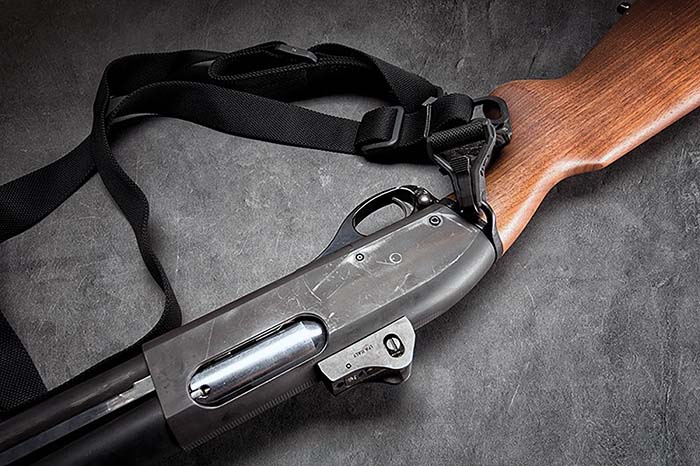 The simple and strong Sling Ring shotgun sling mounts fit between the shotgun receiver and stock and accept quick-release, hook-style sling attachments. The Sling Ring shotgun sling mount fits between the stock and the receiver of a tactical shotgun, providing a sturdy loop for the fitting of single-point or three-point slings featuring H&K-style hooks or Magpul Paraclip attachment points. Unlike similar sling loops, Mesa Tactical Sling Ring shotgun sling mounts are cast steel, not aluminum, and they have no sharp edges to catch on webbing or skin. They are available for left-side or ambidextrous mount. Finally, they are priced attractively so agencies can afford to install them on every shotgun in the armory. mesatactical.com
VERTX
Guardian and Assessor with WeaponGuard Technology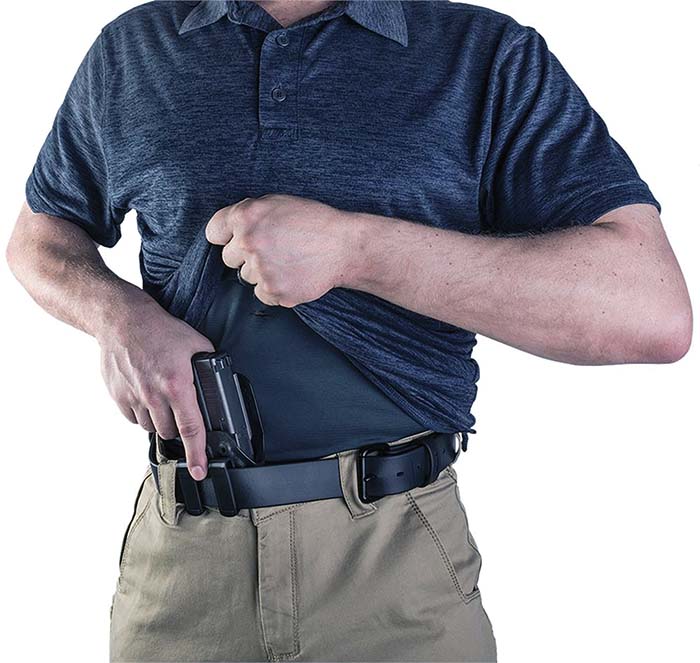 Vertx announces the launch of its new line of shirts designed to comfortably carry concealed weapons and gear. The collection includes the new Guardian button-down-style shirt and the Assessor polo. Both shirts are part of the Vertx VaporCore line, which includes garments powered by 37.5 Technology woven into their fabric, assisting to regulate the body's core temperature. The WeaponGuard feature protects wearers from skin irritation caused by carrying concealed weapons without an undershirt. The Guardian shirt has an under layer that is designed to comfortably guard the skin from chafing caused by concealed weapons and is available in two solid colors and two modern plaid patterns in both long and short sleeve. The Assessor polo has a semi-compression under layer that is designed to remain tucked into the pant, protecting the wearer from skin irritation caused by concealed carry. The short-sleeve Assessor polo is available in three heathered colorways. vertx.com
NIKON SPORT OPTICS
P-TACTICAL SPUR Reflex Sight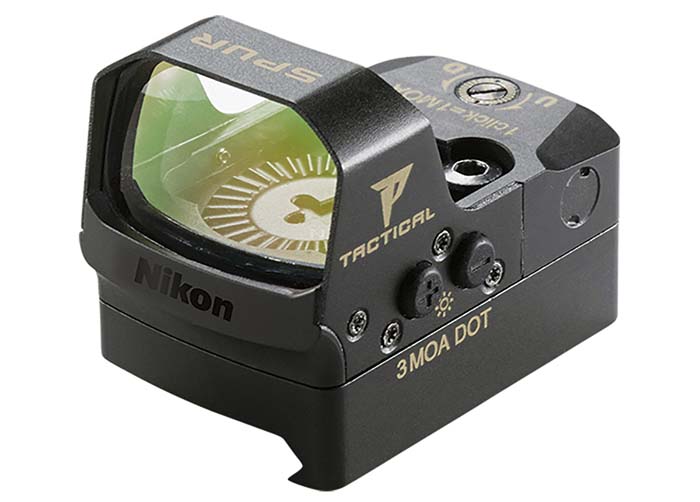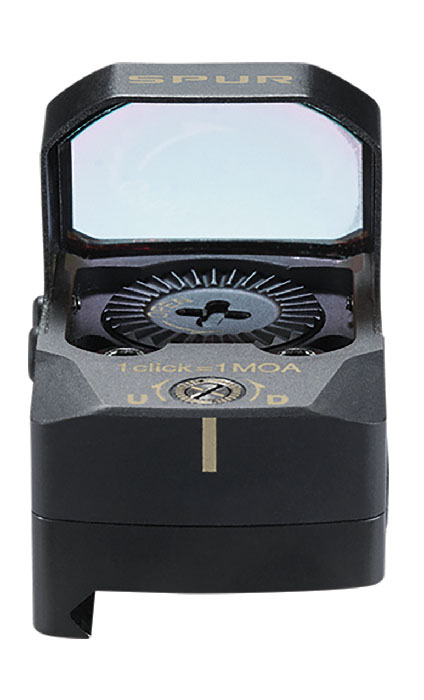 For 2018 Nikon introduces the SPUR Reflex Sight to its new P-TACTICAL optics family, which can be used for a variety of applications. With a 3 MOA red dot, long battery life and an extensive list of features, SPUR is an ideal optic for virtually any firearm platform where fast, reliable, intuitive sighting is desired. Engineered with fully multicoated lenses and Nikon's proprietary "TRUCOLOR" coating, the P-TACTICAL SPUR provides a clear, natural view for both-eyes-open sighting. The SPUR's 3 MOA dot is adjustable with 10 levels of brightness and is centered within a 27mmx16mm sighting window for an extra-wide field of view with unlimited-and-non-critical eye relief. Battery life for the P-TACTICAL SPUR is estimated to be 15,000 hours of continuous usage; the red dot in the display will flash to indicate it is time to change batteries. The sight includes a removable Picatinny rail mount for fast, easy mounting to MSRs or any firearm with Picatinny rail or base and a protective hood that covers the sight during storage. The sight and its components are covered by Nikon's 5-year warranty. NikonSportOptics.com
This article first appeared in Small Arms Review V22N7 (August 2018)