Small Arms Review Editorial Staff
HORNADY
6mm Advanced Rifle Cartridge
Recently tested, selected and fielded by a specialized group within the U.S. DoD for its multipurpose combat rifle program, Hornady's 6mm Advanced Rifle Cartridge (ARC) is a truly versatile cartridge that maximizes the potential of the AR-15 platform. The consumer offerings will feature bullets selected to deliver ideal performance for hunting, match shooting and personal protection applications. The 6mm ARC delivers substantially better ballistics than the 5.56 NATO with similar recoil and yet delivers comparable ballistics to the venerable .308 Winchester with 30% less weight on both weapons system and ammunition. The 6mm ARC will be available in the following product lines: 6mm ARC 105-grain BTHP Hornady BLACK; 6mm ARC 108-grain ELD Match; and 6mm ARC 103-grain ELD-X Precision Hunter (available Fall 2020). Hornady also offers everything needed to reload the 6mm ARC with a multitude of existing 6mm Hornady bullets, dies and components. Reloading data will be available on the Hornady Reloading App. hornady.com
STREAMLIGHT
Vulcan 180 HAZ-LO Safety-Rated Lantern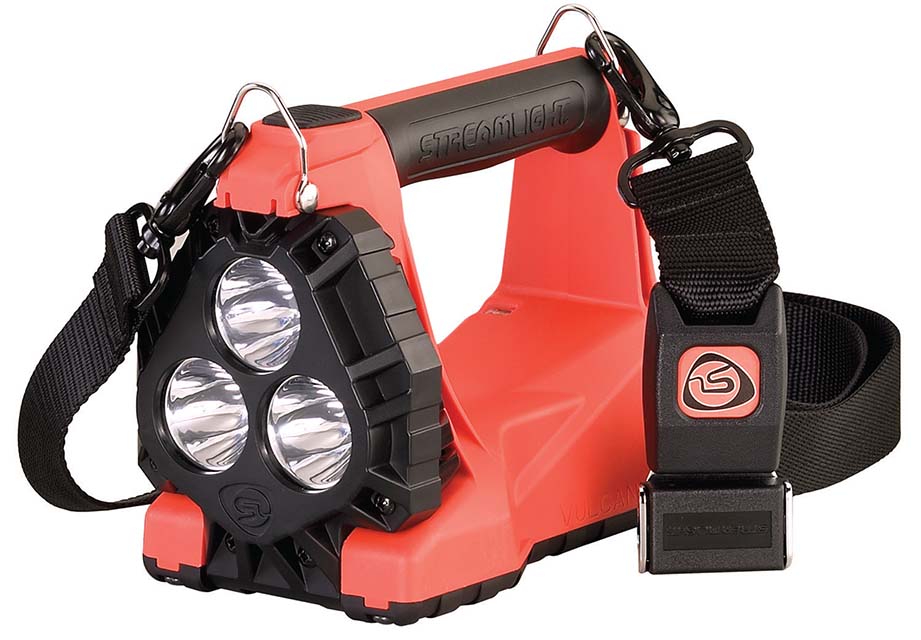 Streamlight Inc. introduced a Class 1, Division 1 safety-rated lantern in its Vulcan series for use in hazardous environments faced by many first responders. Lightweight, compact and waterproof, the Vulcan 180 HAZ-LO features a 24-hour run time on low, 180° articulating head and two ultra-bright blue taillights for visibility in thick smoke. It delivers 400 lumens, 25,000 candelas, a 316m beam distance and a run time of 10 hours on the high setting. On low, it provides 130 lumens, 8,000 candelas and a 128m beam distance. The light is encased in a durable, super-tough nylon and is IP67-rated for waterproof operation to 1m submersion and also floats. The Vulcan 180 HAZ-LO comes with Streamlight's Limited Lifetime Warranty. streamlight.com
SAFARILAND
Integrated Light / Handle for PROTECH X Series Ballistic Shields 
The Safariland Group introduced its next generation Safariland PROTECH X Series ballistic shields featuring the FoxFury Taker B70 integrated shield light and handle. The X Series lightweight shield with its integrated lens cap combined with the feature-laden light / handle design provides a clean look and further reduces the overall weight. Two handle options are offered: the standard horizontal handle or a 3-position handle design co-developed by Safariland in partnership with FoxFury. The exclusive 3-position handle is ambidextrous and features ergonomically designed pressure switches which are easily activated by the thumb. 
The X Series models with the FoxFury Taker B70 Integrated light and handle feature a top-of-the line LED light with the functionality merged into the handle design. The cord-free light is bolted to the shield through the handle and is powered by six CR123 batteries which are incorporated into the handle, eliminating the need for battery packs and loose, external wiring typically seen on ballistic shield lights.  safariland.com 
STRIKEHOLD
Lubricant, Protectant and Cleaner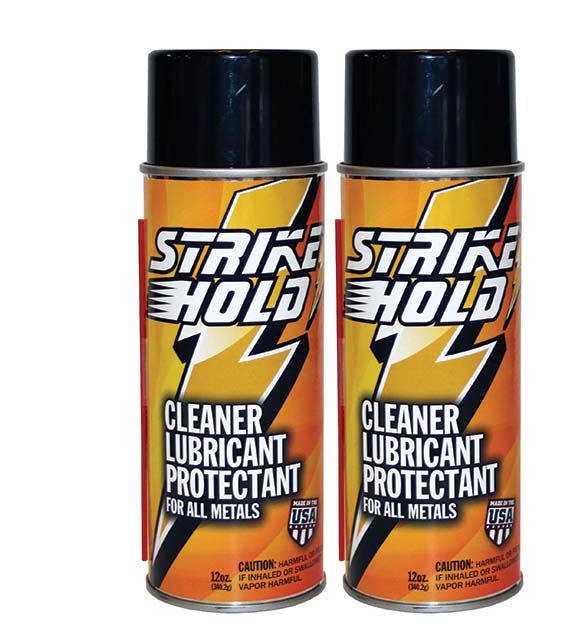 Whether sport hunting, target shooting or using firearms in the line of duty or for self-defense, gun owners expect their weapons to discharge every time without fail. This requires proper firearm cleaning and lubrication after virtually every use. Michael Huggard (formerly of the 504th of the 82nd) engineered StrikeHold, which is a highly effective, fast-acting lubricant, protectant and cleaner. It goes on wet and dries in place, leaving a hard finish coating that protects weapons by deterring carbon build-up, contaminants and corrosion in all weather conditions. As a cleaner, it removes firing residues, gum build-up as well as foreign debris from weapons components. As a lubricant, it contains synthetic-based additives that act like microscopic ball-bearings to reduce friction. The gun cleaner has been battle-tested on all types of weapons systems from 9mm pistols to M110 sniper rifles, M4 to .50 caliber, field artillery and even M1A2 Abrams tanks. StrikeHold will not freeze in use.  strikehold.com 
MASTERPIECE ARMS 
Pork Chop Rifle 

MasterPiece Arms (MPA), manufacturers of the MPA BA rifles and chassis systems, has added a fourth rifle to its MPA BA Hunter Rifle line, the MPA Pork Chop Rifle. This latest addition is purpose-designed for varmint hunters, ranchers and herd management purposes. Built upon the MPA Hybrid Chassis, the MPA Pork Chop Rifle is customized with its own Cerakote paint scheme, including a laser engraved hog with the words "Pork Chop" underneath it. The MPA Hybrid Chassis is machined on MPA's CNC horizontal machining centers to exacting tolerances from 6061 aluminum. This aluminum frame provides a significant amount of technology to improve the hunter's experience, including the MPA RAT rail, adjustable cheek riser and length of pull (LOP) assembly, enhanced vertical grip (EVG) grip and thumb notch, inclinometer leveling system, V4 spigot mount and a special short LOP buttstock. MPA can fine-tune the build to the hunter's or rancher's specific application from caliber selection, chamber dimensions, barrel length, contour, twist rate and chassis finishing. masterpiecearms.com
PULSAR
Digex Digital Riflescope N450 & N455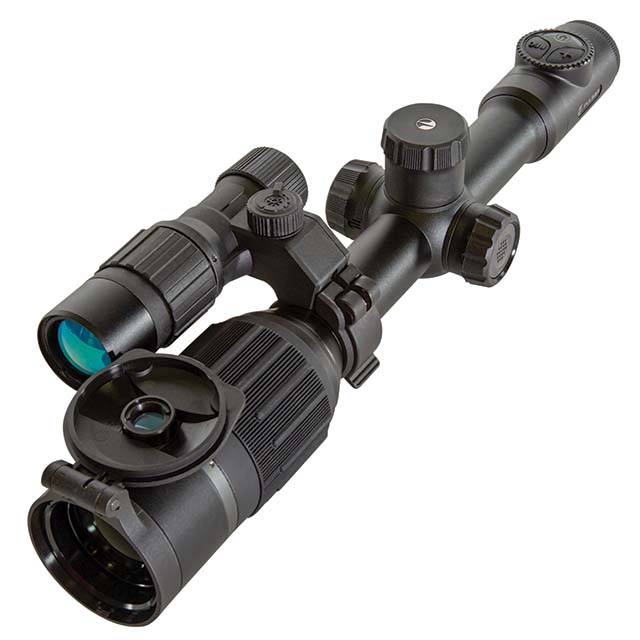 Pulsar has released its newest line of digital riflescopes. The Digex comes in two models, the N450 and N455, and both feature a highly detailed 1280×720 sensor with up to 600-yard detection range in complete darkness. Additionally, the Digex features built-in recording with sound, picture-in-picture digital zoom and Wi-Fi remote view with stream vision compatibility for iOS and Android devices. The sole difference between the N450 and N455 is the IR Illuminator: the N455 has a 940nm invisible IR and has a 550-yard range; the N450 has an 850nm visible IR with 600-yard range. Digex digital riflescopes also boast 1024×768 AMOLED displays, adaptability to external power supplies, five rifle profiles with 10 zero distances, variable electronic reticles, a stadiametric rangefinder and SumLight function to increase sensor sensitivity and allow passive observation. pulsar.com
BIG HORN ARMORY 
AR500 Auto Max Pistol Model 
Big Horn Armory (BHA), makers of big-bore firearms, is pleased to announce it has reintroduced the AR500 Pistol for 2020. Based on the BHA AR500 Rifle, the AR500 Pistol is a large-frame AR chambered in 500 Auto Max, a rimless .500 Smith & Wesson Magnum. The new pistol has been updated and upgraded with a new Blade pistol brace and M-LOK handguard and also includes an ambidextrous safety and charging handle to make shooting it even more enjoyable. It comes with one five-round magazine, but additional five- and nine-round magazines are available. The AR500 has an adjustable gas block to allow the user to run subsonic loads using a suppressor.  bighornarmory.com 
STEINEL AMMUNITION 
9mm Subcompact Carry Solid Copper Hollow Point (SCHP)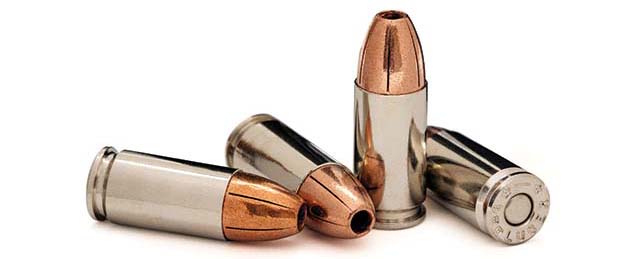 Steinel Ammunition has launched its first-of-its-kind premium defensive ammo for the 9mm with the 9mm 124-grain Subcompact Carry Solid Copper Hollow Point (SCHP). The Steinel 9mm Subcompact Carry load is perfectly suitable for any 9mm, regardless of barrel length, but its performance is optimized for the shorter, subcompact and compact-sized pistols. Taking the standard "cup and core" jacketed hollow point typically used in 9mm rounds for decades, Steinel Ammunition added modern CNC and EDM technology to produce this premium SCHP bullet. The 9mm Subcompact Carry bullets combine premium components such as Maker Solid Copper Hollow Point bullets, new Starline Brass nickel-plated casings, Hodgdon powder and CCI's primers. The bullets expand to a diameter of 0.706 inch when fired from a 3-inch barrel at 960 fps. Fired from a 4.7-inch barrel, the bullet expands to a diameter of .857 inch with 1,050 fps velocity. steinelammo.com 
PRIMARY ARMS OPTICS
GLx Rifle Scopes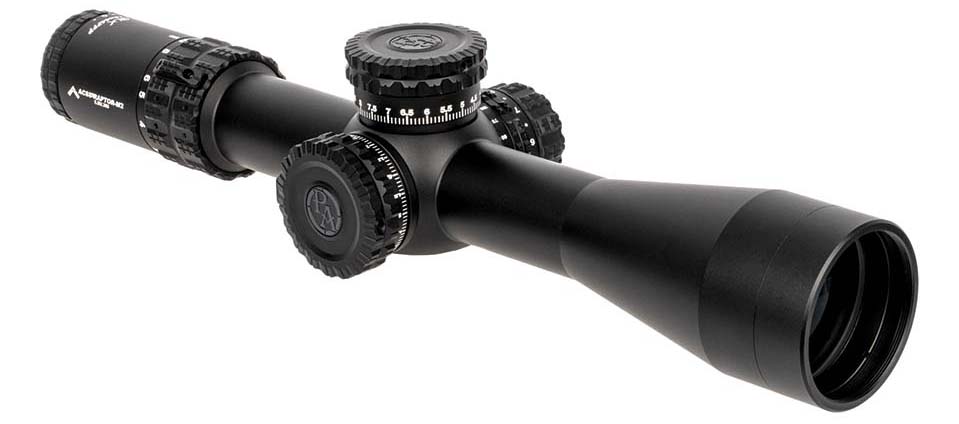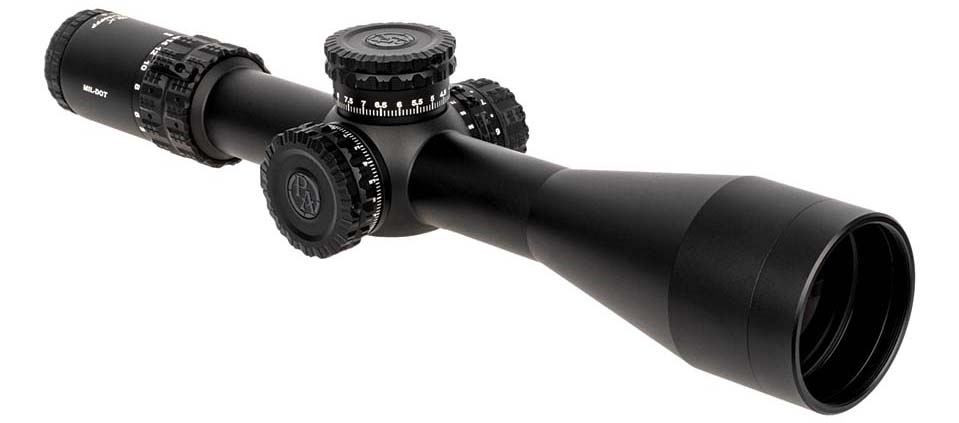 Primary Arms Optics is now shipping two new GLx 2.5-10×44 FFP ACSS Raptor M2 and GLx 4-16×50 FFP MIL-DOT rifle scopes. The GLx 2.5-10×44 rifle scope is a versatility-driven powerhouse, offering a 44mm objective lens without the heavy weight. This lens draws more light than comparable 24mm LPVO lenses, providing the user with an exceptional image quality for greater precision at distance. In close quarters, the large eyebox and lightweight body make this optic nimble, as targets are quick to acquire with the innovative ACSS reticle. 
For long-distance precision, the GLx 4-16x50mm FFP rifle scope with MIL-DOT reticle blends tradition with GLx innovation. The enhanced turret design features steel adjustment rings, which guarantee flawless tracking accuracy to last a lifetime. Both GLx rifle scopes come with enhanced locking turrets with return to zero, AutoLive motion sensing reticle illumination and a hardened steel-on-steel adjustment system. primaryarms.com
This article first appeared in Small Arms Review V24N8 (Oct 2020)