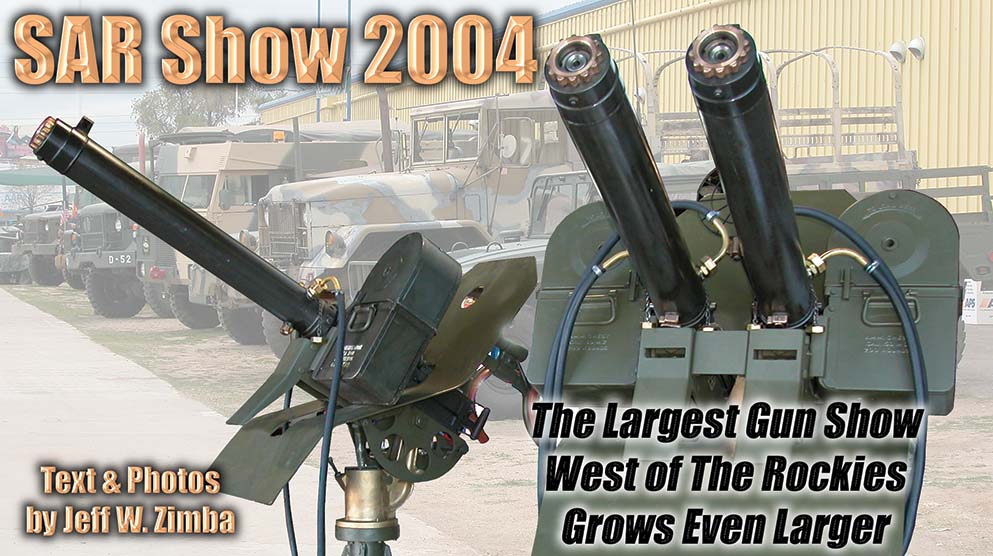 Text & Photos by Jeff W. Zimba
The combined efforts of Small Arms Review magazine and Crossroads of the West Gunshows have launched the annual SAR Show once again, to new heights. Reaching a level far surpassing that of a standard gun show, the SAR Show must now be billed as an event of great proportions.
With nearly a quarter of a million square feet of dealer space in five buildings and two enormous tents, the huge number of venders and exhibitors can still not be contained without setting up outside. As if a gun show of this size is not enough of a draw, it is now combined with a military vehicle show, military and western costume contests, life size reenactment displays (from the Civil War to World War II), live music and an ever-expanding food court that is certain to please the taste buds of any visitor.
It was heard several times that this event was becoming unlike any other gun show people were used to attending, and had many shades of the now defunct Great Western show in Pomona, California. The show has grown into a 3-day event for good reason. It is no longer possible to look at everything at the fairgrounds in only 1 or 2 days. The author has walked all over the show in the past few years and has missed several interesting deals because there is just so much to try and digest.
There seems to be nothing that can't be located at this ever-expanding show. For the Class III enthusiast, there is a separate 55,000 square foot building with over 450 tables and booths filled with merchandise from the leaders of the machine gun industry. Those regularly in attendance include Kent Lomont, Ohio Ordnance, Long Mountain Outfitters, Dennis Todd, Gemtech, John's Guns, Vector Arms, Robinson Armament, Lakeside Guns, and many more. Leaders in the semiautomatic market and parts industry are also well represented. Those well-known dealers in attendance include J&T Distributing, TAPCO, Model 1 Sales, DS Arms, DPMS, Century International, Ordnance Research, Mesa Tactical, Valkyrie Arms, and a number of others. When it comes to gun care and gun finishing, some of the best and brightest in our industry were also there. You will recognize such names as Lauer Custom Weaponry, Slip 2000 and Blue Wonder, among others. If you are simply searching for knowledge, the number of collective minds of the Class III world at the SAR Show is nothing short of astounding. Some names of regular exhibitors you may recognize are Dolf Goldsmith, author of The Devils Paintbrush – Sir Hiram Maxim's Gun and The Grand Old Lady of No Mans Land – The Vickers Machine Gun, and Folke Myrvang, author of MG34, MG42 – German Universal Machine Guns. Our own Dan Shea, author of the Machine Gun Dealers Bible, is always available to talk, when you can catch him in a rare, free moment. Many of the SAR regular contributors (or Usual Suspects as they are known) can also be found roaming the gun show grounds during the show and all enjoy talking shop with fellow enthusiasts. Some of those spotted at the SAR Show 2004 included Robert Segel, Dr. Phil Dater, Chuck Madurski, Doug Melton, and Brian Gustafson.
As an unprecedented event, Long Mountain Outfitters scheduled a meeting between some of the NFA Branch leaders at BATF&E and interested dealers who were attending SAR Show 2004. The speakers included our Firearms Attorney, Gary Schaible – a well known NFA Branch Specialist, and Kenneth E. Houchens – Chief of the National Firearms Act Branch. The price of admission to this meeting was free, and the meeting was divided into three segments. There was a brief introduction followed by statements from the guests and questions from the dealers that were answered by those on the panel. The third segment allowed the dealers to discuss particular and personal issues with the panel in a one-on-one setting. Everyone came away with a positive attitude from the meeting and the overall feeling was that the door had finally been opened between NFA Branch and those in the industry who must rely on their decisions. It was quite obvious that the leadership at BATF&E intends to bring up the level of "customer service" at the NFA Branch and had some positive thoughts and ideas regarding this. An NFA weapons amnesty was discussed and it was made clear that the Congress will have to pass legislation allowing this to happen. Our Firearms Attorney mentioned the Veterans' Heritage Firearms Act (HR5176) submitted by Representative Jim Gibbons (R-Nevada). This Act would allow an amnesty period during which veterans and their family members would be allowed to register guns that the U.S. military had allowed them to take home after their tour of duty as war souvenirs.
Highlights of SAR Show 2004 included several new products available for the first time, as well as some extremely rare vintage firearms that could only be found at a gathering of this type. You could read the crowd to guess where these highlights were as there was usually a larger-than-normal group of people hovering around these areas.
I'll start with some of the new products. Lakeside Guns of Pound, Wisconsin, developed a belt-fed, rimfire upper receiver for the M16 family of firearms. They had their first prototype on display for people to handle and inspect. It will function with their standard cloth belts and their new disintegrating links. It will be sold for use with semiautomatic AR-15 variants as well as their select fire M16 counterparts. Several accessories are being designed for use with their new upper including a belt box, brass catcher and link/belt catcher. They anticipate the units will be available for sale in late 2005 at a yet to be determined price. This author has had the opportunity to handle and fire the prototype and will have a full feature article as soon as production units are made available.
Vector Arms had their newest product on display to lucky SAR Show 2004 visitors. The latest addition to their line of HK style firearms is their V-51. For all of you who liked their V-53 .233 variant but wanted a 7.62x51mm, your wish has been granted. The V-51 is their short-barreled version of the HK91 and will utilize standard HK91 magazines. They are expected to be available the beginning of 2005 at a price in the area of $1,000.
POF introduced their new P-416 Gas Piston AR-15 / M16 Upper Receiver. Their new system utilizes a gas piston and op-rod, and totally eliminates the gas tube and gas rings. The bolt carrier has been redesigned to operate with their revolutionary new system. All parts are chrome plated and no tools are necessary to disassemble the system for field maintainance. The upper is shipped complete with Predator P-4X free floating tactical rail system with sling/bipod mount, Troy Industries flip up rear battle site, removable, fixed front site, POF-USA Heavy M4 profile fluted 1:9 twist chrome-lined barrel, Young Mfg. Vortec flash hider and Magpul Ladder rail covers. An evaluation unit is on the way to SAR for an evaluation in an upcoming issue.
The Shrike. Yes, the elusive Shrike, manufactured by ARES Defense of Blacksburg, Virginia was spotted at SAR Show 2004. The Shrike 5.56 is a quick change barrel (QCB), belt-fed upper receiver for the AR-15 / M16. It was featured in SAR in the March 2003 issue (Vol. 6 No. 6) and was slated for release around that time. Since then, many production delays have occurred and the projected delivery dates have been pushed ahead several times. Although we have heard of some units shipping in the last few months, this seems to be the first time there has been a confirmed sighting of the final retail product. There were no less than 4 of these units at SAR Show 2004 and at least 2 of them were offered for resale and sold. I called Geoffrey Herring, the proprietor of ARES Defense for a progress report, and he told me units are currently shipping to initial depositors and he expects the balance of the earlier orders to be completely shipped by early 2005. This is fantastic news for the Class III community.
There were some amazing collections of older machine guns for sale at this show. On the far end of the SAR Show 2004 building there was an entire island shared by Michael Shyne and the Rocky Mountain Fifty Caliber Shooting Association. Their island immediately stood out by the size of the guns they had on display. There was a 20mm Lahti (one of several at the show), a 20mm Solothurn, a 37mm Bofors anti-tank gun, a Gatling gun and five .50 caliber water-cooled machine guns with two of them mounted on an anti-aircraft M46 twin pedestal mount, and three others mounted on single anti-aircraft M43 pedestal mounts.
In another aisle, there was an original 1872 British Armstrong Gatling Gun on an original metal wheeled field carriage. Chambered in .45 Gardner/Gatling this gun was manufactured by Sir William G. Armstrong & Co. and is gun number 33 of the first 40 guns purchased by the British Army. Some of the places the British Gatling Guns saw military action include the 1873 and 1874 fight against the Ashanti Tribe and the 1878 Zulu Wars. This amazing gun was for sale for a mere $225,000. At the opposite end of the building, there was a gorgeous original Naval Model 1883 brass Gatling Gun with its ten barrels completely enclosed in a brass housing. One can visit many gun shows in the course of a year, in all parts of the United States, but very seldom see 3 original, full-scale Gatling Guns in the same room. For other rare guns spotted, there were five MG81Z's at the show.
The SAR building is easy to spot on the fairgrounds with its numerous banners. Something else that immediately gives it away is the line of military vehicles outside the building. This year's showing included a few tracked vehicles and a Saracen, a Pinzgauer a Bren Gun Carrier and a Weasel. Unlike many military vehicle shows, this included a number of vehicles for sale; not just on display. On the opposite side of the food court there was an excellent vehicle display that included life-size mannequins outfitted in such impeccable detail that the scene was almost eerie.
In summary, what originally started as an add-on to an excellent, established Phoenix gun show has evolved into a full-blown pilgrimage for the Class III enthusiast. People from all over the world are starting to take notice. One visitor I spoke with is from New Zealand and this was his third year in attendance. I spent some time with Sang-Ho (Ted), Tae of Platoon Magazine who flew in from Seoul, Korea to cover the event. This was his third trip to the show as well. There are already plans in the works to expand even more for SAR Show 2005. More dealer space is being investigated, a larger, expanded food court is being planned and even the return of a live band is being considered. As usual, SAR Show 2005 will again be held at the Arizona State Fairgrounds and the dates will be December 2-4. For more information you can contact Moose Lake Publishing at (702) 565-2926 and as the event date gets closer, you can find details about the show at www.smallarmsreview.com.
line breaks between paragraphs. Single
are good for spec lines. This is bolded. This is italics. This is underline. This is all three…
This article first appeared in Small Arms Review V8N6 (March 2005)