The headquarters for the SAR 10th Anniversary Convention was the recently opened South Point Casino & Convention Center. (Photo by Albert Valenzuela)
By Jeff W. Zimba
Six Days of Seminars, Shows and Shoots cap off the 10th Year AnniverSARy of publishing Small Arms Review Magazine. When you think of publications specializing in military small arms you think of Small Arms Review magazine. When you think of attending a World Class Convention you think of Las Vegas, Nevada. Since the 120th issue of Small Arms Review had long been on the newsstands and several more were being prepped as usual, a celebration was in order. This celebration indeed took place and it was headquartered at the south end of the world famous "Las Vegas Strip."
The South Point Casino & Convention Center, one of Las Vegas' newest and most modern facilities was the official headquarters. The event lasted for 6 days, beginning with Conventioneer Registration and a social hour on Wednesday August 22. Upon registering, each Conventioneer was treated to a package including an exclusive Convention T-Shirt, hat, printed canvas bag, an official convention challenge coin, a logo coffee mug, pre-registered seminar event tickets, banquet tickets, gun show passes, and exclusive firepower demo and manufacturers demo range passes (including world class BBQ at the range), including bus transportation to and from the events.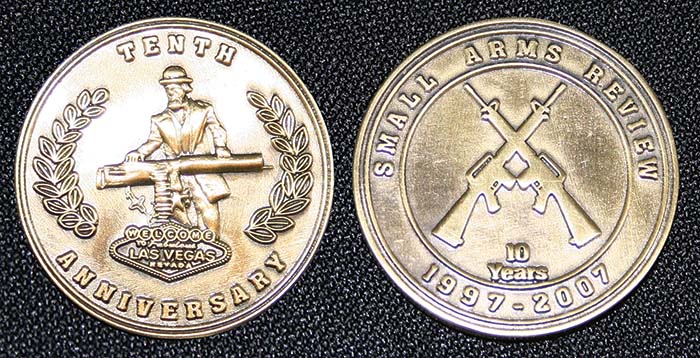 Thursday began the start of the seminars. There were eight 3-hour seminars broken down into four morning segments and four afternoon segments. They were repeated again on Friday giving conventioneers the ability to attend two morning and two afternoon classes of their choosing. Each seminar was prepared and presented by an industry RKI with an intimate knowledge and background in their particular field. The names of the presenters should all be familiar to the readers of Small Arms Review. The seminars were as follows:
Early Machine Guns; The History and Roots of the Early Designs from 1863 through 1918 – Robert G. Segel
Stoner Chronicles: From the First Designs to the Stoner 63 – Dan Shea
Kalashnikovs! The AK Seminar – Frank Iannamico
The MG34 & Keeping Them Running – Greg Souchik
Sound Suppressor Technology & Testing – Dr Philip Dater
Heckler & Koch: A Taste of the Black Forest – Captain Tom Dresner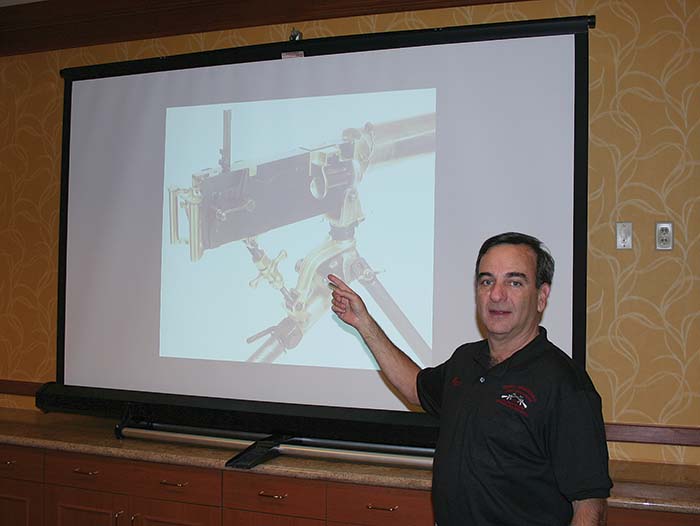 After the classes each evening there was a conventioneer's reception where writers, conventioneers and other attendees could mingle and talk. Following the last classes of the afternoon on Thursday was an open invitation to the SAR Writers Seminar. The writer's seminar was presented by SAR Senior Editor Robert Segel, SAR Production Manager Jeff Zimba, SAR General Manager Dan Shea and SAR Business Manager Debbie Shea. It was an opportunity for an open discussion detailing what SAR is looking for in future submissions. Such topics as suitable content, photographic requirements, and copyright information were explained in detail. This forum was heavily attended, much to everyone's delight, and it ended up being a standing room only event. We are looking forward to plenty of new submissions coming in from a larger and extremely enthusiastic base of potential new writers. The writer's seminar was followed by the Thursday evening Conventioneers reception.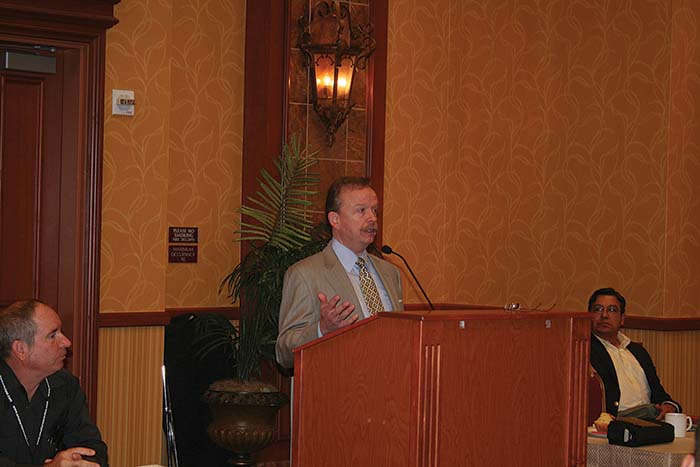 On Friday, after all the classes were concluded in the afternoon, ticketed attendees boarded one of several luxury motor coaches at the South Point Casino and were promptly delivered to the Desert Lake Country Club for the beginning of the Class III Manufacturers Live Fire Demonstration. Several manufacturers including Gemtech, Long Mountain Outfitters, The Glock Doctor, Elite Iron, Surplus International, Safetydisc Products, Doublestar Arms, and many others demonstrated their latest products and invited the range guests in attendance for some hands-on live fire testing. (Ed note: An unfortunate PA malfunction has been addressed for next year, as well as the addition of bleachers for the crowd). Several new products were unveiled making their first public appearance. Elite Iron unveiled a few new items from their suppressor line that brought an impressive reaction from those in attendance. Their .338 Lapua Silencer and their .50BMG Silencer were both demonstrated and the sound suppression was so great that no hearing protection was necessary for either. Both were extremely quiet and you should expect to read much more about Elite Iron's new lineup in a future issue of Small Arms Review. You can also visit them on line for more information at: www.Eliteiron.net. Safetydisc Products demonstrated their unique 12 gauge ammunition by shooting blocks of clay. While the "wound channel" was enormous, due to the design of the ammunition there was no over penetration of the clay blocks. You can find more information on their ammunition at: www.safetydisc.com.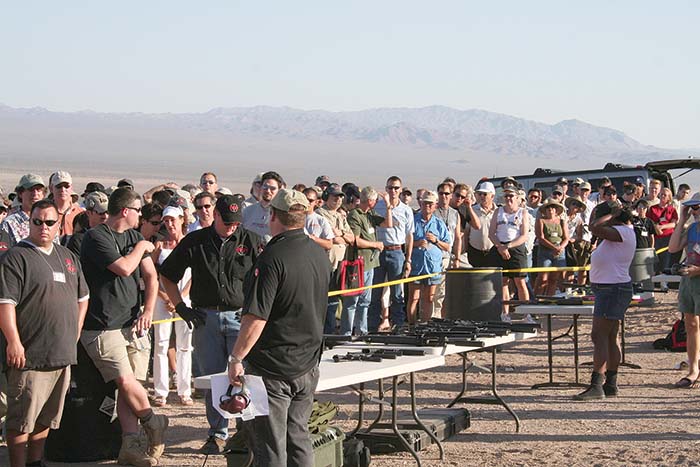 After the conclusion of the manufacturers' demonstration, participants and conventioneers were treated to some fantastic Southern BBQ from Lucille's. After dinner, they returned back to the range for the "Mad Minute Firepower Demonstration" to finish up the day. This event was sponsored by Surplus International and Long Mountain Outfitters. On the correct range command, a controlled and predetermined group of shooters simultaneously opened fire with a barrage of weaponry ranging from several Krinkov-Style AKs and 10- inch M16 variants to a Minigun, the SILLC Twin M240s and even an HMMVW mounted .50BMG "Ma-Deuce." After the available, linked and loaded ammo was expended, an audible response similar to that paralleled only by the most patriotic grand-finale of the Independence Day Fireworks went over the crowd to signal the end of the event. Among endless cheers the busses were loaded back up and everyone was delivered safely back to the Convention Headquarters.
Saturday morning started off with a breakfast forum sponsored by NFATCA and included such speakers as outgoing Chief of the NFA Branch – Ken Houchens, Program Manager of NFA Branch – Gary Schaible, Deputy Chief of Firearms Technology Branch – Rick Vasquez and the active board of the NFATCA. Chief Houchens gave an extremely impressive presentation illustrating the massive shifting in a positive direction that the NFA Branch has moved since their move to West Virginia, highlighting the productivity of the new employees and the actual amount of time cut from the processing of the various Forms in the face of increased submissions. Chief Houchens also reported that the total number of NFA firearms in the NFRTR registry has increased from 439,339 in 1990 to 1,943,705 in 2006. The number of weapons (less DDs) processed per year has risen from 92,171 in 2000 to 142,603 in 2006. The number of SOT stamps issued has risen from 2,261 in 1998 to 3,057 in 2007 with 3,311 renewals mailed out for 2008.
Immediately following the NFATCA Breakfast it was time to open the SAR Gun Show. This event was also at the South Point Casino & Convention Center. During the entire gun show there were several door prizes attendees could sign up for to be drawn on Sunday. Some of the prizes included an FN PS90 donated by FNH USA, an FN SPR Sniper Rifle donated by Long Mountain Outfitters, an SBX Upper Receiver from Tactical Solutions, multiple M16 SOPMOD Buttstock Assemblies from Lewis Machine & Tool, several machine gun books and SAR subscriptions from Moose Lake publishing and many, many more fantastic prizes. Several happy people heard their name called out Sunday afternoon. The show itself held approximately 600 tables and it was all Class III related. Just like you have come to expect from a Moose Lake Publishing event, there were no Beanie Baby or Beef Jerky venders taking up valuable Class III space. Some of the local people who attended the show were heard commenting about how impressed they were at the caliber of the people who had displays at this event and it was far from a typical "local Vegas Gun Show." We took that as a complement as it was intended. There were several major manufacturers of the Class III world in attendance to speak to and view their wares in person. Some of the notable businesses who had displays at the show included (but were obviously not limited to) Arsenal, Inc., Sporting Supplies (Wolf Ammunition), Defense Munitions, FNH USA, POF-USA, Lewis Machine & Tool (LMT), Model 1 Sales, Robinson Armament Co., J&T Distributing & Doublestar Arms, Gemtech, Johns Guns, Armalite, Dennis Todd and many more.
Following the close of the gun show on Saturday there was an NFA Procedures Seminar hosted by Dan Shea. In this seminar, he went over general Class III procedures and included some open conversation pertaining to a general "How-to in the Class III World" before breaking off to attend the 10th Anniversary SAR Conventioneer Banquet and Awards Ceremony.
This ceremony was certainly something memorable to top off such an important Anniversary event. It was carefully orchestrated to have a semi-formal feeling without the necessity to wear the uncomfortable black tie. Following an hour of socializing, patrons were seated and the American Flag was unfurled. After a touching rendition of the Star Spangled Banner by Megan Sidon, we were treated to a formal toast by Dan Shea and a few welcoming remarks by SAR Senior Editor Robert Segel. The Keynote speaker was the former Undersecretary of the Navy Dionel M. Aviles, who was both entertaining and enlightening about his views regarding service to our Nation, as well as expressing our gratitude for those currently serving.
Immediately following these speakers, we were treated to an elegant menu and given the chance to relax for a few minutes before the beginning of the award ceremony. The ceremony included 11 awards and they were bestowed as follows, in no particular order;
Lifetime Achievement Award – Small Arms Design – L. James Sullivan
Lifetime Achievement Award – Suppressor Design – Dr. Philip H. Dater
Lifetime Achievement Award – Small Arms Historian – Dolf Goldsmith
Small Arms Innovative Manufacturer of the Year – Lewis Machine & Tool
Technical Writer of the Year – Jeff W. Zimba
Small Arms Historian of the Year – Frank Iannamico
Best Senior Editor, Ever! – Robert G. Segel
Civilian Machine Gun Accessory Designer of the Year – Craig Wheatley of Tactical Innovations
Class II Gunsmith of the Year – T. Mark Graham of Arizona Response Systems
Support The Troops Award – Americansniper.org
Congratulations to everyone recognized by SAR at this event.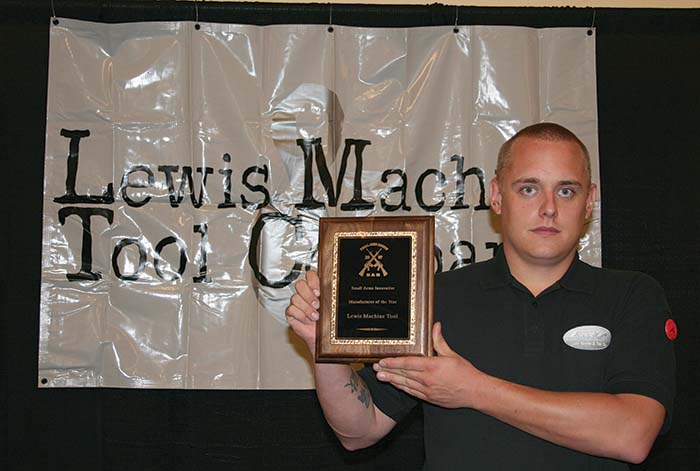 On Sunday, it was back to the gun show and by mid day it was time to draw all the door prizes. By the end of the show so many participants had added so many of their products to the list; it had nearly doubled in size. Several people went home "heavier" than they started and at no additional expense in this case.
As the show started to wind down for most people, it was still firing on all cylinders for another two days. While the majority of attendees were heading home on Monday, there were a new series of classes rolling for the HK Pro group at the LMO facilities in Henderson, Nevada. It looks like the HKPROFEST event will be scheduled again for next year. You can visit their website at www.hkpro.com for more information.
As this issue of Small Arms Review is going to press, plans for the 11th Anniversary Convention are being hammered out. Yes, it's official, there is going to be another convention next year. As details are worked out we will keep everyone informed. Keep an eye on the SAR website (www.smallarmsreview.com) for more information.
Finally, the convention was a success due to you, our loyal readers and supporters. Without you, we would not have celebrated ten years of providing you with the information you desire. Without you, there would be no celebration of the activities we enjoy. But thanks to you, Small Arms Review is growing, strong and solid and we will continue to provide the NFA community the information, and celebrations, that we all benefit from. Thank you!
This article first appeared in Small Arms Review V11N4 (January 2008)