By Todd Burgreen –
Savage Arms becoming a stand-alone firm again after separating from conglomerate Vista Outdoors in July 2019 certainly reinvigorated its creative juices. Savage was originally added to the ATK portfolio in 2013 and subsequent corporate realignments found them with Vista when ATK separated several brands from their holdings in 2015. Savage surged forward with many noteworthy additions to their product line—the award winning Renegauge semiautomatic shotgun and Impulse straight-pull bolt-action rifle being two standouts.
Savage has a reputation for surprising consumers by anticipating their desires. This is an ideal position to be in as a firearms manufacturer. At times it seems Savage has a direct link to what the U.S. firearm consumer wants versus what "expert" gun writers or marketing executives predict. Savage really shook up the industry in the end of December 2021 with the introduction of the Stance 9mm micro compact semi-auto handgun. The Stance is the focus of the article.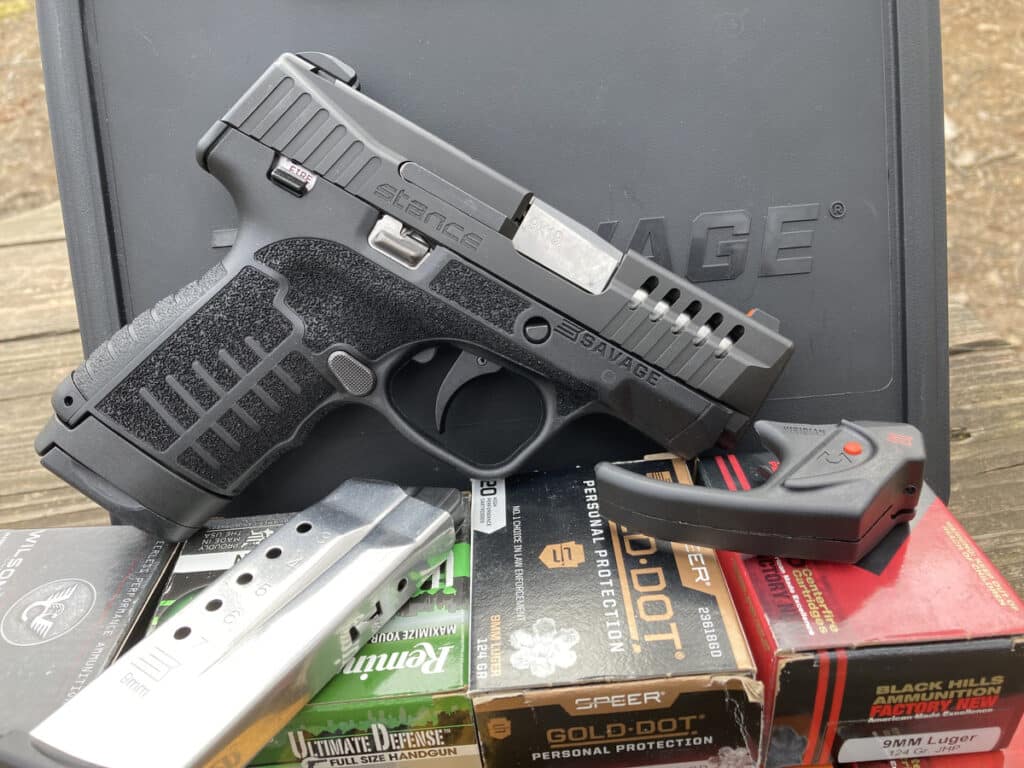 History of Innovation
This is not Savage's first handgun; though no one at their HQ was around when Savage was selling its Model 1907/1915/1917 pistols that were discontinued in 1928. These early self-defense auto-loaders were chambered in .32ACP, .380ACP, and .45ACP. The first generation of Savage handguns were striker-fired and featured double-stack 10-round magazines. This may surprise those who think these features are more recent designs. The Savage pistols enjoyed a modicum of success and can still be found occasionally wandering in and out of gun shops or at estate sales. Interestingly, Savage was one of the two finalists in the U.S. Army's 1906-11 handgun trials. Unfortunately for Savage, the other finalist was Colt with Browning's 1911 design.
Choice is what makes the free market economy so tantalizing. What am I talking about? Sure, there are existing polymer striker-fired pistols on the market, but that does not stop other companies from introducing their take on the topic. All of this leads to productive competition with the consumer benefiting. Sure, the Savage Stance builds from weapons that have gone before it—however, the Savage Stance is a fresh striker-fired polymer frame design. Savage's reputation lends credence to any new introduction on their part; even into the crowded striker-fired polymer frame market space. The Savage take on the striker-fired handgun is worth exploring.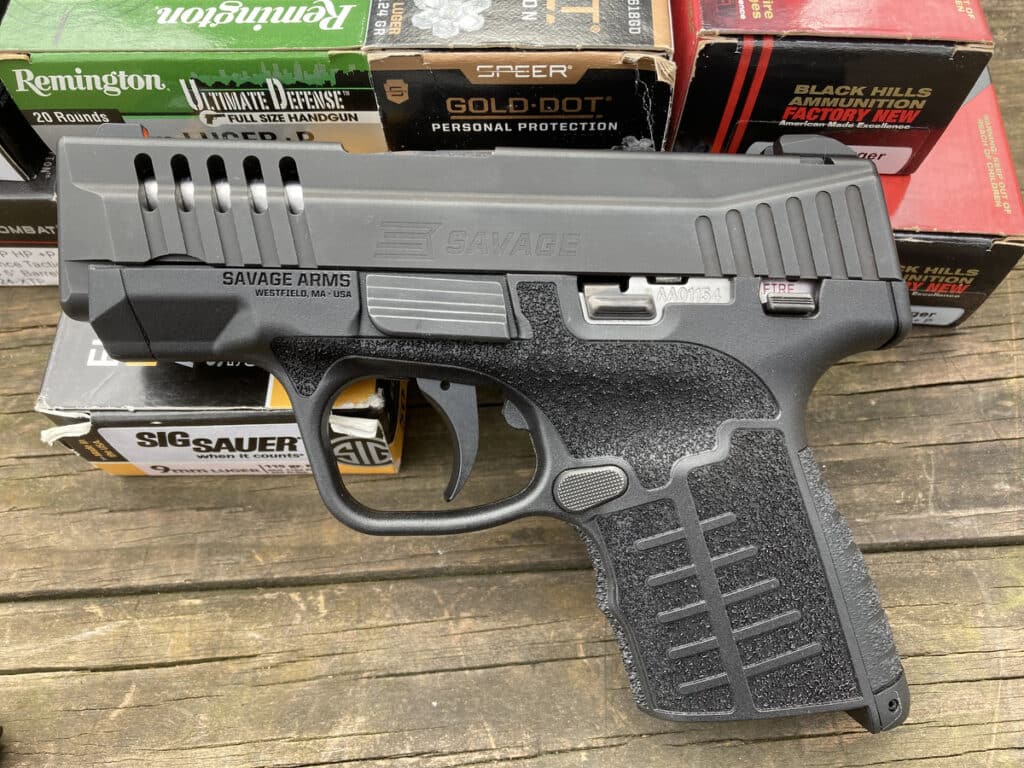 The Savage Stance is a sure response to the U.S. concealed carry market that continues to expand. All civilian practitioners of concealed carry want to carry the most potent handgun they can handle proficiently. Unfortunately, constraints caused by weather, clothing, or social environment can preclude this at times, forcing a compromise in terms of size and caliber. The Stance eases this concern by maintaining eight, nine, or 11 rounds on standby depending on magazine choice. (A single-stack 7-round and 8-round magazine arrives with the Stance with a 10-round magazine as a separate accessory.)
Aftermarket Support
The Savage Stance has already garnered attention from aftermarket vendors via holsters, (Crossbreed IWB and OWB used in the evaluation for example), sights, and even lasers. Viridian was quick to introduce their E-Series red laser sight for the Stance. In fact, a Viridian-equipped Stance is one of the models available from the Savage factory. The Viridian E-Series is designed for the everyday concealed carry practitioner. The Viridian laser is simple to mount on the Stance's trigger guard. A dust cover rail is not needed. Ambidextrous on/off button with five minute auto shut-off allows flexibility for either hand use. Battery life is 6-plus hours of constant laser use. Sighting in is easy with separate windage and elevation adjustment points. Begin with matching iron sight point of aim at ten yards with the laser and then confirm at the range. The laser can be seen in most daylight conditions out to five yards or so, depending on light conditions. This is a fair poke for a personal defense situation considering most engagements will be up close and personal. But we are getting ahead of ourselves.
Details
The 3.2-inch barrel contributes to an overall length of 6.2 inches. Width is a pleasant-to-carry 0.96-inch with a height of 4.6 inches depending on magazine choice. Numerous Stance models are available with different sight configurations, colors, and safety options. The slide on the Stance test weapon was black nitride finished with sections of the stainless barrel visible through the frame serrations. Low-profile snag-free three-dot iron sights support the Viridian red laser in front of the trigger guard. Ambidextrous slide catch, safety levers, and magazine release buttons are present. The polymer frame has 360-degree stippling texture along with finger indexing. Two 18-degree interchangeable backstraps assist with end user getting their particular "feel." A nice detail is the beveled front found on the stainless-steel slide that aids in holstering.
The Stance's trigger shoe is wide with a rounded face. Minimal creep is present before reaching the trigger break point. The Stance trigger break is clean and crisp, measured at 6.5 to 7 pounds. Trigger reset is short with a positive, tactile "click" with the single-action striker-fired Stance design.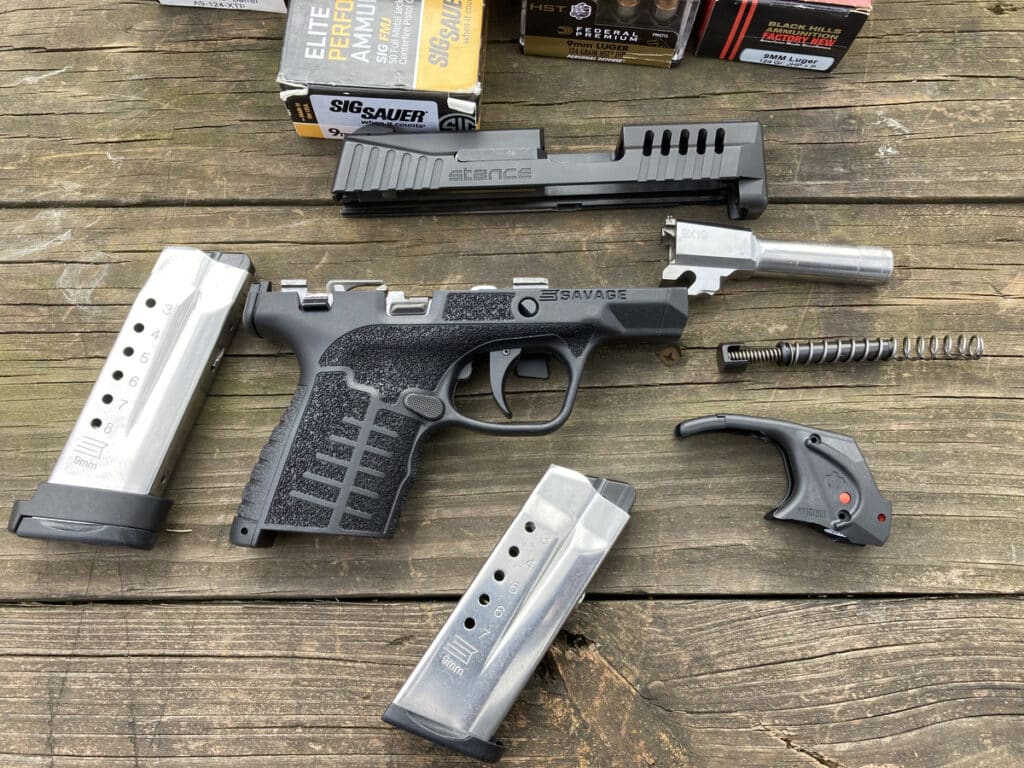 The Stance's ambidextrous safety lever is diminutive, protruding maybe an 1/8 of an inch from the frame. This is a positive for comfortable concealed carry. Not the ideal set up for swiping it down/off when reacting to a threat. If carried as a personal weapon, the Stance without manual safety would have been chosen. To each his own on this topic. The Stance's manual safety was snicked on/off a few times then left off. To my way of thinking, the "secret" to striker-fired handgun success is minimal operating controls, good cartridge-capacity-to-size ratio, relentless reliability, and to paraphrase an infamous political advertisement, "it's the trigger stupid." The Stance follows this formula.
On the Range
Range testing with Savage Stance took place at Echo Valley Training Center (EVTC). Main T&E priorities were making sure that reliability was beyond reproach and if the Stance offered something beyond the other polymer handguns on the market. Firing began with basic drills to get acclimated with the Stance's trigger, sights, and overall feel. The Stance trigger's consistency and short reset allows for rapid, on-target shot strings.
Several magazines-worth of ammunition was spent engaging plate racks and man-sized steel targets. Drills quickly moved past stand and deliver drills to more dynamic drills involving movement, magazine reloads, and firing from behind cover. Years of training with various entities provided a background of what is acceptable performance for a defensive handgun. The Savage Stance's simplicity of operation and consistent trigger pull allowed for rapid engagement of targets. This is further accentuated with well laid out ergonomics ensuring that the hand is near optimum grip position as soon as the Stance clears the holster. Crossbreed MiniTuck IWB and SnapSlide OWB were used with the Stance.
On the Hip
CrossBreed Holsters proved an excellent supporting resource for the Savage Stance. The CrossBreed MiniTuck IWB and SnapSlide OWB proved their worth with months of carry. CrossBreed Holsters was the first in the industry to produce a hybrid tuckable IWB holster. Crossbreed combined leather and Kydex, gaining retention with the molded Kydex and comfort with the leather backer. What now seems so obvious in the holster industry, CrossBreed pioneered.
The MiniTuck IWB's Kydex component is hand-molded to fit specific firearm. The MiniTuck may be worn comfortably with or without your shirt tucked in and is designed to be carried towards the rear of your draw side i.e. 3:30 to 5 o'clock for a right-hand draw or 7 to 8:30 for a left-hand draw. CrossBreed SnapLok powder coated steel belt clips are modular enabling you to adjust cant and ride height.
The CrossBreed SnapSlide OWB features 1 ¾-inch belt slots and is designed to keep your firearm tight against your body. The leather backer is configured for a lower riding holster. The designed cut of the leather backer allows for a full grip on the firearm when drawing and extended leather on the bottom side keeps the barrel from rubbing against your clothes and body. Both CrossBreed holsters—MiniTuck and SnapSlide—proved able to accommodate the Savage Stance for comfortable day long carry. At times the Stance seemed to disappear on your hip. This is a credit to both the Crossbreed holsters used as well as the Stance's stature.
After initial reliability and accuracy was verified, I began manipulating the Stance from the Crossbreed holsters. More of a point shooting or flash sight picture was used along with one handed firing grip. I found this to be a more realistic way of analyzing what the Savage Stance brings to the table for user's considering using it in the role it was designed—a handgun for civilians concerned with personal defense.
A multitude of bullet profiles and weights were worked into the mix to ensure nothing adversely interacted with the Savage Stance. 9mm loads were tested including 115-, 124-, and 147-grain JHP and FMJ loads from Black Hills Ammunition, CCI, Federal Premium, Hornady, and Winchester. No malfunctions were encountered with nearly 300 rounds fired. The Savage Stance is a handgun you can count on being ready to go straight out of the box.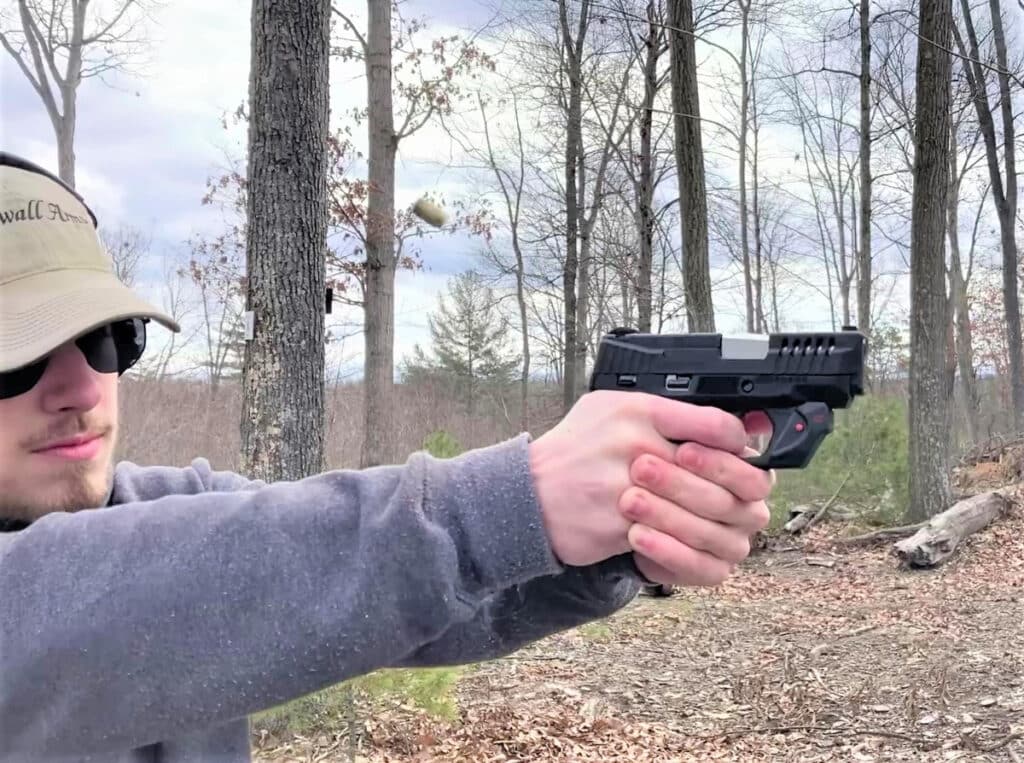 Lasers and Stuff
While technological quick fixes are not to be used in lieu of training, lasers on a personal defense weapon cannot be ignored. Focusing on the target is one of the key concepts of laser use. The natural pointability of the Stance comes into its own in this realm. Technology should not be used as a training crutch. The Savage Stance combined with the Viridian laser proved very capable at quick target engagement with the front sight "flashing" on target and the laser then picked-up, confirming proper weapon alignment and shots broke faster than what it takes to read this sentence. The Viridian E-Series laser proved even better at providing feedback when sights were not an option, such as when the pistol is held below line of sight, engaging targets on the move, or from the ground. The Viridian laser really shined, pun intended, for this type of work.
Wrap Up
Many will find the handy nature of the Stance with Viridian laser will make it indispensable. Ultimately, always having a weapon with you is more important than the full-sized 10mm you leave at home because you did not feel like dressing around your handgun. The Savage Stance is a good balance of size and firepower. Do not let nomenclature such as sub-compact or micro-compact fool you. The Savage Stance performs beyond any preconceived notions based on labels.
SPECIFICATIONS:
| | |
| --- | --- |
| Make: | Savage |
| Model: | Stance |
| Caliber: | 9mm |
| Weight: | 20 ounces (unloaded) |
| Magazine Capacity: | 7-rd, 8-rd magazine standard, 10-rd optional |
| Grip Width: | .96 inch |
| Height: | 4.6 inches |
| Barrel Length: | 3.2 inches |
| MSRP: | $561 |