By Dean Roxby
This review looks at the iconic WWII era German MP 38 and MP 40 submachine guns. One book is reviewed in detail, plus three others are mentioned in brief. And just for fun, I have a review of the Umarex Legends CO2 powered BB gun replica as a sidebar.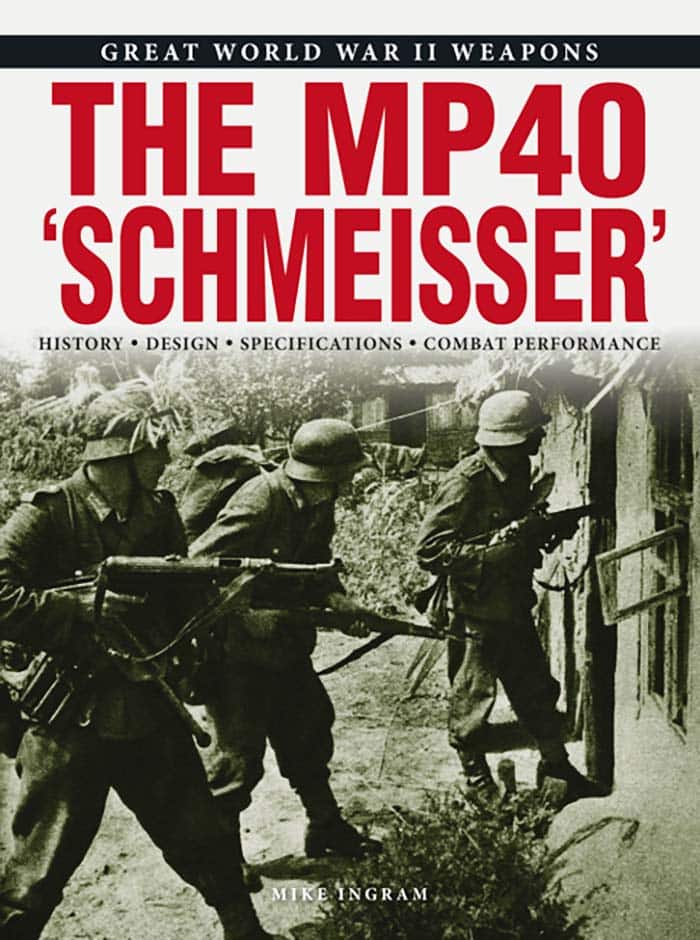 The MP40 "Schmeisser", part of the Great WW II Weapons series
Author: Mike Ingram
ISBN13: 9781782746836
Copyright date: This Amber edition published in 2018. First published in 2001
ePub or .pdf download? Y/N No
Binding: Paperback softcover
Size: 8 3/8 x 11 1/4 inches
Pages: 96 pages
Photos: 70 color and B&W photos and illustrations
US importer: Sterling Publishing Co., Inc., 33 East 17th Street, New York, NY 10003
US importer website: www.sterlingpublishing.com/9781782746836/, custservice@sterlingpublishing.com
Cover price: $24.95
The MP 40 "Schmeisser"
This book is laid out in much the same fashion as the two previous titles reviewed. It starts with a history lesson about trench warfare in WW I, and then moves onto the Interwar years (1919-1939). The Bergmann M.P.18,I is described in Chapter 1, Genesis of the Machine Pistol.
Chapter 2, Between the Wars, mentions the rebuilding of the German military industry in spite of the Treaty of Versailles. It then covers a lot of German politics and history. It mentions Adolph Hitler joining the German Workers Party which became the Nationalist Socialist German Workers Party, better known as the Nazi Party. Also discussed is the Spanish Civil War, which gave Germany the chance to try newly developed weapons under combat conditions. I get the feeling that the author, Mike Ingram, is a political history geek. His profile states: "He holds an MA in history from the University of Birmingham and is qualified to teach history in adult education." Guns mentioned are the M.P. 28,II, ERMA EMP, and the Finnish M31 and the Russian Pistolet-Pulemyot Degtyreva or PPD34/38.
Chapter 3, Machine Pistol Theory, gets into the mechanics of submachine guns, touching on rate of fire, blowback mechanism operation, bolt design, etc. It is a rather basic discussion, however. Perhaps I am being too picky here, but the explanations given in this section seem to be a bit awkward. If you understand guns, it will all make sense. If not, some bits will be difficult to digest.
Chapter 4, The MP 38 and MP 40 in Detail, really gets into the nuts-and-bolts details. There is a two page spread artists drawing of a stripped and sectioned MP 38, along with a numbered parts list. Production methods are also discussed, including differences between the two guns. Number and letter codes of the three factories are explained as well.
Chapter 5, The MP 40 in Combat, is an odd chapter. It is more like an overview of paratrooper and infantry tactics, and less about the MP 40. The MP 40 is mentioned, but mainly in the larger context of battle history. Again, author Ingram seems to let his history degree take over.
Chapter 6, Other Machine Pistols of WW II, takes a quick look at other subguns. Briefly mentioned are Sten and a German last-ditch attempt to copy the Sten known as the MP 3008. A two-page cutaway drawing showing the innards of a Sten is a nice touch. There is also a cutaway drawing of a Soviet PPSh-41. The Thompson M1928A1 and the later, far simpler M1A1 are described also, as is the PPSh-41. The US M3 and M3A1 "grease gun" is mentioned as being inspired by the success and the simplicity of both the MP 40 and the Sten.
The Appendix includes a very basic Glossary, a comparison chart listing dimensions and features of 17 types of submachine guns, and a diagram showing the breakdown of a German Infantry Division.
This book tends to cover the same content as the two previous books, but not in the same detail, and with much fewer close-up photos. Also, there are several lesser-known guns mentioned, but with NO accompanying photo. More detail photos, and perhaps some color photos would be welcome. It is not a poor book, but it is a basic book. It would be suitable as a gift for someone showing an early interest in German weapons, etc., but it is not an in-depth research tool.
German Submachine Guns, 1918–1945 (Schiffer Publishing)
I previously reviewed this book, along with two other books in the same series from Schiffer Publishing, in the Oct 2019 issue (V23N8) of SAR. A few quotes from that review:
The German SMG book covers many designs, starting with the Bergmann MP18/1, and continuing with the MP28/11, MP35/1, MP34, etc. These designs all used wood stocks, so had a "traditional" appearance, similar to the Thompson. The infamous Nazi MP38 and MP40 guns, with their distinctive under-folding skeleton stocks, are covered in great detail. Many clear, crisp color photos illustrate manufacturing details, variants, etc.
Many of the color photos are full-page studio type shots that portray not only the firearm, but accessories and other related militaria. This provides an interesting visual treat. These photos are by Marc de Fromont, and the guns and equipment are from the Collection of the Royal Army Museum of Brussels, and Le Poilu of Paris.
At only 80 pages, these books are not high-end research and reference manuals, but they are certainly worthy of consideration. The full-page photos noted above, disassembly sequences, side-by-side variant comparisons, and accessory photos should appeal to small arms enthusiasts.
The MP38, 40, 40/1 and 41 Submachine Gun (The Propaganda Photo Series)
While I have not seen this particular title, I did review four other books from this same series in the Jan 2020 issue. (V24N1). As they follow the same format, these comments below from that review will also apply here. Although this title is now out of print, the SAR bookstore still has some copies.
What sets this series apart from other books is the use of official photos taken by German military photographers. These Kriegsberichter, or war reporters, were tasked with capturing inspiring images for the German propaganda machine. Propaganda being what it is, most of the original captions must be treated with a great deal of suspicion. The author, Guus de Vries, mentions this in the Preface.
Each book typically starts with an Introduction, then a look at the development process of the specific weapon. From there, accessories, different variants, markings, etc are covered. This technical study takes up the first 50 or so pages (Differs with each title). The Propaganda photos section makes up the remainder of the 152 pages.
As might be expected from the posed photos, they tend to be better quality than "grab" shots. Most photos are crisp and clear, although some are not (usually specific battle photos). All are B&W, there are no color photos.
While these books are not the final word on each gun covered, they do hold a great deal of information in the technical first section. Adding in the official German Kriegsberichter photos makes this an interesting group of titles.
MP 38 and MP 40 Submachine Guns (Osprey Publishing, Weapon series)
Once again, I have not seen this specific title, but I have read and reviewed others from the Weapon series from Osprey Publishing. These observations should apply.
While small in size, the various titles in this series contain a lot of information. At 80 pages per title, these books will certainly not rival the massive encyclopedia type reference books available for some guns. However, they do provide a very good start for getting familiar with a new gun. As each title is written by a different subject matter expert, the writing style will vary somewhat. Generally, though, the booklet begins with a good bit of history and background to each weapon, and the path of development required to create the specific weapon. From there, a more detailed look at the different variants is given. All are available in multiple formats, this being paperback, ePub, and Pdf.
The Weapon series covers many types of arms from all periods of war. They are well researched and written, informative, and nicely illustrated. While not the final word on a given firearm, they are certainly a great starting point. The Weapon series is one series of a much larger catalogue of military books from Osprey Publishing.
This article first appeared in Small Arms Review V25N9 (November 2021)