By Todd Burgreen
Carrying a firearm while out and about in the wilderness albeit camping, hiking, riding horse or ATV, fishing, or exploring to see what is on the other side of the hill seems only prudent. Even a hunter carrying a rifle is not wrong to consider bringing along a heavy hitting sidearm, especially if working in remote country. None of this is a new concept. The earliest settlers kept flintlock rifle and pistol muskets handy for peace of mind against natures' threats—both four and two legged—and basic survival preparedness. The same trend continued as Europeans, then Americans, spread westward.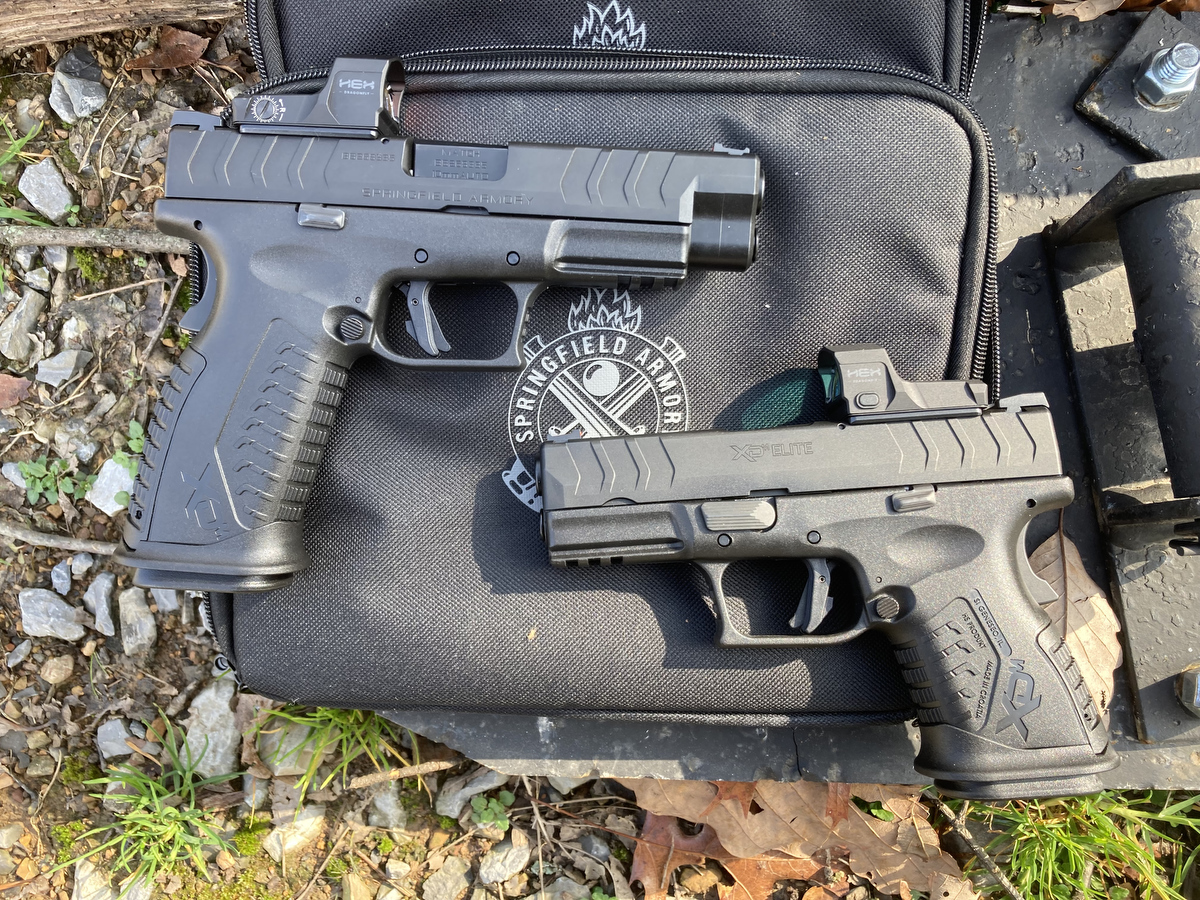 The single action revolver with a large hole in the barrel has been a constant carry along companion for nearly 150 years. This practice continues today with modern wheel gun renditions. It's hard to accept there are no other contenders worthy of consideration for wilderness carry other than a design with lineage dating back to 1873. Polymer semi autos have proven their worth as personal defense weapons since arriving on the scene in the early 1980s. What has stymied semi-automatics from earning a spot as a wilderness weapon is caliber selection. Initially, it was reliability concerns. Compounding this…9mm and even 45ACP cartridges are a little light in power factor for surly animal defense.
All of this is subtly changing with semi-automatic polymer striker fired handguns entering their fourth decade of service. To sweeten the deal how about a "muscled" up offering that chambers something in the 41 Magnum power range? Well, if you are going to shake things up, you might as well go all the way and mount a red dot optic on the slide, as well.
Enter a couple 10mms from Springfield Armory in the form of the XD-M Elite 3.8 Compact OSP and XD-M Elite 4.5 OSP, each with Hex Dragonfly red dots. This is about as far away as you can get from the legacy single action revolver.
We decided to explore the short and long of the Springfield XD-M Elites by examining both 3.8-inch and 4.5-inch variants. Springfield Armory Hex Dragonfly red dots are fitted to both handguns. The 3.8 XD-M Elite has magazine capacity of 11 rounds and the 4.5 XD-M Elite, 16 rounds. The 16-round magazine can be used in the 3.8 XD-M Elite. Weight is 28.5 ounces and 32 ounces, respectively. Each features ambidextrous slide stop, fiber optic front, and Tactical Rack U-Do Rear sights. Removable short magwells are also present. Springfield Armory has developed the XD-M Elite to serve as the premium version of XD-series in order to show off the potential of the platform.
Evolution has been a constant with the Springfield Armory XD, with the XD-M Elite the latest rendition. The XD-M Elite 10mms featured here are the latest creation building upon customer feedback and manufacturing expertise. Thankfully, Springfield Armory maintained the grip angle with the XD-M Elite model, instead they focused changes on other aspects such as the trigger, magazine well, undercut trigger guard, enhanced slide serrations, extended beavertail, and sights. I have always felt the XD's grip safety and grip angle give off the aura of a polymer framed 1911. An integral railed dust cover allows for lights/laser. The XD-M Elite also comes with interchangeable backstraps to accommodate individual shooter requirements for grip feel. Vertical chevron-like cuts are found at the rear and front of the XD-M Elite's slide for increased purchase when manipulating the slide.
A significant enhancement with the XD-M Elite consists of Springfield's Match Enhanced Trigger Assembly (META). Not only is the META one of the best out-of-the box triggers; it stacks up well with many aftermarket trigger offerings. The trigger pull measured approximately 5 pounds. The Springfield Armory META's straight trigger offers a near 90-degree break for better geometry and is less likely to pull sights to the right or left. The key with the XD-M Elite is the same trigger pull every time. Overall, the XD-M Elite META trigger is an asset.
The 3.8 XD-M Elite appeals with its stout compact dimensions while still seething with 10mm power. Its size allows for multipurpose role consideration. It's feasible to consider the 3.8 XD-M Elite for everyday concealed carry as well as outdoor/wilderness use. The 3.8 XD-M Elite was used with a Premier Body Armor (PBA) bundle combining Viktos Upscale Sling bag with PBA Level IIIA ballistic panel. The red dot equipped 10mm XD-M Elite is quite the potent package. It really shows off the flexibility of the smaller brother XD-M Elite.
The 4.5 XD-M Elite is pure wilderness carry with 4.5-inch barrel wringing velocity out of the 10mm and providing big bore handgun performance. While increased only under an inch in barrel length and few ounces in weight, the 4.5 XD-M feels a good bit larger than its 3.8 XD-M Elite sibling. With the 3.8 XD-M your bottom finger hangs off the bottom of the grip. Height is only 4.58 inches with the 3.8 XD-M Elite. Springfield does offer a 10mm 15-round magazine with sleeve that serves to extend the 3.8 XD-M Elite's grip.
The 10mm was designed to be a rimless semi-automatic pistol cartridge with ballistics comparable with the .41 Magnum. The brief FBI flirtation with the 10mm also raised its profile within the shooting community. Full powered JHP and FMJ 10mm loads from Hornady, Federal, and Double Tap were used with the Springfield XD-M Elite 10mms. Neither had any issues digesting JHP profile bullets. This is an important as hunters or security conscience civilians will use expanding ammunition for maximum terminal performance.
Federal Premium 180 grain Trophy Bonded 10mm shows the 10mm potential compared to 9mm or 45ACP. The Federal Trophy Bonded 10mm bullet is based on the rifle bullet version of the same name. The Federal load drives a 180-grain JSP bullet at 1,275 feet per second delivering 650 foot-pounds of energy which puts it roughly between the 357 Magnum and 41 Magnum for comparison purposes. This kind of power offers great flexibility for the user in terms of use in a personal defense, or backwoods use.
Double Tap offers 10mm loads for personal defense and hunting. Various jacketed hollow point and hard cast bullets give performance options across a broad spectrum. For example, the Double Tap 200 grain Hardcast Solid has a 21 Brinell hardcast rating, limiting deformation upon impact. Its wide, flat-nose meplat cuts a large, clean hole without any flight deviation or deflection when striking an animal.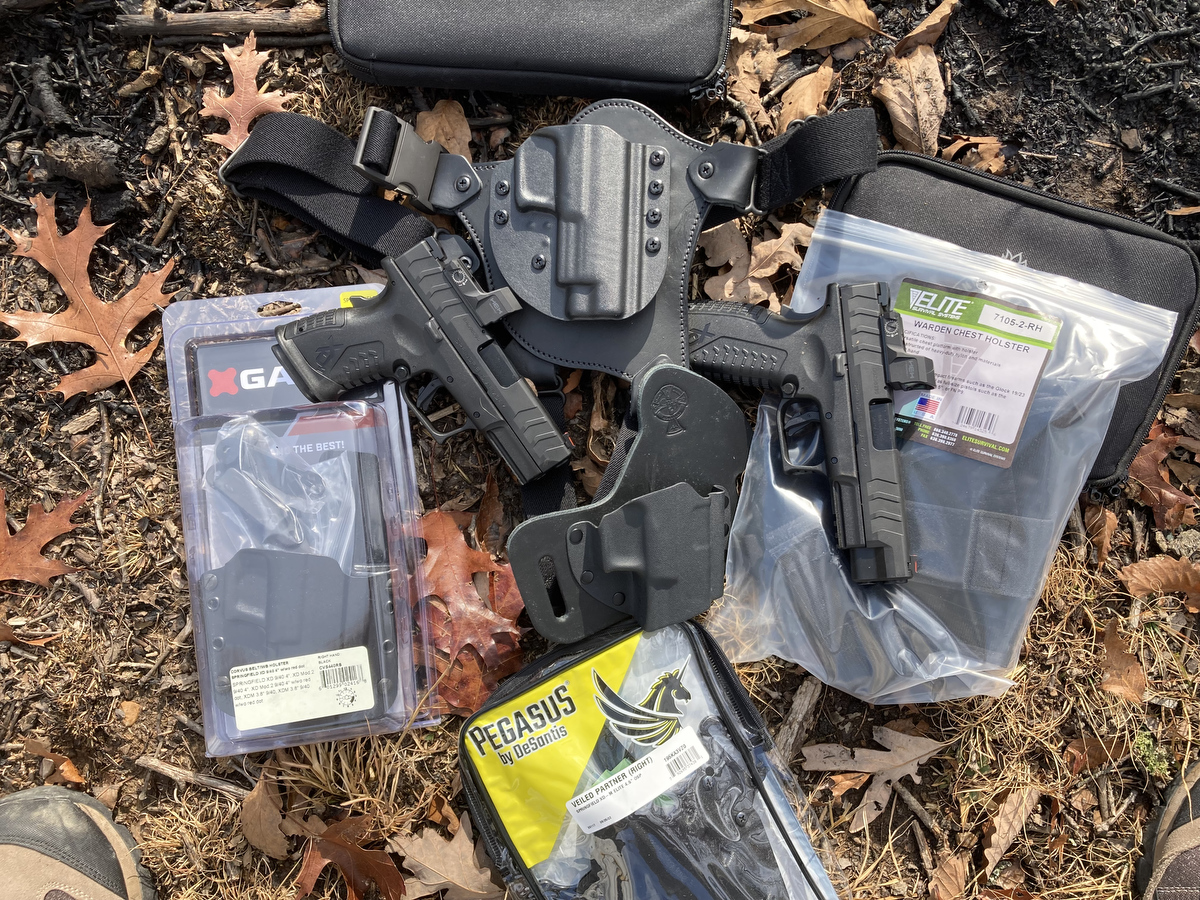 10mm loads used from Hornady consisted of 180-grain XTP and 175-grain FlexLock Critical Duty. These Hornady loads were designed with personal defense in mind with XTP and Critical Defense bullets loaded to 1150 to 1250 fps. The Critical Duty's FlexLock bullets have a heavy jacket and a harder, high-antimony core designed to defeat barriers. The jackets are locked to the core via the same InterLock process the company uses on its centerfire rifle bullets. Hornady has also taken full advantage of recent advances in propellant technology and is using low muzzle flash powder in Critical Duty ammunition. Hornady Critical Duty FlexLock bullets balance barrier penetration with proper expansion in the target for maximum effectiveness. The ogives of the Critical Duty bullets do not taper much as compared to other hollow point bullets, which improves feeding characteristics in autoloaders. The nickel-plated cases are another attention to detail that limits drag into or out of a weapon's chamber, limiting the chance of failure to feed or extract. Critical Duty, as the name implies, was designed with law enforcement users in mind. However, security conscience citizens or hunters would be remiss in not to at least considering it for use, as well.
Another manufacturer to consider, especially for hunting purposes is Buffalo Bore. Buffalo Bore is a prime source of true 10mm ammunition, offering several bullet types ranging from hard cast, JHC, to FMJ-FN. The Buffalo Bore hard cast loads are an excellent option for anyone needing barrier penetration or unwavering deep penetration in a large game animal. The Buffalo Bore 220-grain Hard Cast Flat Nose loads moving at nearly 1145 fps are an excellent option for anyone contemplating using the 10mm against heavy boned animals where deep penetration is a must.
Much anticipation awaited firing the two Springfield XD-M Elite 10mms. Range T&E took place at Echo Valley Training Center (EVTC). The Federal Vital Shok 180-grain Trophy Bonded, and Buffalo Bore were the stoutest loads, but in no way harsh or unmanageable. Anecdotally, empty brass was ejected briskly several feet away–such was the slide velocity. The Springfield XD-M Elite polymer frames were appreciated for absorbing and mitigating felt recoil. Even the more compact 3.8 XD-M Elite proved no problem. EVTC steel targets were rocked with a more substantial smack than a typical handgun round. While one was definitely aware you were not firing a 9mm, recoil was not prohibitive with accurate rapid shots possible. All of the 10mm loads tested had no issue penetrating windshield or car body sheet metal. This is the type of performance and barrier penetration capability that the 10mm was designed for. Further range testing consisting of dumping multiple magazines at several targets in rapid fashion.
PERFORMANCE
XD-M Elite 3.8 Compact OSP
| | | |
| --- | --- | --- |
| LOAD | VELOCITY AVG. | AVG@25yd |
| Double Tap 180gr JHP | 1185fps | 1.5 in |
| Federal 180gr Trophy | 1164fps | 1.75 in |
| Hornady 180 gr HP XTP | 1179fps | 1.66 in |
| Hornady 175gr FlexLock Critical Duty | 10938fps | 1.5 in |
| Buffalo Bore 220gr Hard Cast | 1084fps | 2.25in |
Each XD-M Elite was tested fired through a Caldwell precision chronograph to determine the effect of barrel length on velocity per specific load. Velocity gain between the 3.8-inch XD-M Elite and 4.5-inch XD-M Elite was in the 40-60 feet per second range. For example, the Buffalo Bore 180-grain JHP clocked in at 1270 fps from the 3.8 and 1305 fps from the longer barreled 4.5.
PERFORMANCE
XD-M Elite 4.5 OSP
| | | |
| --- | --- | --- |
| LOAD | VELOCITY AVG. | AVG@25yd |
| Double Tap 180gr JHP | 1277 fps | 1.66 in |
| Federal 180gr Trophy | 1242 fps | 1.75 in |
| Hornady 180 gr HP XTP | 1221 fps | 2.33 in |
| Hornady 175gr FlexLock Critical Duty | 1118 fps | 1.33 in |
| Buffalo Bore 220gr Hard Cast | 1136 fps | 2 in |
The Springfield Armory XD-M Elite OSP handguns were tested at the range first by verifying Hex Dragonfly sight zero and then firing several magazines at various steel and paper targets. This quickly shows if any reliability issues exist. Further testing consisted of strings of fire against steel plate racks and steel popper targets at 15, 25, and 45 yards. An informal accuracy test was conducted from a rudimentary bench position. Each XD-M Elite delivered by constantly producing 2-inch or better groups at 25 yards.
As many "maturing" shooters can attest, the single focus plane with the red dot is easier to shoot accurately than coordinating front and rear sights. Point shooting with the Hex Dragonfly red dot is still very possible when using the window as a ghost ring—albeit a large ghost ring—if forced to react spontaneously to a threat. In short, if fur is in the glass, start pulling the trigger. The Hex Dragonfly equipped XD-M Elites came into their own for precise fire at any range desired with placing the dot on the target and applying correct trigger control. The Springfield Armory XD-M Elites demonstrated the ability to hit steel man popper targets at 50 yards with amazing efficiency and even out to 100 yards with regularity. The Hex Dragonfly red dot levels the playing field between the shorter sight radius of the 3.8 Elite the longer 4.5 Elite's when reaching out to distant targets.
Holster selection for wilderness carry is just as critical as for personal defense. Your large handgun must not impact your primary task, yet it must remain accessible at a moment's notice. A variety of holsters were used with the Springfield XD-M Elite 10mms. DeSantis and Galco holsters proved solid hip carry selections for the XD-M Elites. Once clothing layers were problematic, a chest rig from CrossBreed was employed. It can be worn over clothing or snuggled under outer layer. The CrossBreed Chest Rig employs CrossBreed's dual construction technique of kydex pocket with wide, perforated suede backer. Multiple points of retention kept the XD-M Elites in place no matter the activity—riding horses, riding ATVs, or hiking.
There are many situations in which the penetration and power of a 10mm is advantageous. Both of the Springfield XD-M Elite 10mms place real power in an accurate and reliable handgun package. The XD-M Elite 3.8 Compact OSP and XD-M Elite 4.5 OSP represent a good balance of features for a myriad of uses beyond just wilderness carry considerations. Each of the 10mm Springfield XD-M Elite OSPs allow a user to indulge oneself by having something out of the ordinary, while maintaining sound functionality.
While nostalgic sentiment may push you toward the revolver for wilderness carry, it is hard to argue against 12 or 17 rounds (loaded magazine plus one chambered) of full power 10mm found in the two Springfield XD-M Elites. Carrying spare ammunition and reloading is pretty efficient, as well. Wilderness carry of a sidearm has one purpose—to be there when you need it.
SPECIFICATIONS
Springfield Armory XD-M Elite 3.8 Compact OSP with Hex Dragonfly red dot
| | |
| --- | --- |
| Caliber | 10mm |
| Capacity | Two 11 round magazines |
| Barrel Length | 3.8 in, 1:10-in twist |
| Overall Length | 6.75 in |
| Weight Empty | 28.5 oz |
| MSRP | $837 |
SPECIFICATIONS
XD-M Elite 4.5 OSP with Hex Dragonfly red dot
| | |
| --- | --- |
| Caliber | 10mm |
| Capacity | 2-16 round magazine |
| Barrel Length | 4.5 in |
| Overall Length | 7.6 in |
| Weight Empty | 32 oz |
| MSRP | $837 |
SITES OF INTEREST
Springfield Armory www.springfield-armory.com
HornadyMfg.Inc www.hornady.com
Buffalo Bore Ammunition www.buffalobore.com
CrossBreed Holsters www.crossbreedholsters.com
Galco Holsters www.galcogunleather.com
DeSantis Gunhide www.desantisholster.com
Double Tap Ammunition www.doubletapammo.com
Premier Body Armor www.premierbodyarmor.com