The SCCY CPX-2 loaded with 10 + 1 rounds of a high performance 9mm defense load like the ASYM 9mm +P TAC-XP load makes for a very compact lethal package. SCCY says that +P ammunition is recommended only in the CPX-2 model and only then in limited quantities.
By Chris A. Choat
In 1998, Joe Roebuck recognized that there was an increasing demand for a safe, simple to operate and affordable firearm as a growing number of states enacted legislation to allow concealed-carry permits to law-abiding citizens. His company had more than three decades of experience in the manufacturing industry, so he set out to apply his skills as a Tool & Die Maker and Mechanical Design Engineer to design such a firearm. What he ended up with is now known as the CPX series of 9mm firearms. In September 2003, Roebuck founded Skyy Industries, LLC, (now known as SCCY Industries, LLC and pronounced "sky"), to produce the innovative CPX line. Their manufacturing facilities are located in Daytona Beach, Florida, just a half a mile from the famous Daytona 500 speedway.
The CPX line of pistols consists of the CPX-1 and the CPX-2. They are both chambered in 9mm and they are identical except that the CPX-1 has a manual safety lever. Both pistols are double action only and are hammer fired. They have a fairly long, heavy trigger pull but that is usually the rule for this type of pistol. In the SCCY pistol, the hammer is at rest until the trigger is almost to the end of its pull. Only then is the hammer fully cocked making the gun completely safe until the trigger is intentionally pulled all the way back. This makes for an extremely safe firearm; something that anyone carrying a gun should make their primary concern. The pistol that was used in our testing was their CPX-2 model. Since the gun is safe because of its internal design this author had no use for a manual safety. If and when someone needs to use a concealed gun there are enough things to think about without the safety being one of them. It should be just draw, aim and fire.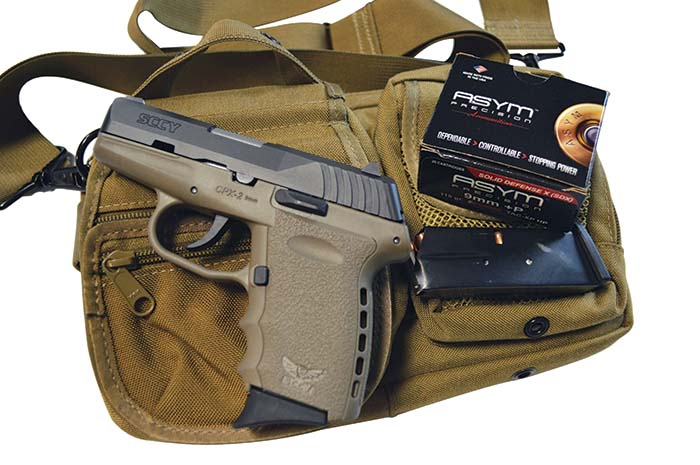 The CPX-2 has a stainless steel slide and a polymer frame. The slide has cocking serrations and uses a 3-dot set of sights. The front sight is machined into the slide and the rear is dovetailed. The rear sight is drift adjustable and has a locking screw. The slide and the sights have smooth, rounded edges with nothing to snag clothing or hinder being able to draw the gun quickly. The gun has a barrel that is 3.1 inches long, machined from bar stock and has a 16:1 right hand twist. The recoil spring and guide rod are all steel and are fully encapsulated so no parts to go flying or get lost during disassembly. The gun's frame is made from aluminum mounted into a Zytel polymer grip. It has ergonomic finger grooves and what SCCY Industries calls a "Re-Coil Cushion" molded in. With this model, controls consist of just a slide release lever and a magazine release button – neither of which are ambidextrous. The complete gun is 4 inches tall and 5.7 inches from front to back. It has a thickness of exactly 1 inch. It is slightly thicker than other concealed carry guns but this is because it carries 11+1 9mm cartridges.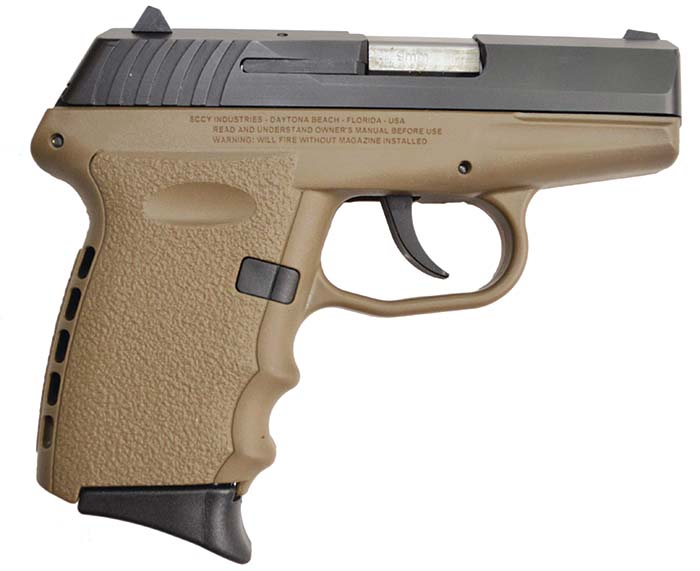 The pistol is fed from a standard steel 10-round magazine of which 2 are included with it. They are double stack magazines and there are two finger extension and two flat magazine base plates also included. They can be interchanged as per shooter preference. The gun is also shipped with a trigger lock and two keys.
All of the SCCY pistols can be ordered with either a black nitride or natural stainless steel finish on the slide. The polymer frame can be acquired in black, flat dark earth, pink and now the new purple. Of course you can mix and match the colors as you desire. The test pistol featured a black slide, fire controls and a flat dark earth grip.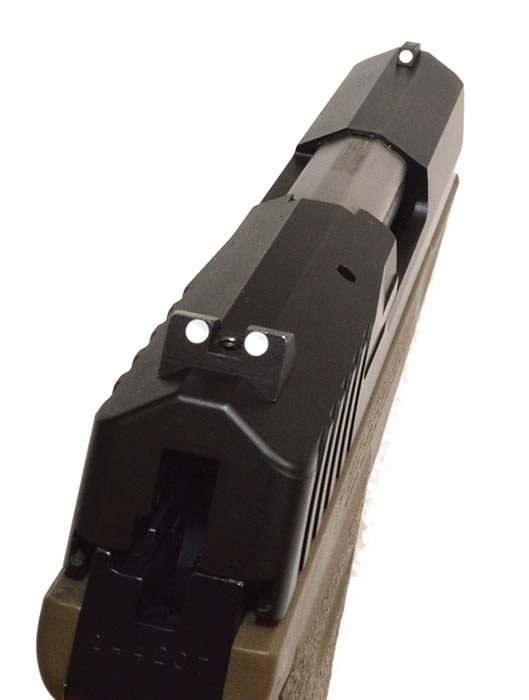 The pistol was received several months ago and testing proceeded apace. In the first three weeks, the pistol fired over 500 rounds with no issues or failures of any kind. It shot full metal jackets and hollow points alike. The gun was not cleaned or lubricated; it was just shot. It didn't have a preference for any ammunition type; it shot everything including the author's reloads. We also shot aluminum cased ammunition with no problems. It was even fed some +P loads with not so much as a hiccup. SCCY Industries recommends that +P ammunition be shot ONLY in their CPX-2 models and then only in limited quantities. As this pistol is marketed as a conceal carry pistol, this author started carrying it on a regular basis in my vehicle and in my briefcase as well as in an inside the belt concealment holster to see what effects long term carry would have on the gun's finish. In short the gun still looks like new. Just as this article was being finished, a holster was received for testing that may just be this author's favorite new holster. It's called the Stealth Operator Compact Holster and is made by Phalanx Defense Systems. Four months and several hundred more rounds later the gun performed perfectly and still looks almost new with only a very small shiny spot on the edge of the slide. During all of this time the gun was shot at least on a weekly basis and sometimes 2 or 3 times a week. Every time another gun was tested for an article, the SCCY pistol was taken out and shot. An exact count at this point wasn't being made but it has to have fired close to 1,000 rounds to date.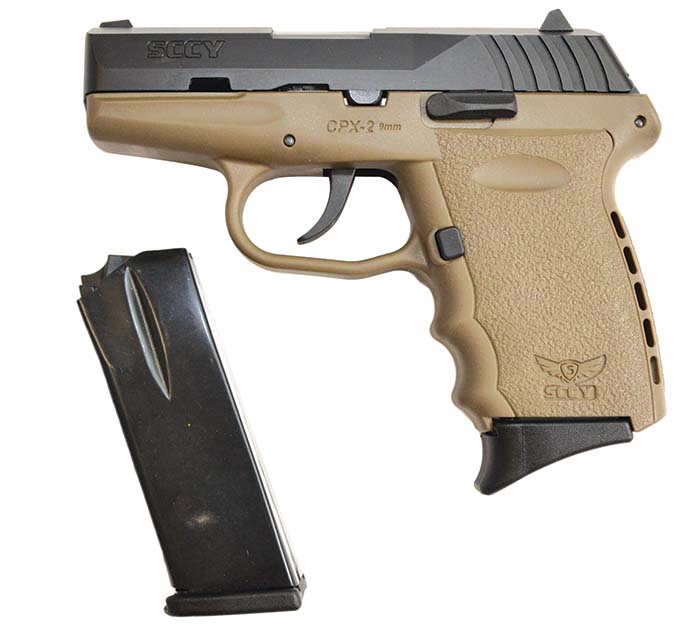 In the accuracy department the pistol is more accurate than this author can hold it and several other shooters have shot groups into 2 inches at 50 feet. The gun is far more accurate than it needs to be for the job it was designed to do. If it can shoot into 2 inches at 50 feet then it is more than accurate enough for the "across the room" ranges that most concealed carry guns are designed for. The trigger on the gun was not at all bad when it was received for testing and seems to be even better now. Yes, it is a heavy pull (about 7 to 8 pounds) but on this type of gun that's the way this author likes it. It is a long a pull but very smooth, much like that of a high quality revolver. The gun's sights feature fairly large white dots and you can pick them up quickly and easily even in low light situations making it a very good home defense or bedside gun.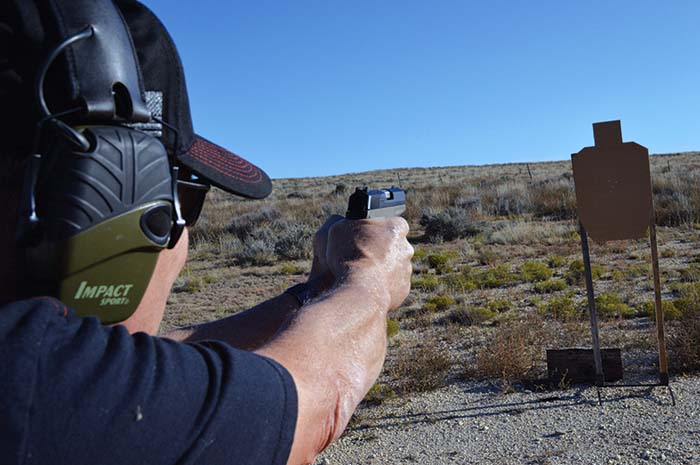 My concluding thoughts on the pistol are very different from my first impressions. At first I thought that this was just another low priced pistol that was built cheaply and was built to sell in high volumes without much regard as to its reliability or accuracy. I was very wrong. In the last few months this gun has had more ammunition shot through it than most SCCY pistols will probably be shot in their lifetimes. Speaking of lifetimes, all SCCY pistols carry a No-Questions-Asked Lifetime Warranty that stays with the gun. In short, I highly recommend this gun. With a retail price of only of only $314 for the CPX-2 ($334 for the CPX-1) it is a bargain. In fact you should have one in your home as well as one in all of your vehicles. The pistol has great round capacity, light weight, low recoil, total reliability, the best warranty and is very accurate. What more could you ask for?
SCCY Firearms
1800 Concept Court
Daytona Beach, FL 32114
Phone: (386) 322-6336
Website: www.sccy.com
This article first appeared in Small Arms Review V19N7 (September 2015)