The SHOT Show is the world's largest gathering of shooting, hunting and outdoor gear manufacturers. In fact the acronym SHOT stands for Shooting, Hunting and Outdoor Trade. Manufacturers display their wares for thousands of retailers, law enforcement, military and media types from all over the world. They also pick the SHOT Show to introduce their new products for the coming year. This year the show was located at the Sands Expo and Convention center in Las Vegas, Nevada. As the Venetian Hotel connects to the Sands Expo center there were booths in that hotel's meeting rooms as well. The Sands/Venetian is probably not the best place for the show as this year it took two maps to try and find your way around. Even with the maps in hand, navigating the show was problematic at best. The show runs four days and even with that much time it is almost impossible to see everything. In covering this years show this author tried to uncover as many new products as possible, especially products that the readers of Small Arms Review would be interested in.
The Law Enforcement section of the show seems to grow tremendously every year. New products in the tactical and military field are driven by the need for them in places like Iraq, Afghanistan and mean streets the world over. Manufacturers of military and law enforcement firearms have been producing civilianized versions of the same firearms because of public demand either for self defense, sporting competition or simply collecting. If you don't think that these guns are popular just take a look at the cover of any firearm related magazine. Small Arms Review has been known for covering these types of firearms since day one.
New firearms exhibited at the show always seen to create the biggest buzz. This year Bushmasters new rifle was probably talked about the most. The ACR (Adaptive Combat Rifle), which is a joint product of MagPul, Bushmaster and Remington Defense, has been in the works for several years. It is now finally scheduled for production, starting with the first Basic models in March and followed by the Enhanced version in May of this year. This rifle has several noted features that include a totally modular design with major components being able to be swapped out in seconds to include barrels of different lengths, stocks, forearms and even the trigger group. This piston drive rifle is adaptive for any situation with four different barrel lengths, two stock options and even different calibers. With the ability of changeable barrels and a bolt that is multi-caliber, the rifle can be switched from one caliber to another in minutes. The rifle will initially be available in 5.56 and 6.8 SPC. Other calibers will follow at a later date. The ACR is fully ambidextrous and accepts standard AR-15 magazines. (www.bushmaster.com)

LWRC International was on hand with their full line of fine rifles. New this year is the R.E.P.R. (Rapid Engagement Precision Rifle), a short stroke piston driven 7.62mm that can be configured for a variety of roles. It can be used with a 12 inch barreled upper in an assaulter role or by switching to a 20 inch barreled upper it can be used as a sniper rifle. The theory here is that carrying another upper in a backpack is more convenient that carrying two rifles. The rifle has a side-mounted charging handle that enables the operator to reload without removing his eyes from the target. Also, with a side-mounted charging handle the rear of the upper receiver has no opening that might allow gas to be blown into the shooters face when the rifle is equipped with a sound suppressor. The R.E.P.R. will be available in four models: the standard with either a 12 or 16.1 inch barrel, the Designated Marksman with an 18 inch barrel or the Sniper with a 20 inch barrel. (www.lwrci.com)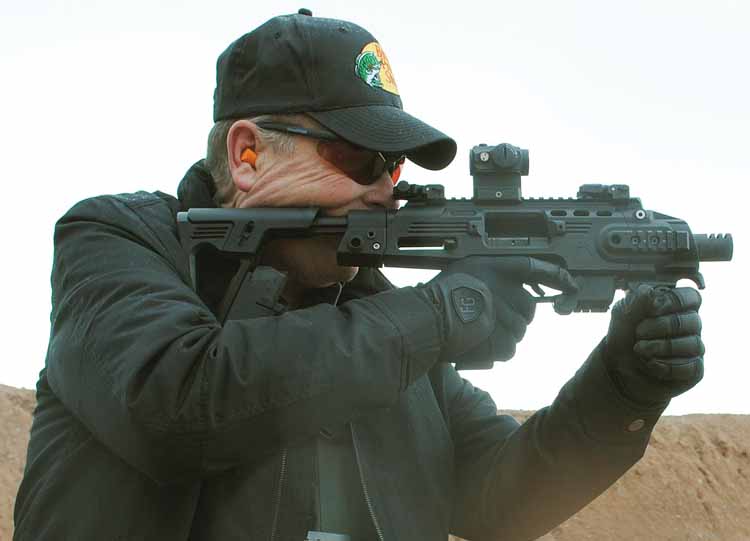 POF (Patriot Ordnance Factory) USA was on hand to introduce their new P-416 PDW. This gun is a 7 1/4 inch barreled piston driven .223 rifle that weighs right at 6 lbs. This tiny gun is just over 20 inches long with the stock collapsed. The gun features the MMR (Modular Railed Receiver), a free float barrel and a 3/4 inch shorter buffer system. Also new for POF this year is their new 25-round .308 magazines that will fit not only their P-417 series guns but also the Remington, DPMS, LWRC and the SR-25 rifles. Another new product from them this year is their Roller Cam Pin kit. This kit contains a new cam pin with a rolling head, a modified bolt carrier key which allows the new cam pin to be removed without removing the carrier key and new screws as well. The complete kit will retail for just $45. (www.pof-usa.com)
FNH USA chose the SHOT Show to introduce several new firearms as well as a couple of new less than lethal guns. The gun that drew the most attention was their new semi-auto version of the SCAR Heavy designated the SCAR 17S. Following last years introduction of the SCAR 16S that is the civilian version of the .223 Special Operations Combat Assault Rifle, the SCAR 17S is the .308 version. This piston driven rifle is totally ambidextrous with a magazine release and fire controls on both sides as well as a reversible charging handle. The SCAR 17S also has a folding, collapsible stock with a 2-position cheekpiece that allows the shooter's eye to be aligned higher for optics or lower for iron sights. The gun can also be fired with the stock folded. Also new this year was FNH's series of handguns called the FNX. The FNX is available in either 9mm or .40 S&W. The pistols feature either double or single action and have a decocking lever that allows the pistol to be carried either cocked and locked or hammer down in the decocked mode. A modular grip is another feature of the FNX and comes with several backstraps with different checkering and different profiles to fit just about any size hand. These new pistols were designed with a different grip angle and position so that the bore sits lower in the hand thus producing less recoil and reduced muzzle flip. (www.fnhusa.com)

Smith and Wesson has supplied duty weapons in the form of handguns for just about as long as anybody can remember. In recent years they have enhanced their line of law enforcement firearms with the M&P 15 series of rifles. The M&P logo designates Military and Police. This year they expanded the M&P 15 line with several new versions of this rifle. The first will be equipped with the MagPul MOE stock, MOE grip, MagPul P-Mag, MagPul folding sights and the Troy Industries TRX Extreme rail forearm. The new rail is very thin and light and only comes with a top Picatinny rail. There are mounting points located in various positions along the forearm to add rails. This allows the shooter to place rails just where they are needed and still have a smooth forearm gripping surface without the need for rail covers. This gun is equipped with a 14.5 inch barrel with a permanently attached muzzle brake to bring it to legal length. Another new model of the M&P 15 is their new piston driven rifle which will be available with either a standard M4 forearm or a railed forearm. The new rifle uses the excellent Adams Arms piston conversion that has a railed gas block. Adams Arms has a proven design that is well made and works every time. Smith & Wesson has also updated the M&P 15-22 that was introduced last year and is their entry into the .22 LR black rifle market. It features polymer upper and lower receivers and a full sized .22 LR magazine that makes the gun look just like its full-sized counterpart. The new model of the M&P 15-22 now has a railed forearm, MagPul stock and pistol grip and now also a threaded muzzle that will accept different muzzle devices as well as a suppressor. The M&P 15-22 has had rave reviews and now this upgraded model is bound to be a winner as well. (www.smith-wesson.com)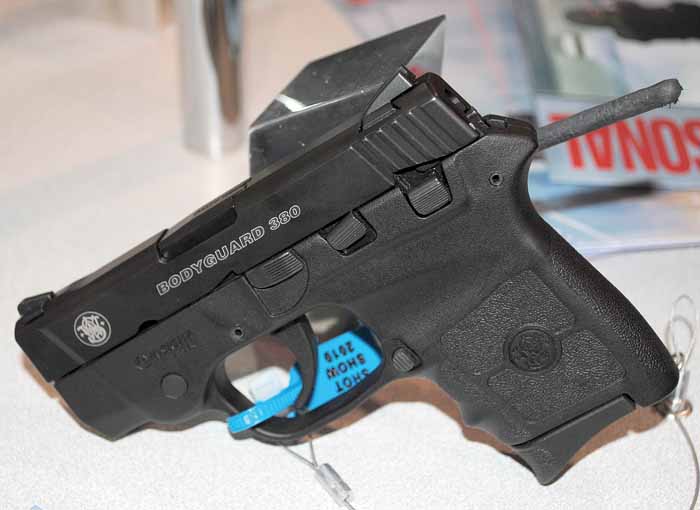 Several companies picked the show to break the news of their new .22 rimfire guns. Among them, Umarex USA will be bringing to market a new line of Heckler & Koch licensed .22's. These will include semi-auto rimfire copies of the H&K 416 battle rifle and the H&K MP-5 submachine gun. Two versions of both will be available. There will be a standard MP-5 with a dummy suppressor shroud that will cover its 16 inch barrel and also a model with what appears to be an MP-5 SD with an integral dummy suppressor covering its long barrel. As far as the 416 goes, it will be produced in a standard rifle configuration as well as a pistol version with a dummy suppressor. Both models are sure to be hot sellers. (www.umarexusa.com)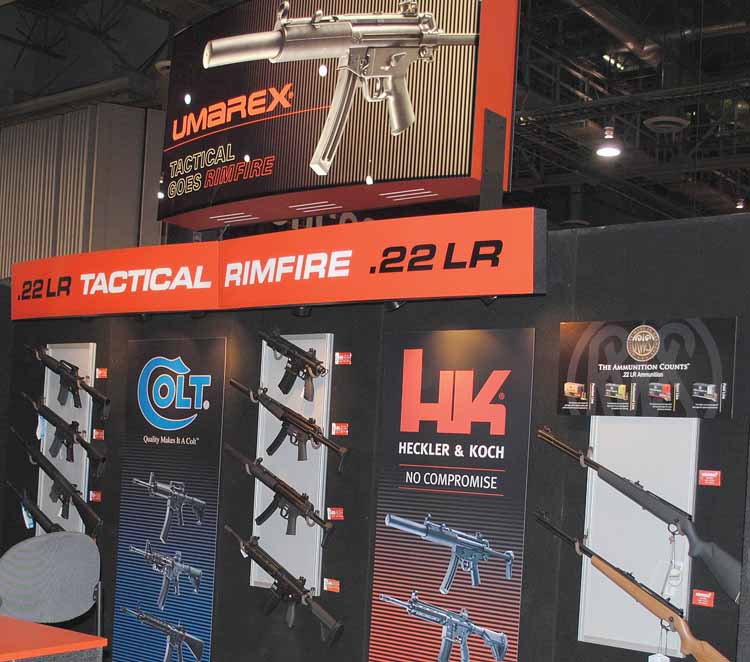 Barrett Firearms announced their newest heavy hitter. They are now producing their Model 82 A1 in .416 Barrett caliber. Their original Model 82 A1, in .50 BMG, has become feared the world over as the shoulder fired cannon that can reach out and touch someone or something at extraordinary ranges. Now this same platform will be produced in their latest caliber. This .416 caliber alternative further adds to the mystic of the Model 82 A1. With enhanced accuracy and stability, not to mention a significantly higher muzzle velocity, the .416 offers extreme long range accuracy. Like the original M82 A1 this rifle comes with a 29-inch chrome-lined barrel, carry handle, optics rail, flip-up iron sights, detachable bipod and cleaning kit all in a fitted Pelican case. If you want a heavy caliber rifle but live in a state that doesn't allow it, this is your rifle. (www.barrettrifles.com)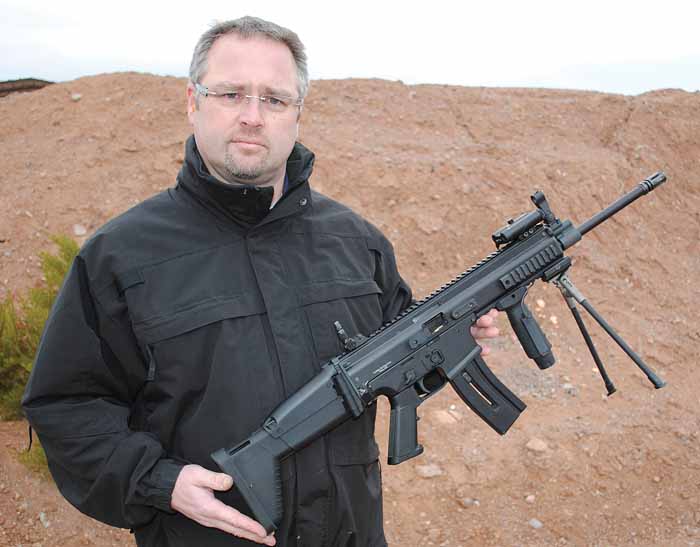 New accessories abound at the SHOT Show and many retailers visit the show for just that purpose to have the newest and neatest accessories that the industry has to offer. With over 1,800 exhibitors plying for the business, most dealers will run out of money before they run out of things to stock up on.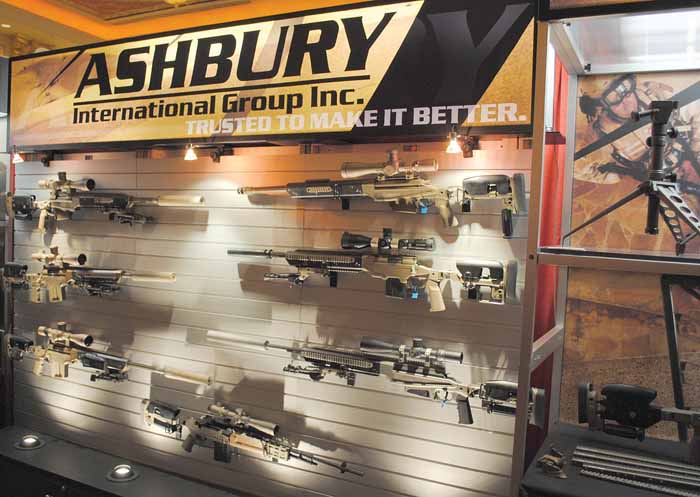 Suppressors have become big business with the tactical market expanding the way that it has. A relatively new suppressor company called Silencerco was there explaining the merits of their new suppressors. Classified as their Osprey line, the new handgun suppressors utilize a revolutionary eccentric design which means that the internal bore of the suppressor does not run exactly through the center of the outer tube but instead runs through the top of the tube. This allows for a slimmer, flat sided suppressor tube that still has the internal volume of a round tube. Because of its slimmer form it can be holstered while still attached to the host firearm. Another feature of these suppressors is a Nielsen device that is integrated with a cam-lock mounting system. Interchangeable pistons in the locking system allow one suppressor to be used with multiple host weapons. With an eccentric design these new suppressors allow an unobstructed sight picture without having to use extremely tall sights. They also offer safe hearing protection without the use of water or grease. The Osprey suppressors are available in 9mm, .40 S&W and .45 ACP. (www.silencerco.com)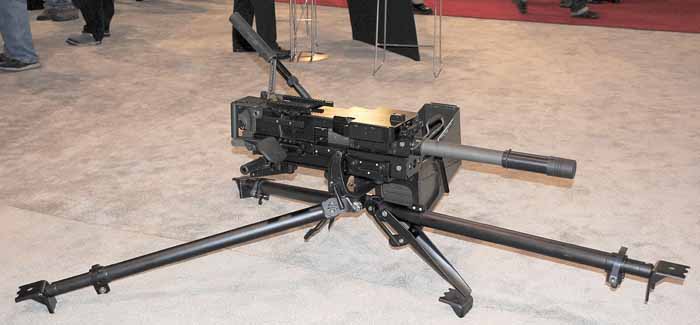 Gemtech has long been known for their line of fine suppressors and this year they have added some new 100% titanium suppressors. These new suppressors still provide the optimum sound suppression but with the substantial weight reduction and strength of titanium. These include the PSR (Precision Sniper Rifle) in .338 Lapua, the QUICKSAND in 7.62 NATO, the G5-Ti in caliber 5.56mm and the TREK in 5.56mm. Also new for 2010 is their G5-22, a .22 LR suppressor that has been designed to be correctly proportioned for the .22 caliber full-sized copies of famous assault rifles. It looks just like their 5.56mm G5 but made for .22 rimfire. It can be 100% user disassembled and has zero first round pop. They also have now introduced their new ALPINE .22 LR suppressor. This suppressor was designed for shooters who wanted a suppressor for their .22 rifles and pistols that could be taken apart. The only tool needed for disassembly is a U.S. coin. Gemtech is also now providing suppressors in Realtree and Desert Digital camouflage. (www.gem-tech.com)
Leatherman introduced one of the neatest accessories for all of the AR shooters out there. It is a new multi-tool called the MUT that functions as both a tactical as well as a practical tool for military, law enforcement and civilian shooters. It comes in either a utility model or the EOD model. The utility model has 18 tools plus a 3 piece bit kit and the EDO model is equipped with 17 tools as well as the 3 piece bit kit. The MUT has several tools specially designed for servicing the AR-15/M16 rifle. There is a bolt override tool, a firing pin removal tool, a takedown and retaining pin removal tool, a bronze bolt carrier carbon removing tool, cleaning rod brush attachments and optic mounting and adjustment tools. Both tools feature a removable pocket clip and a MOLLE Sheath. Everyone that owns an AR-15 or M16 needs to have one of these. (www.leatherman.com)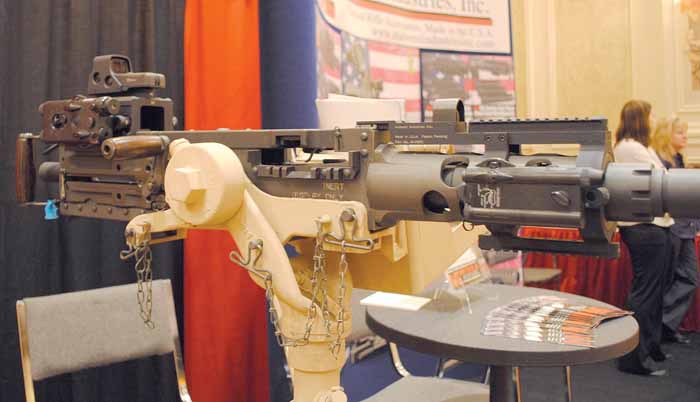 Optics have not been left behind when it comes to the tactical arena and several of the major players have introduced "Tactical" lines of their scopes. This year Leopold brought out their new Tactical Optics line. This new line features the newest Mark 4 ER/T riflescopes. Leupold's Mark 4 Extended Range/Tactical M1 Front Focal riflescopes are designed to let you take advantage of the reach and power of today's long-range hunting, target and tactical rifles. At 20x or even 25x, you'll have the superior clarity needed to positively ID targets, and the generous range of windage and elevation adjustment that gives you the accuracy and precision that you need at the most extreme distances. They also now have a full line of tactical mounts and bases so that mounting these new optics to any rifle is not a problem. (www.leupold.com)
All in all, this years SHOT Show proved to have just about anything that anyone in the industry would have an interest in. This article in no way covers every new item that was represented there. It would take hundreds of pages to cover them all. Just be sure to watch future issues of Small Arms Review as we cover a host of new and interesting products from the shooting industry.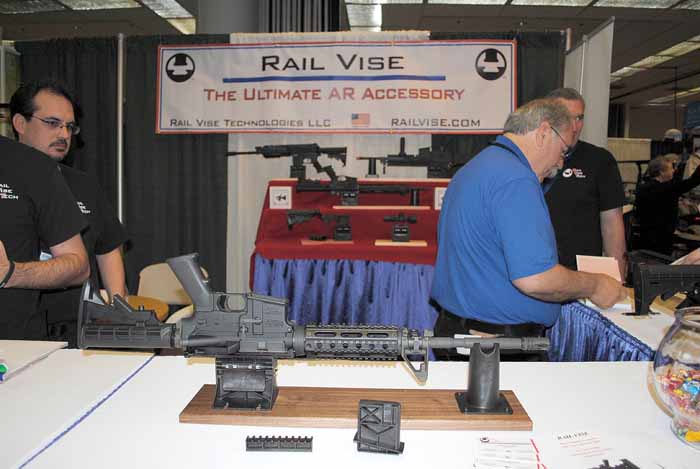 This article first appeared in Small Arms Review V14N2 (November 2010)