By Heebum Hong
From 21 to 25 September, DX Korea 2022 was held at KINTEX in South Korea. South Korea has two major defense exhibitions; one is ADEX (Aerospace-Defense Exhibition), and the other is DX (Defense Exhibition). Both are biannual, with ADEX held on odd years and DX on even years. 
Both ADEX and DX handle similar items and companies, but there are some differences. ADEX is more aerospace-oriented, since it was originally started as the Seoul Airshow in 1996, and the airshow element is still very important. DX is more of ground-oriented event, without an airshow, and far from any air bases (to the contrary, ADEX is held at Seoul Airport, a Korean Air Force base near Seoul.)
Even at the height of the COVID19 pandemic in 2020, DX opened to both local and foreign visitors, and in 2022 it saw even greater attendance.
But this year, we saw considerably more foreign visitors than expected: that was some kind of 'butterfly effect' of the war in Ukraine. Unlike European countries, Korea still maintains large "old school" defense industries to make tanks, artillery, and ammunition. Poland bought large quantities of Korean tanks and self-propelled howitzers, and other European countries are also in negotiations to buy munitions ranging from 155mm shells to anti-tank missiles. The U.S. and Canada already bought 100,000 155mm shells from Korea to replenish their stock.
While not as glamorous as heavy weapons, the Korean small arms industry also received some attention from potential foreign customers. Korea only has two small arms manufacturers, but one of them, SNT Motiv (yes, they changed their name again, from S&T to SNT), has one of the largest rifle factories in the world. Even with its current facility and manpower, they can beef up their capacity to 300,000 rifles per year (though only 1/10th of that is currently manufactured). The small arms industry was affected by the recent war, and many U.S. and NATO small arms companies are also very busy supplying weapons and ammo to Ukraine. In that vacuum, Korean small arms manufacturers can potentially fill in for those companies.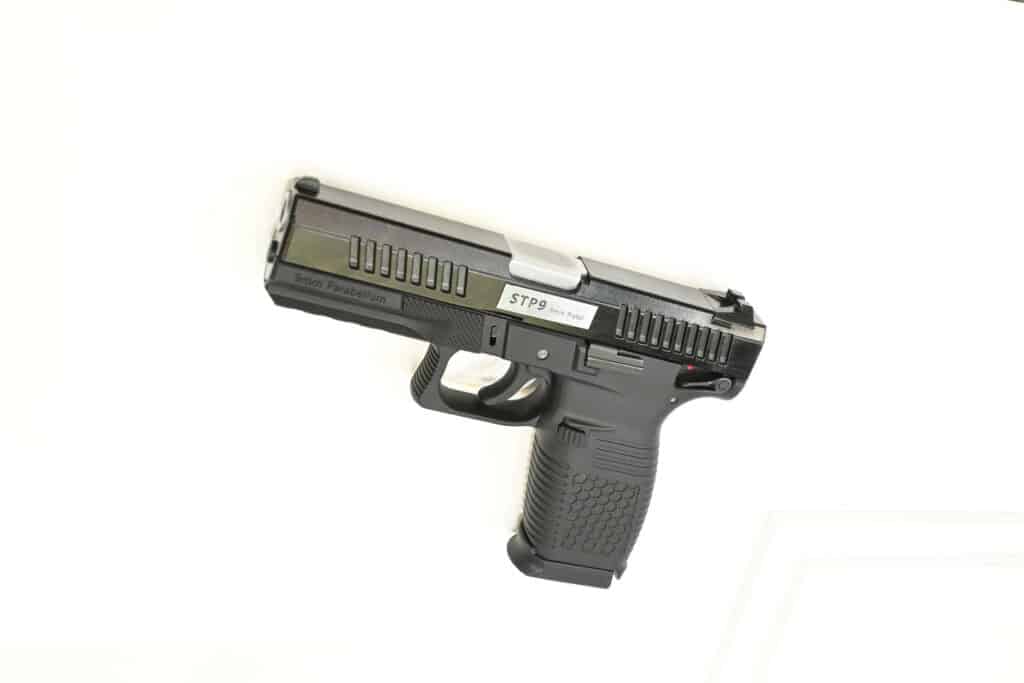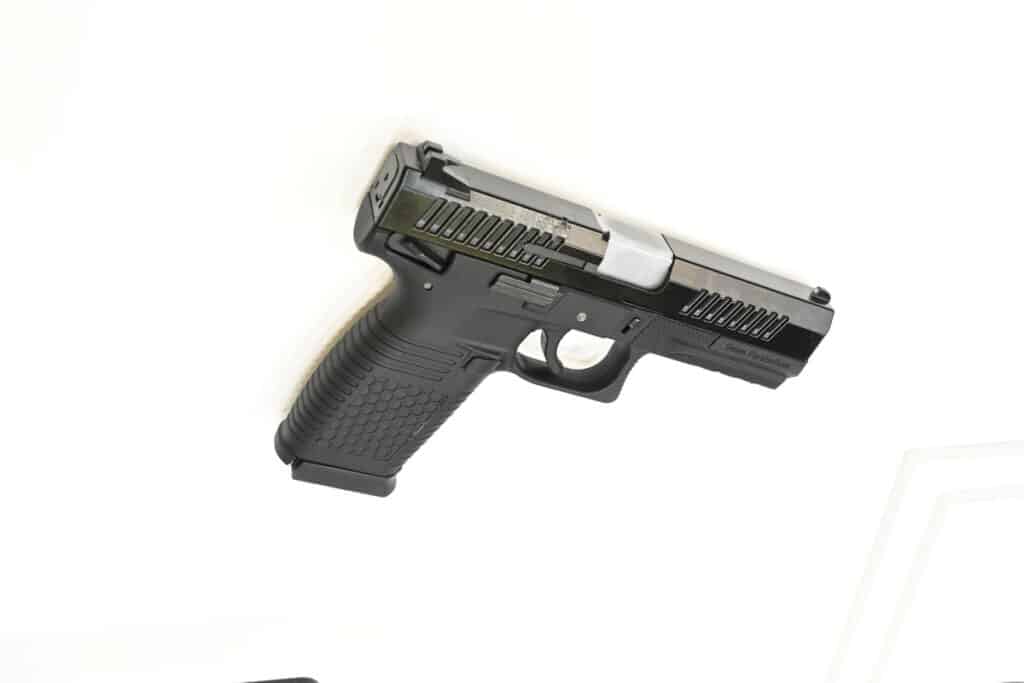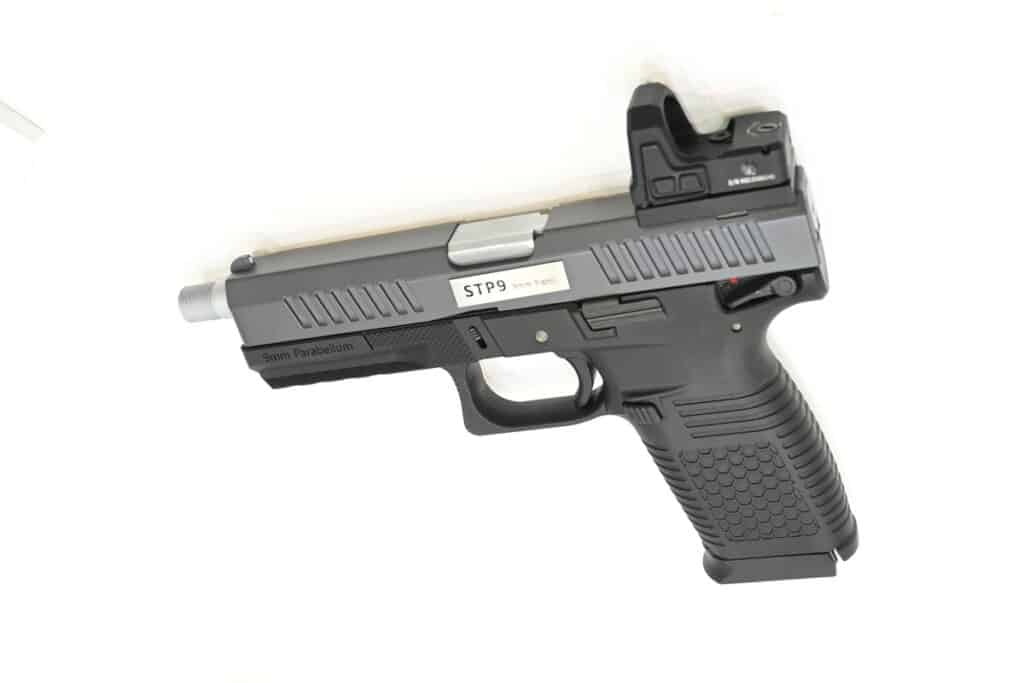 SNT Motiv displayed their newest development; the STP9. This is striker-fire pistol is a potential replacement for the K5 pistol. K5 has been in service more than 30 years, so the Korean army is considering a replacement program. While no official program has begun, SNT Motiv released the STP9 in an effort to gain momentum over its competitor, Dasan. Dasan is in a better position since it has manufactured Glock compatible parts and clones for the export market. SNT has very limited experience in this area.
While there's no official requirement for the future pistol, the army is very likely to call for a striker fired, polymer framed pistol. SNT's new STP9 covers this and adds an interesting feature; it uses a S&W M59-compatible magazine. The reason for using the same magazine as the currently issued K5 is simple. It saves the ROK army money if it can use existing pistol magazine stocks in its new service pistol.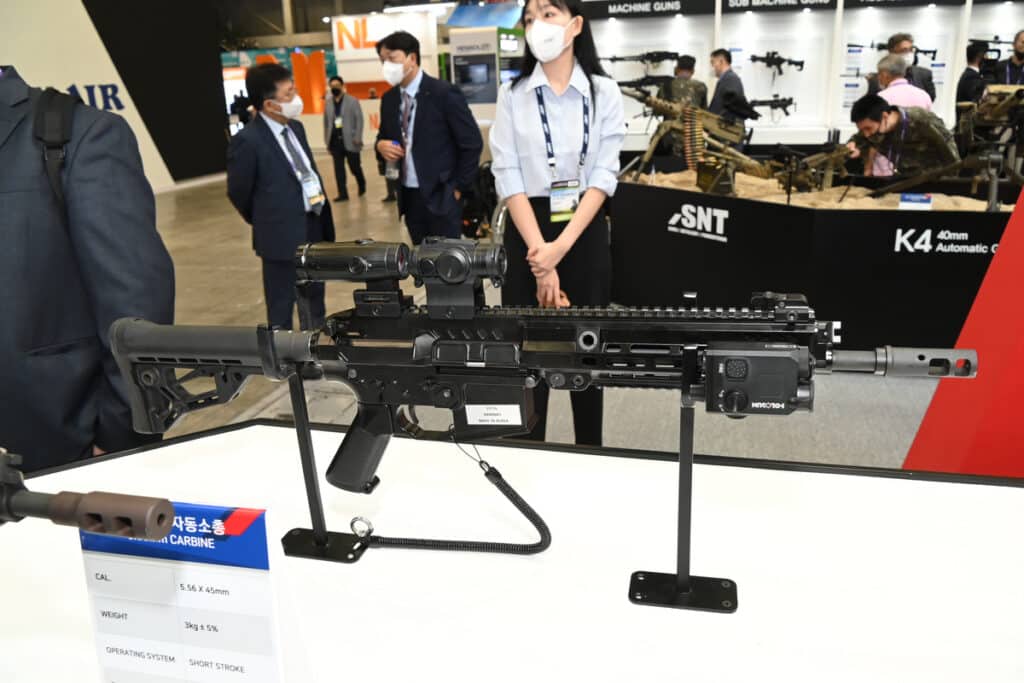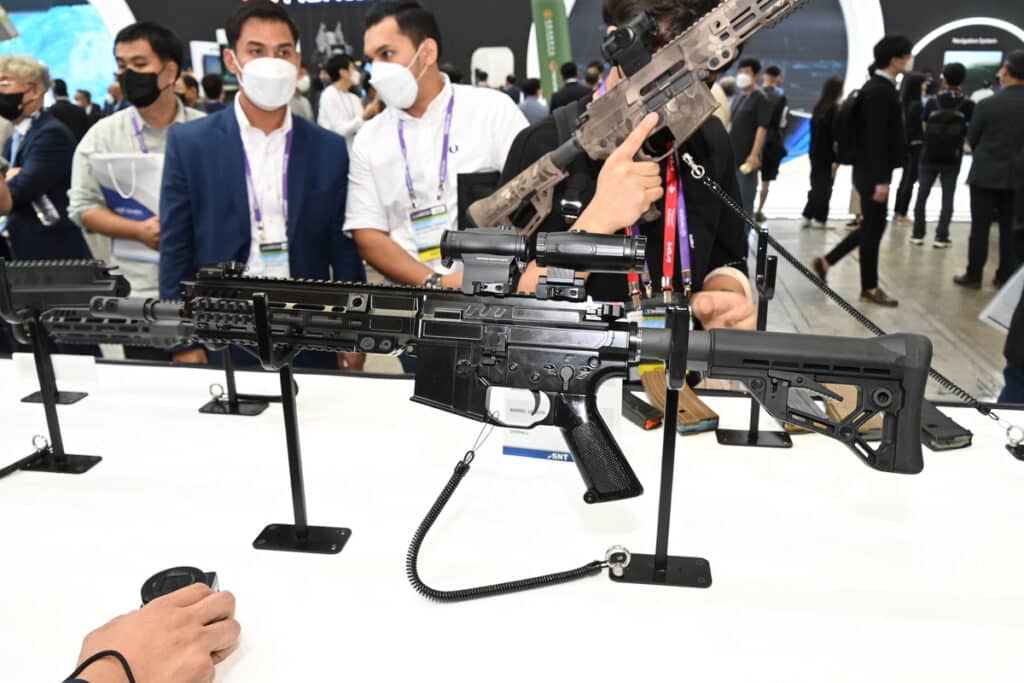 Another development from SNT Motiv is the STC-16 carbine. It's not new, but in 2021 it became the most probable candidate to become the Korean special forces' new main weapon to replace the K1A. Originally DSAR-15PC, a 5.56mm carbine from Dasan, was selected to become new special force weapon, but because of some legal troubles, that rifke was dropped from consideration. Now the STC-16 is the only candidate, but the Army demanded many changes and the result is the STC-16's fourth iteration prototypes displayed this year.
Now it has more conventional control layout, very similar to the AR-15 series of rifles, and a lightened receiver with M-Lok hand guards. The gas system is improved a bit. It is now in final testing, and we should be hearing about the ROK Army's decision to adopt the system soon.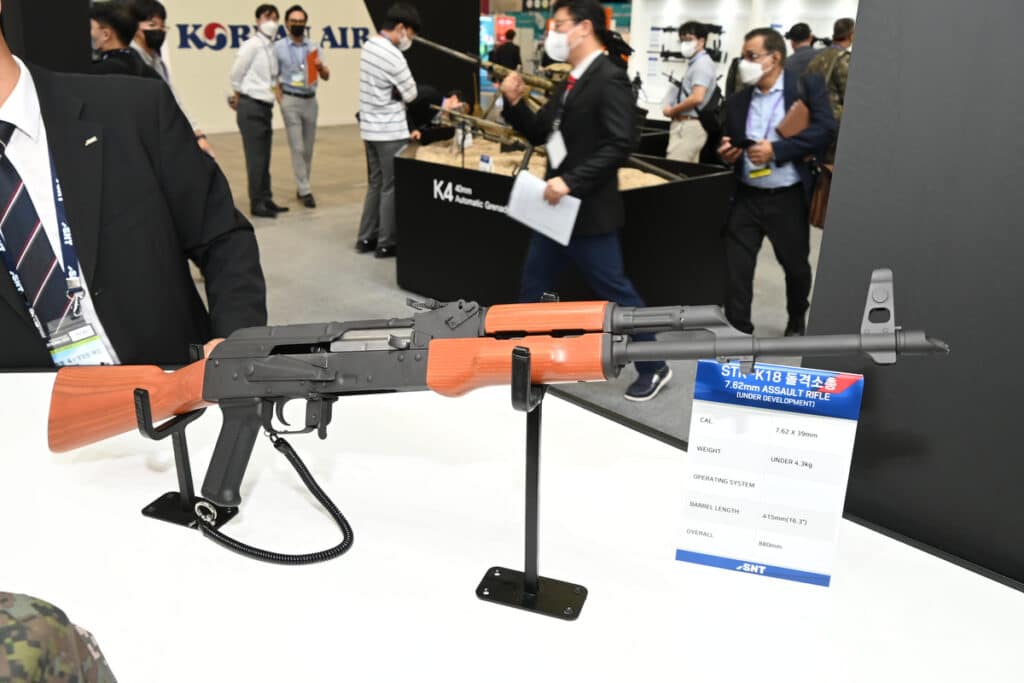 Dasan is also making progress; they showed new versions of their AR-15 clone rifles, namely DSAR-762 (7.62 NATO) and DSAR-15PQ (5.56mm). Both are developed from their previous DSAR-15 series design, with advanced short stroke piston and gas regulator. The handguard is now fully M-Lok configured, and can be removed and installed with an Allen wrench.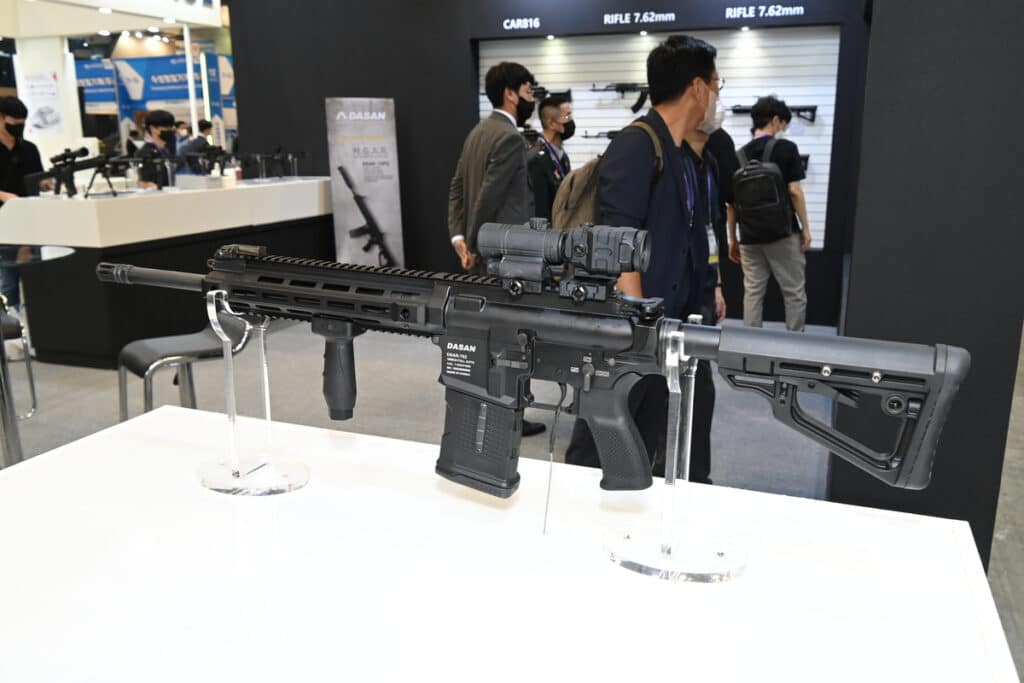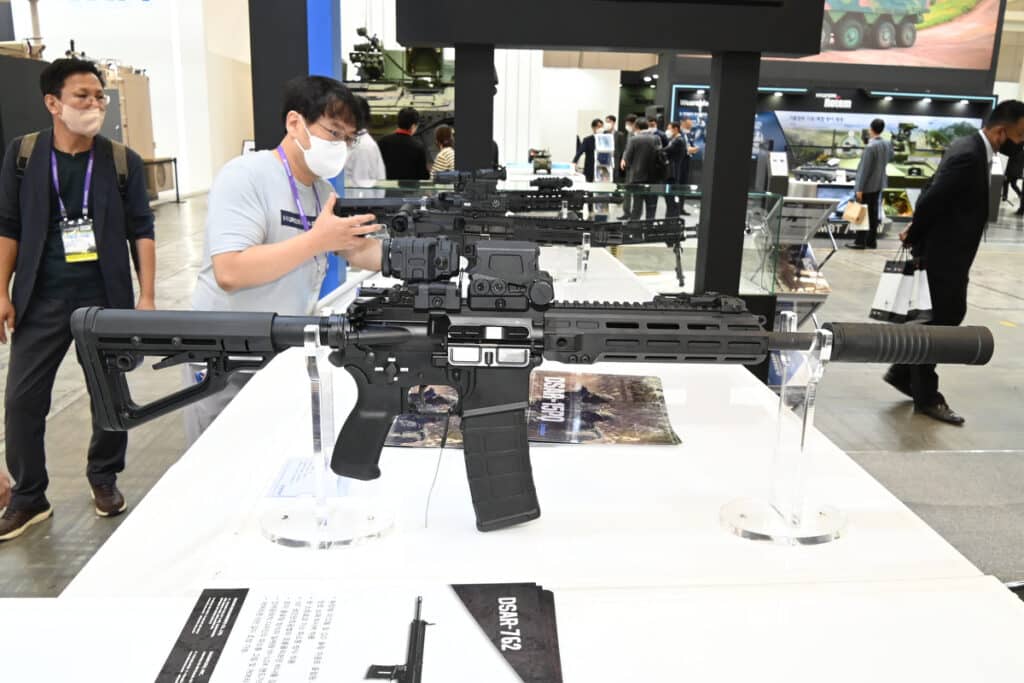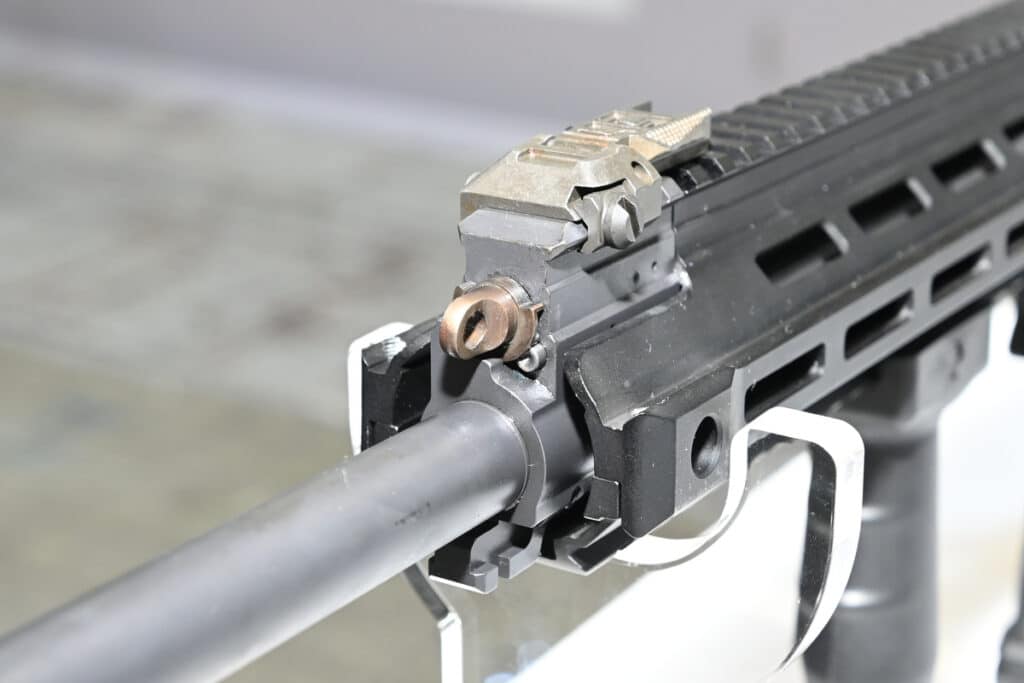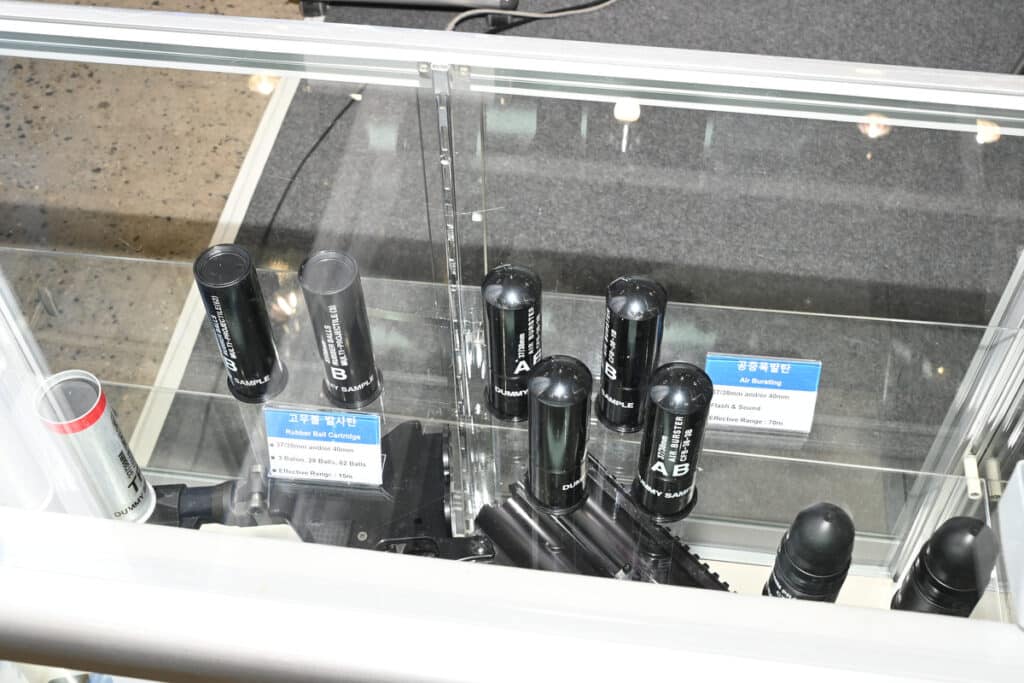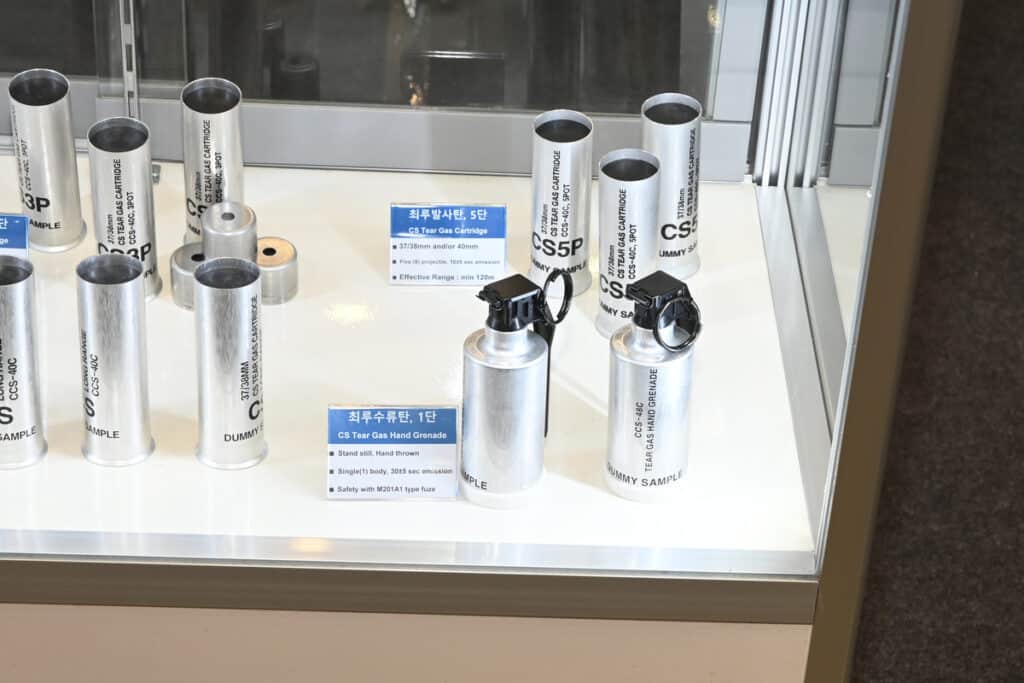 One somewhat unusual Korean company on display was CNO Tech. This company makes practice grenade and artillery shells, but they also make a variety of crowd control ammunition; they make tear gas grenades, 37-40mm tear gas cartridges, flash bangs, 12-gauge rubber slugs, 37-40mm rubber ball, etc… They even produce launchers; single shot, double barrel, and 6-round revolver launchers, as well as vehicle-mounted or tripod-mounted multiple launcher.
While not widely known to the public, Korea has been one of the major exporters of crowd control devices. Because of many civil unrest incidents during the 1980s and 90s, Korea developed considerable crowd control know-how and the companies involved export their products to many unnamed countries.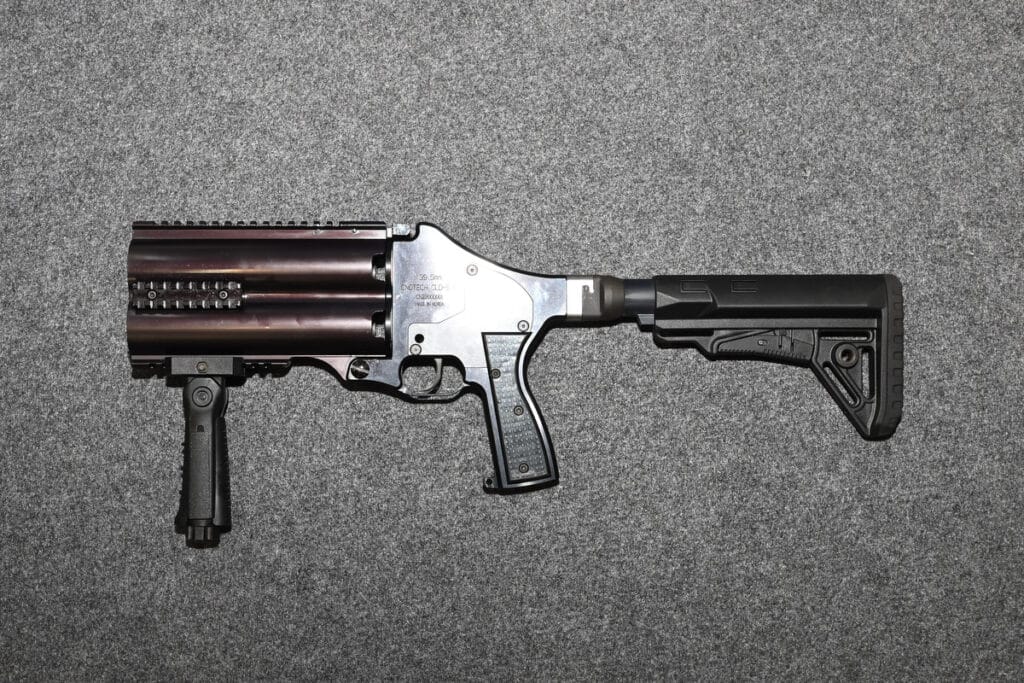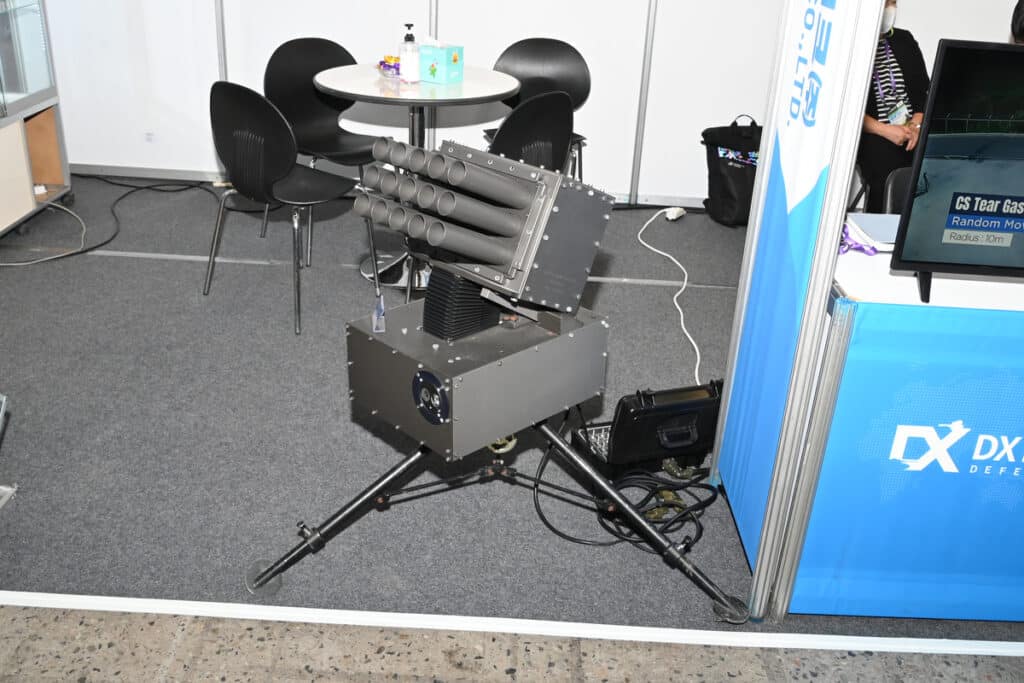 A final interesting prototype is Su-Optic's SORA-1 RWS. It's a remotely controlled weapon platform that's light enough to be carried by two persons when disassembled (the total system weight is 15kg). Aim and observation is done by LPVO (camera attached) mounted on the rifle, which the view can be seen on the operator's console. The left-right legs of the mount also work as a shock absorber, so even though it is lightweight, it can fire a relatively quick secondary shot. Connection can be made thru wire or wireless technology (LTE).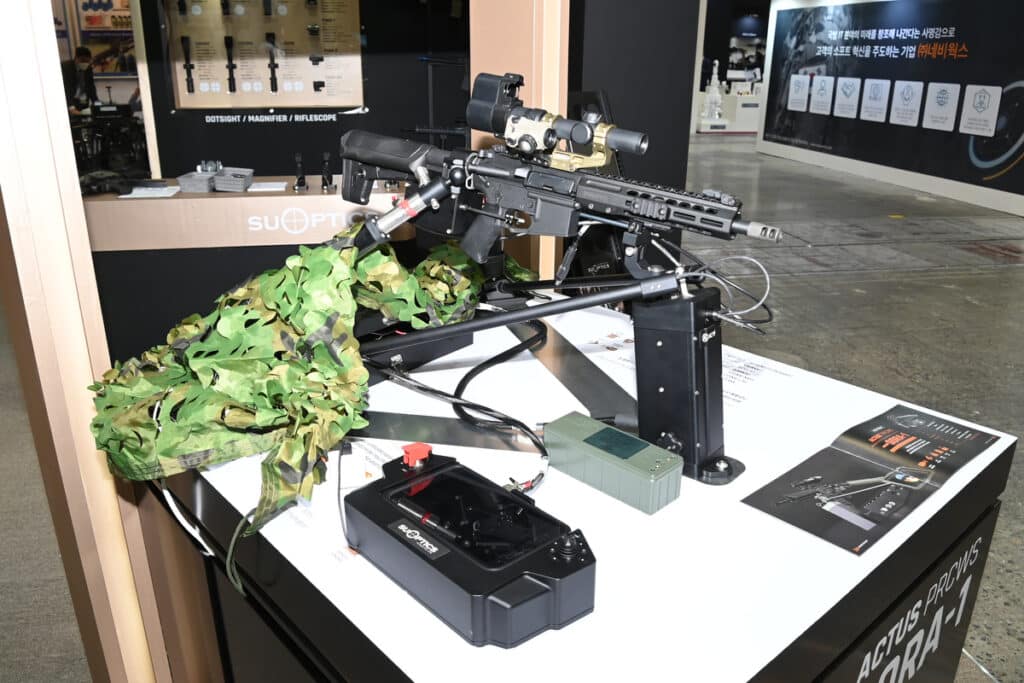 Overall, this year's DX was also focused on heavy weaponry like drones, artillery and tanks. But in the small arms field, Korean companies made progress, albeit slowly. We hope to see new designs on the next exhibition, ADEX 2023.
DX Korea Visitor Guide
Location Almost exclusively held at KINTEX, a convention center near Seoul.
Transportation Close to subway station (Daewha), a 3rd line (Orange line). From the Inchon airport the ride is usually less than an hour.
Accommodation Many of the official hotels joined with KINTEX are in Seoul. Most official hotels provide free shuttle to the attendees/exhibitors. But there are two hotels within walking distance, one is Kintex by Ktree (a quarter-mile away), and the other is Sono Calm hotel (a half-mile away). They have decent rooms with relatively low rates.
Electricity 220v 50 cycle with EU type two-prong plug
Safety South Korea is one of the safest countries, with a very low violent crime rate. 
Tourism You can visit many interesting places in Seoul; there's very large war memorial museum in Seoul, which is worth visiting. Also, if you're car enthusiast, there's a Hyundai motor gallery nearby.
Other Tips Avoid visiting on the weekends and Friday: most of the visitors are concentrating during those 3 days, especially on Saturday and Sunday (public days).