By Tara Dixon Engel
It has been a hero's journey of sorts for the legendary AA-12 "Sledgehammer" automatic shotgun. In literature and mythology, the "hero's journey" occurs when the protagonist springs from humble beginnings, encounters numerous obstacles, stays in the fight through challenge after challenge and emerges evolved and enhanced. That the hero of this story is steel and polymer versus flesh and blood, makes the story no less compelling.
Sol Invictus Arms, LLC, is a new gun manufacturer located in Melbourne, FL, born of Tactical Superiority, Inc., a multi-million dollar company that builds high-quality OEM parts used in nationally known firearms. The fledgling Sol Invictus will specialize in small arms for law enforcement and military, as well as in resurrecting and updating historic firearms of yesteryear. I had the opportunity to test the AA-12 full-auto and speak with Sol Invictus Arms' CEO Mike Conn about the semi-auto's redesign.
The Full-Auto AA-12
Shouldering the AA-12 in its full-auto form is vastly different from swinging up a modern tactical shotgun like the Mossberg 500 or even a bullpup variant like Kel-Tec's KSG. For starters, the gun is heavy. My biggest initial concern was being able to keep it aloft long enough to shoot. The gun is designed for military use, with stainless steel construction that makes it tough to damage or foul, even under the most adverse conditions. Unfortunately, the military has also balked at the weight issue.
For those of us used to deer or duck hunting with a semi auto or pump shotgun, the AA-12 is truly unique and just a little unnerving. Sure, you've read that the recoil is mild but what does that really mean? The AA-12 spits out about 5 rounds per second (or 300 a minute). At that speed, with a drum that holds just 20 rounds, the whole experience is over in a flash, leaving you with a sensation akin to your first intimate physical encounter. You feel a delicious afterglow accompanied by an adrenaline-infused rush of thoughts like, "wait … what? That was cool … I think … ."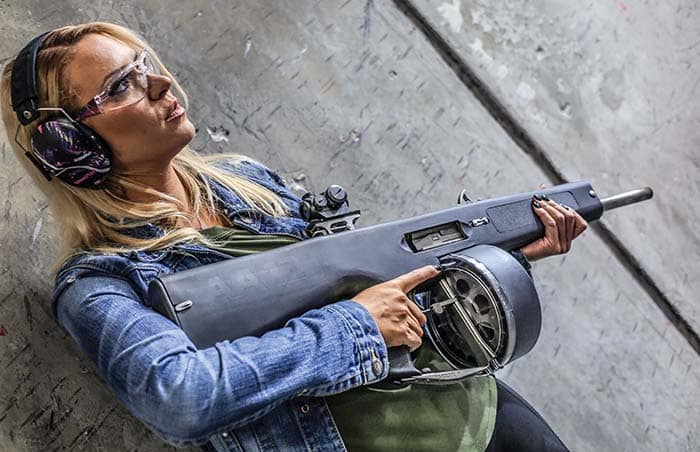 The day I shot the AA-12, we were using standard 00 buck shells, but one of the gun's strengths is that it supports a wide variety of projectiles, including the Frag 12, a high explosive armor-piercing round.
Having shouldered a variety of shotguns over the years, ranging from an Ithaca 10 ga to a Browning Citori 12 ga and a rare Parker 28 ga side-by-side, I understood the kick I might expect and how to nestle the stock into my body for maximum recoil management. The AA-12 doesn't feel exactly like a hunting shotgun or even a tactical variant. It looks more like a Tommy Gun, with the round drum dangling from its frame (it is, however, also designed to use an 8-round stick magazine) while the gun's hard synthetic shell gives you a sense of bulk that most shotguns don't have. The weight is distracting, but only until the shooting starts. Then it becomes an asset that seems to assist in absorbing what should be a significant kick.
When the gun fires, you immediately feel the push-back that is typical of an automatic, but the sharp smack against your shoulder, so familiar to generations of hunters, is oddly absent. Even wearing high heels (I had NOT planned to shoot that day), I stayed easily upright and was able to comfortably lean into my shooting. I shot the gun in two bursts … tentative at first, being a novice at shooting an automatic. But once I confirmed the muzzle was not rising dramatically and that the kick to my shoulder was nothing compared to your average duck hunt, I pressed the trigger with more confidence. While it took only seconds to expend the 20-round drum, the overall experience could best be described as exhilarating. I wanted more. Unfortunately, on that particular day, I was one of about dozen people shooting. My chance came and went.
But it left me eager to not only shoot the full-auto AA-12 at the next available opportunity, but to try out the semi-auto version. Sol Invictus Arms assures me that the recoil and overall operation of the semi-auto version will feel "comparable" to the original model. If that's true, then the fledgling manufacturer may have more than a one-off successor to a mythical beast—they may have a winner. And, indeed, the story continues to unfold.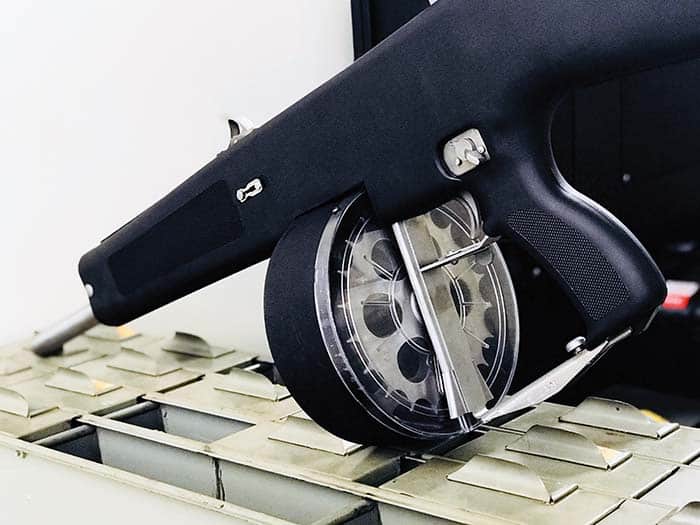 The AA-12 Semi-Auto
The new variation of the AA-12 will roll off the production line before 2019; a semi-auto model that combines the fun and ease of the full-auto design (and yes, it is truly a "fun" gun to shoot) with the mass appeal of a semi-auto. Orders are already being taken for this limited run production, according to CEO Mike Conn.
Conn says the AA-12 was a logical project for the company to pursue, given its mythic role in video games such as "Call of Duty," "Medal of Honor," "Combat Arms" and "Grand Theft Auto," in television shows like Justified and Breaking Bad and such films as "GI Joe," "The Expendables" and "Predator."
Conn notes the gun was the brainchild of Maxwell George Atchisson—a prolific designer of firearms and firearms accessories—whose original design was dubbed the Atchisson Assault 12 Gauge. The drum-fed automatic shotgun (which can also be stick-fed) spent a number of years as a curiosity, never really living up to its inventor's vision before Atchisson sold the patent to Jerry Baber's Military Police Systems in Piney Flats, TN, in 1987. Baber began limited production and eventually brought on board German-born machinist Boje (boy-A) Cornils (cor-neels) who became a co-owner of the AA-12 and is now widely considered to be the genius behind making the legendary gun commercially viable. Working from his shop down the road in Russellville, TN—in a facility that had once repaired Model T's—Cornils assembled and refined the AA-12s, making over 150 changes and enhancements to the gun, which became legendary for its manageable recoil and maintenance-free performance (Baber claimed that cleaning was only necessary after 10,000 rounds).
Baber served as "front man" for the AA-12, trumpeting its benefits to the world, especially the military community, where he had brief flirtations with the Marine Corps as well as several robotics companies that envisioned a role for the unique firearm in unmanned warfare. Meanwhile, Cornils labored in virtual obscurity, refining the weapon and patenting the parts necessary for the open-bolt and gas-block design which contribute to the shotgun's robust reliability with the multitude of differing ammo types the platform is designed for. That, coupled with the gun's recoil spring design, which absorbs significantly more kick than the average shotgun, serve as a testament to Boje's engineering skills.
While Cornils' lack of name attribution on the AA-12 redesign may have made the German craftsman feel left out, it was probably for the best, especially when Baber began telling news outlets that the U.S. military was "brain dead" and "pathetic" for not adopting his weapon for combat use.
In fact, a 2009 article in The New Yorker seemed to make light of Baber's fascination with a "robot army," painting him with an unflattering brush that probably didn't endear him to the Army any further. But Mike Conn acknowledges there is still legitimate interest in the warfighting capabilities of the AA-12.
"We've had some requests to make full autos for law enforcement, and we've had conversations with SOCOM members about what we could do to change the original full-auto design and make it viable for the military. The military likes the fact that it has virtually no recoil. It pushes you, but it doesn't give you that smack and a bruise that you can get from a standard 12 gauge," Conn explains. "But it's heavy—it weighs 10 pounds—and the military is used to something lighter. The other issue is that it doesn't have a selector switch to take it from semi to full auto. You just can't tell a bunch of 18-year-old kids in training, 'if you squeeze the trigger this much, it fires one round, but if you squeeze it this much, it shoots continuously … .' That just doesn't work."
Conn says that once the new semi-auto model has hit the streets, his company will look at ways to modify the automatic design for military use.
Preparing for Civilian Consumers
After much negotiation for the AA-12's engineering plans, Boje Cornils and Sol Invictus came to an agreement, and Sol Invictus ended up moving his entire shop and all of his equipment to their facility in Melbourne. "We even set up an office for him here so he can come down whenever he's feeling creative and continue to design," Conn says.
The purchase included numerous hidden gems that Sol Invictus wasn't anticipating, which dovetail perfectly with the company's desire to reengineer and re-release firearms of yesteryear.
Marketing Director Michael Rivera pops open a battered gun case housing a crude but oddly familiar revolver. "It's a Thunder 5," he says, turning it over in his hand. "It's the precursor to the Taurus Judge and the Smith & Wesson Governor. The blue prints for it were included in Boje's collection, along with hundreds of others … parts for the FAL rifle, for 1911s…stacks and stacks of stuff, old school … hand drawn. We still haven't gotten through everything."
But they will…just as soon as they complete the AA-12's journey toward civilian ownership.
Reverse Engineering
Sol Invictus engineers and designers have been using the AA-12 blueprints to reverse engineer the semi-automatic version.
"We've got a full-time engineer getting the blueprints into CAD and CAM," Conn explains. "Getting this shotgun rolling off the assembly line is our first priority before we move on to some of the other projects that have evolved through Boje's collection. Because we didn't get any of the molds, we're building everything from the ground up. We've sent the stock out to a place that is creating precise three-dimensional drawings by scanning it with a laser. Once those laser scans are done, we'll give them to a plastic mold maker and get those molds made. Meanwhile, Boje is remaking molds for some of his cast parts. We've got other companies that are building additional molds in order to meet our time schedule for deliveries in late December."
"We're also changing parts in the design that probably didn't make sense in the first place, and we're machining parts here in our shop that were cast on the old version of the gun. There was a lot that Boje wanted to do with this design that Jerry didn't want to bother with." Conn admits that the biggest time-eater has been building all the molds, whether for plastic or metal components. But he also stresses the importance of getting it done right the first time.
"We're taking into commercial production something that was previously hand-fitted. This gun has to be consistent from part-to-part. We've got to make sure we have all the necessary tolerances that will allow these guns to work every single time. It is a tremendous investment of time, money and sweat equity, but we are getting it done."
Conn says, adding that they are about three weeks behind where he hoped to be, but remain optimistic that the first semi-automatic AA-12s will begin production before 2019.
Design Modifications
Among the changes to the original design is the addition of a functional firing pin along with a hammer in order for the mechanism to fire from a closed bolt.
Like any hero's journey, the road continues to be fraught with complications and challenges to be overcome.
Conn notes, "There are more than eight different major structural changes involved in taking the gun into a semi-auto design, and we've worked with engineers to create overlays that show the differences. We've also been in contact with the ATF to make sure all our T's are crossed and I's dotted."
Sol Invictus plans to pay tribute to the creative genius who refined the fully automatic AA-12 and paved the way for the new semi-auto model by releasing the limited production run under the name "Boje Signature Model." A nice tip of the hat to a man who has labored in anonymity for far too long.
The new semi-auto carries a price tag that is not for the faint of wallet, coming in at $3,000 with A-frame sights and $3,250 for the Picatinny rail version with optic. Sol Invictus has established two pre-order portals where customers can gain more information regarding the AA-12 and place an order for the shotguns.
gunbroker.com/All/search?IncludeSellers=4581887
And, of course, the company welcomes phone inquiries and orders at: 321-428-4466.
This article first appeared in Small Arms Review V22N10 (December 2018)