By Chris A. Choat

The Small Arms Review Show, or the SAR Show as it has come to be called, is literally the largest gun show west of the Mississippi river. It is still referred to as SAR Show West as several years ago there was a SAR Show East in the eastern part of the U.S. The SAR Show is held in conjunction with Crossroads of the West Gun Shows that promotes shows all over the western United States. The show takes place in Phoenix, AZ at the Arizona State Fairgrounds and is always held the first weekend of December each year. The show covers several acres and is housed in six different buildings and two huge tents outside with more sellers. Also outside are plenty of food vendors and tables to sit and relax. With over 2,200 tables this show attracts tens of thousands of attendees and is a Mecca for finding just about any kind of gun, gun part, accessory or type of ammunition you might want. As someone at the show said, "If you can't find it at this show, you probably don't need it." The temperatures in Phoenix, this time of year usually run in the seventies but this year they had a "cold snap" with the daytime highs in the 55 to 60 degree range while the evenings dropped to the low 30s.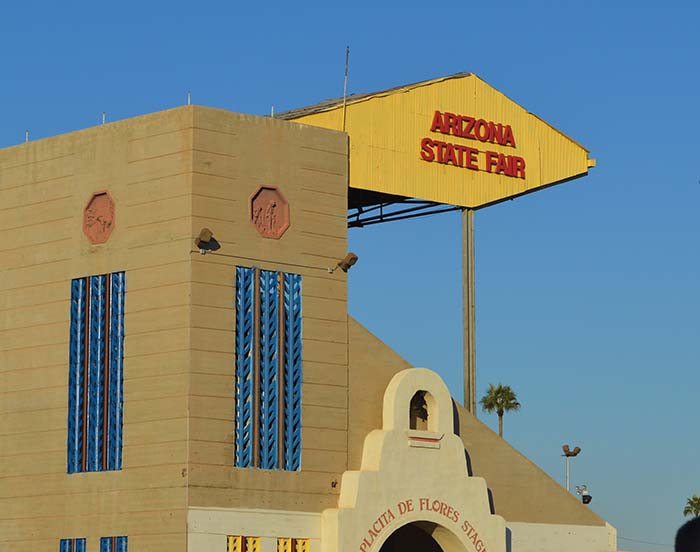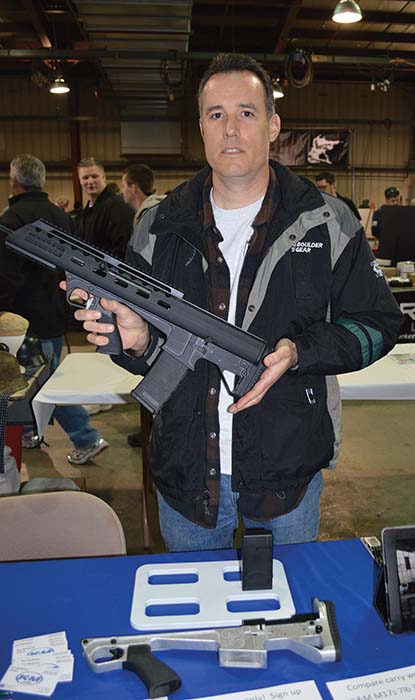 For the 14th straight year, Small Arms Review is a co-host of the show and has one entire building all to itself. This building houses mainly exhibitors whose wares have to do with "black rifles," Class III items, which include machine guns and suppressors, and all accompanying parts and accessories. The show draws vendors from all over the United States as this show is a destination for shooters and collectors. Many of the companies advertising in Small Arms Review magazine or other notable industry publications can be found here showing off their products. The show gives attendees a great chance to have hands on inspection before they part with their hard earned dollars. It also is a chance to meet with industry leaders and the people behind the products that they sell. This year's show was once again sold out and attendance was above average. Ammunition seemed to be the hot item at this year's show and even though it was fairly pricey there was plenty of it and the only limit on the amount you could buy was the size of your wallet. Most of the time you had to stand in line to purchase something from one of the vendor tables. There were some very interesting transferable machine guns for sale including a Remington Model of 1917 that was used at Sing Sing prison. Generally, prices on transferable machine guns have stabilized a bit and a number of vendors reported sales.

A lot of the exhibitors choose to introduce their new products at this show much like they do at the SHOT Show. This year was no exception with new firearms, suppressors and tons of new accessories for sale.
There was a new bullpup rifle at this year's show made by a company called K&M Arms (www.kmarms.com). The new rifle is called the M-17S and weighs just slightly over 7 pounds. It is chambered in .223 with 300 Blackout following next. The manufacturer says there will also be another model to follow in calibers 6.5 Grendel and .308. While you may think that there is nothing new in the way of bullpup rifles, the M-17S has numerous improvements over others that are marketed today. Probably the most notable is that the gun has a 3.5 pound trigger pull. As anyone that has fired a bullpup knows, a good trigger is not usually one of their attributes. This author tried the trigger on the sample gun and it was absolutely fantastic. It was 3.5 pounds and it was very crisp with absolutely no slop or mushy feel to it. It felt like the proverbial glass rod breaking. The gun will also be available with a 5 pound trigger, for law enforcement agencies require at least a 4.5 pound trigger pull for liability reasons. Another remarkable feature is that the rifle only requires three screws to be taken out for the barrel to be removed. The rifle uses AR-15 type magazines and the .308 version will thankfully take the .308 P-Mags. While all controls on the gun are ambidextrous it does eject from the right hand side. The manufacturer tells the author that later versions will be available with left hand ejection for southpaws. Watch upcoming issues of SAR for a detail test and evaluation of this new rifle.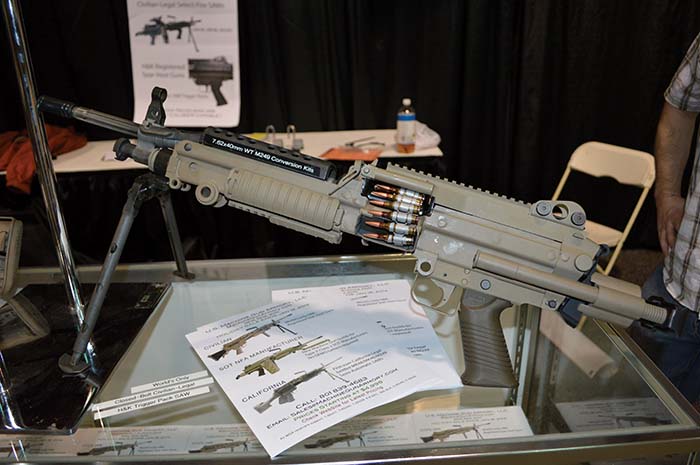 While it is not a brand new firearm, another gun drew lots of attention at the show. A company called U.S. Machine Gun Armory, LLC (www.machinegunarmory.com) is producing a belt-fed gun that is modeled after and even accepts parts from the FN M249 Squad Automatic Weapon. Their gun comes in three models, the MK48, MK46 and the M249. The guns feature several improved features over the FN guns but probably one of the most notable is that these guns accept the H&K G3 or Model 91 triggers pack. So if you already own a registered select-fire H&K trigger pack you can install it in one of the U.S. Machine Gun Armory guns and have yourself a select-fire belt fed. The new guns fire from the closed bolt position and the machining tolerances are much tighter than on the military guns. This provides much better accuracy and longer parts life. These guns are also easily caliber convertible and can be ordered in 5.56 (.223), 5.45×39, 6.8 SPC, 300 Blackout, 7.62×39, Wilson Combat 7.62×40 as well as 7.62×51 (.308). These guns are not cheap but the quality is outstanding. U.S. Machine Armory LLC is also offering Class III models of all guns for qualified purchasers.

There was also a new bolt-action rifle at the show from Robar, originators of the Robar NP3 firearms finish. The new rifle is called the SR 21 Precision Rifle and is a modular chassis system mated with an accurized Remington model 700 rifle. It features a full length Picatinny rail across the top of its monolithic receiver with a 20 MOS slope built in allowing the shooter enough room to mount NV optics in front of the regular scope. It also features side and bottom rails for other accessories. Robar is known for producing precision firearms and the SR21 is no exception. Out of the box they guarantee 0.5 MOA or better accuracy. The gun comes with a MagPul PRS stock that can be removed with the flip of a lever making it easier to store or transport. The new rifle accepts AR-15 style grips and comes with a MagPul MIAD grip installed. The SR21 accepts AICS style magazines and comes with two. The trigger on the rifle breaks at 2.5 pounds but the trigger pull can be custom tailored to user specs. The gun is finished with Roguard or Ply-T2 finish and has NP3 coating on the bolt and internal parts, which makes the action butter smooth. It can be ordered with an optional Surefire flash hider or muzzle brake or with the barrel threaded to customer specifications. The rifle can also be built with a customer supplied Remington 700 short or long action or even most short action Savage rifles.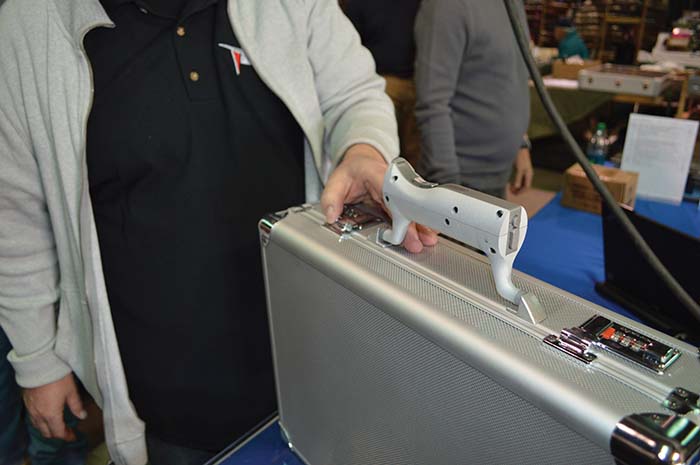 Michael's Machines (www.michaelsmachines.com) have long been known for producing H&K style belt-fed guns in .223, 7.62×39 as well as .308. Their rifles are top-of-the-line and run like sewing machines. Now they have turned their attention to the AR-15 style of rifle and have come out with machined billet aluminum upper and lower receivers that are designed to accept AK pattern magazines to turn your AK into a 7.62×39 gun. While this is not a new idea, Michael's Machines has done it the right way. They have widened the magwell on the lower to accept standard unmodified AK magazines. They have also designed an upper receiver that is wider to match the profiles of their new lower. The new units are black hard-coat Mil-Spec anodized and will accept most all AK magazines and even most drums. Knowing this company, these products will work perfectly.

Suppressor technology has been advancing very rapidly in the last several years. New suppressors are smaller, lighter and quiet their host weapons to a degree that was never thought possible before. On the forefront of these designs is a relatively new suppressor company called APD (Asymmetric Product Development) LLC (www.apdcans.com). The new suppressors from ADP offer extreme sound reduction as well as a small size in a product that does not have to be rebuilt and will hold up even to the abuse of a short barreled rifle in heavy calibers. They have taken cues from the aerospace industry in manufacturing and assembly principle that are used to keep jet aircraft engines intact under harsh conditions and applied them to the manufacture of suppressors. Their manufacturing process is proprietary and results in a can made from the highest quality materials but is still affordable. All of their suppressors are made from 17-7 and 304L stainless steel as well as Inconel 718. Another feature of the ADP suppressor that a lot of other suppressors do not offer is complete flash suppression regardless of caliber. Keep your eye on this company for some dramatic suppressor design.

Another suppressor manufacturer that has been at the show for years was Gemtech. They have been producing quality suppressors since the "early days" but are not much for standing on their laurels. They were showing off several newly released suppressors in different calibers. Watch these pages for more on these new suppressors as they are released. They also are also selling a subsonic .22 cal. LR round with a 42-gr bullet for specific use in suppressed .22 caliber weapons. This ammunition is of the highest quality and with excellent reviews has been greatly accepted by the firearms community. They brought 2 pallets of ammunition and by the end of the show, all were sold.

Firearms are not the only weapons that are displayed and sold at the SAR Show. You can find anything from mini-guns to knives and this year's show was full of interesting weapons. Arsenal, Inc. (www.arsenalinc.com) is a regular at the show and this year they were displaying their new Special Ops weapons collection. This collection of three NFA weapons are .22 caliber firearms that are disguised to look like something else. Hidden in the handle of a very well made combat knife is a .22 caliber revolver that shoots from a short barrel. The whole mechanism is hidden in the knife handle and is therefore classified as an NFA item requiring a special tax stamp. There are three different models of the knife/gun; the aforementioned model, another that is built into an AR-15 bayonet and a third model that is actually built right into the handle of an aluminum briefcase. These Special Ops weapons are available to anyone that can own a NFA weapon but they are available in very limited quantities. These new weapons bring a whole new point of view to the saying, "Don't bring a knife to a gunfight." Now you can have both.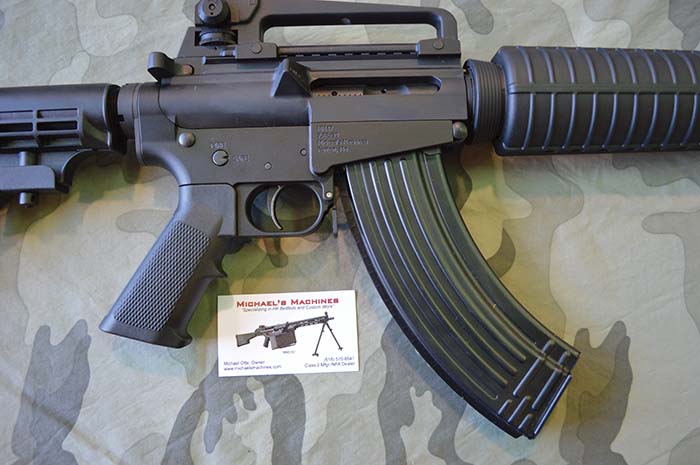 Ammunition, magazines and other firearms accessories make up the show as well as the firearms themselves. There was ammunition there to be had literally by the truckload with enough magazines to supply small countries. With several companies vying for buyers' attention the prices were very competitive. The items mentioned here are merely a glimpse into the new and exciting things that were displayed at this year's show. It would take a book to describe everything and even then you would probably not know of everything that was there.

This author has been to a lot of gun shows over the years but this is by far the best one to attend. It has something for everyone, whether you're a cowboy action shooter or a Class III collector. The show opens on Friday at noon and continues all day on Saturday and Sunday. Even with the show lasting 2½ days it's still almost not enough time to take it all in. So plan now for next year's show. The show is always approximately the same time of year, the first weekend in December. If you are looking for ANYTHING firearms related, you can probably find it here. Not to mention that Phoenix is a lovely place to visit in December. Just be sure to take lots of cash and your truck so you can haul home all of your treasures. You also might be as lucky as this author was and your wife will say; "Here's some money, I never know what to get you anyway, just buy your Christmas present while you're there". It doesn't get any better than that!!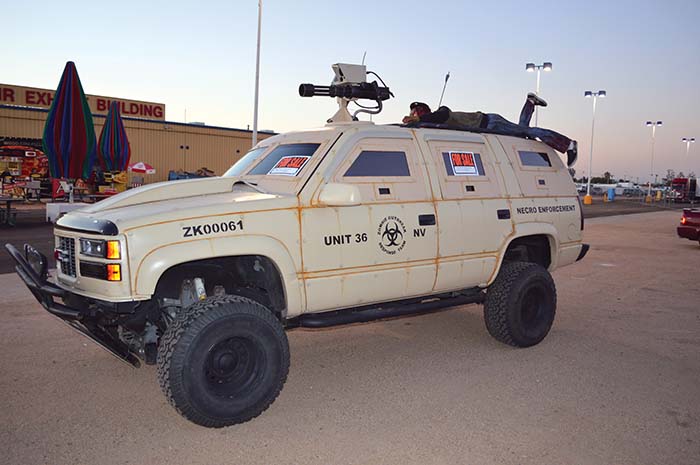 This article first appeared in Small Arms Review V18N2 (April 2014)