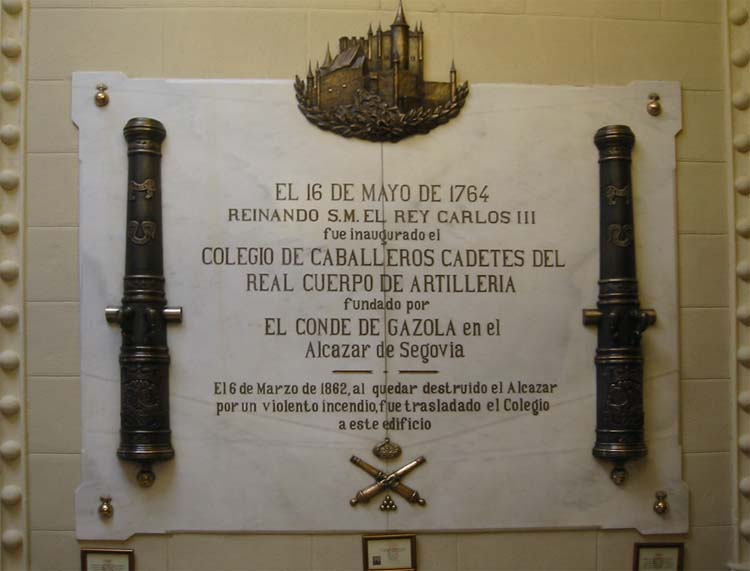 Located in the ancient city of Segovia, the Spanish Army Academy of Artillery was founded in 1764 by Don Félix Gazola, under orders of King Carlos III, unifying and centralizing the tasks until then undertaken by several different institutions dispersed trough the kingdom, some of them dating back to the 16th Century. Since then it has been one of the foremost military and technological institutions in Spain, as its graduates were in charge civilian and military engineering tasks until well into the 20th Century. Originally sited in the Alcázar (a Medieval castle), it was moved to its current location after the fire that destroyed the original site in 1853.
The main grounds of the Academy are inside the city of Segovia, just across the street from the Roman Aqueduct in a former monastery dated 1220. A separate site is the Polígono Baterías just outside the city and used until the turn of the century as a shooting range for live firing of all kinds of artillery, some times shooting to targets sited across the city.
The Academy's mission is the human, technical and tactical formation of all Spanish artillerymen and women of all graduations and its continued training and updates, as well as being the custodian of the values, tradition and spirit of the Arm. Its modern simulation facilities allow for training on the whole scope of the artilleryman's trade saving time, money and ammunition.
A visit to the Academia starts several weeks in advance, by requesting permission to the Museum's director. Then the Academy Museum staff will contact you to confirm dates and times. On the day of our visit we were greeted by the Colonel Director of the Museum and a member of his staff that would act as our guide. After an introduction by the colonel and discussion of the topics of our interest, we were guided through the chosen areas.
As can be expected from such an institution, its grounds are full of military memorabilia and artillery pieces, both in and outdoors. Don't forget that the first use of artillery in Europe took place in the siege of the Spanish city of Niebla in 1262 so, there's a wealth of Artillery lore to preserve and display.
Understandably, there's some bias towards materials of local design and manufacture but without dismissing foreign made pieces both used by the Spanish armies and also by other countries, as exemplified by an Arisaka field gun brought from South East Asia, which is now guarding a stairwell shaft.
The Main Hall's walls are decorated with inscriptions remembering those battles in which artillery played main or decisive roles. The Graduates Gallery has wall panels listing the names of all persons graduated from the academy since its foundation, as well as a board containing the names or artillerymen awarded the Medalla Militar Individual, Spain's second highest military reward.
It also hosts a series of cabinets containing fully detailed miniatures of antique artillery pieces, carriages and limbers, being, as our escort pointed to us, the teaching aids used before the arrival of computer presentations. This gallery also houses a collection of flags preserving, among others, all the Academy's historic flags. Worth mentioning is the standard carried by the artillery regiment of the volunteer División Azul (also known as Wehrmacht 250 Division) through the Russian Campaign of World War II.
A prominent place is reserved for the statues or artillery captains Daoiz and Velarde, the first military personnel to join the people's uprising against Napoleon's invasion in May 2, 1808, which was the starting point leading to the first defeat of the emperor's armies. Formations and roll calls are performed at the orders court, whose walls support boards with the names of all artillery officers fallen on duty.
The Materials Room houses part of the artillery collection illustrating the evolution of breech loading artillery from 14th Century iron and brass cannons to 20th Century pieces, with some additional older specimens, like a 40mm Ribadoquín from the 16th century, which is a breechloader, or a field piece from 1777 specifically designed to fight the Pampa Indians in Argentina, a forerunner of similarly mobile pieces from other European countries.
Indigenous designed and made materials, like a 40mm Ramirez Arellano infantry cannon, a very innovative design for 1927, are in force, but there's also a very good representations of Italian artillery from the first half of the 20th Century, up to a 105/14 OTO-MELARA M-56, still in service in many countries after more than half a century, a mark also attained by the locally made and now retired 105/26 Naval Reinosa that sits at its side.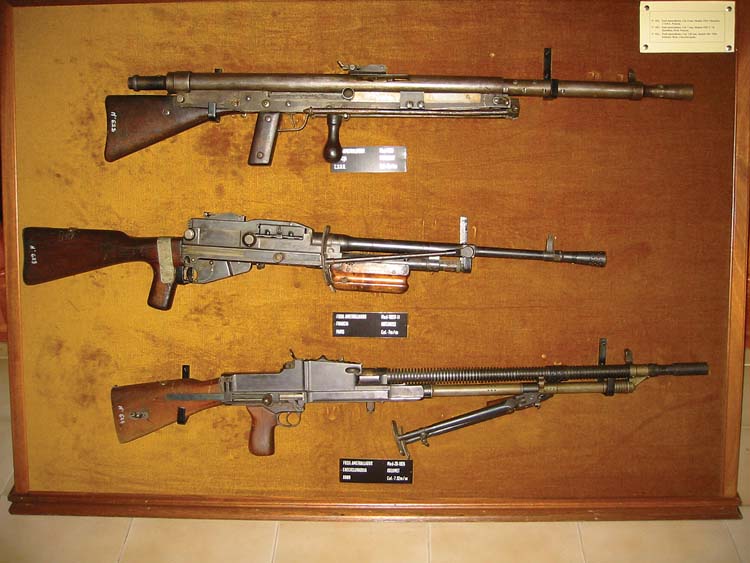 No artillery collection would be complete without a good sampling of Krupp, Skoda and Schneider guns and this one is no exception. There's even a presentation Christophe volley gun, a gift from the Belgian maker to King Alfonso XII. A separate room houses the collection of ammunition spanning the range from stone balls to base bleed shells.
The Rockets Room has a couple Congreve rockets from the 19th Century and a very detailed display of rocket technology evolution from 1945 up to the 1980s as Spain was very active, and innovative, in the development of this kind of weapons in that timeframe.
The Portable Arms Room is home of the topographic tools, mortars and small arms. This latter collection is shared between this location and the now restored Alcázar. The weapons display comprises edged weapons, a superb collection of rifles starting with a 16th Century Harquebus and spanning all the evolution of the rifle up to the CETME L, the latest assault rifle designed and made in Spain, which was replaced by the H&K G36 a few years ago.
The display concentrates on breech loading rifles, with samples from several countries and more specifically with Spanish military rifles, with very complete collections of Remington Rolling Blocks (Fusil Modelo 1871 in Spain) and all the evolution and variants of Spanish Mausers from the 7×57 models of 1892 and 1893 to the 8×57 Model 1943 and latter conversions to .308 Winchester.
There are also samples from Winchester lever action and semiautomatic rifles used by the Spanish armed forces and several indigenous breech loading systems, as well as a board displaying the evolution of the CETME assault rifles, from the first prototypes in 7.62×40 (including a belt-fed version precursor of the H&K 21 with detachable barrel and marked "Mauser-CETME"), to the last version chambered in 5.56×45. Also worth mentioning is a superb 19th Century cabinet brought from Fábrica de Oviedo displaying a full set of templates and tools for making the Mauser 1893 rifle, as well as a wall board displaying one of those rifles completely disassembled.
There's also a handful of submachine guns, most of them Spanish made, and a small but varied mortar collection from between world wars, including the now world standard Stokes designs but also several Spanish (like an early ECIA and a Valero) and foreign mortars and grenade launchers from France, England, Italy and Russia, including a Brixia grenade launcher and a Mosin-Nagant rifle converted by radically cutting its barrel and fitting a grenade launching cup and a bipod.
Finally, there's a collection of machine guns and automatic rifles, highlighted by a pair of 11.43mm 1885 Gardner guns (in one and two barrel versions). Also worth mentioning is a brass Maxim from 1890 in 11mm, a pair of 7.62×54 Spitalni-Komaritsky (models of 1928 and 1930), a Spanish Trapote 1913, a Oviedo Coruña 1925 and a Mexican Mendoza automatic rifle, all in 7×57, to name a few.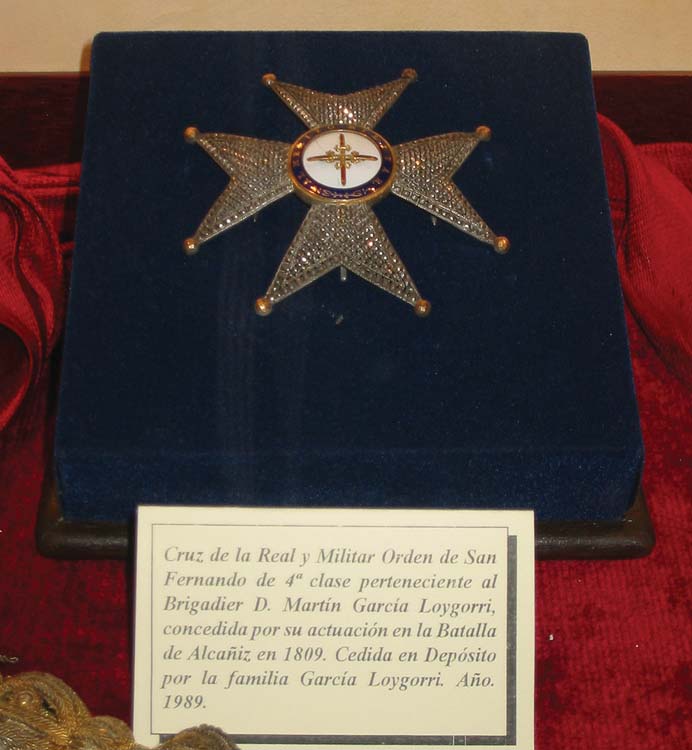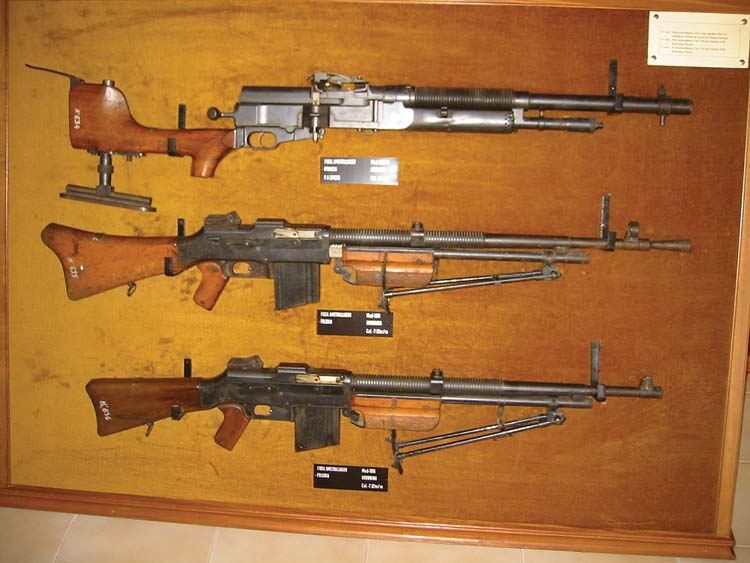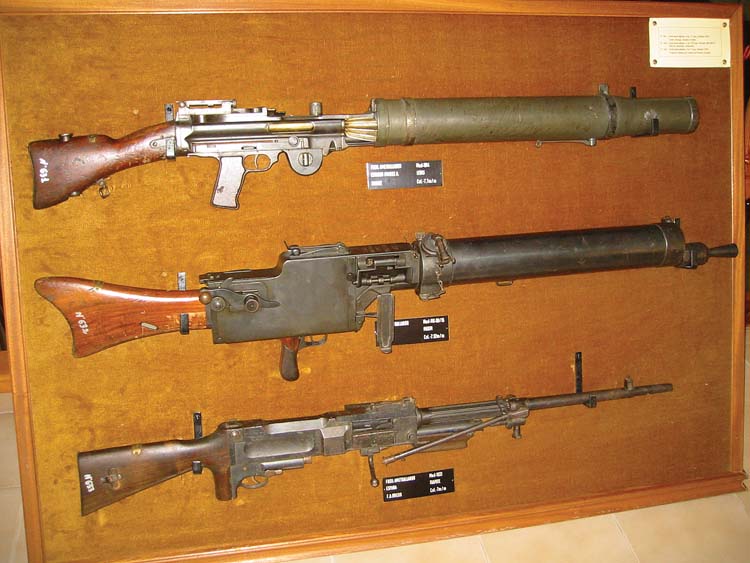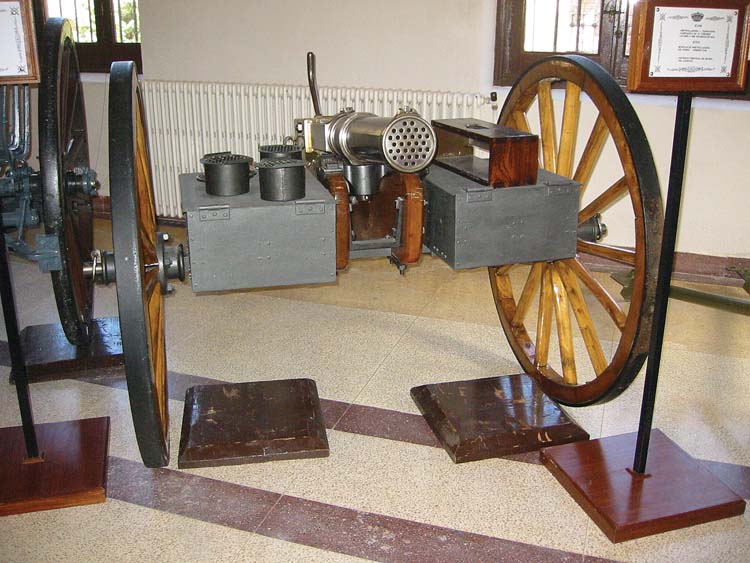 The Sciences and Technology room preserves technical and scientific instruments from centuries past, as well as teaching aids. There's also memorabilia from French scientist Louis Proust who was professor of chemistry at the Academy for 14 years, formulating the law of definite proportions during his tenure. Since its foundation, the Academy has maintained a very well stocked library, containing many ancient first editions, which is open to modern investigators, civilian and military. It issues grants to investigators who publish works based upon the library's funds.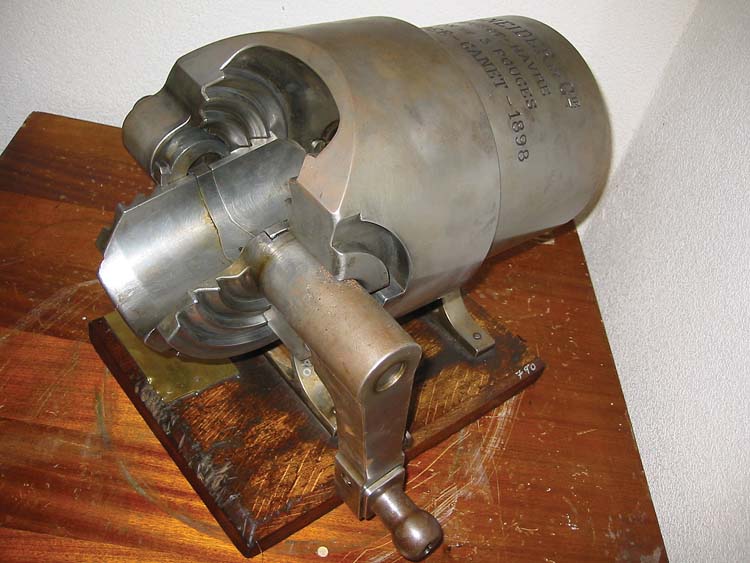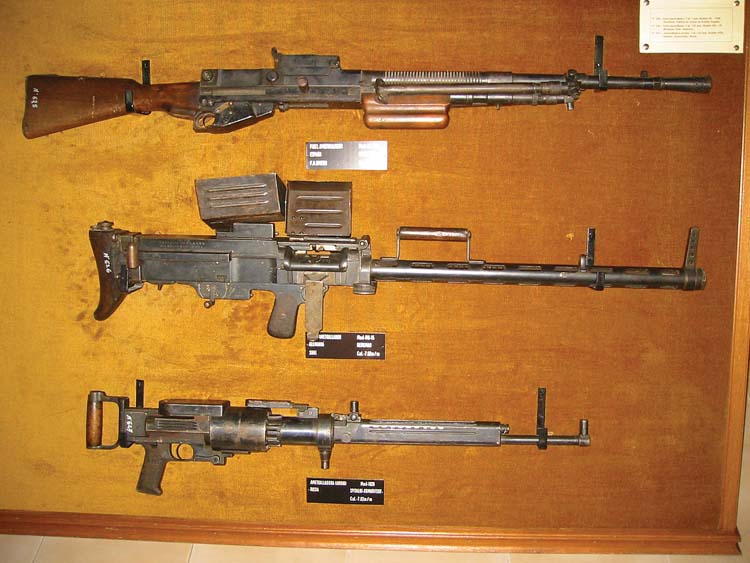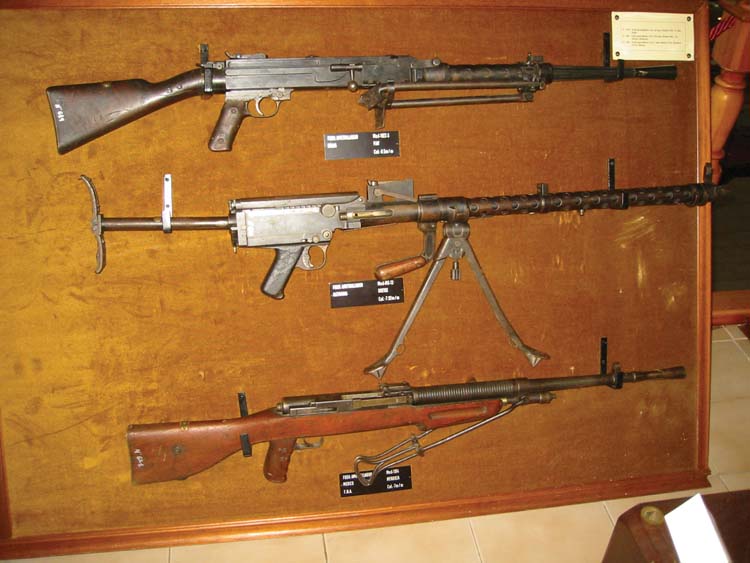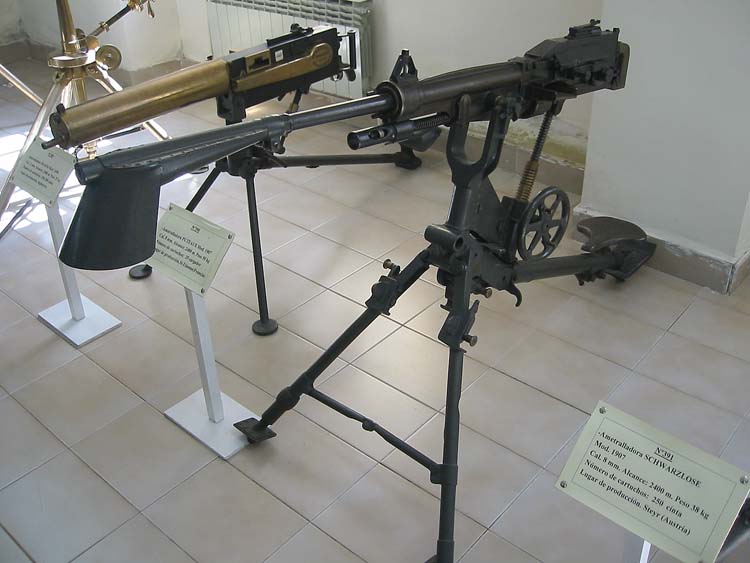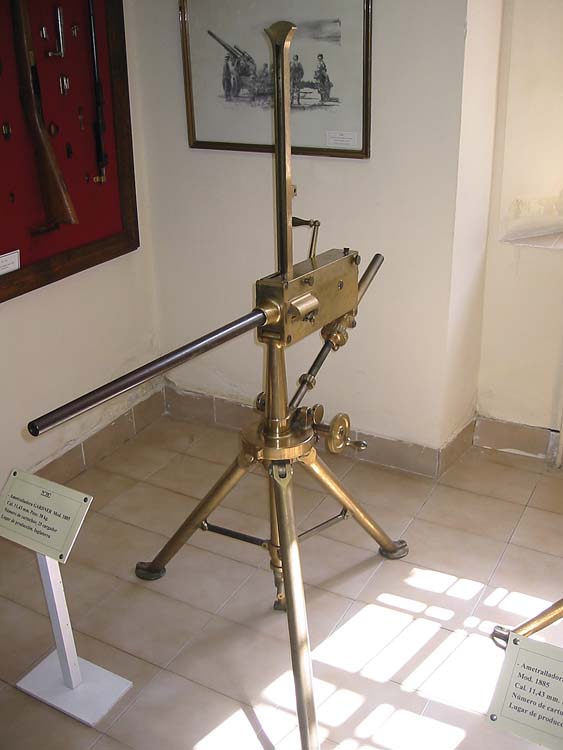 Visits to the Academy must be requested in advance by writing or faxing to the attention of the museum's director: Attn.: Director del Museo de la Academia de Artillería, C/San Francisco Nº 25. CP 40001. Segovia. Spain. Fax: 921435464. Be sure to request with enough advance, to offer alternate dates (in case your first choice enters in conflict with the Academy's official agenda), and include an e-mail address to expedite arrangements.
The museum is open only in the mornings, so you can use the afternoon to visit the nearby Alcázar. As it is housed in a historical complex, the Academy lacks facilities for the physically impaired. The staff can speak English, and probably some other languages, depending on who is assigned there at the time of your visit. There are information sheets and a very nice guide book (only in Spanish).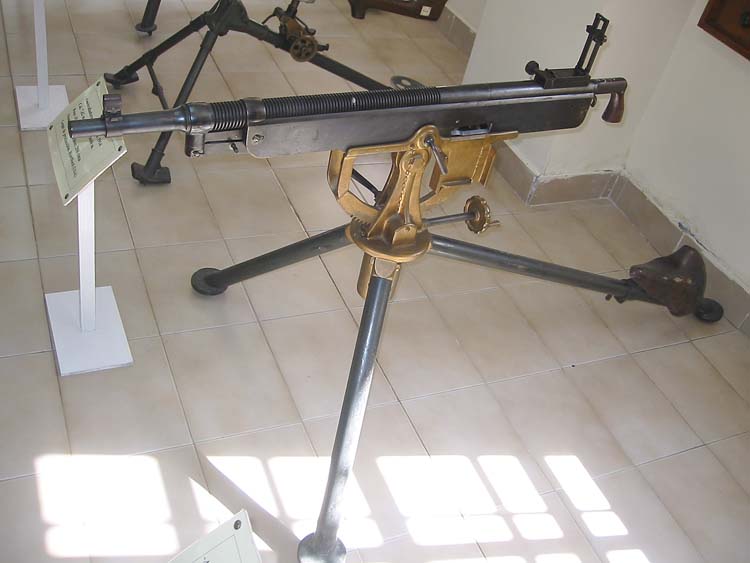 Segovia is around 80 Km North of Madrid and well connected by rail and road transport. It is a popular excursion from Madrid and has an excellent tourist infrastructure and a lot of historical sites to see. Also nearby are the Royal Palaces of La Granja and Riofrio, very worth visiting by themselves if you stay overnight or for non-gun people. And make sure not to miss the excellent gastronomy.
This article first appeared in Small Arms Review V14N12 (September 2011)