Training drills involving simulated cover allowed for the SDP Compact to be evaluated in dynamic settings with multiple strings of fire.
By Todd Burgreen
SPHINX can trace its own corporate heritage back to 1876 where it began as a Swiss tooling company in Solothurn, Switzerland. Swiss manufacturing has a well deserved reputation of quality, which SPHINX is proud of. SPHINX was relocated to the city of Porrentruy in 1985, where it became SPHINX Engineering SA. It was here where the first SPHINX semiautomatic pistol was drafted and manufactured. The demand for quality precision firearms led SPHINX Engineering SA to acquire Industrial Technology & Machines AG (ITM) and develop the AT 2000 in 1996, improving upon ITM's popular CZ 75 pattern. SPHINX handgun models have been used in IPSC competition for decades and have served as the sidearm of the Danish, Malaysian, Norwegian, and Singaporean special operation forces, as well as a handful of municipal police departments in Switzerland, including the regulatory agency that provides security at nuclear power plants. In 2010, SPHINX Systems SA joined with KRISS Group, bringing together innovative technology and precision to create the SPHINX SDP series. In 2013, SPHINX earned their ISO certification in 2013.
The SPHINX Special Duty Pistol (SDP) Compact reviewed herein is an excellent example of product development and evolution that traces its heritage back to the CZ 75. However, make no mistake, the SPHINX is not a mere clone; it represents a clear evolutionary step in the CZ 75 design – a separate branch of the CZ 75 family tree if you will.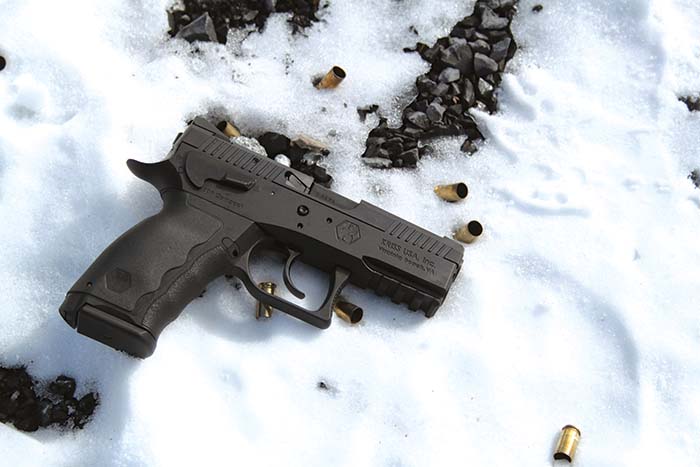 The SPHINX SDP Compact is a modernized rendition of the classic CZ 75. What is it about the nearly 40 year old CZ 75 design that keeps it so adored and desired by so many shooters for personal defense, target, or competition? Surely more modern designs featuring higher capacity and new materials have eclipsed it: do not bet on it. Discounting the CZ 75 variants as only holding onto their position due to whimsical nostalgia or other forms of emotional attachment is not valid. The business of a fighting or competition handgun is too grim and serious to allow for emotion to sway so many. Yes, the CZ 75 pattern handgun may have been superseded as a duty weapon in our military and police ranks, but take note that elite units and personnel with a vote often revert back to the CZ 75 design with the SPHINX SDP Compact an example this.
The SDP Compact combines base CZ 75 design with design modification and Swiss precision. Previous SPHINX pistol models were custom made and hand fitted to tight tolerances with the commensurate price reflective of this. The 2010 merger with KRISS Group shifted focus with the SDP Compact emerging in 2012. The SDP Compact is SPHINX's first mass produced firearm and the model line is priced approximately 66% less than previous SPHINX handguns.
With the SDP Compact, SPHINX has merged steel slide, aeronautic grade aluminum frame, and corrosion resistant polymer grip. The SDP series of pistols will come in three versions: Standard, Compact, and Sub-Compact. The SDP Compact's frame is a two piece modular unit. The polymer grip and aluminum frame are fit together via a dovetail cut and held in place by two internal screws. This design permits metal to metal interface between the steel slide and aluminum frame. The aluminum frame contains the slide rails, fire control mechanism, thumb and grip safeties, slide stop, and railed dust cover. The aluminum frame also serves as the bed for the barrel. The frame is mated to a polymer grip that commences at the top of trigger guard. The inside of the polymer grip is EDM (electrical discharge machining) wire eroded to hold very precise dimensions.
The SDP Compact disassembles quickly similar to the CZ 75 via pulling the slide open, aligning witness marks on the frame and slide, then pushing out the takedown lever from the frame allowing the slide to be slid off the frame. The SDP Compact exhibited no evident tool marks and no lateral play in the slide's fit to the frame or barrel to slide. The barrel locks up tight when in battery.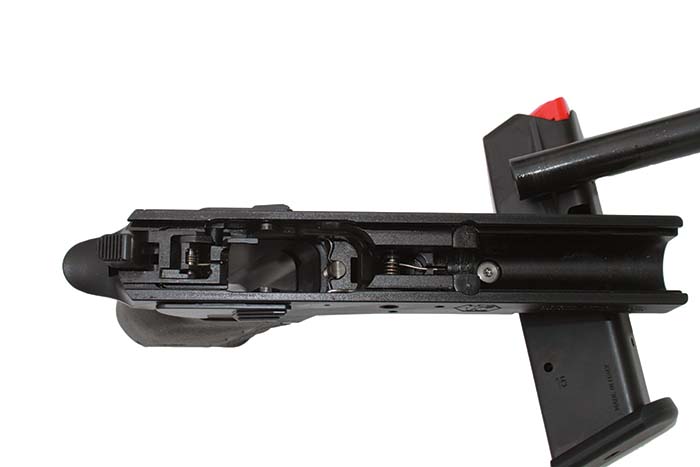 Ambidextrous controls round out the SDP Compact package, including low profile decocking lever on both sides of the frame. All controls are configured in a way as to minimize any possible snagging on holsters or controls. One area where the SDP Compact pistol differs from the original CZ design is in its lockup. The SDP's barrel hood is used to lock into the ejection port. Many current handguns use similar method in lieu of lugs in front of the ejection port as done in the original CZ 75. Another difference with the SPHINX SDP Compact versus the original CZ 75 is that "cocked and locked" carry is not possible. Magazine capacity of the pistol is 15 rounds plus one in the chamber.
The polymer frame incorporates an interchangeable grip system to accommodate different hand types while maintaining the classic "CZ 75-like" feel. The grip features a large beavertail tang and large for a high grip. A pronounced beavertail recognizable to anyone familiar with the 1911 immediately sets apart the SPHINX SDP Compact from most other CZ 75 based models. This allows the SDP Compact to sit low in the hand for more effective muzzle control during recoil and natural pointing characteristics. The SDP Compact's slide mass and shape is engineered to aid in increased muzzle control for double taps or longer strings of fire. SDP Compact's low bore axis relative to the shooter's hand allows for a very stable sight picture no matter how many or how rapid rounds are fired. The low bore axis also aids in minimizing muzzle flip. The slide moves along internal rails machined inside the frame. Proponents point to benefits derived from this such as smoother cycling and finer tolerances translating into better accuracy potential.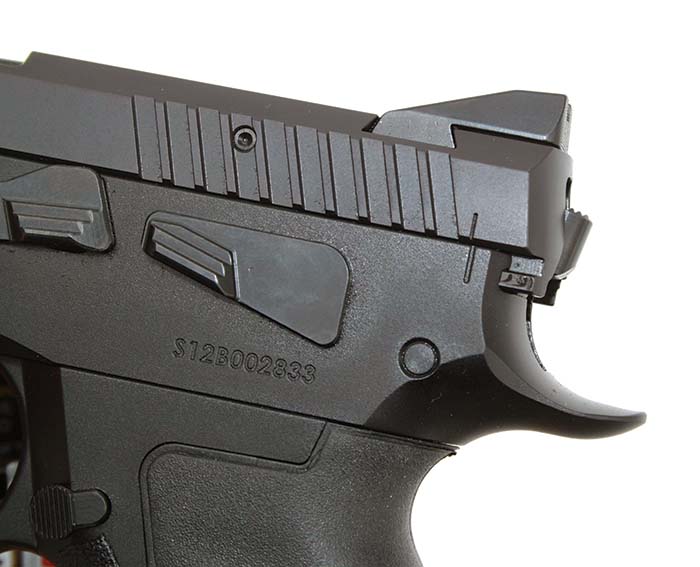 The SDP Compact's trigger is a great enhancement. The DA/SA semiautomatic's trigger is often criticized due to the difference experienced from breaking the first shot hammer down carry mode to subsequent rounds in the magazine. The SDP Compact has one of the best triggers experienced in a DA/SA semiautomatic; the SDP Compact will have many re-evaluating DA/SA handguns. Once trigger control is mastered, which takes surprisingly little orientation training, the SDP Compact is very capable of firing rapid multiple shot strings with the utmost accuracy thanks to short trigger pull and reset.
The one thing many do with a handgun is switch out factory sights. There is no need for this with the SDP Compact. It comes standard with a well-designed sight system. Target acquisition is fast due to the dot giving a fast and clear "flash" at close range, yet allowing for more precise aimed fire at distance. You will automatically focus on the most important part of your sighting system – the front sight. Lastly, an oversized trigger guard makes the SDP Compact easy to operate while wearing gloves; a nod to realism for a duty or personal defense weapon carried under all conditions. An integral Picatinny rail under the pistol's frame readily accepts lights, lasers, and other accessories.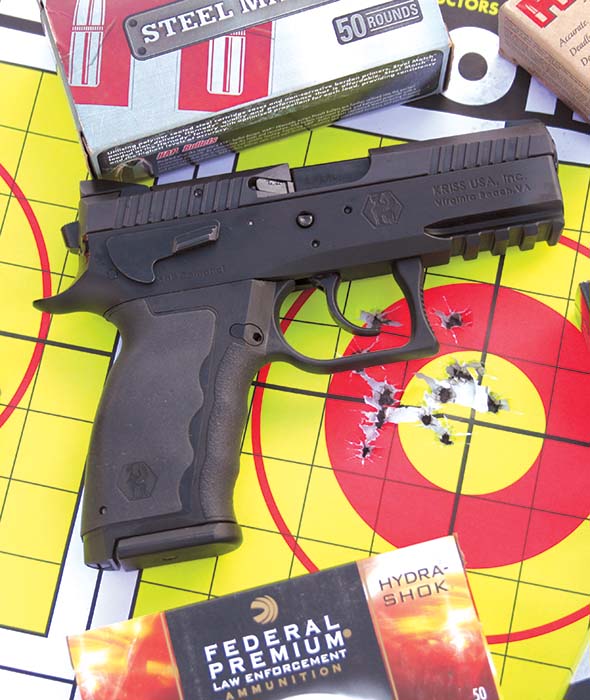 All of these SPHINX SDP Compact enhancements mean little if it feels like an unwieldy paperweight in one's hands instead of a natural pointing handgun. The SDP Compact frame does not sacrifice this in its quest for capacity. The majority of range testing with the SPHINX SDP Compact took place at Echo Valley Training Center. Two main T&E priorities were the focus – make sure that SDP Compact's reliability was beyond reproach and if the SDP Compact offered something beyond the other handguns on the market. Of first concern, the SDP Compact handled several types of ammunition without a problem. Firing began with basic drills to get acclimated with the SDP's trigger, sights, and overall feel. The sights were zeroed out of the box for 25 yards using the classic 6 o'clock hold. Various bullet profiles and weights were used to ensure nothing interacted with the SDP Compact causing malfunctions. A wide range of 9mm loads were tested including 115gr, 124gr, and 147gr JHP and FMJ loads from Black Hills, Federal, Hornady, and Winchester.
Several magazines' worth of ammunition was spent engaging plate racks and man-sized steel targets. Drills quickly moved past stand and deliver drills to more dynamic drills involving movement, magazine reloads, and firing from behind cover. Years of training with various entities such as Pat McNamara, Jason Falla, Tactical Response, Suarez International, Storm Mountain, Robert Vogel, etc., provided a background of what is acceptable performance for a defensive handgun. The SDP Compact's simplicity of operation allowed for rapid engagement of targets combined with well thought out ergonomics positioning the hand near optimum position starting with the presentation from the holster. Approximately 500 rounds were fired while compiling this article without encountering any issues.

he SDP Compact's sights are good to go out of the box. Its slide is thicker and less svelte than the original CZ 75s. This is a result of being machined from bar stock. Many will find the thicker slide easier to gain a solid grip on when manipulating it.
T&E's rarely consist of bench testing pistols for accuracy due to reliability and quick engagement of targets being more paramount in a self defense/service handgun. The SDP Compact did not disappoint regularly producing 3 inch groups at 25 yards when fired from standing unsupported positions. Bench testing could not be resisted after witnessing the unsupported accuracy results. Sub 2-inch groups at 25 yard were not unusual and probably would have been smaller if not for rudimentary bag support and only cursory interest in bench testing. The advantage of the single action trigger option was quickly evident during the bench testing where accuracy was the goal with its compact, minimal creep pull. As can be expected, recoil impulse was minimal in a 27 ounce handgun chambered in 9mm, especially one with the ergonomics of the SDP Compact.
As a side note, it was a surprise the number of holsters that accommodated the SDP Compact thanks to its CZ 75 heritage including both IWB and belt models. When manipulating the SDP Compact from a holster during visits more of a point shooting or flash sight picture was utilized along with one handed firing grip. This is a more realistic way of analyzing what the SDP Compact brings to the table for user's considering using it in the role it was designed – a handgun for law enforcement, military or civilians concerned with personal defense.
Many may ask what the SPHINX SDP Compact offers to shooters compared to other handguns already on the market. The SDP Compact benefits from lessons learned combined with practical input from world class and tactical shooters combined with a manufacturer intimately familiar with quality weapon production.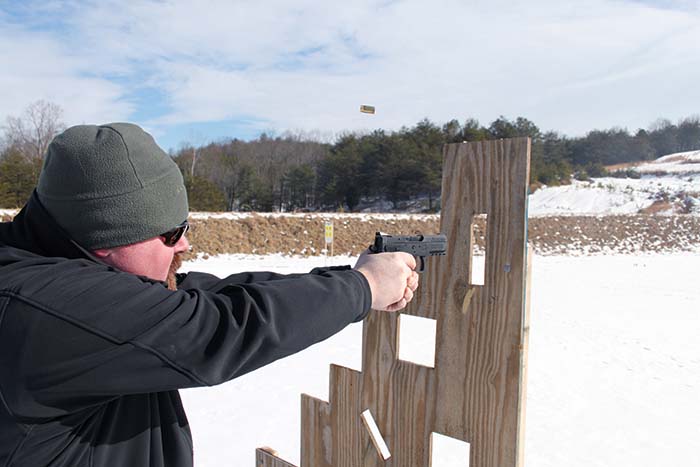 Specifications
SPHINX SDP Compact
Caliber: 9mm
Overall length: 7.4 in.
Overall height: 5.35 in.
Overall width: 1.37 in.
Weight: 27.86 oz.
Barrel length: 3.7 in.
Sight radius: 5.7 in.
Action: DA/SA with ambidextrous decocking lever
Trigger pull weight: SA 3.30 lbs. DA 10.14 lbs.
MSRP: $1,299
KRISS USA
PO Box 8928
Virginia Beach, VA 23450
(855) 574 7787
www.Sphinxarms.com
This article first appeared in Small Arms Review V19N6 (July 2015)