Story & Photography by Todd Burgreen 
The popularity of the M1A when initially introduced in 1974 was a pleasant surprise for Springfield Armory—no relation to the government arsenal in Massachusetts. Looking back, it seems pre-ordained the M1A would be a success; it is hard to argue against a high-capacity .30-caliber weapon that traces its roots to the "Greatest Generation" who won WWII. Remember the M16/ AR-15 platform was suffering from a reputation of unreliability stemming from its teething problem due to ammunition changes made in Vietnam. Springfield Armory had shown the accuracy potential of the M1A with it National Match and Super Match rifles introduced in the mid-1970s. It did not take a large leap of imagination to realize that the M1As offered the same features that are craved for in a tactical weapon by either police or security-conscious citizens. Numerous Springfield Armory M1A models exist as a result of this; the M1A™ SOCOM 16 was introduced in 2004. 
The Springfield Armory M1A SOCOM 16 was ahead of its time considering the number of AR-10 patterns chambered in 7.62NATO that have been introduced since 2004. The combination of the M1A SOCOM 16's handling with the increased power represented in the 7.62NATO cartridge is the key to its appeal. This is speaking in terms of the lethality and effective range, while still allowing for multiple rounds sent quickly downrange if needed in a close-range melee. While the 5.56mm round is often chided in terms of lethality, the 7.62NATO does not suffer from this reputation. Reports from Afghanistan and Iraq exposed the 5.56mm's poor performance in putting an adversary down quickly with minimal rounds fired at longer distance, especially with the shortened M4 barrel.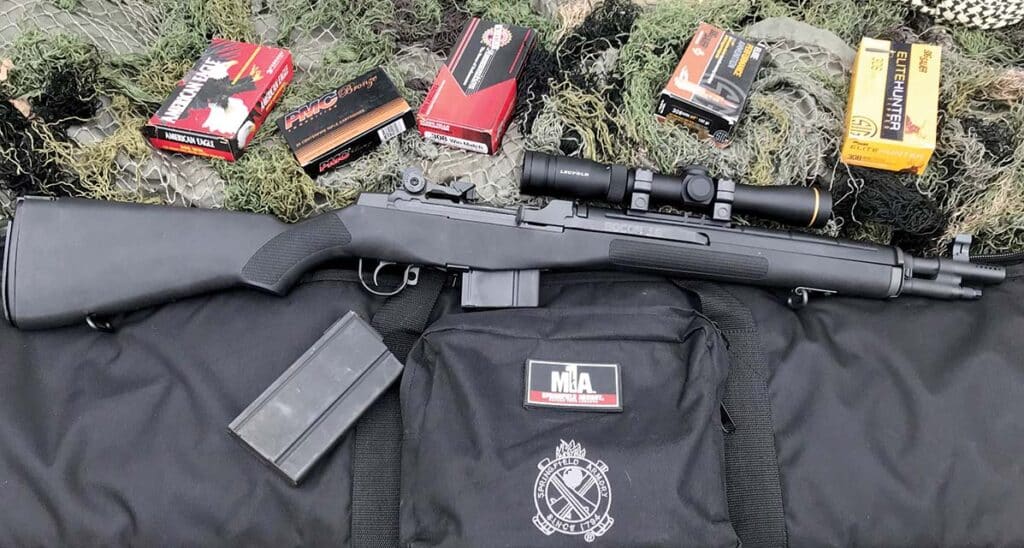 The Details
The Springfield Armory M1A SOCOM 16 weighs approximately 8.8 pounds and measures 37.25 inches. A black composite stock provides shooter interface with the weapon. An enlarged ghost ring aperture rear sight and XS Tritium Insert in the front post give you the quick target acquisition. The specially engineered 16.25-inch barrel is mated to a tuned gas system with a proprietary muzzle brake balancing portability/handling, while maintaining 7.62NATO ballistics and terminal performance. The M1A SOCOM 16 features a forward Scout-style Picatinny mount for red dot or intermediate eye relief optic mounting. Users will need to make sure to mount as low to the barrel as possible to maintain proper cheek weld.
The M1A SOCOM 16 proved so adept with its aperture iron sights and mounted red dots the author decided to up the ante in the form of a Leupold VX-R 1.5-5x33mm Illuminated Scout scope. The variable magnification power range and FireDot Duplex Reticle is ideal for use in this Scout scope application. Lt. Col. Jeff Cooper's Scout rifle has a legion of devotees keeping the Scout torch burning bright, and rightfully so. What is not to like about a rifle whose concept is centered on versatility and real-world application? Everyone is dubious of something that promises to do several tasks well. The underlying concern is that compromises involved with making something adaptable invariably leads to compromises in performance. The Scout rifle concept refutes this assumption.
A quick review of Cooper's Scout rifle tenants are in order. "A general purpose rifle … conveniently portable, individually operated firearm, capable of striking a single decisive blow, on a live target … at any distance at which the operator can shoot with the precision necessary to place a shot in a vital area of the target." Cooper specified dimensions of an overall length of 39 inches and a weight of 6.6 pounds with the now signature intermediate eye relief, low-powered scope mounted in front of the action; maximizing peripheral vision for situational awareness. The rifle also must have provision for efficient reloading, thus offering a modicum of firepower. Finally, the rifle's chambering must be powerful enough to anchor large quarry while still lending itself to other criteria, such as capacity and size of rifle—the .308Win has come to be accepted as the most natural cartridge.
There seems to be an assumption that Scout rifles need to be bolt-action in nature. Time to generate some thought. Challenging accepted notions is always the best way to do this. The Springfield Armory M1A SOCOM 16 exceeds Cooper's weight requirements but excels in terms of firepower and efficient reloading thanks to detachable 20-round magazines. As with most good ideas, the SOCOM 16 Scout concept is simple and builds on previous ideas advocated with other firearm types, such as bolt- and lever-action rifles. 
Some will scoff at the M1A SOCOM 16 being used as a Scout rifle. "Scout" purists will find fault in the trigger, not being able to load a single round of ammunition, sling options (i.e., not Ching Sling), and point out it is overweight, and so on. Do not be dogmatic. The Scout-scope-equipped SOCOM 16 is valid and should not be dismissed until fully assessed for what it offers in terms of capabilities. Its anticipated role must be taken into account with 20 rounds of .308Win, not easily discounted.
The Leupold VX-R scope offers the capability to engage multiple targets in rapid sequence more accurately and at greater distances as compared to open sights or red dots. As many "maturing" shooters can attest, the single focus plane with the reticle is easier to shoot accurately than coordinating front and rear sights. The Leupold VX-R optic gathers light in dim light, the crosshair is hard to beat for aiming point, and the magnification aids in accuracy and finding lanes of fire when firing in dense areas. The Leupold is superior to iron sights and allows for reliable target recognition. The Bindon Concept of keeping both eyes open and having the reticle appear to float in front of the rifle works with the forward-mounted Scout scope with the FireDot. The bright/crisp FireDot reticle dot immediately draws your eye to the center on the target, making target acquisition quick and simple, especially at close range; thus offering the best of both worlds of red dot and magnified optics.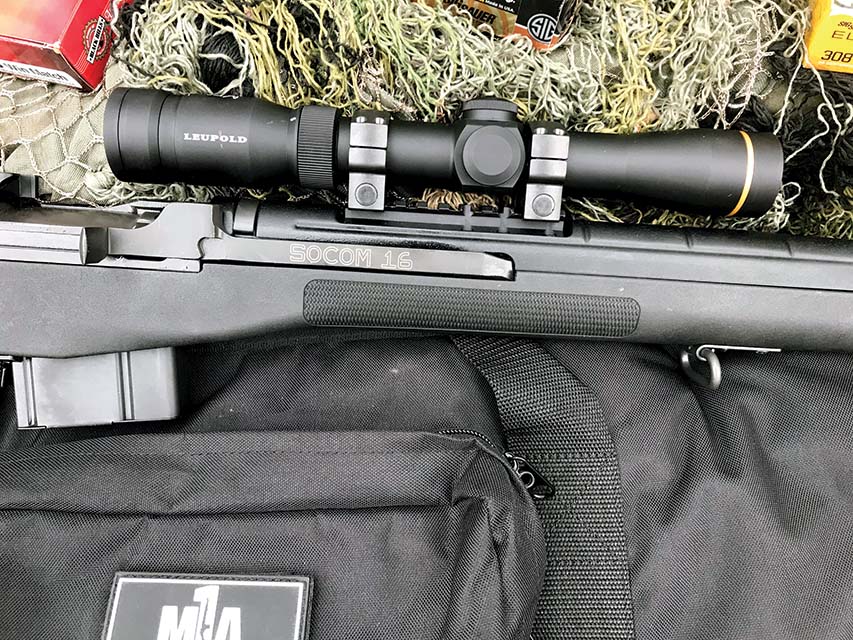 Ammo 
Federal American Eagle 150-grain FMJ, SIG SAUER 150-grain FMJ, 150-grain HT, 165-grain CET and 168-grain Match, Black Hills 168-grain Match and PMC 150-grain FMJ loads all produced acceptable accuracy. In fact, no ammunition, including full metal jacket surplus ammunition, generated greater than 2.25-inch accuracy levels at 100 yards. The Leupold VX-R with 5x allowed for better exploration of accuracy than iron sights or red dots. The handiness gained from the short barrel outweighs the velocity lost in my opinion. The M1A SOCOM 16's barrel produced 2,510 fps with 168 grain bullets when tested over a Caldwell Precision Ballistic Chronograph. Velocity is important, especially for extended ranges, but the 7.62NATO round does not rely on hyper velocity to be effective.
Range Tests
The Springfield M1A SOCOM 16 with the Leupold VX-R 1.5-5x33mm Illuminated Scout scope was evaluated at Echo Valley Training Center (EVTC). The Scout-scope-equipped SOCOM 16 showed its true promise by performing not only within the 100-yard EVTC bays firing from barricades and engaging multiple targets, but also back at the prepared firing position line. Steel silhouette targets were situated randomly from 50 to 320 yards. While 300 yards are considered the far side of most fire fights, it is confidence-inspiring to connect at that distance upon command. The SOCOM 16/Leupold VX-R combo made short work of striking various targets in quick fashion. The M1A SOCOM 16 proved just as efficient against fluid-drained automobiles located in EVTC's 360 Range with steel popper targets located inside the cab; some of the scenarios involved firing through the front windshield.
Other range tests consisted of completing multiple runs on EVTC's "Jungle Walk" range. Several ISPC-style man targets and steel silhouettes were engaged from different firing positions. Multiple shots were fired at each target, and a magazine change was mandated before leaving cover. Testing any rifle in this format helps highlight any strengths or weaknesses in handling or weapon manipulation. The Springfield Armory M1A SOCOM 16 handled as well as any rifle tested. This includes AR- and AK-type rifles.
Anecdotally, a casual observer can easily tell a steel target smacked with 7.62NATO versus 5.56mm at any distance. Much is made of the increased number of 5.56mm rounds that can be carried compared to 7.62NATO. While this line of thinking is appreciated, in this author's opinion, unless one is on an extended patrol or mission that is not easily re-supplied, the extra power and lethality of the 7.62NATO over the 5.56mm trump this. For law enforcement or civilians, this consideration is really a moot point to start with considering mission profiles involved. As with most weapon system comparisons the pros/cons can be debated forever. Individual users will make the decision of what best suits their needs.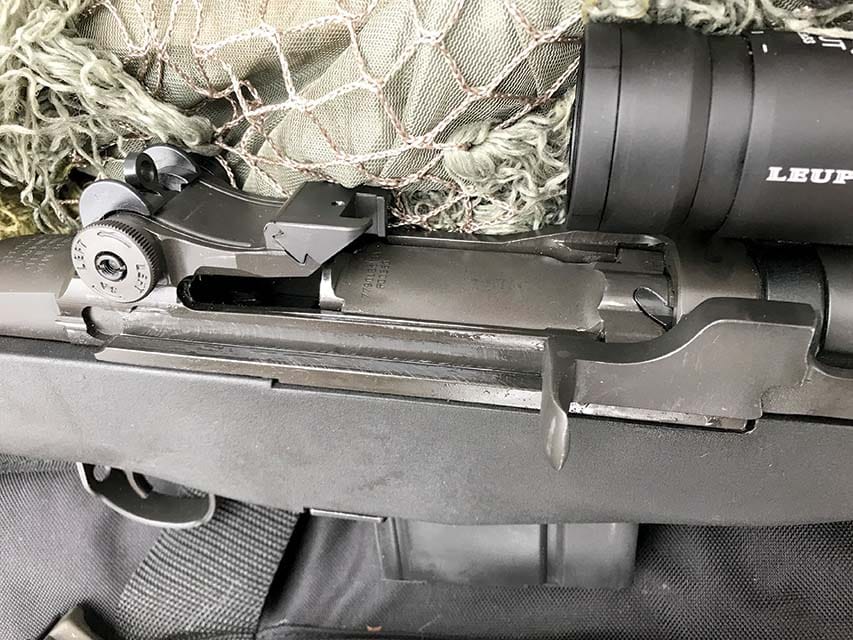 All Business
Springfield Armory's understanding and appreciation of the M14/M1A as a fighting rifle translate into the M1A SOCOM 16 accentuating these characteristics with no desire to make it into anything else. The forward-mounted optic rail is a nod to the advantages offered by optic mounting without succumbing to the urge to hang items that are not necessary on the forend, ruining its handling. All business with no wasted effort sums up the Springfield Armory M1A SOCOM 16. The Springfield Armory SOCOM 16 with Leupold VX-R optic will take care of most any imaginable engagements from 0 to 600 yards involving two- or four-legged adversaries/quarry. The SOCOM 16 configured as a Scout rifle is hard to argue against in terms of utility for LE or security-conscious civilians.
Lt. Col. Jeff Cooper's shadow will always be present for any rifle utilizing Scout setup. Yes, there are more accepted Scout forms than the Springfield Armory M1A-SOCOM-16-based version. Anyone using the SOCOM 16/Leupold VX-R combo will consider himself well-armed and ready to handle any situation.
FOR MORE INFORMATION 
Springfield Armory
Black Hills Ammunition
Leupold
SIG SAUER
Echo Valley Training Center
This article first appeared in Small Arms Review V24N7 (Aug/Sep 2020)