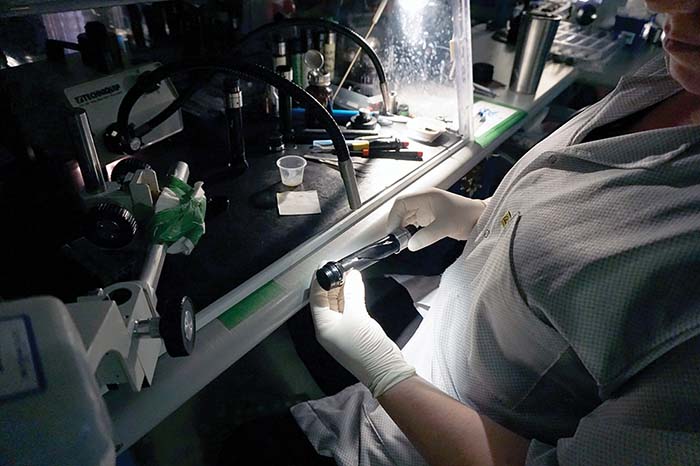 By Dickson Ly
As a photographer, I'm naturally interested to follow the latest development of cameras and camera lenses. With glass, the saying "you get what you pay for" truly applies. Similarly, I also want quality optics for my rifles. Optics, like camera lenses, are an investment and should be treated as such. It's arguable that one should spend the same amount if not more on an optic over the cost of the rifle itself. After all, you cannot hit what you cannot see.
Tangent Theta is a brand that is relatively unknown in the market for rifle optics. They are located in Halifax, Nova Scotia in the Canadian Maritimes. They produce military-grade precision rifle scopes for use in extreme environments. They currently produce three different models: the TT315M, 5-15x50mm scope with 30mm tube; TT315P, 3-15x50mm scope with 34mm tube; and the fan favorite TT525P, 5-25x56mm scope with 34mm tube.
During an industry event a few months ago, I ran into Trevor Publicover who is the Vice President of Sales at Armament Technology Inc. Armament is the master distributor for ELCAN (Ernst Leitz Canada) and Tangent Theta scopes worldwide. I've known Trevor over the years meeting him at the Armament booth at SHOT Show, and he was kind enough to invite me to visit Tangent Theta for a factory tour.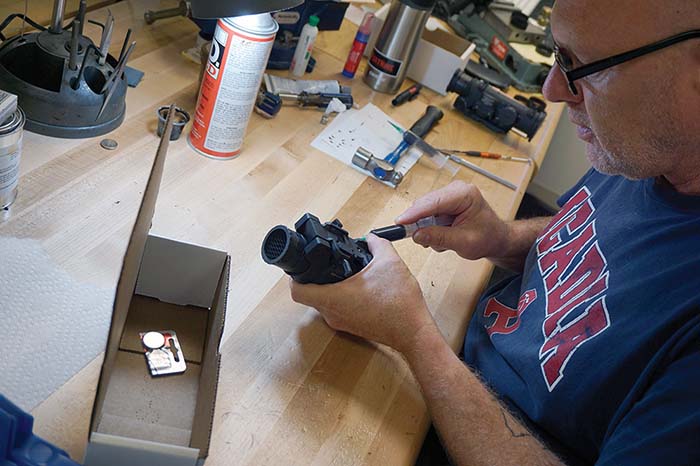 I have visited Aimpoint and Meprolight previously, and I was very interested to visit a telescope manufacturer, as almost all scope manufacturers refuse to disclose how their scopes are made because some of the brands do not even produce their own scopes. Due to the lack of industry standard of quality measurements and information, it is one of the most confusing and misinformed product categories in the industry. Not to mention, everyone's eyes are different so when it comes to image clarity, contrast and resolution, etc., I wanted to see with my own eyes and make my own judgment if their scope is worth the money.
Armament Technology Inc.
Andrew Webber is an entrepreneur, the founder of Armament Technology Inc. and President of Tangent Theta. In order to talk about Tangent Theta we have to dive a bit into how he got started in the firearms industry.
Mr. Webber founded Armament Technology in 1988, building custom precision rifles based on the Remington Model 700 footprint. The idea started when he purchased his first precision rifle, the Steyr SSG 69 PII in .308Win for $1400 CAD, but to his surprise, he had to rework the trigger group on his first trip to the range. Instead of feeling angry and frustrated, he thought he could build a better rifle by building one himself using carefully selected, quality components such as custom barrels from Mike Rock, bedding the stock, polishing the receiver and trigger components and hand fitting them together. He did that for a few years and managed to sell them to local police departments in Halifax as well as to Boston and Winnipeg and other police units. Overtime the competition caught on, and custom rifles had quickly become a commodity. He got out of the custom rifle business and instead focused on optics as that would be an ever increasing importance in the world of shooting.
Mr. Webber is a six-time Canadian national champion for precision rifles but also an avid competitor at service rifles matches. At the time, the Canadian Armed Forces were issued with a C79 optical sight with 3.4x magnification featuring tritium illumination produced by ELCAN. At the small arms rifle championship competition that took place in Connaught Range in Ottawa, it was noticed that ATI-modified C79 sights did not exhibit the same problems inherent with the DND issued sights. This caught the attention of a colonel, who approached Mr. Webber and asked what made his sights better than the others. Mr. Webber told the colonel his company had corrected a number of deficiencies in the mounting and zeroing systems of the C79s that would enhance accuracy and lifecycle durability. Following that conversation was a meeting with an Army General, and the lists of improvements Mr. Webber had done was used as the basis of the specification of the C79A2; subsequently, he won himself the contract to refurbish or replace all 65,000 C79 sights for the Canadian military. The refurbishment program continued on for over a decade, and it recently ended in 2017.
All current ELCAN rifle optics for the Canadian and commercial markets are produced in Midland, Ontario, but they all get delivered to Armament for final integration and inspection before reaching both military and commercial customers. The technician aligns the threaded front objective with the KILLFLASH® unit that is included with each SpecterDR due to its unique prism design. He also applies sealant in all the exposed screws so the end-user can't unscrew them and cause damage to the optic.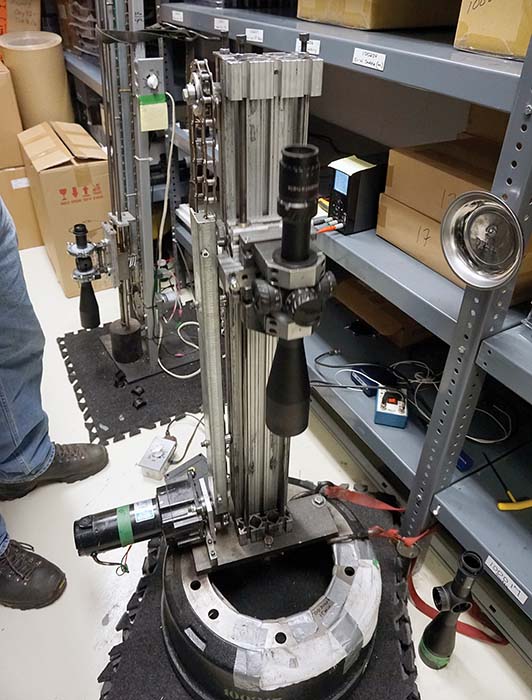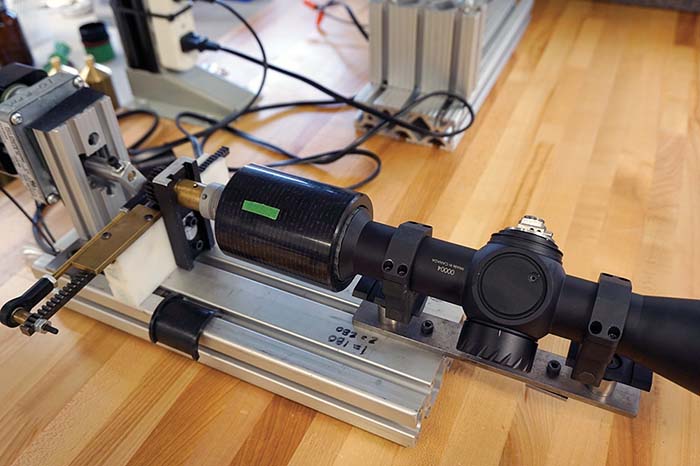 Premier Reticles—Tangent Theta is Born
Premier Reticles was a reputable optics manufacturer that won the contract to produce tactical long-range scopes for U.S. Maine Corps snipers. Armament Technology was the distributor for Premier, and due to various internal and external events, the company went under. Armament Technology was the North American distributor for Premier at the time, and Mr. Webber purchased all of Premier's assets including its inventory and equipment. Armament had the expertise to service Premier scopes as they were also the warranty center. Upon Premier's demise, Andrew Webber left ATI to assemble a team to run warranty services on Premier scopes and subsequently design a replacement for the line, thus Tangent Theta was born.
Keep in mind even though Tangent Theta scopes resemble Premier scopes from afar, internally they have been completely redesigned and reengineered so parts are not interchangeable between the two brands.
$4600 Price Tag
The TT525P with 5-25x magnification is the most popular model in Tangent Theta's small lineup; it outsells the other3-15×50 models 8 to 1.
It is available for $4600 USD which will put off a lot of potential customers for being too expensive. Speaking to Mr. Webber, however, the main goal for Tangent Theta is to build the best military precision scope in the market. This is unusual since almost all scopes in the market are built to a price point to compete with comparable products form other manufacturers. This is certainly not the case here. They essentially built the most durable scope by using the best glass and strongest components and put the price tag on it after. This is akin to the old days with Mercedes Benz where the company first built the best car it possibly could and then put a sale price on it; the company was not run by bean counter accountants.
Breaking Records
Rumor has it that military snipers have succeeded in going beyond the current longest recorded sniper kills, which was at 3540m (3871 yards). When the end-user is pushing for extreme long distance, he needs to have the best scope on his rifle.
The turrets feature patent-pending, TOOL-LESS RE-ZERO® with a build-in zero stop feature. To reset the turret, the user simply has to unscrew the cap, lift the turret up and set it down to its zero, hand-tighten cap and viola. It offers 5-6 clicks up on the elevation turret before hitting the zero stop. It's so simple one would think why hasn't any other scope manufacturer come up with this design. The answer is simple–cost.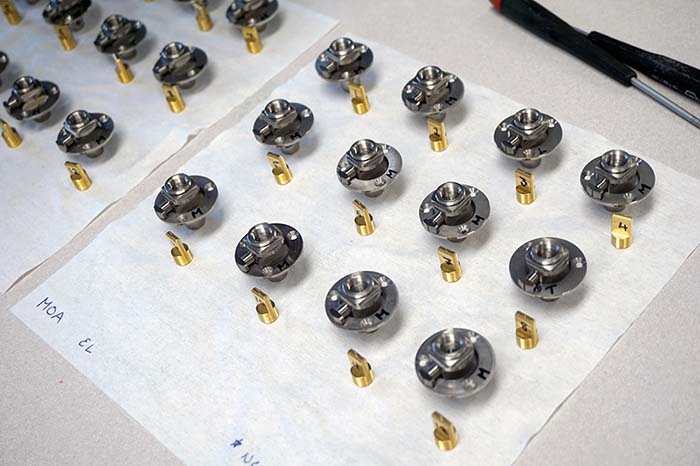 Each scope contains a total of 270 individual parts, and each one is hand-assembled. When Tangent began to take orders, the demand was so high that they had a year and a half of back orders to process. This was a tough period for the company as they had to build the scope on a timely manner without sacrificing quality. The first delivery of scopes took place in second quarter of 2014. Due to this, the company did very little marketing in the beginning, but they have always had a booth at SHOT Show. Tangent's scope has sparked interests from various European scope manufacturers—some had gone to Tangent's booth to check them out, and one manufacturer even gave honest compliments for the scope's excellence.
Factory Tour
The tour started in the receiving area where the components such as the lenses, main housing, erector tube and turrets are received from suppliers. The components are carefully checked for tolerances and get rejected if they don't meet their standard.
One of the questions that gets asked a lot is where do they source their glass? The answer is they source the highest quality glass from both Europe and Asia. In today's globalized environment, it does not matter where the components are from as long as they are quality-made. The country of manufacture is not nearly as critical as it once was decades ago.
Right next to the receiving area, there's a small machine shop where certain small components are made and where some critical components are match fit down to microns.
Located upstairs is a Class 100 clean room. Class 100 signifies that the room maintains less than 100 particles larger than 0.5 microns in each cubic foot of air space. Like any clean room, it has positive air pressure to keep dusts and contaminations out. Before entering I had to put my foot on the sticky mat located inside and outside the room to get rid of any contamination on my shoes. Here is where the technicians, mostly females dressed in gowns and wearing white gloves and hair nets, carefully assemble the erector assembly, turrets and lenses into the main housing. The room does not have a ceiling light but instead is lit by spotlights on each workstation in order to help the technicians inspect and remove any dust and particles on critical components such as the lens before assembly. Naturally this task requires a lot of patience and care, and each technician is well-trained before he/she can take on this important task.
Shocking Tests
Once the scope is assembled, it goes through a stringent set of tests that includes tracking test, shock test, leak test and extreme temperature test. Of them all, the shock test is, well, quite shocking. Enclosed in a small room there are 2 shock test machines that run on a loop to hit the mounted scope against a hard surface from a controlled free fall repeatedly. Each scope will experience 1000 G of gravitational force 1000 times. I was told during the scope's early development, they found white powder on the bottom of the machine. They quickly realized the powder was in fact glass that was completely shattered. A redesign promptly followed.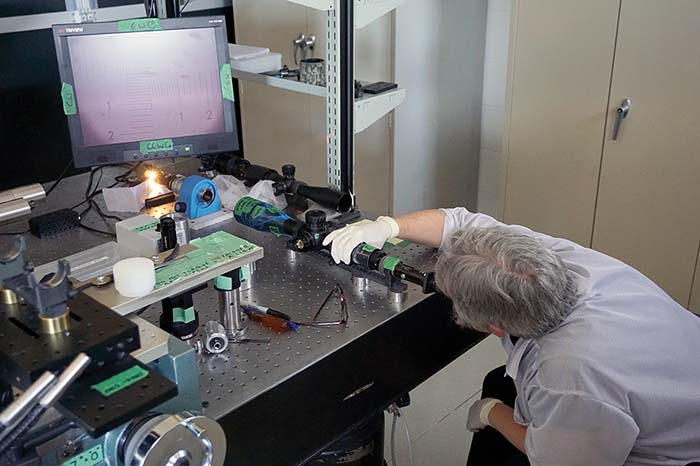 For the leak test, the scope gets pressurized in a depth equivalent to 10 meters. It's important to note that they change the pressure at a rapid rate, to make the test more difficult and to simulate real life scenarios.
The temperature test is equally impressive—each test scope gets tested down to -45 degrees Celcius (-49 degrees Fahrenheit). Who would use their rifle at -45C you ask? Actually, Special Forces will take their rifle to environments that will require their scope to function in those conditions.
The scope is checked to ensure the reticle is perfectly level. They use an industrial-size bubble leveler that's extremely accurate down to the hundredths of a millimeter.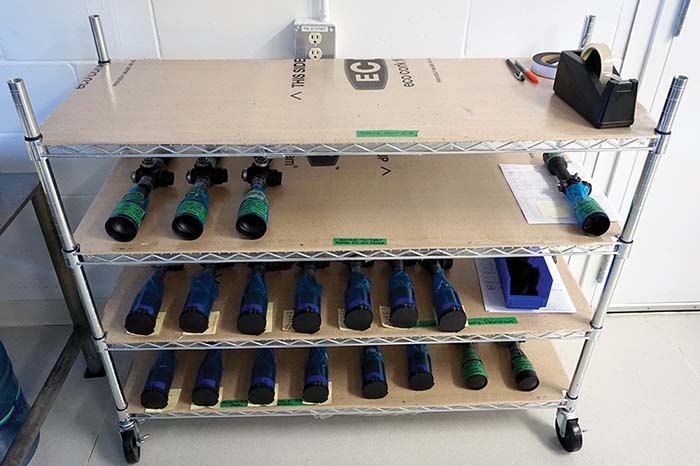 Additionally, the turret design has been tested to 30,000 revolutions, which equals to 4.5 million clicks in Mrad and 6 million clicks in MOA. And if the customer ever wore out his turret from frequent use, Tangent Theta will gladly replace it under warranty.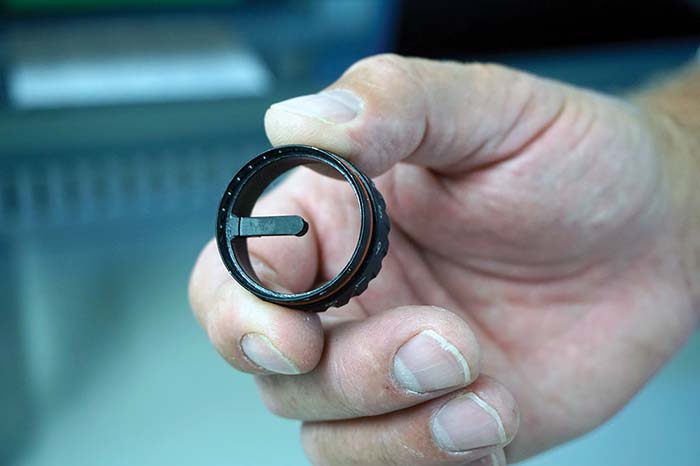 Regarding warranty, Tangent Theta does have a customer support phone number and email; however, they do not have a separate warranty and repair department. The technicians who assembled your scope will be the same people who service your scope if there ever is a problem. This speaks volumes on the extreme low rate of defects but also how often customers have to send back their scope for service. This is in extreme contrast to a particular scope manufacturer that offers a VIP warranty, and in order to guarantee their 3-day turnaround time, the company has to overstaff their warranty department.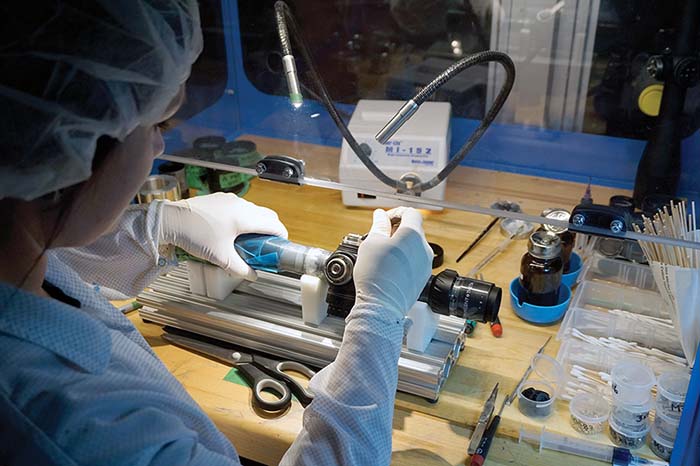 Once the scope passes all the tests, it will go downstairs in the packing and shipping department, where a technician will do a final inspection on the scope before it leaves the factory.
Future Prospects
Tangent Theta is currently working on the new Gen3 XR reticle in both MOA and Mrad. It will be based on their current Gen2 XR reticle but features more information on the Christmas tree for quicker windage and elevation calculations without the user's need to touch the turret. It will also feature a floating dot in the center for less obstruction towards the target. It is estimated to be available in the beginning of 2019.
Next in the pipeline is the Horus H59 reticle in Mrad for which they have recently signed a license agreement to use their popular reticle. This is expected to be available sometime mid-late 2019.
There's also a plan to introduce a 3-15×50 scope that is designed mainly for hunting that features lower profile, capped turrets.
Future planning includes a discussion of introducing a new model specifically for F-Class competitions. This is speculated to be in the 50x magnification range, but the company will not comment further as this is something further along in its product roadmap.
Tangent Theta may not have a long history, but it is definitely here to stay. It's a company that does not aim to gain short-term profits but to build their market share at a steady pace. They would rather sell you a scope that will last many lifetimes like any quality mechanical device like a bolt action rifle or a watch. For more information visit tangenttheta.com.
This article first appeared in Small Arms Review V23N2 (February 2019)