By Terry J. Gander

When the Israel Military Industries (IMI) Tavor was first announced, the centre of attraction was understandably the assault rifle version. However, there are several other variants covering the C-TAR-21 carbine, the S-TAR-21 sharpshooters model (complete with heavier barrel, bipod and optics, even for a 5.56 x 45 mm weapon) and what seemed the most interesting, the M-TAR-21 or Micro. Another more recent variant is provided with a sound suppressor.

A general reshuffling of marketing designations has led to the Micro now being known as the Micro Tavor. It is now on offer in two forms, chambered for either 5.56 x 45 mm or 9 x 19 mm Luger. In both cases the Micro is very much a special forces weapon, the overall length being just 520 mm and weighing 3.2 kg. It is stated that the Micro Tavor is the shortest and most compact assault weapon available on the market, although the Military Manufacturing Corporation might quibble with that. Thanks to the bullpup configuration, the Micro Tavor still has a 250 mm long barrel developing a muzzle velocity of 770 m/s in its 5.56 mm version (400 m/s for the 9 mm).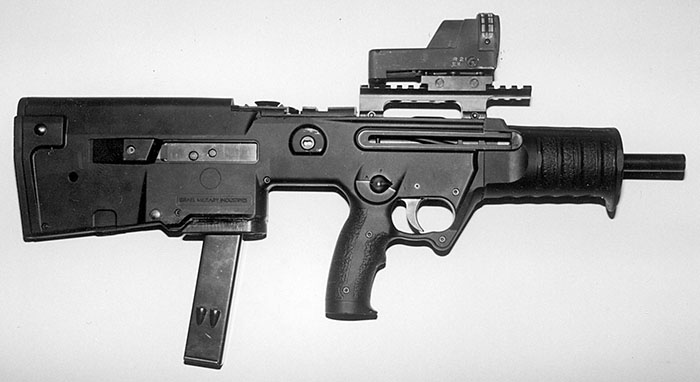 However, as hinted at the time of the Tavor launch, the Micro Tavor can be rapidly converted into a 9 x 19 mm weapon by changing a few calibre related components that also transform the operation from gas-operated to blowback. This version was developed at the behest of Israeli special forces and has undergone a period of field testing with them. As a result of this testing some changes have been made to the original Tavor outlines. The usual Tavor assault rifle pistol grip, with its oversize handguard, has been replaced by a more conventional pistol grip configuration, while the forward handguard has been revised with a prominent lip to prevent a hand straying in front of the muzzle during the stress of combat. All controls and the charging handle remain ambidextrous, as required.

Another visual change is that the original sight mounting arrangements have been altered, with a raised section of MIL-STD-1913 Picatinny Rail available for mounting either a red dot reflex sight or some other optic.

For the 9 x 19 mm version, the Micro Tavor utilises standard Uzi box magazines holding either 20, 25 or 32 rounds. These magazines were adopted because they are already available and familiar to local users and, being steel, they are robust and reliable. Under development are other pistol calibres, including 0.40 S&W and 0.45 ACP, no doubt to attract export sales.

Apart from those two pistol calibres, Tavor development is now complete and it is stated to be ready for service. Once the existing IDF M16s have been withdrawn, the Tavor family will be adopted by the IDF and it should last for years.
This article first appeared in Small Arms Review V6N2 (November 2002)