AAC issues a ballistic nylon belt pouch as standard equipment with the Scarab, so the pistol can be carried in a conventional holster while the dismounted suppressor is carried in its own pouch.
By Al Paulson

I love the intrinsic beauty, the exceptional accuracy, the user-friendly balance, the compact and easily holsterable envelope, and the satisfying sound signature of a state-of-the-art, integrally silenced Ruger Mark II pistol. That said, if I only had one sound suppressor, it would be a .22 caliber muzzle can. Why? The reasons are manifest. The muzzle can is cheaper, easier to clean, and kicks less crud back out of the barrel and into the action. Therefore, the parent firearm needs to be cleaned less frequently. The sight radius of a pistol with muzzle can is less than that of an integrally silenced pistol, which is an advantage if you have tired old eyes and wear progressive multifocal glasses like me. A big advantage of the muzzle can is that the parent firearm need not be dedicated to suppressed use, so the muzzle can may be removed from the firearm for hunting in those states where hunting with a sound suppressor is illegal. A corollary is that a single silencer may be switched among any number of rifles and pistols, adding to the muzzle can's versatility and cost-effectiveness. Last, but by no means least, the muzzle can has a greater service life than an integral can. This latter consideration is important to very large volume shooters such as animal-control professionals. The Scarab sound suppressor from Advanced Armament Corp. is an excellent example of a relatively small and efficient muzzle can that works combustion gases hard, but not so hard as to degrade accuracy. In fact, accuracy with high velocity and standard velocity target ammo is significantly better with the Scarab than the same pistol without the Scarab.

The Scarab sound suppressor features a tube and end caps fabricated from 304 stainless steel. The baffle stack is machined from aluminum alloy to minimize weight, which is a consideration when the can is mounted on a pistol. The can is available in a polished stainless or a matte black finish. The matte black is worth discussing briefly. This is baked-on milspec molybdenum resin produced by John Norrell Manufacturing (Dept. SAR, 2608 Grist Mill Road, Little Rock, AR 72207; fax 501-225-7864;e-mail smg1022@aol.com) that adds lubricity and sheds grime readily. This Moly Resin Professional Firearms Finish is an outstanding product that is used by government contractors for USSOCOM. This is a specially formulated thermally reactive phenolic resin dissolved in a proprietary solvent that becomes impervious to an amazingly wide variety of solvents after proper heat curing. Moly Resin ™ stands up to a number of cleaning products with which I've killed other finishes. Carburetor cleaner, for example, dissolved some other moly resins and painted finishes. Castrol Degreaser killed a factory pistol finish. Methyl Ethyl Ketone (MEK) killed another baked-on finish. Not only do these products have no effect on the Scarab, Norrell's Moly Resin even stands up to nitric acid, which attacks unprotected steel, foaming vigorously, spewing corrosive byproducts, and producing volumes of colorful noxious gases. If you want a black finish rather than bright stainless, Norrell's Moly Resin™ is a dandy way to go.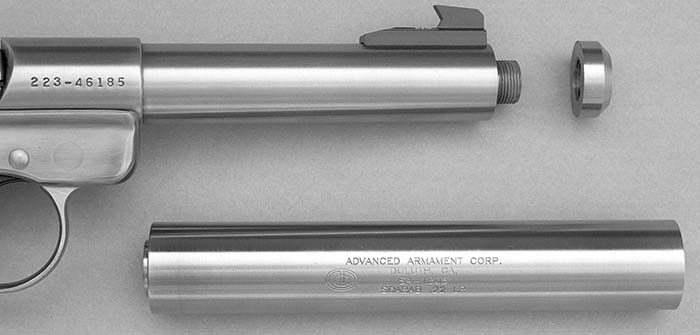 AAC's Scarab silencer has a length of 5.7 inches, a diameter of 1.0 inch, and a weight of 6.3 ounces. Thus a stainless steel Ruger Mark II with 5.5 inch target-weight barrel, which is commonly known as the Model KMK512 pistol, weighs 47.2 ounces with the Scarab. The can evaluated in this study is threaded with the industry standard 1/2×28 TPI. AAC also offers the Scarab with two other mounting options for smaller pistols than the Ruger Mark II: 3/8×24 TPI (Scarab LOA 5.4 inches); and 7/16×28 TPI (Scarab LOA 5.25 inches). If you have your pistol threaded by AAC gunsmith, Dan Dansberry, you are in for a treat. This guy is more than a master gunsmith. He is an artiste. The thread protector he provides has the same diameter as the target-weight barrel, and the front of the protector is radiused to give the pistol a very finished and unmodified appearance when the thread protector is installed. The seam between the barrel and thread protector is so tight as to be almost invisible.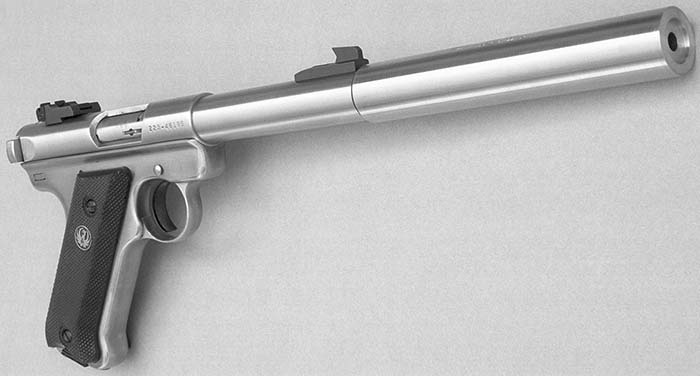 One of the few things I don't like about muzzle cans is that the suppressed pistol is longer and heavier than an integrally suppressed pistol with a similar baffle stack (such as AAC's Phoenix pistol). This has two principal consequences. (1) The pistol with muzzle can has a more muzzle heavy balance than the integrally silenced pistol. This slows the speed of target acquisition and accelerates shooter fatigue. And (2) the extra length of the pistol with muzzle can makes it very difficult to find a holster to accommodate the system. This makes carrying a pistol with muzzle can into the field rather impractical.

Advanced Armament offers two alternative solutions to this latter problem. (1) AAC issues a ballistic nylon belt pouch as standard equipment with every muzzle can they sell. With the Scarab, this enables end-users to carry their pistols in a conventional holster and the dismounted suppressor in its own pouch. (2) I discovered an even handier solution quite by accident. The holster designed for carrying AAC's integrally silenced Phoenix pistol will also accommodate a KMK512 pistol with Scarab muzzle can mounted on the gun. Therefore, the silenced pistol is ready to shoot as fast as it can be drawn from the holster. While the Phoenix Holster completely protects the integrally silenced Phoenix pistol, the Scarab muzzle can does stick out from the bottom of the holster. This minor liability is outweighed considerably by the sheer convenience of being able to carry the Scarab mounted on the KMK512 when afield. It is worth noting that the holster completely encloses the Scarab if the KMK512 is shortened to a barrel length of 4.25 inches. AAC will shorten the barrel at no charge if requested when AAC threads the barrel.

As far as I know, this is the first holster expressly designed from the ground up for an integrally silenced .22 pistol. The Phoenix Holster is made exclusively for AAC by the London Bridge Trading Company, which has been quietly supplying the armed professional with top-quality nylon gear for more than 15 years. The holster features a full flap that protects the pistol and is secured by a quick-release fastener. An elastic loop (rubber coated bungee), which is an innovation peculiar to London Bridge holsters, can be slipped around the butt of the pistol as an added measure of security for rappelling or amphibious operations. The holster also incorporates a twin magazine pouch.

In the first generation Phoenix holster, the magazine pouch flap incorporated a pouch for a Clip Loader Mfg. magazine-loading tool. In the second-generation Phoenix holster, the pistol flap was made a bit smaller so the twin magazine pouch could be moved up to make room for a separate pouch for the larger and handier HKS Model 22-R Magazine Speed Loader. The flaps for the twin magazine pouch and the loading-tool are secured by both hook/pile and a snap. Both the first- and second-generation holsters provide two modes of attachment: a wide belt loop and Alice clips. The latest variant also includes a Kydex channel for the front sight. This improves both durability and the ease of presentation from the holster. The quality of materials and construction are outstanding, as is the thought that went into the holster's design. I particularly like the "repetitious redundancy" of holster subsystems: both quick-release faster and elastic loop to secure the pistol, both hook/pile and snap to secure the flaps for the magazine and Speed Loader pouches, and two modes for mounting to a belt. Available in olive drab, woodland camouflage, desert camouflage and black, the Phoenix Holster is as good as it gets. It should come as no surprise that another London Bridge holster is reportedly used by U.S. Navy special warfare units. London Bridge makes a diverse array of holsters, backpacks, web gear, vests and bags worthy of the most demanding end-user (London Bridge Trading Company, Ltd., Dept. GW/LE, 3509 Virginia Beach Blvd., Virginia Beach, VA 23452; phone 757-498-0207; fax757-498-0059URL www.londonbridgetrading.com; e-mail lbtcl@pinn.net).

Performance

I tested the performance of AAC's Scarab silencer on a Ruger KMK512 pistol, and compared that performance with the same KMK512 without the silencer, as well as with AAC's integrally silenced Phoenix pistol. Sound testing was conducted using the specific equipment and testing protocol advocated at the end of Chapter 5 in the book Silencer History and Performance, Volume 1 (Wideworld, Dept. SAR, P.O. Box 1827, Conway, AR 72033; $50 plus $5 s&h, check or MO). Four kinds of .22 LR ammunition were used for the testing: Remington 40 grain high velocity (HV), Remington 40 grain standard velocity target (SVT), Remington 38 grain hollowpoint subsonic (SS), and RWS 40 grain hollowpoint subsonic (SS). Sound and velocity testing were conducted at an atmospheric temperature of 84 °F, while accuracy testing was conducted several days later at 88 °F. Ammunition was kept at ambient temperature in a cooler in the shade until needed. Unsuppressed peak sound pressure levels (SPLs) were measured 1 meter to the left of the muzzle, while suppressed levels were measured 1 meter to the left of the suppressor. Reported decibel levels represent the mean (average) of 10 shots.

Velocities were measured using a P.A.C.T. MKIII timer/chronograph with MKV skyscreens set 24.0 inches apart and the start screen 8.0 feet from the muzzle (P.A.C.T., Dept. SAR, P.O. Box 531525, Grand Prairie, TX 75053; phone: 214-641-0049). Velocity data represent a mean value of at least ten shots. The speed of sound was 1,143 fps at 84 °F and 1,157 fps at 88 °F. Accuracy testing was conducted at a range of 25 yards using a Ransom Rest, with three rounds per group. Reported accuracy data represent the average of three groups. Group sizes represent the center to center distance between the two most widely spaced shots, using custom caliber-specific calipers made by Hunt's Bullets (Dept. SAR, 6210 Lake Lugano, Jacksonville, FL 32256; phone 904-645-3140).

The peak sound pressure levels (SPLs) of suppressed and unsuppressed pistols are reported in Table 1. Net sound reductions appear in Table 2. It is worth noting that the same pistol was used for both the unsuppressed benchmarks and the Scarab benchmarks. This pistol has a barrel length of 5.5 inches. If the Scarab were tested on a pistol with a significantly shorted barrel, such as a Walther TPH or PPK-S, the unsuppressed sound signatures would be louder and the net sound reductions would likely be 3-4 dB better. I used a KMK512 with original barrel length because this is the most popular pistol configuration for most end-users. Muzzle velocities appear in Table 3. Accuracy data appear in Table 4.

Several of the conclusions to be drawn from these data were something of a surprise. (1) The Scarab really "likes" standard velocity target ammunition in terms of accuracy. I expected a preference for SVT ammo, but not to the extent seen here. The pistol with Scarab suppressor delivered maximum accuracy with this round, accuracy that was twice as good as the accuracy produced by same pistol without a can, and three to five times as good as the pistol with or without the silencer using subsonic and high velocity ammo. (2) I was also surprised that the Scarab "likes" standard velocity fodder so well in terms of sound suppression. The Scarab was just 1 decibel quieter with RWS subsonic and was actually 1 dB louder with Remington subsonic. Even first-round pop was significantly greater with subsonic ammo than it was with standard velocity fodder.

It is also important to note that the pistol with Scarab silencer produced a ballistic crack with high velocity ammo, while the Phoenix did not. Score one for the integrally silenced pistol. The pistol with Scarab silencer must be used with standard velocity or subsonic ammunition to avoid objectionable bullet flight noise. With RWS subsonic ammunition, the Scarab muzzle can was as quiet as the integrally silenced Phoenix pistol using high velocity fodder. That's pretty darned good performance for a muzzle can.

Conclusions

AAC's Scarab muzzle can delivers excellent performance in a relatively small and light package. Using high velocity ammunition, the pistol delivers significantly better accuracy than an unmodified pistol, although the system does produce a ballistic crack. Using standard velocity target ammunition eliminates the ballistic crack and produces a very stealthy sound signature and very tight groups. The muzzle can is easier to clean than an integral silencer, and it keeps the pistol action cleaner too. The Scarab can be removed for hunting or swapped between diverse firearms. And it is very cost effective. The Scarab silencer retails for just $395.

I also like the fact that Advanced Armament Corp. has a master gunsmith on staff. This enables AAC to offer custom options such as an outstanding trigger job for $100, including Volquartsen parts. Since about 50 percent of Ruger Mark II pistols come from the factory with poor triggers, this could be a very attractive option. Anyone using the pistol for animal control would benefit from the addition of IWI bar-dot tritium night sights for just $100. Barrel threading (including thread protector) is $75. Finally, a mandatory accessory in my opinion is the superbly designed, user-friendly Phoenix Holster, which retails for $70. I like the many options and one-stop shopping available from AAC. For more information, contact the Advanced Armament Corp., Dept. SAR, 221 West Crogan Street, Lawrenceville, GA 30045 (phone 770-277-4946; fax 770-277-4841; URL www.advanced-armament.com).
This article first appeared in Small Arms Review V4N9 (June 2001)