It looks like a standard reflex sight, but Thales' new XTRAIM weapon sight has a couple of very cool tricks in store. First off, it is a reflex sight at heart. But instead of using a laser holograph (like an EoTech) for its reticle, it uses a projected digital reticle that's configurable to show a dot, a circle, or any of about five other choices in its 30x24mm viewing window.
Second, the sight features a built-in thermal that presents a white-hot, black-hot, or outline image over the top of the direct-view image.
Lastly, the sight's thermal superpowers are compatible with NODS through the clever use of a prism in the optic's light path. So, for the first time, guys running night vision goggles have access to on-demand thermal fusion imaging by just raising their rifle optic up to their eyeline. Used this way with a set of panos, the operator maintains complete I² situational awareness without distraction and augments his detection capability with a thermal outline in thier rifle optic. Check out the video below to see how the thermal overlay looks.
On the thermal side, the uncooled, NUCless IR sensor has a 12µm pitch, a resolution of 640×480 pixels, and runs at 60Hz, so there's little lag, flicker, or dragging of moving subjects. The thermal overlay has two options, a traditional full thermal image or an outline mode, as shown above.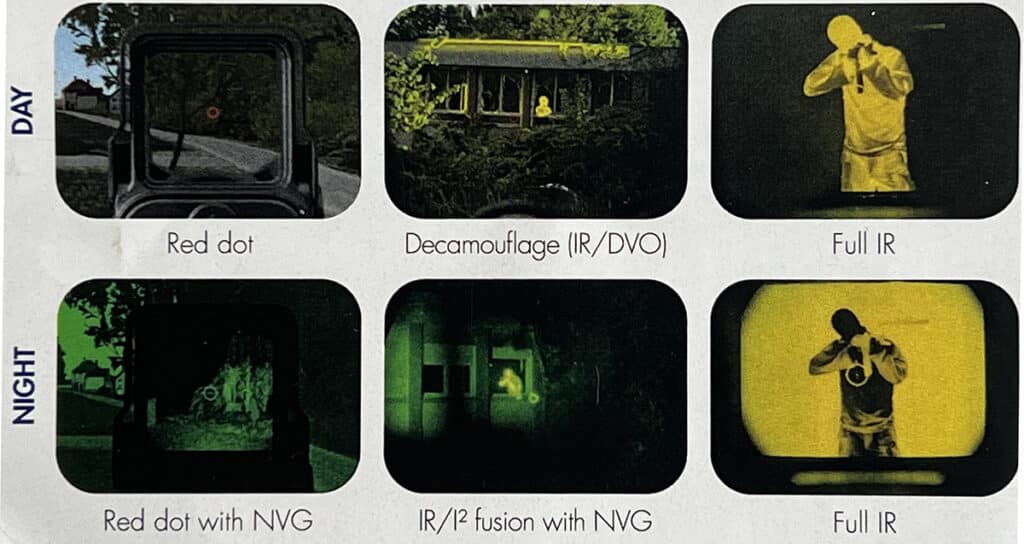 The unit is about the size of an old EoTech 512 and weighs 18.7 ounces. It runs on a set of two CR123 batteries that provide about seven hours of thermal operation and about 500 hours when powering only the direct view reticle. Fully hardened for battlefield use on carbines and light machine guns, the XTRAIM is also compatible with 3x magnifiers, a rail-mounted remote control, and offers a unique set of observational and targeting benefits for infantry, operators, and paramilitary/law enforcement units.
Unfortunately for civilians, Thales is only offering the XTRAIM to military and law enforcement at this time. If you're interested, learn more at www.thalesgroup.com or reach out to solutions@thalesdsi.com.
Thales XTRAIM Features and Specs:
Direct View Optic:
Eye Relief 90mm @ 14º Thermal HOV, Fixed Diopter
Red Dot Reticle: 1.6 MOA
Magnification 1x
High Luminance OLED Display
30x24mm Viewing Window
Runtime: 500 hours
Thermal Channel:
New Generation Sensor: 12µm pitch, 640×480 Resolution
2x Digital Zoom
14º Horz. Field of View
NUCless imager
2 Display Modes: Continuous and Outline
Runtime: 7 hours
Weight: 18.7 ounces
Length: 6.7 inches
Power: 2x CR123