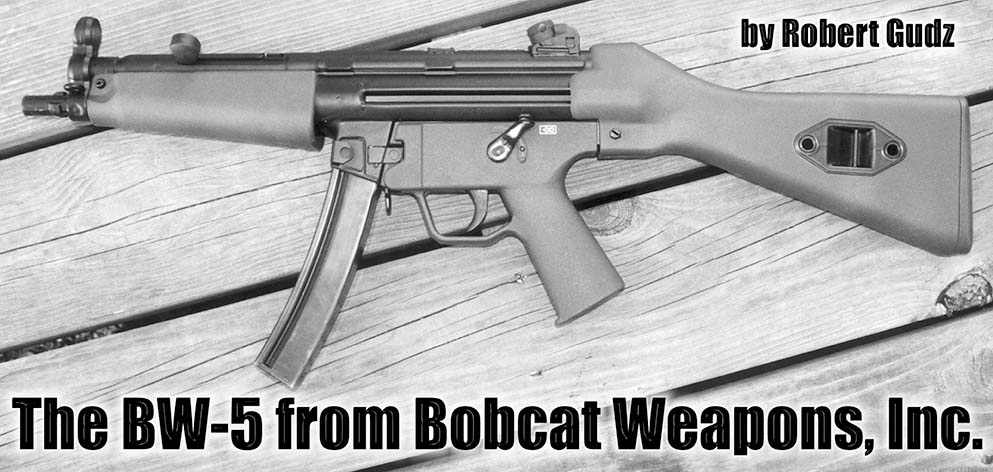 Robert Gudz
After the ban on importation of "non-sporting semiautomatic firearms" by George H. W. Bush in 1989, the HK94 9mm rifle (the semiautomatic version of the HK MP5 9mm submachine gun) has become an ever increasingly valuable firearm. Prized by both collectors and Class 3 aficionados for a host weapon to turn into a transferable MP5 sear gun, the HK94 that cost in the neighborhood of $850 retail in 1988, can currently be found selling on the internet and at gun shows for between $3,500 and $4,000. Such prices put the HK94 out of the range of most recreational shooters. This fact has led a few enterprising firearms manufactures to produce their own "clones" of the HK94 under various trade names in the past few years, with limited success. While considerably less expensive than an original HK94, these clones were of poor mechanical and cosmetic quality, leaving the consumer with the meager choice of low cost/low quality or high cost/high quality.
Bobcat Weapons, Inc.: the Company
Bobcat Weapons, Inc., of Mesa, Arizona began business in April of 2003 with the objective of rectifying this problem. Owner and founder Andy Bonas saw the need for a reasonably priced, well made HK94 clone that would allow the average firearms owner to get the feel and reliability of the HK94 for the price of a normal semi-automatic rifle. Mr. Bonas is a Mechanical Engineering graduate of Penn State University. He was a design engineer at Action Arms in Philadelphia (working on the UZI submachine gun, semi-automatic carbine and explosive devices) before moving on to other West Coast DoD contractors working in the explosive device design field for DoD and DoE contracts.
Andy reports that many customers ask him about any links between Bobcat Weapons and another company, Special Weapons, Inc., that recently produced similar rifles. Andy is very frank in his explanation of the relationship. "Todd Bailey, the founder of Special Weapons Inc., was a friend of mine. I actually worked with him at TRW to develop new airbag technology. So we kept in touch on and off over the years. When I decided it was time to venture out into my own business, I contacted several friends that I had developed over time to look for opportunities. When I called Todd, it just so happened that he had decided to shut down the civilian sales side of his firearms business because he wanted to focus his resources on law enforcement, military and foreign government sales. After several conversations, we struck a deal. I would develop an independent company with its own identity to produce and distribute firearms (HK clones) for the civilian market. My company would have exclusive access to all of the Special Weapons Inc. owned supplier tooling and parts in exchange for a license fee and the commitment to purchase parts through Special Weapons Inc. Thus Bobcat Weapons was founded in April 2003 as an Arizona Corporation."
The initial plan for Bobcat Weapons Inc. was to begin producing a 9mm HK94 clone, which would be called the BW-5, and offer it in 2 styles: the Standard and the FS (Fake Suppressor). Bobcat Weapons began producing sub-assemblies in December 2003, debuted the rifles at the February 2004 Shot Show and shipped the first rifle on March 1, 2004. In the first 2 months of production, 120 rifles had been delivered to customers and, as word of mouth spread, Andy reports that sales are increasing at a tremendous rate each month. The company maintains a stock of rifles in both Standard and FS configurations and most orders are shipped within 24 hours of receipt.
The BW-5 and BW-5 FS Rifle
As with the MP5 and the HK94, the BW-5 family of rifles is blowback operated with a stationary barrel and delayed roller lock bolt system. The firearm fires from the closed bolt and feeds 9mm ammunition into the fluted chamber via a 10 or 30-round MP5-type magazine. The rifle is shipped with one 10 round magazine.
Bobcat Weapons currently offers two models of the BW-5 9mm rifle. The BW-5 "standard" model features a 16 inch barrel, a metal "SF" clip-on lower with a plastic pistol grip, standard button magazine release, and an A2 style fixed stock to comply with the current "Assault Weapons Ban". The BW-5 "FS" model has the same basic features as the standard model except rather than a metal lower; it has a polymer pictogram lower and a paddle magazine release mechanism. In addition, what the author believes is the most attractive feature, is an 8.875 inch 3-lug barrel to which a fake suppressor (hence the "FS" designation) is pinned to allow the overall barrel length to comply with the 16 inches required of Title 1 firearms.
The BW-5 rifle is made of a mixture of US made and imported surplus MP5 parts that are refinished to new condition. (See table for a list of parts from 27 C.F.R. Part 178.39 and their source of manufacture.)
The BW-5 receiver is made of high-grade steel in the U.S. and is stamped, formed and welded to specifications matching that of the HK94. According to Mr. Bonas, "There is a common myth that HK receivers are heat-treated, because the bare receivers are discolored, which causes some people to believe that the receivers are stronger than receivers that are not heat-treated. Actually H&K anneals the receivers during the stamping process. Annealing is a common process used to alleviate work hardening of the material to make the stamping process easier. Thus annealing makes the receiver material softer and less likely to resist wear and tear. Bobcat Weapons receivers are not annealed, so the receivers are actually stronger than the H&K receivers."
The barrel is billet machined stainless steel and is rifled with a 1:10 twist rate. The barrel blank is manufactured by Green Mountain Rifle Barrel Company. However, a Bobcat Weapons Inc. supplier machines the barrel's final dimensions, chamber, chamber flutes, and rifling. Earlier barrels had 12 flute chambers, which is true to the original HK design. Current barrels are machined with 16 flutes for added extraction reliability and match the most recent HK improvements. The barrel is button rifled, like the MP5 and HK94, but is made of corrosion resistant stainless steel to provide extraordinary life and durability. The same barrels were used in the Special Weapons SW5 machine guns produced over the past few years. Andy reports that there are several guns at a rental range in Las Vegas: "Those rifles are returned for re-barreling every 70,000 to 90,000 rounds and re-barreling has been performed several times on each rifle. That means the BW-5, being a semi-auto, should easily last 90,000 rounds while HK MP5s have a demonstrated barrel life of less than 40,000 rounds."
The barrel handguard and buttstock are made in the US from high-impact, heat-resistant engineered polymer for durability, strength and thermal stability. The polymer lower on the FS model is made from the same material. Bobcat Weapons offers OD green color furniture (stock, pistol grip and for the FS model – lower) as a no cost option for both rifles.
On both models, the standard metal finish is a black epoxy coating, which yields exceptional durability and visually nearly matches exactly the current finish on the HK MP5 submachine gun. The coating process is considered proprietary and is done by an outside supplier that specializes in this kind of finish. An all OD green finish is available for an additional $25.00. In addition, the rifle can be ordered with a camouflage finish in black Tiger Stripe, Woodland or Desert (chocolate chip) patterns. The custom camouflage costs an additional $25.00 and is a regular gun paint finish.
There are two notable features of the early BW-5s that do not precisely mimic the HK94 or MP5: the cocking tube housing and the sling clip on the magazine-well housing. However, the most recent models have been upgraded to a "ribbed" cocking tube housing and a riveted sling clip. According to Mr. Bonas, "Bobcat Weapons is dedicated to continually upgrading the BW-5 series rifle to improve reliability and more closely match the original HK94 and MP5."
Every Bobcat Weapons rifle is subjected to several quality checks, including a test firing before it is cleaned and packed for shipment. Quality checks include laser bore sighting (after welding) to insure the rifle receiver is straight, three separate head space checks, roller function check, ejector position check, extractor operation check, trigger mechanism function checks, and oversize and undersize magazine-well checks to name a few.
Custom Configurations
With the standard model of the BW-5 having a metal lower and the FS model having a polymer lower, there are two common questions that customers ask. First, "Why are there two types of lowers?" and "May I get a (metal/polymer) lower on my (standard/FS) model?" To answer the first questions, Bobcat Weapons replies that it was important to keep the look of the HK94, while also keeping the price within a reasonable range for the customer. The metal lower is an HK SEF lower that has been modified to fit the semi automatic receiver. On the SEF lower the letter "E" and "E" detents are filled in with metal so that the lower does not attract attention marked "SEF". The all-polymer lower is a clone of the MP5 "Navy" lower, again marked to only show semi and safe configuration. It is a more modern look than the original metal "SEF" lower and offers better durability and corrosion resistance. While the selector lever axles are of different lengths to compensate for the thicker plastic of the Navy lower, there are no internal differences in the trigger packs.
To answer the second question, while the majority of the rifles shipped out of Bobcat Weapons are in either the Standard or FS configuration, the company does accept custom orders and performs "cross model" modifications for their customers. On the lowers, for instance, for a small additional charge, Bobcat Weapons will upgrade a metal lower on the BW-5 standard model to a "Navy" polymer lower. Likewise a customer purchasing the FS model can elect to have a metal lower installed in lieu of the polymer lower.
Often, modifications a customer may request are not a simple parts swap and require gunsmith modifications, with the costs commensurate with the change. For example, an individual may want a BW-5 standard model with the paddle magazine release installed. Installation would involve drilling the receiver, disassembly and reassembly, welding the pin, dressing the weld, removing the paint from the entire receiver with an abrasive media blast, re-painting and final fitting to ensure proper function. Bobcat Weapons will then re-test, quality check and package and ship the rifle. If a customer chooses this path, Bobcat Weapons will warranty these modifications because they are done by their own gunsmith. Individuals desiring such custom work should contact Bobcat Weapons directly and they will receive a price quote for the work along with an indication of the time required for the modification. Most modifications take no more than four weeks, usually less.
Accessories
Accessories that will fit on an HK94 or MP5 will fit on the BW-5. That includes the old and new style HK A3 collapsible stocks, the new HK side-folding stocks, the new B&T side-folding stocks (similar to the stock on the HK UMP series submachine guns), Surefire forehand grips, claw mounts and slings, to name a few of the more common after-market accessories. The author has personally tried no fewer than 3 different types of HK and B&T stocks on the BW-5 and found that they all fit. One items of note is that the fit was very tight at first, but after installing and removing the stocks a few times, they installed much easier.
The BW-5 will accept HK straight magazines; HK curved magazines and Beta C drum magazines. Although Bobcat Weapons does not warrant that the BW-5 will work with after-market MP5-type magazines, I have personally tried several of the "clone" HK-type 32 round magazines (referred to as "Asian military contract") that are readily available through mail-order sources, with good results. The rifle comes with one 10 round magazine. Additional magazines can be ordered from Bobcat Weapons.
Class 3 Possibilities with the BW-5 FS
The BW-5 FS is designed for those individuals that want to own a registered SBR (short barreled rifle) or have the flexibility in the future to make an SBR. A purchaser can file BATF Form-1 "Application to Make and Register a Firearm" with BATF. Once the approved form is received from BATF, contact Bobcat Weapons, Inc. and they will send you removal guidelines for the fake suppressor. The true MP5-style 9-inch, 3-lug barrel is hidden under the fake suppressor. Upon removal, the customer will have to dress the end of the barrel, re-paint it and inscribe their name as the manufacturer of the SBR. There will also be a small 0.125-inch diameter by 0.100-inch deep pinhole in the lower right lug. If desired, it can be filled in before dressing the end of the barrel.
Like the original HK94, the BW-5 rifles come with a semi-auto bolt carrier. However, the bolt carrier can be upgraded to full-auto configuration through the company, complete with the correct features and tungsten powder fill, for an additional $135. The tungsten powder fill is not absolutely required for full-auto function, but it is true to the HK bolt carrier design and makes for more reliable full-auto performance.
Customers who own a registered auto-sear will need a sear-ready trigger pack, a grip frame that is modified to fit the HK94 style hanger block and the full-auto bolt carrier to make the BW-5 full auto capable.
Ammunition Preference
The BW-5, like the MP5 and HK94, needs to be dialed in to ammunition of different impulse ranges. The locking piece contours determine how much of the recoil energy is allocated for extraction and resetting the hammer and how much is put into the receiver. Winchester 115-grain, Wolf 115-grain, Sellier and Bellot 115-grain, and Federal American Eagle 115-grain are ammunitions that are recommend by the factory for use in the BW-5 with the stock locking piece. Bobcat Weapons does not recommend that low-impulse ammunition, like Remington UMC 115-grain, be used in the BW-5. Factory testing has determined that it will not extract reliably with the stock locking piece. However, the use of an "SD" locking piece will improve extraction reliability since it allocates more of the recoil energy to extraction and hammer reset and puts less of the recoil energy into the receiver. The SD locking piece was originally designed by HK for the MP5SD, which uses subsonic 147-grain ammunition, that is compatible with the weapons integral suppressor. The "SD" locking piece is available for $75.00 from Bobcat Weapons with the purchase of one of the company's rifles. Bobcat Weapons has performed ammunition tests using different locking pieces and their results are posted on the company's website.
Bobcat Weapons test their rifles for accuracy. In general, the BW-5 FS is as accurate as the Standard model. At a local outdoor range, with Wolf 115-grain ammunition, steel sights and sandbags, the rifles had groups of less than 2 inches at 50 yards and less than 1 inch at 25 yards.
Lifetime Warranty
All Bobcat Weapons rifles are covered by a lifetime warranty. Except for normal wear and tear, abuse or miss-use, Bobcat Weapons will repair your rifle free of charge under the warranty. One of the best features of the warranty is that it can be transferred to a new owner. There is no limitation on the number of transfers, just that the new owner is registered with Bobcat Weapons. Dealers need to pay attention to the warranty card as it requires that the purchaser initial that he has received training in the proper operation of the rifle, field stripping instructions, a safety brief, and has received a copy of the manual. A properly signed Warranty Form is then faxed or mailed (Bobcat Weapons provides an addressed and stamped envelope with the rifle for this purpose) back to the company to activate the lifetime warranty. The Warranty requires registration within 10 days of purchase.
The Future
Bobcat Weapons Inc. will continue to improve and upgrade the BW-5 rifles as well as introduce new rifles. The first new rifle will be an H&K MP5-40 and MP5-10 clone, to be known as the BW5-40 and the BW5-10 SA sporting rifles with first shipments forecast for February 2005. There will be a limited number of rifles produced with a retail estimated at under $2,000. The rifles will be true to the original HK models, including last round hold open devices and ambidextrous lowers. A .357 Sig and .45 caliber rifle will be introduced after the .40 cal. and 10mm models. If/when the 1994 Assault Weapons Ban lapses in mid-September 2004, all rifles will include a 30 round magazine. Additional magazines will be readily available for a reasonable price.
In the spring of 2005, Bobcat Weapons Inc. plans to introduce the fully dressed, semi-automatic version of the HK MSG90 sniper rifle. A few of the features of this rifle will include the correct MSG90 bolt head and extractor, a Douglas XXX air gauged barrel, the correct MSG90 scope mounts, the latest H&K design 1,200 meter sights (wheel adjust), forward assist, Navy style grip with ambidextrous selector, a tuned trigger, an MSG90 trunion and a PSG1 handguard.
There have been a number of inquires from customers and dealers about Bobcat Weapons producing a PDW model. At this time they do not plan to introduce a PDW because they feel that the relatively low demand will make the venture uneconomical. However, if the 1994 Assault Weapons Ban lapses in September, Bobcat Weapons will offer a clone of the SP89 pistol, to be called the BW5k.
Conclusion
The Bobcat Weapons, Inc. BW-5 Standard and BW-5 FS model rifles are high quality clones of the HK94 semi automatic rifle at a substantially reduced cost. Prospective customers will find that Andy Bonas, and his staff, are customer service driven and strive to produce a quality product at a reasonable price. Custom options and the Class 3 friendly nature of the BW-5 will ensure that rifle will be a favorite among SAR readers.
They may be contacted at: Bobcat Weapons Inc., Dept. SAR, P.O. Box 21017, Mesa, AZ 85277. Phone (480)-832-0844. Their website address is www.bobcatweapons.comBobcat
Weapons BW-5 and BW-5 FS Specifications
Caliber: 9x19mm Parabellum
Operation: Delayed blowback operated, roller lock bolt system, firing from a closed bolt
Weight, empty: 6.4 pounds (2.9 kg) without magazine
Length, overall: 34.5 inches (876 mm)
Width: 1.96 inches (50 mm)
Height: 8.26 inches (210 mm)
Barrel: Stainless steel, billet machined with a fluted chamber. Rate of twist is 1:10
Barrel length: Standard model is 16.5 inches (419mm), FS model is 8.875 inches (225mm) with a 3-lug attachment under a pinned on fake suppressor
Magazine: Ships with one 10-round magazine. Will accept standard HK-type 30 round magazines
Sights: Front – fixed post in ring,
Rear – rotating drum, 3 aperture and open "V" sight
Sight Radius: 13.39 inches (340 mm)
Finish: Black epoxy coat is standard (optional: OD green, desert tan, camouflage)
Grip Panels: Standard model has black polymer pistol grip on a metal lower. FS model grip is molded into a synthetic black pictogram lower. (Optional colors: OD green, desert tan)
Status: Current Production
Manufacturer: Bobcat Weapons, PO Box 21017, Mesa, AZ 85277, (480)-832-0844, www.bobcatweapons.com
Price: Standard model – $1,350, FS model – $1,625.
T&E Summary: Flawless function. Fit, finish and function are similar to the HK 94. The BW-5 accepted HK straight, curved and HK-clone curved magazines with no failure to feed. Accuracy for the Standard and FS models were similar, with 2 inch groups possible at 50 yards and groups of 1 inch or less possible at 25 yards.
This article first appeared in Small Arms Review V8N3 (December 2004)