The Firing Lane: Shooting In Style
By Steve Baughman
Occasionally, the summers get hot down here in Georgia. Today, it's about 97 degrees. My shooting buddies want to head out to our favorite "after work" shooting area to burn-up some ammo and relax from the day's stress. The news on the radio says that the heat index is 105 to 110 due to the 90% + humidity. In my book, that is not what I call "relaxing" conditions for shooting. Our range is in the middle of a wide open area which has no shade, and outside temperatures can feel about as hot as your M16 barrel does from a 30-round burst. Blame it on El Nino, Al Gore, or cigarette tobacco smoke, the fact remains it cuts into our shooting time.
Class III machine gun enthusiasts in the Southeast now have a full-auto indoor range option when contemplating their next shooting excursion, and it's air conditioned. The Firing Lane in Athens, Georgia has a full-auto approved range for any caliber running up to 4000 fps. The owner, Dudley Calfee, is a Class III dealer and manufacturer as well. He provides on-site rentals of full-auto firearms to those who don't own their own, or for those who would like to try out a different weapon system. With fewer areas available for full-auto shooting these days, an indoor range is a convenient and viable option to enjoy testing out different guns or various ammunition in a particular firearm.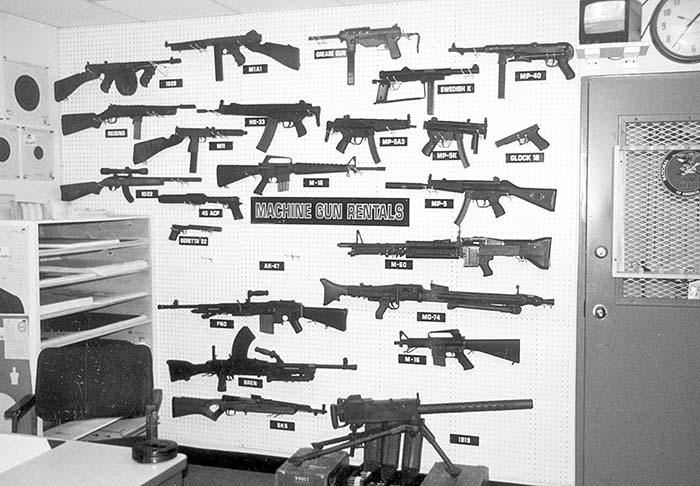 The Firing Lane is open to the general public, and is located in Athens, Georgia. It's about a 50-60 minute drive from Atlanta. They offer a variety of safety and firearms classes, as well as league shooting. The range is open 7 days a week, with hours of 12-9 p.m. Monday through Saturday, and 1-6 p.m. on Sunday. A retail shop is also located on the premises.
I visited the Firing Lane during their grand opening celebration weekend. It was a hot Sunday afternoon in late July, and it was reported that 300+ people had visited the facility the day before. My main complaint about using indoor ranges has always been poor ventilation, so I wanted to try out theirs first-hand to see how well it handled the smoke from full auto firearms. The last time I used an indoor range was a few years ago when I was sent to the Glock Firearms Instructors course in Smyrna, Georgia. It was a three day event, and I burned about 1500 9mm rounds prior to completion of the course. Dudley's range is very similar to the Glock range, only bigger. The ventilation was more than adequate, and no one complained about that aspect.
I fired about 200 rounds through an M16 carbine to get a feel of the range and its layout. The targets are retrievable, and allow one to practice short and long bursts as well as dumping a fully loaded magazine if one so desire. Due to the relative confinement of the room, muzzle blast concussions are obviously magnified somewhat, but are not uncomfortable. This range provides an excellent environment to experience the spectacle of full auto firepower, sight, and sound.
While I was there, Dudley's staff provided a firepower demonstration with an M3 aircraft 50 BMG shooting blanks. This particular gun was used in the movie "Tora, Tora, Tora" and was definitely a showstopper. Range staffers Chris Neufeld and Will Frisch were on the gun. Dudley dimmed the range lights, and I positioned myself just behind the gun during firing. The muzzle flash and sound was definitely an experience I will not soon forget. On the opposite side of the range, a father was teaching his daughter the art of full auto shooting with the AK-47. He told me that she had fired his MAK-90 many times, and was there to let her experience the thrill of shooting a full auto. After firing her first magazine, the smile on her face told the whole story.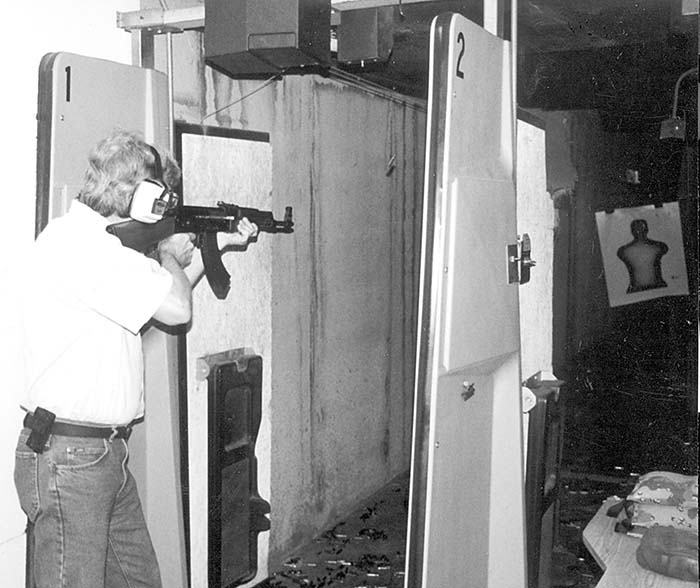 If requested, Dudley will have one of his friendly and knowledgeable employees stay with a shooter to ensure the proper safety and weapon operating procedures are observed. Once a shooter has demonstrated the proper weapons handling, they are then allowed to shoot at their leisure. Safety is the main concern, and obviously should be. People new to full auto shooting are welcome as his staff is willing to provide the proper instructional help related to all aspects of the sport. The range has a family-type atmosphere, and all types of shooters would feel welcome.
Certain nights are dedicated to different shooters. Classifications include an auto-loaders combat league, personal defense classes, a subgun league, a bowling pin league, a PPC league, and a ladies night (which includes free handgun and machine gun rental). The personal defense classes are taught two times per month, and are presented by the Chief Firearms Instructor at the Northeast Georgia Law Enforcement Academy.
It was refreshing to see a place dedicated to Class III shooting which is geared towards the new shooter, as well as the seasoned veteran. The Firing Lane provides everything needed to enjoy the thrill of shooting in a safe and fun atmosphere. Visit their web site for more information. Dudley and his crew want your visit to be an enjoyable one and they are there to help make that happen. See you on the range…
The Firing Lane
Address: 115 Mill Center Blvd., Bogart (Athens), GA
Phone #: 706-546-6111
Web Site: www.firinglane.com/
Number of Lanes: 2 rifle/10 pistol
Range Length: 25 yards
Target Types: Retrievable overhead
Hours of Operation: 12-9pm Mon.-Sat, 1-6pm Sun
ID requirements/age: Drivers license. Must be 18 or older to shoot unsupervised. 17 and younger must be accompanied by an adult.
Range Time (members)$3/30-minutes (non-members)$8/30 minutes
Regular Membership Rate Range Time $100/yr
Membership (Unlimited Range Time) $200/yr
Handgun Rental (Unlimited Range Time) $5
Machine Gun Rental $10/per weapon
Suppressed Weapons Rental – 22 Cal. $5/per weapon, Other Cal. $10/per weapon
Ammunition (Price depends on Caliber) $8.88-14.88/per 50 rds., Range Safe Tracer Ammunition $20/50 rd. box
(On site MG renters must buy ammo from the range)
Eye Protection $0.50
Hearing Protection $0.50
Self-Defense Class (Gun/Ammo provided) $35
Gun Cleaning $10/weapon
Scoped Rifle Sight In $10/weapon
Class III rental guns includes the following:
HK MP5, HK MP5SD, HK33, Swedish K, M3A1 Grease Gun, MP40, 1928 Thompson, M1A1 Thompson, Glock 18, M16, Uzi, MAC 11, Suppressed Ruger MkII & 10-22, American 180, M60 Belt-fed, MG42, H&R Reising, 1919 A4 Belt-fed, Bren Gun, BAR, AK-47
Owners of their own Class III firearms are welcome
This article first appeared in Small Arms Review V2N4 (January 1999)