By Jean Huon
The FAMAS is now a thirty year old rifle, despite the fact that the FELIN program (Fantassin à Équipement et Liaisons Intégrés, Integrated Equipment and Communications Infantryman) has updated portions of the weapon. This made that French troops engaged in Afghanistan received recent materials but were disparate and bought abroad.
We know that the HK416, FN SCAR and M4 are already present in Afghanistan, but an evaluation of greater scope seems well to be considered, if not already undertaken. In addition to the already mentioned weapons, other models that could interest the Army are the Beretta ARX 160, SIG SG556 and the Israeli Tavor.
Additionally, there are plans to replace in the short run sniper rifles FR.F 2 with a 7.62mm NATO semiautomatic or automatic weapon. And if they decided to complement the individual weapon in 5.56mm and that in 7.62mm, the manufacturers best placed would be those which are able to propose these two models: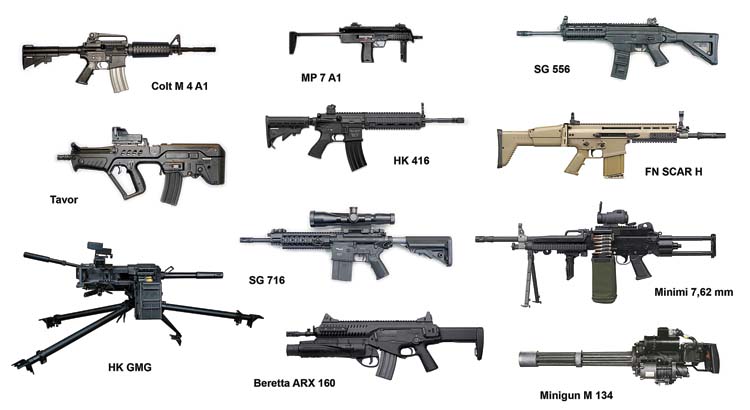 FN-Herstal with its two versions of the SCAR,
Heckler & Koch with the HK 416 and HK 417,
SIG with SG516 and 716,
Colt or another American manufacturer with the M4 rifle and the SR 25 (new AR-10).
IWI with its Galil ACE.
And possibly Beretta, if it would prepare an expanded version of the ARX 160.
2010 will be a crucial year in the choice of the future individual armament of the French Army, with also the systematic allocation of a pistol for all the disembarked troops and the experimentation of the PDW HK MP 7 A1 for ALAT helicopter crews. In addition are tested on the ground of other materials of support:
Machine-gun MAG 58 (1st Paratroop Marine Infantry Regiment),
Minimi machine-gun 7.62mm NATO (13th Dragoon paratroop Regiment and COS Special Forces),
Minigun M134 (1st Paratroop Marine Infantry Regiment, Army helicopters, Navy Commandos),
Automatic grenade thrower HK GMG (1st Paratroop Marine Infantry Regiment).
As these tests and considerations continue for the future of small arms in the French army, we will follow them with attention and present the results as they become available.
This article first appeared in Small Arms Review V13N12 (September 2010)