By Robert Bruce

Editor's Note: Small Arms Review magazine was among a handful of prominent names in the defense and gun press recently invited by HK Defense for an in-depth briefing and hands-on live fire session on a range near its Sterling, Virginia headquarters. Energized by the Army's just-announced selection of HK's combat-proven design as the new XM320 Grenade Launcher Module, amicable settlement of a protracted lawsuit over manufacture and marketing of M4 type receivers and an enormous purchase of handguns by Department of Homeland Security, the HK team was eager to show its wares. Contributing Editor Robert Bruce was there and now brings us his report and photos on key weapons from industry leader Heckler & Koch for US and allied forces engaged in the Global War on Terror. – Robert G. Segel
"We are only now able to speak about this program publicly due to a recently dismissed legal challenge that kept the HK416 out of the public eye and out of the competition for the Special Operations Force Combat Assault Rifle, commonly known as SCAR" – Jim Schatz, Military Programs Manager, HK Defense
Much ill-informed commentary has surrounded nearly all aspects of USSOCOM's (United States Special Operations Command) SCAR competition, particularly as to why HK was so conspicuously absent. This reporter believes the problem can be summed up neatly with just one word: Lawsuits.
When SCAR solicitations went public, HK's versatile XM8 system was in an advanced state of development under Program Manager Soldier Weapons (PMSW) after transitioning from the Joint Services Small Arms Program. JSSAP, set up years ago in an attempt to avoid the inherent wastefulness of uncoordinated development, is the official new weapons and ammo pipeline for all the US Armed Forces. A fully SCAR-compliant version XM8, we were told, was ready for submission to USSOCOM. But it was barred at the last minute because it was a "government-sponsored entry."
While most of us probably have some heartburn with the concept that the SCAR program's much-touted "full and open competition" actually meant that only industry-submitted rifles could be candidates, such thinking doesn't necessarily apply in a genuine emergency situation.

In fairness to the folks who were desperately trying to get US Special Operations Forces something measurably better than their stubbornly troublesome M4 carbines, it was a certainty that any legal challenge to the winning SCAR would delay fielding for months or even years. So, if PMSW's HK-built XM8 SCAR emerged on top, a crippling lawsuit alleging favoritism was all but inevitable.

It is also reasonable to say that one or more of the expected entries from some big names among US and international gunmakers would almost surely meet the grade. Most anything better than the M4, fielded quickly, would be preferable to waiting interminably for other candidates to run the gauntlet of lawyers and judges.

We at SAR would like to think that these admitted speculations are prominent among the real-world factors that may explain the tough decision to disallow the HK XM8 SCAR.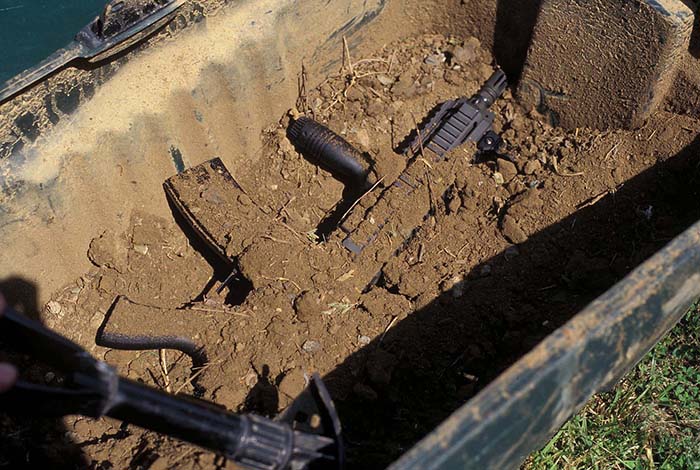 But, what about the HK416? This assault carbine and rifle system was clearly an industry-funded COTS (Commercial Off The Shelf) development, it likely met all the stated SCAR program requirements, and the required test samples with all bells, whistles, papers, and whatnot were ready to go into the arena of competition beginning 18 June 2004.
Back in April 2004, Colt filed legal action against Bushmaster Firearms and Heckler & Koch, alleging infringement on proprietary aspects of the AR-15/M16/M4 design. Although recently resolved in an undisclosed but apparently satisfactory manner for all parties, the lawsuit and related court orders kept HK's 416 out of the running for SCAR.
This was unfortunate for HK's plans, and in reality, many in the military community as well as the small arms industry had really wanted to see the HK416 put through the SCAR testing to see what it was made of. A drop on unit to fix the M4 is of great interest to many who carry it. This would have also allowed the HK416 to move onto the SCAR Heavy phase and the EGLM (Enhanced Grenade Launcher Module) section.

Operator Envisioned

Army Special Operations Command, which includes Rangers, Green Berets, "Nightstalker" aviation, and at least one officially nonexistent unit of legendary prowess, was not at all happy with the performance of standard-issue M4 series carbines. Despite SOPMOD (Special Operations Peculiar Modifications) and other extraordinary efforts over several years to identify and correct problems with reliability, durability, accuracy, and lethality, Army special operators were rapidly losing confidence in Colt's chopped "Sixteens." Particularly those deployed in the aftermath of 9-11 to fight Osama bin Laden's terrorists in the harsh terrain and climate of Afghanistan.

This dissatisfaction achieved critical mass when it was determined that cleverly worded restrictions in Colt's government contract blocked all other firms from participation in PMOD (Platform Modifications) to the troubled weapons. Unwilling to let the M4 situation continue, but not having authorized funding to attempt a "Fix" on the problems, Army Special Operations turned to a company with a reputation for solving small arms problems and doing it on their own dime.
The half century old German firm of Heckler & Koch has earned a well-deserved reputation for innovative firearms design and excellence in manufacture. US and allied special operations units are enthusiastic customers for the full line of HK weapons including the iconic MP5 submachine gun.
Relevant to this story, in the last few years some of the company's prominent engineers bought out corporate interests and now run the whole show. This streamlined, performance driven structure is one major reason for agreeing to help Uncle Sam at no cost. The other comes from long established relationships between HK's military and federal operations representatives and special operations personnel of all services. For Jim Schatz and many other long-time HK reps, the bottom line isn't money; it's men whose lives are on the line.

Mid-Life Crisis

The willingness to work on the M4's woes without direct compensation was one thing. The ability to succeed where all others had failed was quite another. As luck would have it, HK could proudly point to an extraordinary success story in transforming the British Army's relentlessly awful SA80 rifles from rubbish to reliability. The bullpup L85 and L86 weapons are a textbook example of a basically sound design, improperly produced and fielded in an unreliable condition. They repeatedly defied all home-grown efforts to correct their many deficiencies and, in a decidedly embarrassing development, Royal Marine Commandos had insisted on the switch to Canadian-made M16s in the run-up to Operation Iraqi Freedom.

At this time HK was a subsidiary of giant conglomerate British Aerospace, so it was politically acceptable for Germans to get the rifle-rework job as a one-last-chance before the scrap heap. The short version of the epic tale of the "SA80 Mid Life Improvement Programme" is that HK's Ernst Mauch succeeded, dumbfounding the critics and delighting the UK's long-suffering Tommies by delivering SA80A2 Rifles and Light Support Weapons that worked.

One of the ripest areas for improvement in SA80 weapons was the magazine, a NATO standard aluminum 30-rounder of the same type as issued to American GIs for their M16s. Just like ours, the British magazines were flimsy, prone to damage, cheaply made and geometrically awkward. They had to go.

HK's team quickly concluded that no amount of tinkering including polymer housings, synthetic followers and the like would do the trick. In short order they produced a gracefully curved, rock-steady version with heat treated steel walls and follower with anti-friction finish, advanced spring stock, and careful attention to production tolerances. It is available also in 20-round capacity and both with HK's same proprietary "Maritime" anticorrosion coating as used on the famous MK23 SOCOM pistol.

Formal testing and combat experience have conclusively demonstrated the dramatic increase in reliability and service life from the combo of Mauch's A2 engineering changes and the switch to High Reliability magazines. As of this writing, HK is well along in refurbishing some 300,000 existing weapons at its factory complex in Oberndorf, Germany.

Project HK416

US Special Operations Command knew all this because operators in Afghanistan got a planeload of HK High Reliability Magazines as a Christmas present in 2001. So, with a government-approved no-cost contract in hand, a purposely-unnamed "user unit" in Army Spec Ops confidently lent HK some of its troubled M4s for intensive technical and operational evaluation beginning early in 2002. Aside from some general requirements to maintain the M4's major mechanical and handling features and keep as many of the original parts as possible, HK was to have a free rein.
Design team chief Wolfgang Bantle put the guns through all steps in the proven test regimen developed in the SA80 experience including high-speed video of mechanical action, detailed metallurgical analysis and carefully considered parts swapping.
Bantle's assessment identified key areas for modification to increase accuracy, safety, "user friendliness" including ease of handling and cleaning, modularity, and parts interchangeability. Most importantly, he promised a significant increase in reliability as well as extending component service life to at least double that of the M4 series carbines.
Fundamental to the success of the rework was the decision to scrap AR-10/AR-15/M16 inventor Eugene Stoner's direct gas system of operation. Indelicately but accurately described as "craps where it eats," the M16/M4 pumps hot gas and carbon fouling into the bolt carrier and receiver with every round fired.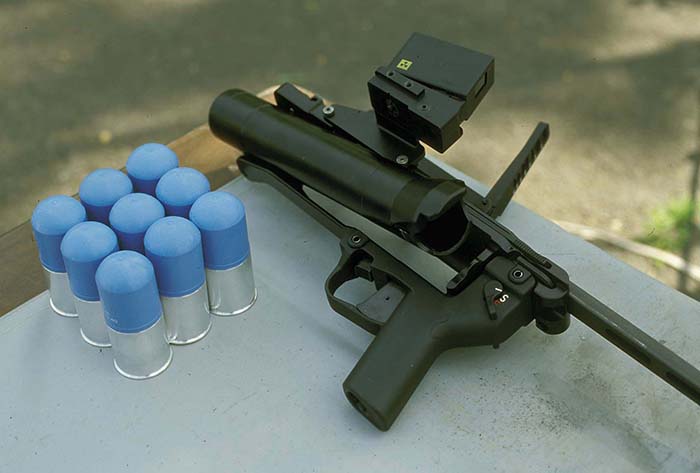 It must have been a no-brainer for Bantle to immediately change out the M16 gas system and plug in the HK G36 assault rifle's piston and pushrod. An adaptation of a system first widely used in the WWII Russian SVT (Tokarev semiautomatic rifle) this is HK's highly successful departure from its traditional roller locking system as found in the seminal G3 and MP5. Stoner's successful multiple lug lock up system was retained. The G36 operation system has since been further modified in the XM8 family of weapons.
As seen in the accompanying photos, the G36 system in the HK416 has a gas block mounted above the barrel at a position near the muzzle end of the quad rail. Inside is a port drilled in the top of the barrel that diverts a small amount of gas as each round is fired. This enters an expansion chamber in the gas block to kick a piston rearward, simultaneously driving a pushrod against a striking surface atop the bolt carrier. Superheated gas and carbon fouling are vented at the front of the handguard.

This clever arrangement not only gives much cooler operation and far cleaner internals, it is also said to be insensitive to barrel length and variations in ammunition. Both are very important for "modularity" and multinational logistical interoperability.
Operator Tested

At appropriate stages, Bantle's rework would be sent to the purposely-unnamed "user unit" for operator evaluation, much of which was done in extreme environments including the scorching Arizona desert in mid summer. Their feedback was carefully considered then cut into steel before resubmitting each in a succession of new and improved prototypes.
All of this was being done over many months with no monetary compensation under terms of the contract with USSOCOM. On the other hand, there was still much comfort at HK to be taken in strong sales worldwide of their full line of military and law enforcement weaponry. The future looked good for the XM8 at PMSW as did prospects for the developmental 416 system to enter and do well in the upcoming SCAR trials. Until, of course, both systems were barred from competition.

Undaunted, Bantle and his team pressed on toward the finish line. Requested improvements continued including availability of four barrel lengths from 10 to 20 inches, all cold hammer forged from the finest steel with hard chromed chambers and bores for greatly extended service life and immunity from obstructed bore disasters.

Interface between the moving parts, the bolt and barrel extension in particular, was carefully studied on high speed video then modified to optimize performance. This included refinement of the locking recesses and lugs as well as strengthening the extractor and its spring. Extending the barrel nut some 10mm yielded greater rigidity for accuracy and function, as well as giving a heftier anchor point for HK's very important free-floating quad rail forend.

This forend itself is noteworthy for a number of design features obviously demanded by the operators. Rock solid when in place but quickly and easily removable with only a screwdriver or bolt lug as a tool, it precisely indexes to the receiver top rail at exactly the same height. Full length MIL-STD 1913 hardpoints at 12, 3, 6 and 9 o'clock positions offer plenty of room to mount a catalog of SOPMOD accessories. Numbered positions facilitate exact relocation of day and night sights, IR and visible lights, grips, grenade launchers, and more.

The M4's buffer, despite being "improved" in two stages by Colt, still didn't perform to HK standards. Bantle's solution called for a carefully calculated filler of granulated tungsten paired with a new spring of better materials and more consistent tension. This smoothed out the action and virtually eliminated the unhealthy phenomenon of "bolt bounce."

Operator Chosen

The resultant HK416 Enhanced Carbine was accepted by USSOCOM on behalf of that purposely-unnamed Special Operations "user unit" in December 2004 and deliveries of production models began soon afterward. It wasn't long before reports of combat success in southwest Asia were forwarded to HK; compensation in a very real sense for the hard work and economic uncertainty of the multi-year project.

Not surprisingly, HK now has its hands full with a flood of orders from not only the original requestors, but other elite military and federal law enforcement organizations, the names of which are carefully guarded. Program spokespersons explained to press event attendees that orders from other LE customers – however urgent – must wait for awhile. Disappointingly, the possibility of civilian-market sales of the Drop-In-Kit is "not likely in the foreseeable future."
HK416 Model D10RS Field Strip and Mechanical Details
1) After hundreds of rounds fired in the morning's demonstrations and familiarization, we wanted a look inside the HK416 Model D10RS. Field stripping is just about the same as with the M16/M4 and begins with rotating the selector to SAFE and removing the magazine.
2) Use the charging handle to retract the bolt assembly, then depress the top half of the bolt catch to lock it open. Visually inspect the chamber and – HK recommends – stick a finger in there to ensure no round is present. Hitting the tab on the bolt catch allows the bolt carrier assembly to run forward.
3) Unseat the takedown pin and pull it through until it locks fully extended. Swing open the upper receiver.
4) Use the charging handle to withdraw the bolt carrier from the upper receiver. Move the charging handle to the notch point where it can be freed from its track then lift it out.
5) A lug on the bolt head is the perfect tool for loosening the handguard retaining screw. Pull it through from left to right until it locks fully extended.
6) Push forward on the quadrant rail to separate it from the upper receiver and barrel nut. Note the index notch and tab that, in conjunction with the handguard retaining screw, ensure precise and rigid coupling to retain boresight zero.
7) The 416's substantial barrel nut is 10mm longer than that of the M16 and M4, with more threads.
Lock, Stock and Barrel

Despite this list of modifications, the HK416 Enhanced Carbine and Rifle System maintain the basic mechanical characteristics of Stoner's otherwise efficient design. So, "legacy" M4s (Colts already in the field or on the repair bench) can be quickly and simply upgraded using the Drop-In Kit by substitution of HK's upper receiver with bolt assembly, buffer and spring assembly as well.

No vexing serial number change and no retraining to new operational and handling characteristics. Not to mention the vast increase in reliability, serviceability, accuracy, and compatibility with rail add-ons.

Of course Bantle was inspired to go ahead and fix the lower receiver as well. HK's own 416 D ("Defense") model lower offers superior fit and finish with pictograph selector markings and a specially flared and beveled magazine well for faster reloading. Add HK's carbon-reinforced polymer four-position telescoping stock and you have the Mercedes of M4s at your fingertips.

Just as the SCAR is to have both Light and Heavy versions, a firing prototype HK417 is undergoing testing in Oberndorf, chambered for powerful 7.62x51mm NATO standard ammo. Rest assured that other calibers are under consideration including 6.8 Remington SPC.

Building a Better Blooper

Beginning way before but still unresolved during the run-up to the SCAR program, the Army has long been dissatisfied with the Vietnam War era M203 40mm grenade launcher; the familiar push-the-barrel-forward-to-load "blooper" (named for the distinctive sound of its low velocity cartridge on firing) is simple in mechanical function, straightforward to operate, tough and accurate enough. But there's room for improvement and the search for an Enhanced Grenade Launcher Module has been a funded requirement under various names for years.

HK has had a better blooper ever since they took the top-break HK69 and made it open on the side instead. This deceptively simple and eminently practical change immediately allowed under-barrel mounting to most any weapon with a suitably long forearm. And, since the open breech stuck out to the side, even extra long special grenades (pyrotechnics, riot loads, etc.) could be inserted without a problem.

Improvements to the firing mechanism were also made for safety and serviceability. One in particular is the double action trigger system that, in the event of a misfire, allows multiple tries at activating a stubborn primer without the hair-raising need to open the breech every time for recocking. An unpleasant experience with a balky HE round in the chamber of an M203.

A modified version of the original HK69's integral pistol grip was retained, giving the grenadier a truly ergonomic foregrip that's handy not only for grenade popping but also helping to stabilize full auto fire with the host rifle or carbine. This isn't available on the M203 where one's hand stretches to grip the magazine and reach the trigger at the same time.

This new and improved blooper was first offered by HK as the AG36, a welcome addition to the innovative G36 family of assault weapons. It has since found favor clamped under other designs including the afore-mentioned British SA80A2 (L85A2) rifles and it does nicely as the standard 40mm component of PMSW's HK-made XM8 family of rifles and carbines.

A slightly modified AG36 was HK's obvious choice to compete in the Army's 40mm Grenade Launcher Module (GLM) solicitation that kicked off in June 2004. Don't be embarrassed if you confuse this with USSOCOM's Enhanced Grenade Launcher Module (EGLM) program, a "spiral development" component of the SCAR light and heavy rifle, also beginning that same month. And don't be further confused that the ARDEC GLM apparently morphed into PM Soldier Weapons' XM320 GLM. Clear?

Anyway, the M203 is toast since HK's GLM/XM320 entries came out on top and now, as announced in May 2005, HK Defense will soon be providing Uncle Sam's grenadiers with as many as 11,000 side-opening forties, special day-night sights, and all the support equipment that normally accompanies a new small arms system.

As to USSOCOM's EGLM, this automatically went to FN when the FN candidate won the SCAR L competition. HK has cause to hope that their XM320 will be under consideration as an alternate GL component in the SCAR family of light and heavy weapons.

Pistol Power

Handguns tend to be an afterthought to the regular military services. Not so for special operations and law enforcement where a quick draw and double taps are all-too-often required to satisfactorily resolve a whole lot of sticky situations.

HK has an almost overwhelming array of choices when it comes to pistols. From undercover concealment to underwater infiltration, there is a design, configuration, caliber, and compatible accessory to cover just about any contingency.

HK Defense points with justifiable pride at the "largest pistol contract in U.S. law enforcement history" coming in August of last year when the US Department of Homeland Security (DHS) announced its intentions to buy as many as 26 million dollars worth of HK pistols.
After four months of exhaustive testing of 46 models submitted by five of the industry's most prominent names, DHS selected HK's USP Compact LEM, the P2000 and P2000SK. Each one was selected in 9x19mm, .40 S&W and .357 SIG calibers.
Future Handgun System Candidate?

One handgun system that commanded the most attention from attendees was the USP COMPACT TACTICAL .45, intriguingly equipped with a "wet technology" sound suppressor from Knight's Armament.

HK's family of USPs (Universal Self-loading Pistols) has found great favor with military, law enforcement and civilian shooters who like the classic M1911 but also appreciate the advantages of updated mechanical characteristics. Among these are a patented recoil reduction system that easily handles punishing +P+ loads, super accurate and high endurance polygon rifling, choice of ten trigger/firing mode configurations, and four popular calibers from 9mm to .45ACP.

With the Army's recent announcement of the Future Handgun System program has come intense speculation over which COTS (Commercial Off The Shelf) pistol is most likely to emerge victorious as a replacement for tens of thousands of current Beretta M9s. It's NATO-standard 9mm ball cartridge's deficiencies have been irrefutably documented and, according to the Program Manager for Soldier Weapons, "the Future Handgun will almost certainly be chambered in .45ACP."

Any number of worthy contenders may be found among offerings by US and overseas firms making serviceable handguns that fire John Browning's enduring 95 year old copper jacketed bumble bee. But the performance criteria, physical characteristics, business and manufacturing aspects, plus a laundry list of other things certain to be required by Uncle Sam, will rule out most from the beginning.

HK spokespersons politely decline to speculate on any aspect of their firm's possible participation in the Future Handgun trials. So, this leaves it up to us to look at what is available right now and speculate that HK's likely entry will be a USP Compact – easily configured from currently available options with whatever the Army's specs call for.

The USP Compacts are both sturdy and light, featuring a shorter trigger reach and grip circumference that make it female soldier friendly without compromising combat performance. Ambidextrous controls? Check. DA/SA/LEM triggers? Yep. Anticorrosion? Of course. Service life? 20,000 rounds minimum. Tac light mounting? Rails molded in. Suppressor? Glad you asked….

SPECOPS types will no doubt appreciate the afore-mentioned USP Compact Tactical .45, pretty much a standard Compact equipped with a threaded o-ring barrel. This allows screw mounting of many different suppressors including the Knight's Armament wet can shown in the accompanying photos.

Bureaucrats will also appreciate the significantly lower price vs. USSOCOM's formidable MK23, as well as modularity that allows installation of a match-grade trigger mechanism and micrometer target sight if needed.

Wartime pressures have accelerated many aspects of the weapons and ammunition procurement process but the biggest steps must be taken very deliberately. As this is written in the last week of June there is no definitive answer to several important questions involving HK weapons under consideration by the US military.

Until such time as contracts are actually awarded (and maybe lawsuits settled) for key items like the XM8, HK Defense has prudently postponed construction of the major manufacturing complex planned for the 29 acre site it has purchased in Columbus, Georgia, just outside of the US Army's Fort Benning, Home of the Infantry. Meanwhile, its products continue to be made in Oberndorf by an engineering and manufacturing team of unrivalled skill.

These winning designs are represented in the United States by men like Jim Schatz, Wayne Weber, Phil de Garis, Bob Schultz, Sal Fanelli, George Kontis, and plenty of others who are the underlying truth behind HK's familiar motto: "In a World of Compromise, Some Don't."

Visit HK Defense on the web at www.hkdefense.us. Also, SAR recommends the unofficial but highly informative www.hkpro.com.

HK416 Model 10RS Tech Specs

Caliber: 5.56 x 45mm (.223 Remington)
Operation: Short recoil piston and pushrod, fires from closed bolt
Locking: Stoner type multilug bolt rotates in carrier
Selector: Safe, semi and full auto
Cyclic rate: 700 to 900 rpm
Barrel: 10.5 inches, conventional rifling 1 turn in 7 inches, cold hammer forged
Overall length: 27 inches (stock retracted) to 30.9 inches (extended)
Weight: 7.3 pounds
Notes: Drop-in upper receiver kit is fully compatible with M4 and similar lower receivers. Optional barrel lengths
include 14.5, 16.5 and 20 inch versions. Proprietary free-floating quad rail and buffer assembly. Now in service with special operations units in southwest Asia.

HK XM320 Grenade Launcher Module Tech Specs

Caliber: 40 x 46mm
Operation: Single shot
Locking: Side opening
Trigger: Double action
Barrel: 8.47 inches, rifling 1 turn in 47.24 inches
Overall length: 11.81 inches.
Weight: 3.39 pounds as mounted on M4
Notes: Operator configurable as under-barrel or stand-alone launcher with additional components including mechanical ladder or day/night/ranging electronic sights, and detachable/retractable stock. Side-opening feature accepts extra long special purpose rounds. Modular design and open architecture for multi-weapon compatibility and planned upgrades.

HK USP Compact .45 Tech Specs

Caliber: .45 ACP
Operation: Recoil
Locking: Modified linkless Browning type
Trigger module: 10 variants
Barrel: 3.8 inch, polygon rifling, 1 turn in 15.98 inches
Overall length: 7.09 inches
Weight: 1.6 pounds
Notes: Slightly smaller version of standard USP. 8- and 10-round magazine capacity. Carbon fiber reinforced polymer frame. Recoil reduction system, 20,000 rounds minimum service life. Tactical model with threaded o-ring barrel for suppressors.
This article first appeared in Small Arms Review V9N1 (October 2005)