By Jason Wong
SAR profiled Vector Arms in the September 2000 issue, (Volume 3, Number 12) detailing the sale of fully transferable Uzi submachine guns. Small Arms Review recently took the opportunity to sit down with Rex Merrill, General Manager of Vector Arms at Vector's production facilities in Salt Lake City, Utah to learn what new products are available and what products are being developed for the recreational shooter.
SAR: What's the background of the Vector name?
Rex: My brother Ralph Merrill had a fixture manufacturing business and had an FFL as well. He decided to sell the business and pursue the firearms business full time. He chose the name Vector for the new company because a vector is a mathematical symbol denoting the magnitude and direction of a force, usually shown as an arrow.
Ralph attended the Group Industries bankruptcy auction in 1995 and was the successful bidder on all the remaining full auto Uzi receivers. After three years of work to find some new Uzi parts, production began. I was working in the construction industry when Ralph asked if I wanted to work for him in a less stressful job. I agreed, and was the first employee of Vector Arms. The promise of a "less stressful job" was accurate in the beginning, but it's not that way any more!
At the time, it was just me and Ralph in the corner of our office warehouse. We wore insulated coveralls because there wasn't any heat in the building yet. Ralph did the TIG-welding on the first guns, while I assembled and polished the guns. We built our own bullet trap so we could do test firing. From there, the company grew into the current business. I'm now the General Manager and oversee daily operations of 43 people.
SAR: Tell me what's new at Vector.
Rex: The full auto Uzi project put us on the map and got our name into the consumer market. We sold out of transferable Uzi submachine guns in 2004. We have been producing the semiautomatics continuously since starting the company. Of all our available products, the semiautomatic Uzi is the one product that is backlogged. We currently have about 8,000 semi-auto Uzi receivers, but a shrinking inventory of parts to build them. This is mainly due to the general scarcity of Uzi parts. There are some Uzi parts still available overseas, but due to politics, they are becoming more difficult to import. If we have to make American- made Uzi parts, I don't think we can continue to sell semiautomatic Uzi rifles at our current price.
In 2004, we started two new projects. Our first project was to start building American made AK47 rifles. We imported a number of AK47 parts kits and started building fixed stocked rifles just before the assault weapon ban expired. The timing of the decision to build AK 47 rifles was fortunate. Prior to the ban being lifted, sales of the AK rifles were ok, but as soon as the ban lifted, the rifles started flying out the door.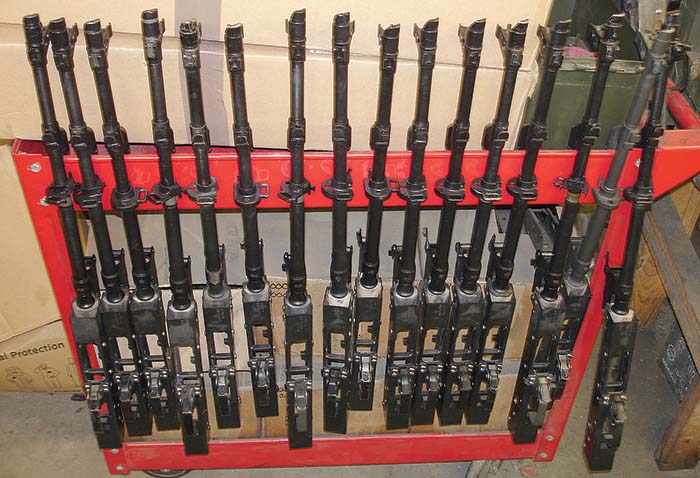 Once the assault weapon ban was lifted, we could start selling rifles with folding stocks. We continue to offer rifles in both configurations. Currently, about half of our AK rifles are sold with fixed stocks, with the other half being under-folding stocks. We build AK rifles with side-folding stocks, but the side-folding stock doesn't seem to be too popular. We offer fixed stocks in wood or polycarbonate.
Recently, we added the "Yugo" or Yugoslavian style rifles to our AK line. The rifles are shorter than a standard AK, but a little longer than the carbine-sized Krinkov. It's an intermediate size, but because the barrel is shorter than 16 inches, the rifle must be registered as a short barreled rifle. We're planning on building the Yugoslavian kits into a pistol version so that the firearm does not have to be registered as an SBR.
SAR: Could the AK pistol be converted later to an SBR?
Rex: Not very easily. The trunnion we use on our AK receivers is intended for an under- folding stock. The back of the trunnion is flat and there is no external provision for attaching a stock. The rear trunnion is riveted into the receiver, and although there are holes in the trunnion for an under-folding stock, the mounting holes do not extend through the receiver to allow an under- folding stock to be attached. If you had experience building AK rifles, you might be able to drill the receiver and add an under- folding stock. Otherwise, the rear trunnion would have to be removed, and the receiver drilled in the appropriate location before reassembling everything back together. It would not be easy.
SAR: Do you build any exotic AK rifles?
Rex: We built rifles from Hungarian AMD- 65 parts kits for a while, but we sold out of those and can no longer get the parts kits. We also designed a semiautomatic version of the RPD belt-fed machine gun. The RPD rifle is chambered in 7.62×39. We have BATF approval on this design. We also make an RPK rifle chambered in 5.45×39.
SAR: Tell me about your other project.
Rex: The Heckler and Koch type rifles are the latest addition to our product line. We started building the Heckler and Koch style rifles in 2004, about the same time we started building AK47 type rifles. Again, this was before the assault weapons ban expired, and we were limited to the ban restrictions.
We found a number of HK 93 rifles overseas, and imported 6,000 parts kits. We developed an American made receiver and started assembling rifles. As far as we know, we are the only one making HK style rifles in .223 caliber.
We started by building the V-93, a fulllength copy like the HK 93, chambered in .223. We later introduced the V-53; a US made copy of the HK 53 carbine, which is an SBR. We currently build the .223 caliber rifles in three additional configurations. The V-53 carbine can be purchased as a Title 1 rifle with a 16-inch barrel called the V- 53L, or with an 8.75-inch barrel and a barrel extension which is called the V-53.
Shortly after the expiration of the assault weapons ban, we started building pistol versions of the V-53 carbine. The pistol version is nearly identical to the V-53 carbine except that there is no buttstock. Due to the large number of registered HK conversion sears, the V-53 pistols have become very popular. When the full auto sear is removed, the gun reverts back to a pistol for storage, saving an SBR tax.
SAR: How is Vector responding to the Federal ban on imported parts kits and rifle barrels?
Rex: We have had to make our own barrels chambered in .223, and .308. We make our barrels out of 4140 chrome-moly steel, the next best alternative to hammer forged steel. Let me also add that because we make our own barrels, we have flexibility in how to configure the 16-inch barrels. If a barrel extension is used to extend the barrel length, the extension is pressed over the threaded barrel. As a result, if a customer buys a V-53 carbine with a barrel extension, the customer can later remove the extension without replacing the entire barrel. The threads for a flash suppressor will still be there.
SAR: Tell me about your other products.
Rex: Based upon the success of the V-53 project, we expanded production to the V-51, a carbine version of the HK 91 rifle. Like the V-53 carbine, we sell the V-51 carbine in five configurations. The V-51L rifle has a 16-inch barrel. We had several customers request a long barrel, similar in appearance to an HK 94 rifle. I initially thought the long barrel would defeat the purpose of buying a V-51, but there has been a demand for this configuration. The customer usually intends to slide their own suppressor over the long barrel. We offer the V-51LS, with a 16-inch barrel with a dummy suppressor slipped over the barrel. We offer the V-51 which has an 8.75-inch barrel with a barrel extension that looks like a long ported compensator. The V-51L, V- 51LS, and the V-51 are Title 1 guns, and do not require any registration with ATF. We also offer the V-51 SBR with an 8.75-inch barrel, which requires registration as a short barreled rifle. Finally, we offer the V-51P which is the pistol configuration just as the V-53 above.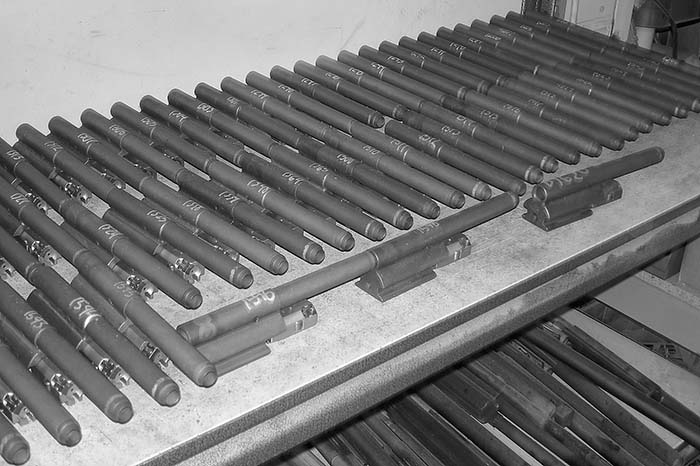 Heckler and Koch never made a carbine chambered in 308, but many aftermarket gunsmiths did. Bill Fleming, Fred Vollmer, Tim La France and Terry Dyer and others made versions of the HK 51 carbine. We based our V-51 carbines upon a model developed by Fred Vollmer.
The last configuration is the V-51P, or pistol. Of the V-51 product line, I'd say that 75% of our sales are of the V-51 pistol, while the other 25% being the other configurations.
SAR: How challenging was it to build the V-51 rifle?
Rex: It was very challenging to get the rifles to work reliably. We developed our own locking pieces for the V-51 and V-53. The HK rifle uses rollers to lock the bolt to the barrel during the firing sequence. Getting the rollers to unlock the bolt at the right time is a big part of getting the rifle to operate reliably. The locking piece is the part of the bolt that affects the timing and allows the bolt to unlock. Changing the geometry of the locking piece will allow the bolt to open earlier or later in the firing cycle. This can be good and bad, depending upon the situation.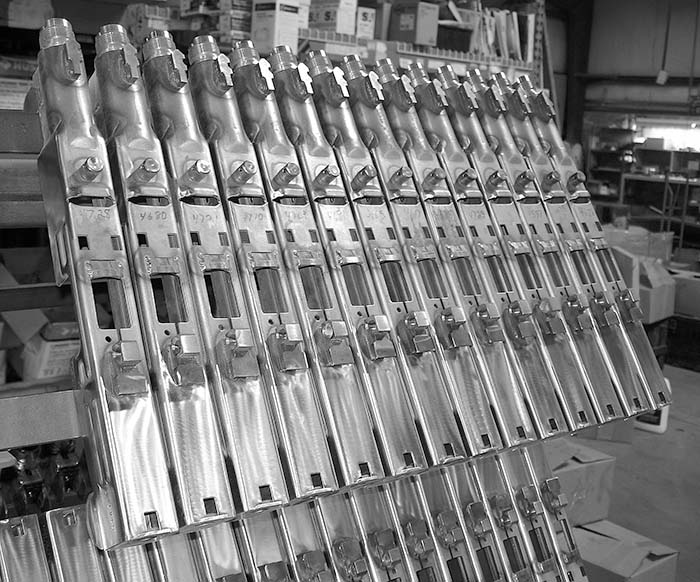 Because of the shorter barrel length on the V-51 and V-53 carbine and pistol, we couldn't use the standard locking piece used in the HK 91 or HK 93 bolt mechanisms. Due to the shorter barrels, we had to make the guns unlock earlier than the longer barreled rifles. On the V-53, we re-grind an HK 93 number 8 locking piece. The number 8 locking piece has a 58 degree angle. We regrind the locking piece to more closely mimic the locking piece used in an HK 53 carbine.
With regards to the V-51, Heckler and Koch never built a .308 carbine, so we had to create our own locking pieces. We experimented with various geometries to make the V-51 run reliably, and now grind our own locking pieces for the V-51 carbine.
SAR: You've spoken at length about the V-51 carbine. Do you produce a full sized .308 rifle?
Rex: We do not build full sized .308 rifles. PTR-91 Enterprises supplies us with receivers to build the V-51 carbines. PTR-91 Enterprises builds an excellent version of the HK 91 rifle, and we have no desire to compete with them. As a result, we refer customers who desire a full sized .308 rifle to PTR-91 Enterprises.
SAR: Do you have any plans to build a .22LR caliber conversion or a belt fed?
Rex: We are interested in building a belt fed rifle, but have no plans to do so at this time. We know that it would be a great product to offer, but we have many pending projects at this time. We have two recent additions to our product line, the V-11 and V-13 rifles, versions of the HK 21 and HK 23, respectively. Both rifles are built with quick change heavy barrels and very closely resemble the HK version. Although not belt fed, the V-13 rifle is chambered in .223, and is compatible with 100 round C-Mag drums made by the Beta Company. The V-11 rifle is chambered in .308 and is built using the updated HK "E" series design. We plan on the V-11 rifle to be compatible with the .308 C-Mag drum being recently offered by the Beta Company.
SAR: Tell me about your MP5 clones.
Rex: We've sold a number of HK MP5 type firearms in six configurations and four calibers. In terms of configurations, we offer an SP-89 type pistol, a full sized MP5 type pistol (with no butt stock,) a full sized HK 94 type rifle with an 8.75-inch barrel and extension, an MP5 type carbine that is registered as a short barreled rifle, a PDW SBR with a 5-inch barrel and a PDW rifle that has the 5-inch barrel and extension. During production, we found that customers preferred a permanently attached dummy suppressor to mimic the look of a suppressed weapon. As a result, we use a barrel that measures 8.75 inches in length that is combined with a permanently attached barrel extension to achieve the 16 inch barrel length requirement.
In terms of calibers, we offered firearms in 10mm, .40 S&W, .357 SIG, and the traditional 9mm. We no longer offer guns in .357 SIG, 10mm, or 9mm. We learned that the .357 SIG cartridge does not work well with the unsupported chamber typically used in HK barrels. Certain ammo in .357 SIG might rupture when fired. Although we test all weapons before releasing them into the market, we did not discover this issue until after a number of the guns were released on the market. We no longer produce guns in .357 SIG.
We also sold guns chambered in 10mm, but we are phasing them out. We learned that there is a huge variation in 10mm ammunition available on the market. As a result, the guns chambered in 10mm did not always function reliably. In an effort to make the guns more reliable, five different locking pieces were made in an attempt to match the gun's performance to different pressures of 10mm ammunition. The locking pieces had to be changed as different brands of 10mm ammunition were used. Most consumers were unwilling to go through the trouble of disassembling their bolt assembly every time a new brand of 10mm ammunition was used.
Our 9mm project sold well and sold out and we can't get more parts. We are looking for a source but at this point have not been successful.
We continue to sell MP5 variants chambered in .40 S&W. We've recently produced integrally suppressed carbines, similar to the MP5SD model. In all outward appearances, the gun looks like an HK MP5SD. The suppressor is our own design, with looks similar to the original Heckler and Koch suppressor design used in the suppressed HK guns. We just completed production of the guns chambered in .40S&W, and by the time this goes to press, we hope to have produced the suppressed 9mm guns. The difficulty in building MP5SD clones is sourcing the SD hand guards. There are domestically made hand guards, but they are very expensive and not readily available to us. If we are unable to find a reliable source of SD hand guards, we'll use tactical rails with rubber coated hand guards instead of the traditional SD hand guard.
SAR: What are some of the challenges Vector has experienced?
Rex: All the original manufacturers of our guns have ceased making the guns we now build, so getting good parts is an increasing problem. Import laws are also becoming more restrictive requiring us to source more and more parts from the domestic U.S. market. Also because of scarcity, parts are becoming more expensive, so it is difficult to continue to produce these guns at reasonable prices. We face a shrinking labor pool making it ever more difficult to find qualified people who are willing to work for wages we can afford. Inflation is also an issue driving the price of all raw materials ever upward. Vector is doing its best to meet these challenges and still offer excellent quality at a reasonable price.
SAR: Where do you see the firearms industry headed in the future?
Rex: A lot of customers have asked what the Democrat success in the 2006 elections means to gun rights. I don't think it meansa lot so far. We see an introduction of a new assault weapons ban and some other gun legislation, but we still have President Bush in office to veto it. And, just because the Congress is run by the Democrats, I don't think we're going to get a bunch of new gun laws passed right away. We have Democrats that believe in gun rights. I don't think we're going to see big pieces of legislation passed; I think we'll see little additions to existing bills, and we'll die by a thousand cuts. I think we'll see small restrictions get passed one by one. As a result,
I don't think we'll see a lot of legislation passed before the next Presidential election. If a Democrat wins the Presidential election in 2008, then we need to watch out! We will see an acceleration of anti-gun legislation. Since we (at Vector) are confident of additional restriction in the future, we're gearing up to get sufficient amounts of product made for sale in the event that another assault weapons ban is passed.
SAR: Thank you for your time speaking to me today.
Rex: You're welcome.
This article first appeared in Small Arms Review V11N2 (November 2007)