By Rick Cartledge
Fall '98 gave us a rainless weekend. We enjoyed four dry days. Were we always so lucky, we would be playing the lottery. That being said, KCR gave us some winning numbers. In the following the reader will learn winning numbers like '18, 75, '99, and the ever popular '98.
Before I blew Northward on I-75 still grieving for my beloved Atlanta Braves, author William Smedlund gave me two winning numbers. Bill pointed to I-24 west of Chattanooga stating that the Battle of Hoover's Gap occurred between mile posts 99 and 100. At Hoover's Gap the Spencer rifle first saw combat. I viewed the Gap in moonlight just as the soldiers did so many years ago. Traveling through the towering bluffs one senses the bravery on both sides.
The Doctor Operates
I crossed the Salt River rolling into Shepardsville by dawn's light. As is his custom, Tom Bodet had kept the light on for me. Near KCR's ticket booth old friends had staked out camping spots and deployed their colorful awnings. We threw up hands in greetings, "It looks like a great weekend!"
I motored to the Range House and backed into a parking space thanks to Kenny Sumner and Mr. Biff's hospitality. The KCR T-shirts arrived shortly after I did. Georgians sent orders for six. That half dozen went to my vehicle. I had forgotten a photograph picked up in Gibsland, Louisiana and would mail it later. Ms Marie Barrow had autographed to Kenny a 1934 8 x 10. In it a well dressed man stood beside her. Should anyone wish to know who Ms. Marie Barrow was, the other one was Clyde.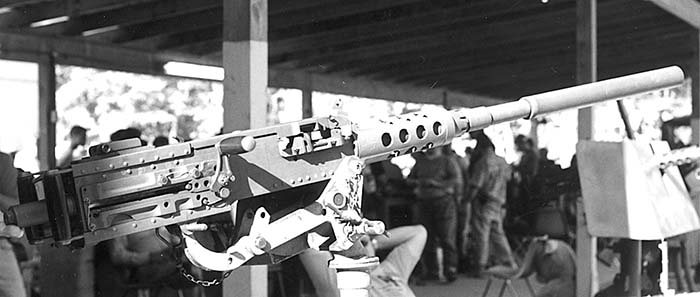 Outside the Range House I ran into Dr. Ed Weitzman. I congratulated him on his fine Vickers article (see SAR July '98). Dr. Ed explained that he had brought some historic weapons to the shoot. We agreed to meet Friday morning. I then headed to the spot between the Range House and the Pole Barn. Twice a year this spot becomes the Class 3 crossroads of America.
I saw the Michigan shooters gathered near the Ohio Ordnance tables. Forbes Mathews rounded the Range House and joined us. Kent Lomont, Karl Krotz, and Robert Landies came over to say hello. I told Bob Landies about the Bonnie and Clyde Festival in Gibsland on May 23, 1998. Jimmy Gillman of Reenactors Early Thirties Crime had obtained a prototype of the Ohio Ordnance 1918 Classic BAR. I told Bob that Jimmy used the gun in three reenactments at the Festival. The '18 was the hit of the show.
Thursday night we spent late at El Rio. Sleep could wait until Monday. On Friday morning I joined Dr. Ed and his brass Maxim. We had participated in different episodes of Greystone's 'Tales Of The Gun'. During 'Dueling Pistols' Dr. Ed made one of the show's finest on air comments. On English duelers, he stated that a craftsman worked six months to make a gun. Greystone then showed the back side of an English dueler's lock. The incredible workmanship would have pleased any craftsman at Boss or Purdey.
Dr. Weitzman then showed me around the brass gun that puts brass on the ground. We examined the 98's craftsmanship. When spectators came onto the main line, Serial #96 drew a crowd. Dr. Ed gave lessons on the scope before the next shooting session. With the Zeiss scope, I picked out a plastic bottle and moved it around. This fine weapon crafted during the twilight of the Guilded Age made even me look good. I thanked Dr. Weitzman and headed for the Gun Show.
Pole Barn Adventures
Just in front of the Pole Barn I encountered Mr. Neal Smith and the comely Andrea standing beside a Pack 75. Andrea commented on how easily Neal had reassembled the gun after transport. I knew of the Pack 75 from my father's description of its use by the 101st Airborne in World War II. I thanked Neal for the fine exhibit. Those who viewed Neal's gun at KCR will find it useful in future SAR articles.
This writer's father and I now crafted a series of articles on WWII 101st gun work. We were relating the series, where applicable, to 'Saving Private Ryan'. We center around 'Ryan's' Regiment, Col. Howard Johnson's 501. The man upon whom 'Ryan' is based loosely served in H Company, 3rd Battalion. My father lead Col. Johnson's 1st Regimental Recon and Intelligence Team for 501. Author Mark Bando loaned SAR exclusive photos for the 'Johnson's Boys' series. In the second article, this writer's father discusses the Pack 75s as tank killers at Bastogne.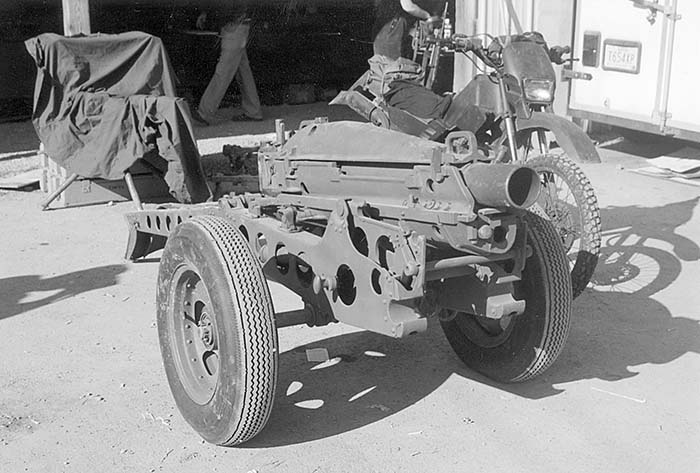 Thanking Neal and Andrea, I then moved into the Pole Barn for some history. A nice BAR and a brace of machine pistols sat on LMO's tables. Stan Andrewski pulled out a Star with stock and a transferable 45 auto machine pistol. Stan really knows his business. While examining the BAR someone asked, 'You know anything about that gun?' I turned to view the trademark snap brim of Jim Ballou. The reply stated, 'About the gangsters and lawmen who used it — yes. Otherwise I usually ask some guy named Ballou. How are you Jim?' Jim declared himself more than fine. He announced that Collector Grade Publications would publish 'The BAR' in the Winter of 1999. I then told Jim about Greystone Communications.
'The Tommy Gun' debuted as the 4th episode of the History Channel's 'Tales Of The Gun'. After episode 5, Andrew Nock telephoned. I took it as an omen that Andrew carried the surname of one of Dr. Weitzman's favorite duelist gunsmiths. Mr. Nock asked for more material to propose new episodes. One week later a package landed on Mr. Nock's desk. I thoughtfully included issues of SAR. Mr. Nock telephoned to thank me for the package and commented favorably on SAR. I told him that if he was telling gun history, he might as well read what the intelligent readers read.
I then told Andrew — 'If you decide to drop the hammer, this gun's for hire.' Mr. Nock telephoned again two weeks later. The History Channel had approved 13 additional episodes. Andrew asked for names of other writers. The first name that Andrew got was that of Jim Ballou. I then pointed him toward writing compadres in Reenactors Early Thirties Crime.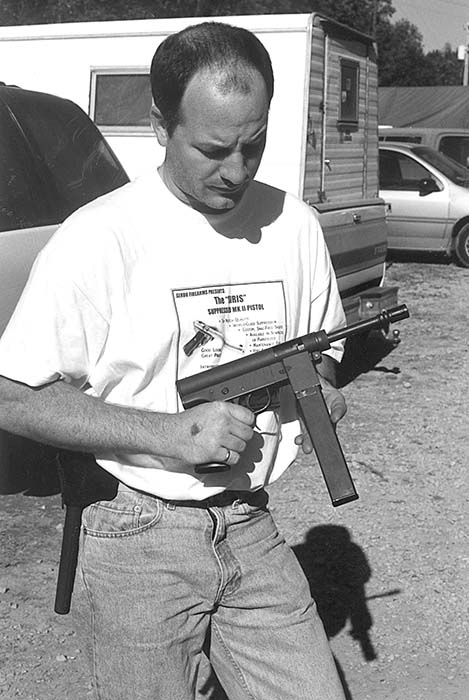 I said to Andrew Nock that we should speak well of men like Frank Hamer of Texas and Melvin Purvis, head of the Chicago Office of what would become the FBI. I considered Mr. Purvis to be arguably the finest Federal agent who ever pinned on a badge. We should do honor to him and the other lawmen. 'We're not doing a show that praises criminals.or the irresponsible use of firearms.' Mr. Nock fired back, 'I agree.' Greystone's Tom Jennings filmed the Georgia part on December 6, 1998 (see SAR April '99). He filmed in Texas in January 1999.
At the Omega Weapons Systems tables I contacted Don Bell. A friend wanted BREN parts. Forbes Mathews and two Midwest friends walked up. They engaged Dolf Goldsmith in Vickers conversation. Kent Lomont joined us. Forbes asked me to accompany his friends to look at M-16s. Kent offered to take the BREN parts to his table and departed. We went to the tables of Mark Mann to examine three 16s. I found all to be in good shape. I went through the transfer drill, advising the brothers to take their time. The brothers gave thanks and departed to view other guns.
Before the Creek, I had encountered a shooter from Marietta. 'You know John Ross don't you?' He stated that he wanted an autographed copy of 'Unintended Consequences'. I stated that I knew within about six feet of where to contact Mr. Ross twice a year. 'Give me a pair of twenties and your business card. I'll drop off the book and change on the way back.' At the Lomont tables, I joined John's fans.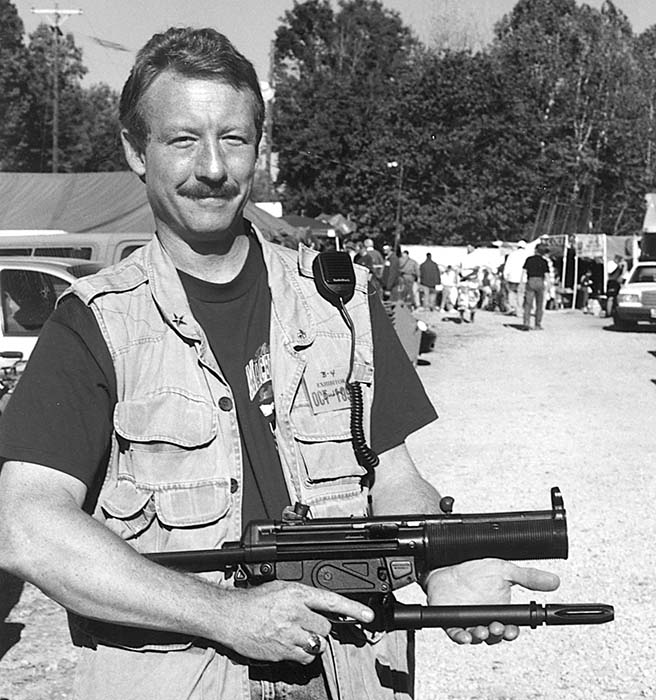 As Kathy, Tom, and Brian looked on, John regaled us with 'The Best Third World Hotel in Las Vegas'. John's well-crafted descriptions of the off beat staff and the hotel's human occupants and lower life forms kept us in stitches. Forbes and Michael Mathews rolled up in their golf cart, arguably the ultimate Creek vehicle. As Forbes packed the BREN parts amongst the Summit and Navy ammunition, the Midwest brothers appeared. They delivered an apocraphyl line about the gun purchases — 'We just bought a car!'
Brass On The Ground
I ran into a valued friend from Minnesota who invited me to the line for some shooting. As we moved, he talked of John Hunt Morgan's Raid into Ohio. When asked if I knew of Morgan, the reply came as a rough quote from lines delivered by Levon Helm in Steven Seagal's 'Fire Down Below'. '..lot of history. Folks down here don't forget about history.'
On the line, my friend produced a Jap '99 kit almost as rare as Morgan's holsters — one of the Chinese 762×39 conversions imported by Don Bell. Don once talked of the time before the recent shutdown. He had developed solid business connections along the Chang Jiang. Mr. Bell stated that during his first China visit he was 'green as grass'. The Chinese could have taken advantage of him. Don found the Chinese officials to be knowledgeable, honorable, and extremely helpful. More than once, they went the extra mile to assist him. As for the conversions, don't call Omega Arms. Like Morgan in Ohio, they vanished long ago. Look for a later article on this particular '99.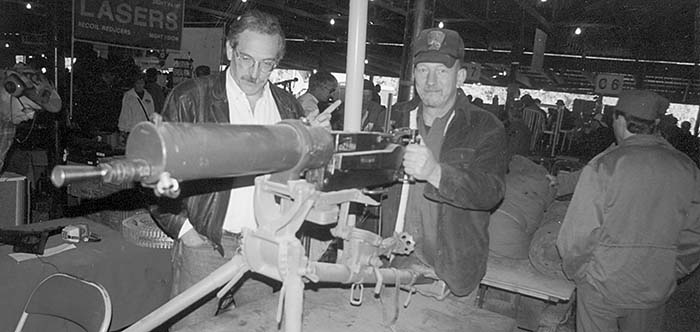 Paul Mahoney of KRINKS hailed me. Pauly announced that he had crafted a gun using material that I had sent him from Tom Swearengen. He unwrapped his replica of Clyde Barrow's 'scattergun' for a test drive. At shooting's end I told Pauly of Greystone. SAR writer Steve Hyde had signed up to bring a Stan Andrewski crafted Barrow replica. Pauly's BAR would give us two Barrow customs in commentary and live fire never before seen on film. I told Pauly that we wished to represent the Title 2 community well, especially those who come to KCR. In December, Mr. Mahoney took his welcomed place amongst The Usual Suspects and RKIs.
At cease fire I moved down to Dr. Ed's shooting slot. Forbes had broken a Vickers pin and asked for help. Dr. Ed put on a clinic (see SAR July '98). We gathered around as they sat down on a blanket. Dr. Ed conducted this clinic with the same attention to detail that he gives his patients and employs in his articles. New pin installed, Forbes stood up and said, 'Thank you Dr. Weitzman.' The reply came, 'You are most welcome sir.'
Epilogue
Fall '98 ended as it began, with good conversation and lessons from Dr. Weitzman. We all shook hands on Sunday promising to return in Springtime. As I once again crossed the Salt River, I made a mental note to send Marie Barrow's picture to Kenny Sumner. At three places near the Chattahoochee, I dropped off parts, T-shirts, and the John Ross book.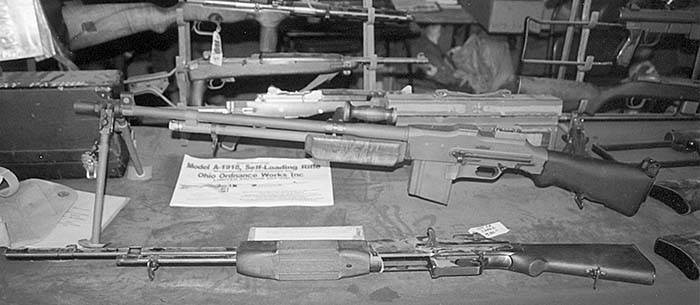 As I rolled past Braves Stadium I nodded and said, 'We'll get them next year'. I continued motoring Southward remaining confident of two things. First, I knew that I would return to KCR. There I would see old friends and probably make some new ones. Second, something would happen for me in Kentucky twice next year, twice the year after that, and on into the next millennium. That second something remains as solid as a handshake from a Knob Creek friend. I remain confident that, twice a year in Kentucky, Tom Bodet will leave the light on for me. He will do so until I die.
Thanks to Don Bell, Dolf Goldsmith, Navy Arms, and Don Thomas for their kind assistance. Those who rent 'Fire Down Below' should not rewind as the credits roll. Steven Seagal crafted this film in Kentucky. Mr. Seagal pays deserved tribute to Kentucky's proud people within the overlay for John Prine's 'Paradise'.
Intellect and diverse interests remain two of the great strengths of the Title 2 community. Our readers will appreciate, in the best sense of the word, the following dedications. First, KCR vendor William Davis of Westville, Florida has passed away. He will be missed. Second, a great man in another arena also left us — namely The Mongoose, the legendary Archie Moore.
This article first appeared in Small Arms Review V3N3 (December 1999)